Utah is one of the most beautiful states in America.
Easily recognized by its bright desert landscapes with sprawling mesas, towering buttes, and spires, it's a true adventurer's paradise: To explore this spectacular scenery, you need to visit Utah national parks as they offer a plethora of amazing opportunities for hiking, biking and camping.
And if you want to get off the beaten path, Utah boasts some of the best backcountry with thousand of miles of unexplored terrain.
When we hear about Utah road trips, we think about Utah's Mighty 5 that includes the state's incredible Utah national parks Zion, Bryce Canyon, Capitol Reef, Arches and Canyonlands.
In this article, I will highlight some the best places including Utah national parks that should on your Utah road trip itinerary.
Best resources for visiting Utah national parks
If Utah national parks are your bucket list, make sure to visit the National Parks service website. There, you can find the most up-to-date information on all of the national parks in the system and get answers to many of your questions. 
PRO TIP: Planning stops at other national parks beyond Utah? Check my complete guide to West Coast National Parks.
America The Beautiful National Parks Pass
With an average fee at Utah National Parks of $35, it makes sense to buy America the Beautiful National Parks pass which costs $80. The pass will quickly pay off and will give you access to other national parks within the U.S. National Parks System.
Free campsites in Utah
There are many private and BLM campgrounds around Utah national parks, but if you are traveling on a budget, take a look at Freecampsites.net, a website that has a list of free campsites near Utah national parks and beyond. Hipcamp.com is another great source where you can find tons of campgrounds on a budget.
Not planning to camp? No worries! I suggest hotels.com where you can find tons of hotels near Utah national parks and collect points!
How many days to spend at Utah national parks
Set aside no less than 7 days for your trip around Utah national parks, because there's way too much to see there.
If time is short, plan on visiting one or two Utah national parks to get a better taste. Ten days is an average amount of time for a classic Utah national parks road trip, and 14 days will give you enough time to see all the highlights and venture into the less explored areas.
Where to start your Utah national parks road trip
I recommend starting your Utah road trip in Las Vegas for a couple of reasons.
Las Vegas International Airport has connections to many destinations in the United States and overseas. Located less than 2 hours from Utah by car, it is a great starting point if you want to begin your Utah National Parks trip with a stop at Zion and then proceed to Bryce Canyon National Park.
You can also start your road trip around Utah National Parks in Salt Lake City where and take a drive toward Moab which is 234 miles, or about 3 hours and 45 minutes.


Renting a car for your trip to Utah National Parks
Whether you decide to start your trip in Las Vegas or Salt Lake City, you will need to rent a car. I recommend DiscoverCars, one of the best car rental companies that has inventory across the United States and offers flexible rates.
How To Plan Your Trip Around Utah National Parks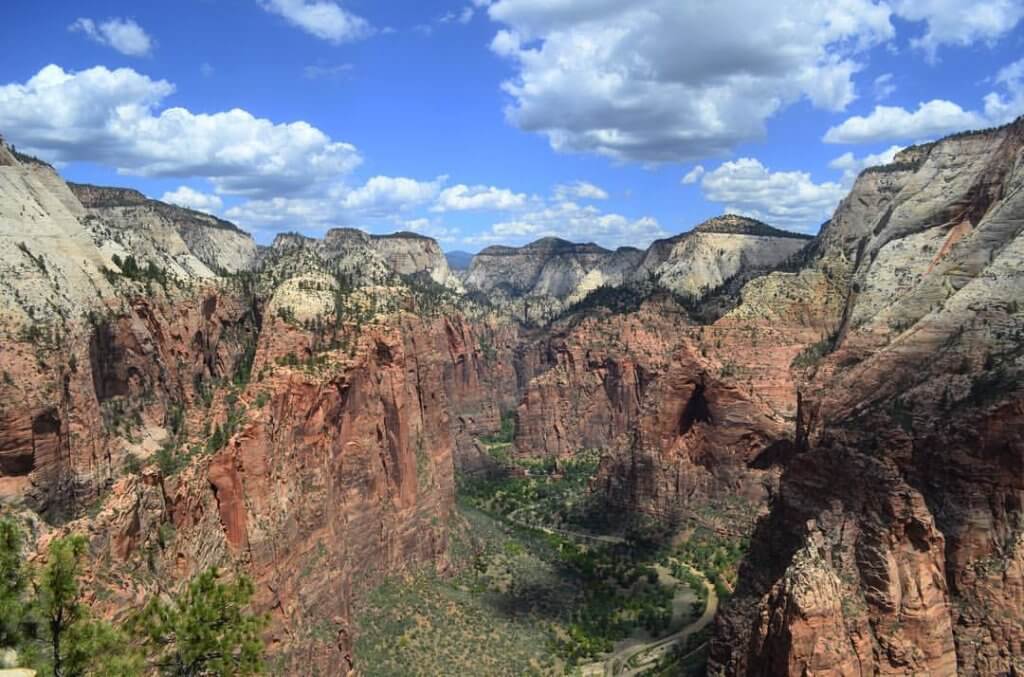 Zion National Park
Zion has become one of the most popular Utah national parks. This small park packs on plenty of adventure with its towering red walls, and a great variety of hikes for all levels. Whether you want to climb to Angels Landing or enjoy an easy walk along the Virgin river in the Valley, Zion will keep you busy.
Things to do in Zion National Park
Zion is a small but very scenic national park with many well known spots such as Angel's Landing, Emerald Pools and the Narrows, that see thousands of visitors every day, as well as less explored areas like Hidden Canyon. Overall, there is a good variety of easy, moderate and difficult hikes.
Easy hikes at Zion National Park
Emerald Pool Trail – The trail begins at Lower Emerald Pools and has gradual ascent before it gets steeper. The hike is anywhere between 1,5 miles to 3 miles depending on where you want to hike.
Riverside Walk – The paved 2.2-mile round trail goes along the Virgin River. During the fall, the hike has amazing foliage and during summer it provides plenty of shade to cool off.
Moderate hikes at Zion National Park
Hidden Canyon – The trail meanders along the dramatic canyon and provides plenty of exercises as it climbs to dizzying heights. To get to the Hidden Canyon Trail, get off at the Weeping Rock But Stop.
Canyon Overlook Trail – Located just east of the Mount Carmel Tunnel off highway 9, this 1-mile hike boasts a great overview of Zion Canyon. If you don't want to hike to Angel's Landing, the Canyon Overlook Trail is a perfect alternative.
Difficult hikes at Zion National Park
The Subway – This hike is home to some of the most iconic views at Zion National Park. If you plan on accessing it from the top-down, you will need a permit and good canyoneering skills, because this is a technically challenging hike.
Angels Landing – While the hike is 2.4-miles one way, its continuous ascend coupled with many of switchbacks and steep ledges makes it a real undertaking. Be extra careful toward top, you should be extra cautious as the trail is exposed to sheer drop-offs on both sides.
The hike ends with a panoramic view of the valley below. A round trip to Angels Landing takes anywhere between 4 and 6 hours.
The Narrows – Before going to the Narrows, make sure that you have the proper footwear. While you can bring your own shoes, you can also rent proper heavy-duty boots and a walking stick in one of the shops such as Zion Adventure Company outside of the park. And don't forget to put on your swimsuit/trunks and other clothes that don't absorb water and dry fast.
Where to stay at Zion National Park
– Zion National Park Lodge is the only hotel within the park, but you can also find hotels in Springdale just outside the park.
My top picks are Bumbleberry Inn and Pioneer Lodge in Springdale.
– Zion National Park has 3 campgrounds. If you plan your trip to Zion from May through September, make your reservation ahead of time, as it tends to be super busy.
You can find the full list of campgrounds in Zion here
– If you are traveling between Zion and Bryce Canyon, you can stay either in Kanab or Mount Carmel near the eastern entrance to Zion.
Best Western Red Hills in Kanab and Arrowhead County Inn Cabins are great stays.
How many days to spend at Zion National Park?
If you are short on time, you can definitely visit Zion in a day. If you are visiting Zion for the first time, I definitely recommend staying at this Utah national park for at least 2 days so you could do a combination of easy to moderate (or difficult) hikes, if you can.
Can you drive a car through Zion?
You can drive a car through Zion five months out of the year. From March through late November, access to the Zion Canyon Scenic Drive is available only for shuttle buses because of the high number of visitors. However, you can visit Mount Carmel Highway, a 12-mile highway connecting the entrances to Zion National Park in the east and in the south.
Best tours of Zion National Park
Guided tours are excellent if you want to visit remote areas of Zion that are not accessible without a special permit of a 4X4 vehicle. Here are a couple of options:
Tips for visiting Zion National Park
Summer is the high season in Zion, when no cars are allowed inside the park. You will need to get on a shuttle bus to get around. The shuttle bus departs in front of the visitor center.
Following safety precautions is a must – Zion National Park is located in high Utah's desert. During summer, you will need plenty of sunscreen, water, and proper gear and clothes, if you plan on hiking.
Watch out for flash flood warnings – Flash flood warnings have claimed a number of lives in Utah. Narrow slot canyons like those in the Narrows can quickly fill up with water, which can be very dangerous. Always make sure there's no rain in the forecast is you plan on hiking in summer.
Things to know before visiting Zion National Park
Plan your visit on weekdays – Avoid weekends and major holidays, as Zion gets very crowded. If you plan on doing some of the most popular hikes at Zion such as Angel's Landing, start early. Crowds begin to arrive around 9-10 a.m., but if you get on a trail around 7 a.m. you will get a good head start.
Arrive early to find a parking spot – Parking spots near Zion Canyon Visitor Center fill up by 9 a.m. in summer. If you arrive later, you will have to look for a parking spot in Springdale, the closest town to Zion from where you can also catch a shuttle.
Bring your food – The only restaurant in Zion National Park is inside Zion National Park Lodge. If you plan on spending more than a day at Zion, bring enough food and water with you. Springdale, the town just outside of Zion has stores, restaurants, and cafes where you can get all your food supplies.
Get proper gear– If you plan on visiting Utah national parks, invest in hiking boots with good grip and proper gear such as hiking poles, a backpack, a water bottle and lightweight clothing that dries fast.
Cool places to visit near Zion National Park
If you want to explore the lesser-known part of Zion National Park, head to Kolob Canyon. The entrance to this spectacular canyon is right off Interstate-15, and after getting in, you will be treated to an incredible scenic drive up the Kolob Canyon.
From the Kolob Canyon, you can also access the remote Kolob Arch via 8-hour trail, the longest natural arch in the world!
Bryce Canyon National Park
Bryce National Park is a spectacular but an underrated Utah national park famous for its bright orange hoodoos rising from the bottom of the vast canyon. Located under two hours away from the eastern entrance of Zion, Bryce gets only a fraction of Zion's visitors thanks to its remote location, making it a perfect getaway.
Things to do in Bryce Canyon
Bryce is one of the best places to visit in Utah, if you are an avid photographer. And you don't have to hike for miles to enjoy scenic views. There's a good variety of easy and moderate hikes at Bryce Canyon, as well as overlooks that you can drive up to.
Navajo Loop Trail is one the most popular Bryce Canyon hikes because get to walk along those jaw-dropping orange hoodoos. Start at Sunset Point, turn right and head counterclockwise. This way, you will not have to struggle up the series of steep switchbacks.
After you hike through Bryce Canyon for a while, you will come to a marker that will allow you to continue along Navajo Loop Trail or turn toward Queens Garden Trail, a 1.8-mile hike. The Queens Garden Trail begins at Sunrise Point and goes down into the valley.
Don't feel like hiking?
Check out Inspiration Point, one of the best overlooks at this national park. From here, you can see the amazing Bryce Amphitheater, portions of the Navajo Loop and Queens Garden Trail. Watch out for the steep cliffs and sheer drop-offs around the edge of Inspiration Point!
Where to stay at Bryce Canyon National Park
Bryce Canyon has several campgrounds with plenty of space.
1. Sunset Campground – West of Sunset Point, this campground sits 1,5 miles south of the Bryce Canyon Visitor Center, and has about 100 camping spots.
2. North Campground – Located across the road and slightly to the east of the Bryce Visitor Center, this campground has 99 sites for tents and RVs'.
There are also a few hotels right at the entrance of the Bryce Canyon. Best Western PLUS Bryce Canyon Grand Hotel, Bryce Canyon Resort and Bryce Canyon Pines all offer accommodations without having to drive too far after hiking all day.
How many days to spend at Bryce Canyon National Park?
Bryce is one of the most compact Utah national parks, and you can explore it in just a day. That being said, you should aside about 2 days for your visit to Bryce, so you could enjoy all the hiking trails and explore the stunning scenery without rushing.
How far is Zion National Park from Bryce Canyon?
The distance from Zion to Bryce is 72.4 miles and it takes about 1 hour and 20 minutes to get from one park to another. But make sure to spare more time for your trip because the drive is really pretty and you will probably want to stop along the way to take a few photos.
Can you do Bryce and Zion in one day?
While you can visit Zion and Bryce on the same day, I don't recommend it. If you visit both parks on the same day, you will miss out on many hikes and will not have the same experience, as opposed to spending a few days at each these parks.
If you are pressed on time, you can take a guided tour from Las Vegas that includes stops in Zion and Bryce Canyon National Parks.
Tips for visiting Bryce Canyon National Park
Visit in winter for cool photography – Bryce Canyon can be just as magical in winter as it is in summer. During colder months, the bright orange rock formations get dusted with a layer of snow.
Arrive before the sunrise – Thousands of photographers from all over the world come to Bryce to take photos of its iconic canyon. If you want to take photos too, arrive before sunrise. The light is incredibly soft which makes for beautiful landscape shots.
Walk along the hoodoos – Bryce Canyon is famous for its bright orange stone pillars called hoodoos. You will see this word in many articles, pamphlets and brochures.
So what is a hoodoo?
Hoodoos are the spire-like red formations populating Bryce Amphitheater, a depression right below the Rim Trail hiking path, as well as other parts of the park.
Hoodoos are found all over the world in places such as Cappadocia, Turkey and Drumheller, Canada, but the highest concentration of hoodoos happens to be in Bryce Canyon.
Cool places to visit near Bryce Canyon
There is no lack of scenic spots around Utah national parks, but a few places can beat Utah State Route 12 (or Scenic Byway 12) that traverses through parts of the Grand Staircase Escalante National Monument. The scenic route begins in Panguitch and traverses through some of the most remote backcountry in the United States with unspoiled landscapes and clear dark skies full of stars.
Utah State Route 12 ends in Torrey about 10 miles west of Capitol Reef National Park.
Capitol Reef National Park
The least visited of all national parks in Utah, Capitol Reef is a treasure trove of unspoiled beauty. It's one of the best national parks in Utah, if you want to enjoy the state's stunning backcountry without the crowds of Zion and Arches.
Things to do at Capitol Reef National Park
Capitol Reef might not as famous as other Utah national parks in the "Mighty 5," but it boasts many unexplored places that will blow you away! Cathedral Valley is one of the most popular stop at Capitol Reef, although you need a 4X4 vehicle to get there, as this is a day trip to the remote part of the park along unpaved roads.
If you want a quick lesson in history, stop at the Petroglyph Panel at the beginning of the park where you can see amazing collection of prehistoric drawings that were done by the tribes that once called this part of Utah home.
And don't forget to check out the historic Gifford Farm where you can buy locally made pies and sweets. You can combine your visit with a stop at the nearby Fruita Barn and hike the scenic Cohab Canyon where only a few people venture.
Some of the most popular hikes at Capitol Reef are the 3-mile Cassidy Arch Trail and the Navajo Knobs that also stops at Hickman Arch, a more challenging trail with over 2,000 feet of elevation gain that leads an incredible overlook of the mountains.
Where to stay at Capitol Reef National Park
Although there are no hotels within Capitol Reef, Torrey, a small town near the entrance of the park offers good accommodations options.
1. Among the best campgrounds in Torrey are Sand Creek RV park and Campground; or Fruita Campground.
2. If you would rather stay at a hotel, check out Red Sands Hotel, Capitol Reef Resort, that has glamping tents and standard rooms or the Rim Rock Inn that offers rustic style cabins.
How many days to spend at Capitol Reef National Park
Although some visitors treat Capitol Reef as a pit stop between Moab and Bryce Canyon, I recommend spending 2-4 days here. This way, you will get to experience more than just a quick drive through the park, and enjoy its cool hikes and scenic vistas.
Tips for visiting Capitol Reef National Park
Stock up on food and water – Capitol Reef is the most remote of all Utah national parks. Carry snacks and water and fill up your tank. Torrey has one gas station, several stores and restaurants, but that's about it.
Don't rely on your cell phone service – Cell phone service can be scarce to non-existent in parts of Capitol Reef. If you need to make a call or write a text message, you can do it in Torrey before leaving for the day.
Get a paper map – While this technically goes for all Utah national parks, it is especially true for Capitol Reef. Cell phone service drops quickly once you start driving through the park, so it's a good idea to get a paper map at the visitor center.
PRO TIP: Check my complete guide to Capitol Reef National Park that covers the best things to in Capitol Reef.
Is Capitol Reef worth visiting?
Yes, Capitol Reef National Park is worth a visit! The park is characterized by towering cliffs, deep canyons, sandstone bridges, this national park is a playground for adventure lovers. It's also home to Waterpocket Fold, a unique geologic formation that stretches for over 100 miles.
Cool places to visit near Capitol Reef National Park
One of my favorite places to visit near Capitol Reef National Park was Goblin Valley State Park. This underrated state park is located to the east of Capitol Reef, about 30 minutes north of Hanksville. Goblin Valley is a stunning place, with several easy hikes, but it can be very hot in summer, so bring enough water.
Arches National Park
One of the most popular Utah national parks, Arches is a compact but scenic national park jampacked with beautiful vistas and over 2,000 arches. The park offers plenty of easy-to-moderate hikes suitable for all hiking levels.
Things to do at Arches National Park
Most people know Arches National Parks because of the world-famous Delicate Arch, but there's so much more to this national park!
Make sure not to miss other stunning spots such as Sand Dune Arch, Double O Arch, and Landscape Arch. The good thing about Arches is that many of its landmarks are easy to reach via clearly marked trails.
One of my favorite places at Arches is the Windows where you can walk between stunning windows and arches. And if you want some adventure, try to obtain a permit for a guided trip to the Fiery Furnace, one of the most spectacular areas of the park.
PRO TIP: Learn about best hikes at Arches National Park in my guide.
How war apart are Arches and Canyonlands?
Arches and Canyonlands are just under 30 miles apart. While the entrance to Moab is located off the main highway in Moab, the drive to Canyonlands is longer and takes about 25-30 minutes from Downtown Moab.
Can you visit Arches and Canyonlands in on day?
Yes, you can visit both Utah national parks on the same day, however, you will not be able to see all of the highlights. I recommend visiting Arches in the morning to do a couple of hikes, take a break in the afternoon, and go to Canyonlands in late afternoon to enjoy the scenery and catch the sunset.
Where to stay at Arches National Park
Devils Garden Campground is the only campground within Arches and it fills up VERY fast. If you are thinking about camping at Arches, make a reservation well ahead of your visit.
Luckily, Moab has many hotels and campgrounds, making it easier to plan your trip.
1. Campgrounds in Moab. There are many campgrounds in Moab ranging from basic BLM campgrounds with no hook-ups along Scenic Byway 128 to a KOA campground with plenty of amenities. My favorite campground in Moab is Up The Creek Campground a few blocks away from the city's downtown that offers a combination of good prices and amenities.
2. Hotels in Moab. If camping is not your jam, consider staying in one of hotels in Moab. My top picks are Castle Valley Inn in a gorgeous setting, and Expedition Lodge.
Best guided tours of Arches National Park from Moab
How many days to spend at Arches National Park
You can see major highlights at Arches in just a day, if you are not planning any longer hikes. If you want hike the Devil's Garden Loop, explore the Fiery Furnace and watch the sunrise over the Delicate Arch, plan between 1,5 to 2 days for your trip.
To maximize your time, start your day early and finish the most demanding hikes before noon. Take a few hour break and continue exploring the park around 4 p.m. before heading to the Delicate Arch for sunset.
Tips for visiting Arches National Park
Check the weather – Arches National Park can get hot in summer and cold in winter. Many of the hikes within the park are very exposed and have little shade, so make sure to bring a hat, sunglasses, and sunscreen.
Plan your trip on weekdays – Arches is one of the busier Utah national parks. When you decide to come here, try to avoid weekends and major holidays, as it's typically very busy.
Leave no trace – This means you should pack up all your trash and leave the place exactly the way you found it. Unfortunately, in recent years, many Utah national parks reported an increase in vandalism that damaged thousands-years old rock formations. Be a good steward to the places you visit.
Cool places to visit near Arches
The Moab area has no lack of jaw-dropping scenery, and you don't have to look too long to find a spot that will leave you in awe. One of my favorite spots is Corona Arch, located just 20 minutes north of Moab. Another spot worth visiting is the Sand Flats Recreation Area, the outdoor heaven outside of Moab, where you can camp, bike, and enjoy all sorts of adventures.
Canyonlands National Park
Canyonlands National Park is a vast national park with deep canyons, sprawling mesas, and towering butte just north of Moab. It's divided into three sections: The Needles, The Maze, and The Island In The Sky, the most popular and accessible area of the park.
Things to do at Canyonlands National Park
One of the most popular features of the park is the Mesa Arch attracts tons of photographers especially during the sunrise. If you don't feel like getting up early, visit right after the sunrise around 7 and 8 a.m. when the Mesa Arch is mostly empty.
Some of my favorite hikes at Canyonlands National Park are Upheaval Dome that can be reached via Upheaval Dome Trail. If you are looking for something easier, White Rim Overlook is a trail under 2 miles perfect for beginner hikers. Another cool hike is Grand View Point that provides incredible vistas of the park at many overlooks.
Best guided tours of Canyonlands from Moab
Where to stay at Canyonlands National Park
Similar to the Arches National Park, Canyonlands doesn't have any hotels. Willow Flat Campground is the only option for staying in the park, and it's such a cool stay! The sky here is very clear at night, as in many other parts of south-central Utah where light pollution is non-existent.
How many days to spend at Arches National Park
If you plan on visiting the Island in The Sky, you need just one day.
Additionally, you could also visit the Needles section (about one hour south of Moab) which looks drastically different and offers a less touristy experience. Finally, the Maze is the most remote area of the park that requires a 4X4 and a backcountry experience with good navigation and survival skills, as you will be far away from the nearest services.
Tips for visiting Canyonlands National Park
Pace yourself – Canyonlands is a huge national park, and you should spare enough time for your stay. This is especially true if you plan on visiting the Maze, the most remote section of the park.
Carry plenty of water – In case you forget to bring enough water, you can fill up your bottle at the visitor center where you can also pick up a map of the pack.
Fill up your tank – Canyonlands is a huge national park. It takes between 40-50 minutes to get to Moab from here and since there are no stores or gas stations here, you should come prepared.
Cool places to visit near Canyonlands
Dead Horse Point State Park is an underrated but gorgeous place right outside the entrance to the Island In The Sky Section. Make a stop here and hike around the rim of the canyon or watch the sunset later in the evening.
Likewise, Newspaper Rock is an often overlooked spot near the Needles District of the Canyonlands that boasts some of the most remarkable petroglyphs in the area.
What is the best time to visit Utah National Parks?
Utah National Parks are magnificent during any time of the year, however summer tends to be the busiest and hottest time with temperatures reaching into 100 degrees Fahrenheit.
Winter is a great time to visit national parks in Utah, if you are ready to brace the cold, because the snow dusting the red sandstone formations often creates otherworldly scenery. Hiking could be limited during winter in some Utah national parks during this because of the accumulation of ice and snow.
Plan your trip to national parks in Utah for early-to-mid fall or mid-to-late spring when temperatures are mild enough to spend time outside and crowds are not as bad.
What is the least visited national park in Utah?
The least visited national park in Utah is Canyonlands. Unlike its famous neighbor, the Arches, Canyonlands sees only a fraction of visitors, with less than 800,000 visitors per year. Canyonlands is also a much bigger park than Arches at 537 square miles compared to Arches' 119 square miles.
Visiting Utah National Parks in winter
Winter is a magical time at Utah national parks when white snow blankets the bright orange landscapes creating incredible opportunities for photography, however, it tends to be pretty chilly with temperatures dipping into 40 degrees and below.
In addition, some roads in parks in surrounding areas can be closed because of snow and hazardous conditions. If you plan on visiting Utah national parks during winter, make sure to get the most up-to-date information on road conditions before you leave.
Final thoughts on visiting Utah National Parks
Utah national parks boast some of the most stunning scenery in the United States. Plan your visit carefully and remain flexible, in case your trip needs to be adjusted in case of bad weather or other unforeseen circumstances. Make sure to have lots of fun and enjoy hiking while exploring these treasures!
Disclaimer: This post contains affiliate links. At no cost to you, I might earn a small commission if you make a purchase through the links in this article.