Disclaimer: This post contains affiliate links. At no cost to you, I might earn a small commission if you make a purchase through the links in this article.
Located in Utah's red rock country, Moab has become synonymous with the word adventure. With seemingly endless things to do in Moab, there's no surprise that thousands of tourists flock here every year.
And if you haven't been to Moab yet, there's a good chance you've seen photos of the iconic Arches, deep canyons, and giant red walls. Still, you have plenty to choose from besides this world-famous national park.
Whether you want to hike national parks, raft in the Colorado River, camp in the backcountry, or count stars in its clear dark skies, Moab has it all!
After visiting Moab several times, I wrote a guide that will help you get the best experience in Moab's most famous natural landmarks – and beyond. This article is here to assist you in planning your trip 🚗
Best things to do in Moab Utah: a complete overview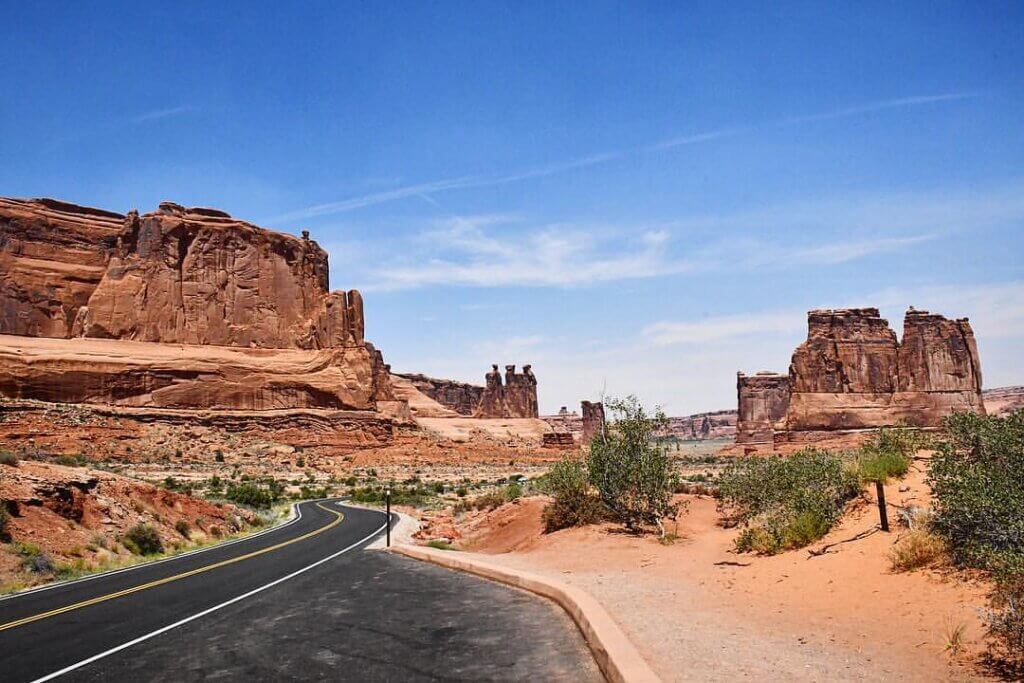 1. Explore Arches National Park
Best hikes: Double-O-Arch trail, Landscape Arch trail, Delicate Arch trail.
Arches National Park is what made Moab so famous, so there's no surprise that most visitors come here first. The downside of this popularity is that Arches has become very busy, but luckily, it has a couple of moderate trails that don't see as much traffic.
To escape the crowds, check out the Double-O-Arch trail, a moderate hike that's part of the Devil's Garden Primitive Loop Trail. This moderate trail requires scrambling up the sleek rock and takes you through the stunning red rock country.
✅ Check out my guide to some of the best hikes in Arches National Park.
Best tours of Arches from Moab
Camping in Arches National Park: The only campground at the Arches National Park is located in Devil's Garden and as you might have guessed, it's VERY hard to get a spot there. Your best bet is to stay in one of the campgrounds in Moab or go to a hotel.
✅ Check my guide on Utah National Parks, to help you plan your adventures after visiting Moab.
2. Hike to the Delicate Arch
A quick word on hiking Delicate Arch, one of the most popular things to do in Moab.
I do NOT recommend doing this hike during mid-day, as it tends to be crowded and hot, especially in summer.
To get to the Delicate Arch, you need to take a 3.2-mile hike that begins near the parking lot and takes you through the high Utah desert. This well-maintained hike is considered moderate, but since portions of the trail run on the slick rock, so wear good hiking shoes with a good grip. 
The trail has a 480 feet of elevation gain, and if you are hiking it in summer, it's paramount to bring at least a gallon of water and a few snacks, as you can get dehydrated very quickly.
What to know about hiking Delicate Arch
Additionally, make sure to visit this hike during the sunset, as opposed to sunrise or even midday, as there will be fewer people, and you will not have to be in a crowded space when you get to the arch.
Since the Arches is one of the most popular Utah National Parks, it often gets busy during summer months, if possible, plan your trip for late spring or early fall, when crowds are not too bad.
Winter is a great time to do this hike when the bright red rock formations get dusted with the blanket of snow creating otherworldly landscapes.
✋ My top tip for visiting Arches is to plan your hikes either for the early morning before 11 a.m. or for later in the afternoon after 3-4 p.m. when the heat isn't so strong and the crowds recede.
3. Get away from the crowds at Canyonlands National Park
Best things to do: Shafer Canyon Overlook, Grand View Point Trail, Green River Overlook, Buck Canyon Overlook.
Canyonlands National Park is a huge and less-visited national park that is home to some of the best things to do in Moab.
This national park is divided into several sections – Island In The Sky (the closest to Moab and most accessible section), the Needles (a less visited area south of Moab), the Colorado and Green River District, and the Maze, a remote area that can be accessed by 4X4 vehicle and requires stellar navigation and survival skills.
Crazy stuff, right?
Travelers who venture into the Maze spend a few days camping and exploring this vast rugged area. But the good news is that you don't necessarily need the survival skills to enjoy this park.
Island In The Sky and the Needles offer plenty of easy and moderate hikes to keep you busy for a day. Hike the 2-mile Grand View Point Trail and check out shorter hikes including Mesa Arch Trail (the most popular spot for sunrise), White Rim Overlook, and Upheaval Dome Trail that spans 1.7 miles.
If you come here in the evening, head to the Needles Overlook for an incredible sunset and wonderful panoramic views that span in all directions.
Best tours of Canyonlands from Moab
And, in case you want to go fancy, you can book a flyover tour of the Moab area, which also includes a flight over Canyonlands. This is the ultimate way to see Moab and the surrounding area!
Camping in Canyonlands: The only campground in the park is Willow Flat Campground ⛺️ that comes on a first-come, first-served basis and has 12 sites.
There are also a couple of primitive campgrounds just outside the park. One of them is the Horsethief Campground that comes on a first-come, first-serve basis and has several biking trails in the area.
Another campground on the road to Canyonlands is Cowboy Campground that only has seven spots.
4. Drive on the Shafer Road Trail
The famous Shafer Trail Road (Shafer Canyon Road) is a steep, cliff-hugging road with hairpin turns that merges with White Rim Road and Potash Road.
You can get an overlook of this road from the Island in the Sky section of the Canyonlands National Park near the visitor center. While this is a fun and challenging adventure, it is suited only for experienced drivers with a 4X4 vehicle.
👉 The Potash Road joins with Highway 191 located just north of Moab.
5. Enjoy backcountry in The Needles District
If you have an extra day, take a day trip to the Needles, a less visited part of Canyonlands about one hour south of Moab. This is a perfect stop if you are heading south to Monument Valley, however, this area is well worth a trip, as the scenery here looks drastically different from Island in the Sky with bright orange spires and sprawling flat-top mesas.
6. Take a flyover tour of Moab
There's nothing like seeing Moab's incredible red rock scenery from above!
Flying over Moab is a great way to experience Moab's specula landscape which gives you a different perspective compared to hiking. You can choose from several routes available that include different parts of Moab and surrounding areas like Monument Valley and Lake Powell on the Utah-Arizona border.
✔️The flights are limited to small groups of people and often can adjust based on your preferences.
7. Check out petroglyphs at Newspaper rock
Right before the entrance to Canyonlands, you will find a Newspaper Rock, a hidden spot with stunning petroglyphs in different shapes.
Very few people come here, so you will find plenty of solitude. And if you are not planning on visiting the Needles but still want to see this site, head south on US 191, make a right turn toward Canyonlands, and drive west for about 12 miles before you arrive at the sign marking the area.
Although the area is fenced off, make sure not to touch petroglyphs, as the oil in your hands can damage them.
8. Watch the sunset in Dead Horse Point State Park
A close neighbor of the Canyonlands, Dead Horse Point State Park is a hidden gem of Moab. While not a lot of people come here, this state park boasts some of the most fantastic landscapes in all of Utah 🤩
Dead Horse Point State Park offers some of the best sunset views in the Moab area. The most popular spot for sunset watching is Dead Horse Point that offers tons of space, so you will have plenty of room to yourself.
If you want to hike, check out the easy loop that goes around the edge and takes you through the stunning red rock country. As with other hikes in the Moab area, do it early morning or late in the afternoon, when it's not too hot.
9. Grab a bite in downtown Moab
Exploring downtown is a good way to take a break from hiking in Moab. Here you can find plenty of stores, restaurants, and hotels. 
Moab has grown a lot over the last few years and I was surprised to see how busy it has become when I visited it last time. During my last visit a few years ago, there were a few unpretentious eateries, but now you can find all sorts of food options here.
Some of the best restaurants in Moab are Miguel's Baja Grill (super popular spot, a few times they were even out of food), Moab Garage Co. that has tacos and toasties; Sabaku Sushi (incredible variety of sushi); and Arches Thai, a place that offers delicious Thai food.
Moab's Food Truck Park is one of the best places for delicious food on the go where you can find great options for Mexican, Italian and Asian food, as well as paninis, smoothies and even shaved ice!
Quick note: All the Moab restaurants mentioned in this article offer vegan options.
10. Go rock climbing in Fisher Towers
Fisher Towers is a little-known area outside of Moab that is popular among rock climbers.
What most people don't know is that Fisher Tower also boasts superb hiking. The Fisher Towers Trail offers stunning views and great exercise, and if you get lucky, you can also camp in the area, that has five camping spots.
The hike around fisher's towers spans for 5.2 miles (round trip and back) and offers some of the most remarkable scenery in a maze of bright sandstone towers. Summers here can be brutally hot, bring plenty of water, as you will be far away from the nearest store.
HOW TO GET TO FISHER TOWERS: To get to Fisher Towers, drive on Utah Scenic Byway 128 for 21 miles and make a right turn onto a dirt road when you arrive at the Fishers Towers sign at the turnoff. Follow the dirt road for about 2 miles before arriving at the trailhead.
11. Make your way to Corona Arch
Corona Arch is a 2.3-mile hike is nothing short of phenomenal, you will not meet a lot of people here, and if you happen to visit on a weekday, you very well might be the only person here (just like I was).
Since the trail is exposed and goes mostly on the slick red rock, make sure to wear good hiking shoes and carry plenty of water.
12. Take in the scenery along Utah Scenic Byway 279
Utah Scenic Byway 279 is the best place in Moab to see the ancient rock carvings (or petroglyphs) that were created between 1,300 and 2,000 years ago.
The best way to see these carvings is by visiting rock sites at the Utah Scenic Byway 279.
These rock carvings were done by Ute Indians and include several famous sites such as the Birthing Scene, Courthouse Wash Rock Art, Potash Road Rock Art, and Wolf Ranch Rock Art.
13. … or Scenic Byway 128
Utah's hidden jewel, Scenic Drive 128 boasts mind-blowing scenery.
Many visitors simply drive past this road that starts just north of Moab, missing on this hidden gem. If you take this road all the way east (about 46 miles) you will pass the entrance to Fishers Towers before arriving in a small town called Cisco near Interstate-70.
But the drive will probably go by very fast, as you will pull over many times to take photos of this stunning area.
14. Test your driving skills on Hell's Revenge
Home to treacherous petrified dunes, Hell's Revenge is the ultimate to drive your 4X4 – or rent one in Moab! The trail is only 6.5 miles but takes on average 2-3 hours to complete. Make sure to bring a spare tire and take your time on this tricky trail – your can easily tip over if you are not careful!
15. Ride an ATV in Moab's backcountry
There's nothing like exploring the stunning backcountry of Moab by ATV. This is the best way to see some of the most spectacular places in Moab that often can't be reached by a regular car.
You can arrange an ATV tour of Moab in many tour agencies around town, but it's better to arrange a tour online ahead of time.
Here are some of the best ATV tours of Moab:
16. Ride a bike on Slickrock Trail
The ultimate spot for biking, Slickrock Trail is a perfect place to test your mountain biking skills – or learn them!
This 12-mile mountain biking trail goes up and down petrified sandstone dunes and offers the ultimate exercise. Make sure to wear a hat and bring plenty of water, as this trail is exposed and has no shadow. It takes on average 4 hours to finish.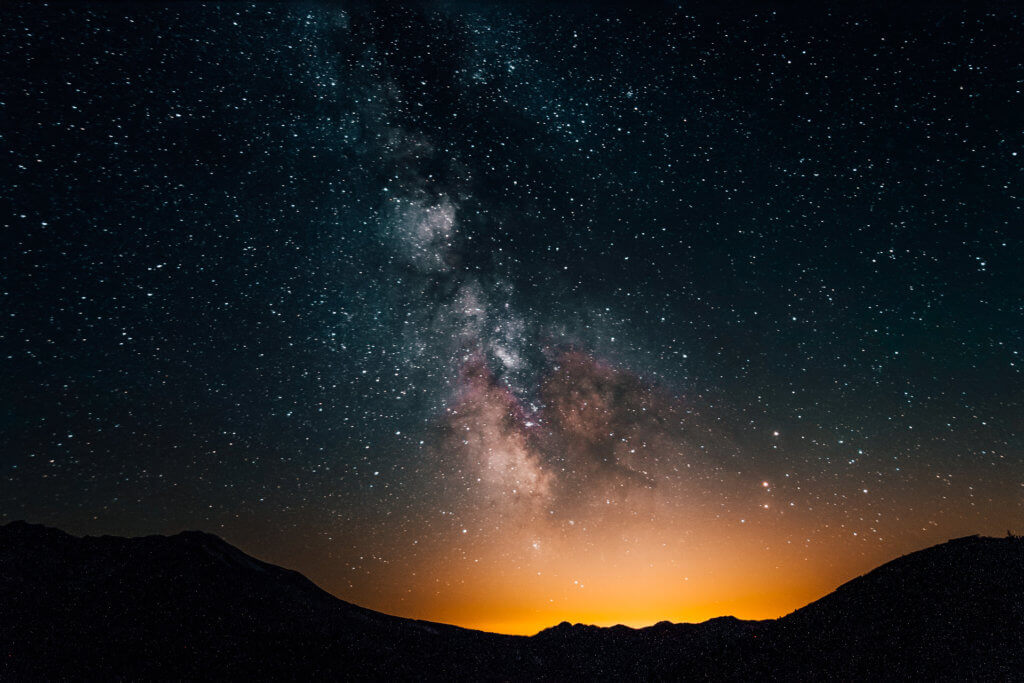 17. Marvel at the dark skies
Stargazing is one of the best FREE things to do in Moab!
Southern Utah is home to some of the most pristine dark skies in the United States because there's no light pollution. And there's little surprise that stargazing is one of the most popular things to do in the region, so bring your camera to capture the incredible clear dark sky at night!
I particularly recommend sunset and night photography tour of the Arches National Park that where you can enjoy the clear night skies.
18. See the different side of Moab around La Sal Mountains Loop
When you picture Moab, you most likely think about giant slabs of red rock in the dry desert – after all, it's the iconic landscape that made Moab so famous.
But Moab also has a stunning mountain range nearby and exploring it offers an entirely different experience than the rest of the area. You can drive this scenic loop, check the conditions before heading out because temperatures in the mountains tend to be considerably cooler than in the Moab Valley.
19. Enjoy water activities on the Colorado River
One of the highlights of the Southwest and home to some of the most exciting things to do in Moab Utah, the Colorado River is a perfect spot to take a rafting tour – or if you want something more chill – paddleboarding or kayaking.
Best rafting tours of the Colorado River
DID YOU KNOW? The Colorado River originates in the Rocky Mountains and goes through seven states before ending in Mexico's Sonora Desert about five miles away from the Gulf of California.
There are many tours in Moab that offer adventures on the Colorado River. Make sure to check prices and book your tour ahead of time in summer, as it tends to be very busy.
20. Hike Slot Canyons Near Moab
Did you know that Moab is home to some of the best slot canyons in Utah? They have been created over millions of years by erosion of the sandstone from water and wind.
Although these slot canyons are not in Moab, they make for a great half a day trip, if you are looking for less crowded places in Moab.
If you don't feel like driving, you can also take a canyoneering tour of Moab, where you can explore these natural wonders with a licensed guide.
The best slot canyons near Moab:
Entrajo Canyon – 20 minutes south of Utah
Little Wild Horse and Bell Canyon Loop – Goblin Valley State Park
Furniture Draw – Price, Utah
21. Find ancient petroglyphs near Moab
Aside from the famous Newspaper Rock, you can also find many petroglyphs (little figurines and stories carved into the rock thousands of years ago) much closer to Moab along Potash Road (where you can also spot dinosaur tracks), Moonflower Canyon, and Wolf Ranch.
While visiting numerous sites with petroglyphs around Moab can take a while, the best way to see them is to take a petroglyph tour that also gives a detailed historic and archaeological overview of this area.
22. Try local wine
This might come as a surprise, but there are several wineries in Moab located on the outskirts of the city.
Popping into local wineries is one of the best things to do in Moab when it rains! The most popular one is Spanish Valley Vineyard and Winery which also boasts a bed and breakfast, so you can book a stay here and enjoy the whole experience. 
Another winery in the area is Castle Creek Winery which is about 15 minutes outside of town and provides a good break from Moab if you want to spend your afternoon wine tasting after enjoying some of the best hikes in Moab. 
23. Hike around Bartlett Wash
Most visitors who want to ride a bike in Moab head to Slickrock Trail, a well-known spot that gets all the visitors. But if you want to see one of the best landscapes near Moab that is mostly free of people, head to Bartlett Wash, a remote area that is home to incredible slick rock landscapes.
This is a great spot for hiking, mountain biking, but as of recently, it also attracts many photographers who come here to take shots of this area with smooth, porous rock formations. 
🧭 Since there are no designated trails in the area, you can create your route while exploring this vast expanse and testing your navigation skills. 
24. Take a dip in Mill Creek
A small oasis right outside of downtown Moab, Mill Creek is a perfect spot to cool off on a hot summer day. I'll be honest with you, I came here on a Friday afternoon in July and it was pretty busy, so I ended up taking a quick dip and leaving quickly.
For better experience, come here early morning and you will have a chance to enjoy on eof the best things to do in Moab all without the crowds. It's a cool 2-mile trail just a bit away from downtown Moab that has plenty of greenery and cool air to help you beat the heat.
25. Find Wilson Arch
Another hidden gem and one of the best hikes in the Moab area, Wilson Arch is a sandstone formation along Highway 191 just south of Moab. The loop toward Wilson Arch is just slightly over half a mile from the side of the road, but the views are well worth it.
26. Go birdwatching at Scott Mattheson Wetlands Preserve
One of the most unlikely places in Utah's red rock desert, Scott Mattheson Wetlands Preserve is one of the most overlooked things to do in Moab. Meanwhile, this is a prime area for birdwatching, as it's home to nearly 300 bird species, many of which can be found only in the southwest.
27. Swim in Ken's Lake
If you get tired of the busy Moab, head down to Ken's Lake about 10 minutes south of town. This tranquil lake is a perfect spot to kick back and relax, and you can also enjoy boating and swimming here.
There's also a campground nearby, so a visit to Ken's Lake makes for a perfect way to wrap your day.
28. Learn local history in Moab Museum
To learn the fascinating history of the Moab area, head to Moab Museum. Here you can learn how the area came to be starting with the Native American tribes to prospectors and Mormon pioneers.
The museum is open Tuesday-Saturday from 12 p.m.- 8 p.m.
America The Beautiful National Parks Pass
With an average fee at Utah National Parks of $35, it makes sense to buy America the Beautiful National Parks pass which costs $80. The pass will quickly pay off and will give you access to other national parks within the U.S. National Parks System.
GOOD TO KNOW: Moab is a popular stop along West Coast Nationals Parks itinerary. Many travelers stop in Moab before continuing their adventures to other parts of Utah or heading north toward Yellowstone and Grand Teton National Parks in Wyoming.
If you need help preparing for your West Coast National Parks road trip, check my complete guide that gives an overview of some of the best national parks in the West and practical tips on how to visit them and avoid mistakes.
Renting a car for your trip to Moab
To visit Moab, you will need a vehicle.
Whether you decide to rent an RV or a regular car depends entirely on your plans. If you are looking for an RV, check out RVshare, a website with a great selection of all sorts of RVs, and if you are looking for a regular car, you might want to look at DiscoverCars, one of my favorite websites for car rentals.
Camping in Moab
There are many private and BLM campgrounds in Moab, but if you are traveling on a budget, take a look at Freecampsites, a website that has a list of free campsites near Utah national parks and beyond. Hipcamp.com is another great source where you can find tons of campgrounds on a budget.
Not planning to camp? No worries! I suggest hotels.com where you can find tons of hotels in Moab and collect points!
Best campgrounds in Moab
Camping is Moab is the best way to enjoy the phenomenal dark skies and superb landscapes.There are several campgrounds around Moab, and here's a few that I've been to:
Ken's Lake Campground near the Moab Reservoir is managed by the BLM and offers superb views of the La Sal Mountain Range.
Up The Creek Campground is located a few blocks away from downtown Moab and offers great amenities and the best location of any campground in Moab.  
The Ledge Campground is outside of Moab and has a total of 105 campgrounds. The fee is $15 per night and since campsites are dispersed, you get to enjoy plenty of space. 
Utah State Route 128 has a number of BLM campgrounds. Most of these campgrounds come on a first-come, first-served basis, and can get full early, especially on weekends. If you want to snag a spot, come early and bring cash, as you can't use credit cards.
Best Hotels in Moab
If camping is not your jam, consider staying in one of hotels in Moab. My top picks are Castle Valley Inn in a gorgeous setting, and Expedition Lodge. And, if you are looking for a good basic hotel with a breakfast option, check out Hampton Inn.
Finally, Under Canvas Moab offers incredible glamping experience just outside of the Arches National Park.
Best tours of Moab
With so many things to do in Moab, you might not have time for everything, especially if you are in town for just a few days. To maximize your time, book some of the best guided tours of Moab and the surrounding areas that will save you hours on the road and allow to see some of the highlights in a short time.
Best things to do in Moab: FAQ's
How many days are enough in Moab?
If you are visiting Moab for the first time, spend no less than 3 days. This way, you will have enough time to explore some of the best hikes in Arches National Park and explore various sections of the Canyonlands without rushing through the park.
Ideally, plan about 5-7 days for your trip, if you want to enjoy some of the best things to do in Moab and also venture into less explored corners such as Fishers Towers and Highway 279.
Day 1
Head to Arches National Park early morning to do hiking. Start no later than 8 a.m., especially if you want to beat the crowds. Leave the park and head to lunch by 12 p.m. Visit Mill Creek to cool off (if you are visiting in summer) in the afternoon or check out the Moab museum, (if the weather is colder). Go back to Arches to hike the Delicate Arch for sunset views.
Day 2
Hike to Corona Arch early morning to have the whole place to yourself. Drive Utah Scenic Byway 279 on the way back to see petroglyphs and explore dinosaur tracks.
Lunch in Moab. Take a rafting or paddle boarding tour on the Colorado River in the afternoon. Head to Dead Horse Point State Park for the sunset and stay at one of the campgrounds in the area.
Day 3
Begin your day by hiking Dead Horse Canyon State Park. Take a break in the afternoon. Head to lunch in Moab (or better bring food with you to avoid extra driving). When the heat subsides, take a drive to the Island in the Sky section of the Canyonlands. Head back to Moab to stay at a hotel or camp at Canyonlands.
Best time to visit Moab
Summer is the busiest time in Moab with thousands of tourists coming here to enjoy its wonderful scenery.
However, it's also the most expensive time to visit Moab, as the high demand drives up the prices, and the hottest time, as temperatures often go up to 100 degrees Fahrenheit making being outside, and let alone hiking, very difficult.
Visiting Moab in mid-to-late spring or fall offers a different experience – the crowds are gone, the accommodation prices are lower and the trails are not as busy.
Winter is the slowest and coldest time in Moab, with few visitors, however, it can also offer some stellar opportunities for photography as the red rock country can get blanketed by snow creating magnificent landscapes.
What is the best month to go to Moab?
The best month to go to Moab is May and April. During this time, the temperatures are relatively mild and crowds are small. It's also a good time to visit if you are looking to save on hotels and tours as the prices are not as high as during the peak season.
What is Moab Utah best known for?
Moab has become one of the most popular places to visit in Utah because of the many outdoor activities and some of the most breathtaking landscapes in the United States. Visitors from all over the world come here to enjoy some of the best things to do in Moab like the Arches and Canyonlands National Parks and explore mountain biking trails such as the Slickrock Trail.
Is Moab Utah safe?
Moab is considered generally safe for visitors, but as the popularity of Moab has grown over years, so did the crime rate. Unfortunately, petty crime targeting visitors is not uncommon, and you should always keep an eye on your belongings when you hike or camp, or go places around downtown Moab. 
What do I need for hiking in Moab?
Moab is located in the high desert, and hiking here is different from hiking in other popular national parks in the West.
Whether you plan on exploring some of the best hikes at Arches, Canyonlands, or venturing into more remote areas, you will need proper hiking gear to stay safe and have fun while you are outdoors.
What to pack for your trip to Moab:
Proper hiking shoes with a good grip – Moab is famous for its red rock scenery, but the truth is, sometimes, the sandstone surface can be very slick, and you must have the proper footwear to avoid accidents
Water bottle – Always carry at least one gallon of water with you. This is especially true when you go for a hike during the day when it can be hot and dry. The last thing you want is to get dehydrated in the middle of the hike and turn around.
Layers – If you are visiting Moab during the shoulder season, it's not uncommon to have cool weather in the morning and scorching sun by mid-day. Make sure to bring at least one long-sleeve top for sun protection, and a few t-shirts for your hike.
Sunscreen – the sun can be very strong in Moab even during fall and spring. If you are going to spend time outdoors, make sure to put on some sunscreen.
Good hiking pants – If you plan to spend a few days in Moab, make sure to bring a few pairs of shorts and one pair of long hiking pants on your trip.
Light jacket or windbreaker – Temperatures in Moab can get chilly in the evening depending on the season. Bring a jacket, if you visit Moab in spring or fall. A fleece will keep you warm while hiking in Moab during late fall and early spring.
Swimsuit – If you are visiting Moab in summer, make sure to bring a swimsuit, so you could take a rafting trip on the Colorado River or jump in the pool after a day of adventures.
How to spend a day in Moab?
If you are visiting Moab for just a day, plan on visiting either Arches or Canyonlands and exploring some of the natural wonders around town. For example, you can begin your trip in the morning by driving Arches Scenic Drive and hiking several trails before noon. Take a break in downtown Moab during the afternoon and head over to Dead Horse Canyon State Park for the epic sunset.
Another option is to spend a day rafting or paddleboarding on the Colorado River before heading to Arches in the evening when temps cool off to hike and catch the sunset.
Best things to do in Moab Utah: final word
I've been to Moab several times, but I never get tired of it! Although I think that it's one of those places that you should visit at least once in your life, even if you are not an outdoorsy person. I hope this guide was helpful in your trip preparation and helped you to create an itinerary for visiting this magical place.