Disclaimer: This post contains affiliate links. At no cost to you, I might earn a small commission if you make a purchase through the links in this article.
Looking for the best things to do in Belize?
A hidden gem of Central America, Belize is a small country with rich biodiversity and un-BE-LI-ZE-able landscapes. While Belize is off the beaten travel path, it boasts the UNESCO-listed Great Blue Hole and the jungle-covered mainland with Mayan ruins and stunning caves.
This Central American country offers something that it neighbors might not: an incredible sense of discovery that you get to experience when you visit places only a few other people have seen!
Best things to do in Belize: overview
1. Explore Ambergris Caye
Where to stay: Drift Inn Belize
Ambergris Caye (pronounced key) is a must-stop for any traveler. A gateway to the famous Blue Hole in Belize and Hol Chan Marine Reserve, Caye Ambergris is the biggest island in the country.
✅ Read about the best resorts on Ambergris Caye, Belize
Home to San Pedro, the second-largest city in Belize, so if you are looking for an adventure base with great amenities, look no further.
2. Check out Iguana Sanctuary in San Pedro
One of the best-kept secrets in San Pedro Belize is Iguana Eco-Center, a sanctuary where you can see tons of beautiful green iguanas roaming around freely and even feed them a tasty banana.
Besides being a fun experience, this place also does a stellar job at providing safe heaven for these endangered reptiles that are unfortunately still hunted in Belize.
✅ Read: Honduras or Belize vacation?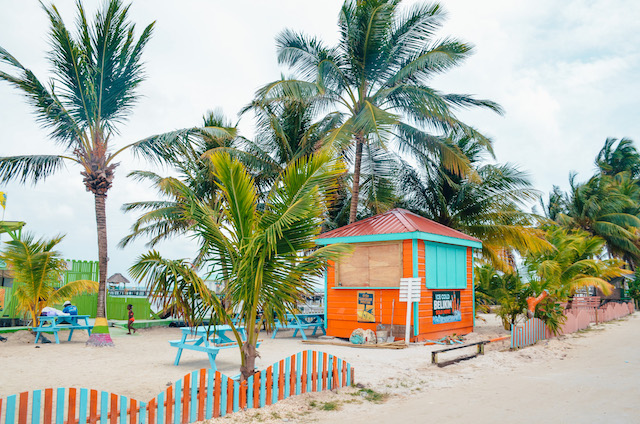 3. Chill out in Caye Caulker
Where to stay: Sea Dreams Hotel
Caye Ambergris' smaller cousin, Caye Caulker sits just 30 minutes south and can be accessed by a boat taxi from San Pedro. Unlike Caye Ambergris, Caye Caulker has a more quiet atmosphere with inexpensive stays such as Wish You Were Here that cater to budget travelers and backpackers. 
While Caye Caulker is a much smaller island than Caye Ambergris, it's still close enough to Blue Hole and Hol Chan Marine Reserve, so you will not miss out on the best things in Belize if you decide to stay here.
4. Dive in the Great Blue Hole
The crown jewel is Belize, the Great Blue Hole is a UNESCO World Heritage Site in an offshore atoll Lighthouse Reef.
A popular site among experienced divers, the Great Blue Hole was created thousands of years ago when the rising sea level flooded a vast network of caves that have stalactites and stalagmites. It is over 400 feet deep and is the largest sea hole of its kind in the world.
FUN FACT: The Great Blue Hole was formed centuries ago after the huge cave located above the sea level collapsed. The area gradually filled with water, and today it's a popular spot for divers who come here here to explore gigantic stalactite and stalagmite formations.
The Great Blue Hole was discovered in the 1970's by marine biologist Jacques Cousteau who declared this area one of the top diving spots in the world.
Things to know about diving in the Great Blue Hole
The Great Blue Hole is located about 43 miles off the coast of Belize. The majority of tours to Belize Blue Hole leave from San Pedro, Caye Caulker, or sometimes, Belize City, and take about 2 hours one way. It's also possible to snorkel in Blue Hole, however, you will not see much here because most cool things such as stalagmites and stalactites are located much deeper.
5. Snorkel (or dive) in Hol Chan Marine Reserve
Whether you want to snorkel or dive in Belize, Hol Chan Marine Reserve is an absolute must. Hol Chan Marine Reserve is a protected area that means "Little Channel" in the Mayan language which refers to the deep cut in the barrier reef.
At Hol Chan, you can see colorful corals, and watch all sorts of marine wildlife such as stingrays, turtles, and even manatees. Visiting this reserve is possible only with a guided tour, and several companies in San Pedro offer tours of the Hol Chan.
Popular tour packages in Hol Chan include snorkeling and diving options. Most companies provide snorkeling equipment, however, make sure to check with your tour operator before departing.
PRO TIP: Don't forget to bring your GoPro whether you plan on snorkeling or diving in Hol Chan. The marine world that you are about to see is absolutely stunning, and you shouldn't miss an opportunity to take photos and videos of it!
6. Feed nurse sharks at Shark Ray Alley
One of the major highlights of Hol Chan Marine Reserve is Shark Ray Alley, an area within Hol Chan where you can snorkel alongside nurse sharks, the friendly creatures who are used to being fed by tour boats that come here regularly. Most tour operators include a stop of Hol Chan on their itinerary other you purchase a snorkeling or diving trip.
Don't worry, nurse sharks have no interest in eating you! These mellow guys start swarming around the boat the moment it appears because they are used to being fed and are far more interested in eating fish, than doing anything to you.
7. Venture out to Bolsa Chica National Park
Bacalar Chico National Park and Marine Preserve is a remote area north of Ambergris Caye. Bacalar Chico is a UNESCO World Heritage Site that stretches for more than 60 miles across from the Bay of Chetumal in Mexico.
This stunning natural area is home to many cool animals such as jaguars and ocelots and it sees very few tourists. Snorkeling is also possible and since waters are so calm here you will have a good chance to spot manatees, turtles and many types of fish.
A day tour typically takes all day and includes stops at secluded beaches, as well as time for lunch and exploring.
Several local tour companies in San Pedro offer trips to Bacalar Chico including Serious Adventures and Seaduced by Belize.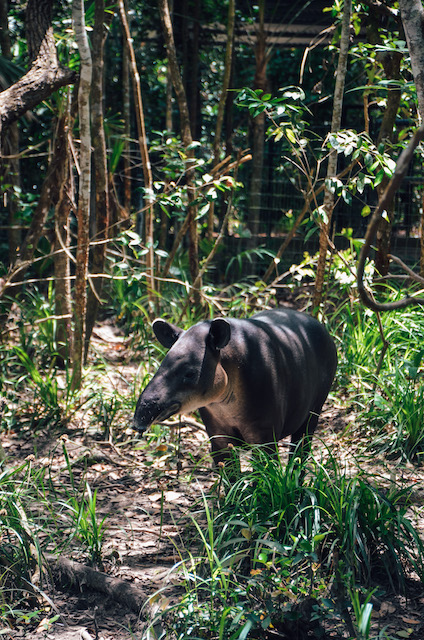 8. Stop at Belize Zoo
Belize Zoo is a must on your itinerary.
While I normally wouldn't recommend going to a zoo for ethical reasons, Belize Zoo is not really a zoo but a rehabilitation center for orphaned and injured animals native to Belize that can't be released into the wild.
Here you can spot spider monkeys, macaws, toucans, jaguars, and pumas in a natural setting that has a jungle-like feel to it, as opposed to concrete cages with bars that you see in regular zoos.
PRO TIP: Belize Zoo is about halfway between Belize City and Belmopan, so there are few hotels nearby. If you are looking to stay in the area, spend a night in Sleeping Giant Rainforest Lodge, one of the most popular hotels in Belize in the middle of the jungle.
By visiting Belize Zoo you will not only get a lesson in Belize biodiversity but also help the country's conservation efforts, because people who work here do an awesome job preserving these species and educating the public about their importance.
Tickets to Belize Zoo cost $15 USD for adults and $5 USD for children. Parking is free.
9. Enjoy Placencia beaches
Where to stay: Casa Del Hut
A popular ex-pat hub, Placencia is a beachside town located on a peninsula a few hours south of Belize City. Placencia is a perfect place to relax and kick back if you are looking for a low-key place. If you to stay in Placencia for a couple of days, visit nearby Hopkins, where you can learn about Belize Garifuna culture.
Placencia provides a quick access to some less-discovered cayes in southern Belize including Silk Cayes and Sapodilla Cayes with sugary white beaches and crystal clear waters that are perfect for snorkeling.
If you are looking for an ultimate getaway, check out Ranguana Caye Cabanas just 20 miles from Placencia. This little island is unbelievably gorgeous!
Check my guide on how to get from Belize City to Placencia
To get to Placencia, you can either take a chicken bus from the main bus station in Belize City (a more economical option that will cost between $10-15 USD), fly from Belize City on Tropic Air or arrange a private transfer from Belize to Placencia that will help you travel fast and with no hassle.
10. Take a day trip to Laughing Bird Caye National Park
Located off the coast of Placencia, Laughing Bird Caye is unlike any other national park you've ever seen. This island with amazing beaches and clear turquoise waters is a definition of a tropical paradise.
➡️ Read my guide to where to stay in Placencia
Most people come to Laughing Bird Caye for snorkeling and wildlife watching. Day trips from Placencia to Laughing Bird Caye take place daily, but you often need a specific number of people for each tour.
Don't forget to bring your camera, some snacks and water, and reef-safe sunscreen because Laughing Bird Caye is located near the Great Mesoamerican Barrier Reef.
11. Visit remote cayes in Belize
Some of the best islands in Belize are those that are less known.
Tobacco Cayes and Glover Reef offer paradise-like scenery with many small islands where only a few tourists go. I recommend spending a couple of days on one of these islands for a surreal experience.
If you travel on a budget, you can do beach camping, but if you would rather stay in a nice room, there are some cool high-end hotels where you can spend a few nights. I recommend Thatch Caye Resort and Blue Marlin Beach Resort.
12. Go zip lining in Bocawina National Park
If you are looking for a grand adventure in the jungle, look no further than Bocawina National Park, a hidden gem in the jungle of Belize that boasts the longest zip lines in Central America where you can rappel down cascading waterfalls and also learn about unexcavated Mayan ruins in the area.
One of the most popular places to visit in southern Belize, Bocawina National Park is only 20 minutes from Hopkins and Dangriga.
13. See the different side of Belize in San Ignacio
Where to stay: Mariposa Jungle Lodge
A tourist hub in western Belize, San Ignacio is a small town in the Cayo District near Guatemala's Border. San Ignacio is a perfect base if you are looking for some cool adventures in the western part of the country such as visiting Mayan ruins Xunantunich and Cahal Pech, tubing, and caving.
Some of the best activities in San Ignacio are the Green Iguana Habitat, San Ignacio Market, and the Green Hills Butterfly Ranch.
For a cool adventure, rent a kayak and making your way down the Macal River early in the morning. There's something magical about kayaking pre-dawn and listening to all the birds above you.
Book a private transfer from Belize City to San Ignacio to save time on the road.
14. Go on a hike in Mountain Pine Ridge Forest Reserve
The Mountain Pine Ridge Nature Reserve is the oldest of Belize's natural parks and encompasses a spectacular range of rolling hills, peaks, and gorges. Here are a couple of highlights of the area:
One of the most beautiful waterfalls in Belize, Big Rock Falls offers an incredible view of water rushing over the huge rock formations and plummeting into the deep pool at its base.
A perfect place for swimming, Rio on Pools is a series of pools formed by big boulders that are interconnected by small waterfalls. Many tours of Caracol Mayan Ruins in the Chiquibul Nature Reserve also include a stop at Rio on Pools.
Thousand Foot Falls is the highest waterfall in Central America. This waterfall plunges from a whopping 1,600 feet from the tall cliff right into the forest. If you like adventure, hike down the mountain to the base of the waterfall and jump into the water for a refreshing swim.
15. Visit Rio Frio Cave
Part of the Mountain Pine Ridge Forest Reserve, Rio Frio Cave is one of the most popular caves in Belize thanks to its accessibility.
Unlike in many other caves in the region, you don't need to wade through the water or swim in the Rio Frio Cave. The main highlight of the cave is a 65-foot limestone arch which is the main entrance of the cave.
Most tours of the Pine Ridge Forest Reserve include a quick stop in Rio Frio Cave before proceeding to other places, so make sure to have your camera with you.
Many caves in Belize were ceremonial sites for the ancient Mayas, and it's believed that Rio Frio Cave is one of them, as archeologists have discovered some artifacts here.
The cave also boasts impressive stalactites and stalagmites that you can check out when you step inside the cave.
16. Go spelunking at ATM caves
One of the most popular places to visit in Belize, Actun Tunichil Muknal caves (more commonly known as ATM caves) profiled by the National Geographic. A visit to this place requires a guide, and you will find many tour operators in Placencia and San Ignacio selling guided tours to ATM caves.
A typical tour to ATM caves in Belize lasts 8 hours and includes a pick-up from a hotel, transportation to the caves, a tour, and a lunch. No more than 8 people are allowed on a tour, as the caves are limited to just 120 visitors a day.
GOOD TO KNOW: Because of the accidents in the past that damaged the fragile artifacts within the caves, you are not allowed to bring cameras on your tour. Also, make sure to wear moisture-wicking clothes that dry quickly, as you will be wading and swimming in the water before you arrive at the underground exhibit.
17. Go cave tubing
Cave tubing is one of the most popular things to do in Belize. It's also one of the best ways to explore the country and chill out at the same time. Cave tubing is floating down the river that includes passages through the cave system that had been used by ancient Mayans for their rituals thousands of years ago.
Many tour companies in Belize offer cave tubing packages, and you should definitely check out this fun activity.
18. See jaguars at Cockscomb Wildlife Sanctuary
Did you know that Belize is home to the only jaguar preserve in the world where you can see these cats roam in the wild?
Bear in mind, jaguars are nocturnal animals and are not keen on contact with people, so your chances of seeing one while hiking this place during the daytime are not very big.
Still, Cockscomb National Park is worth a visit, if you are craving a refreshing hike and some exercise after spending a few days at the beach. The easiest way to access it is from Placencia, however, you can take a tour of Cockscomb National Park from many parts of Belize.
To see a jaguar, I recommend heading to Belize Zoo that has a great rehabilitation program for these beautiful cats.
Best things to do in Belize for culture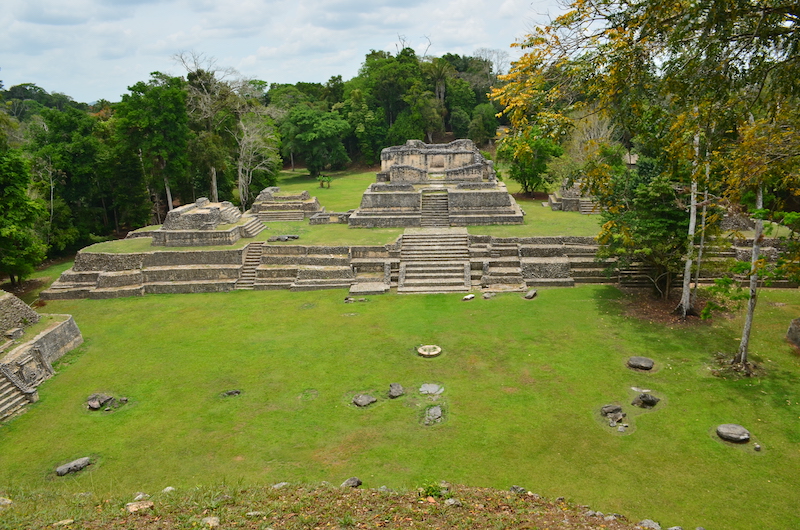 19. Climb Caracol Mayan Ruins
Located near the border with Guatemala, Caracol is a remote Mayan ruins site whose visitation hovers just above 10,000 people a year – a remarkably low number, when you consider other popular spots in the region like Chichen Itza, that sees millions of tourists.
Once the most powerful city in the Mayan world, Caracol was a rival of Tikal in neighboring Guatemala and commanded a significant economic and political influence.
Caracol no doubt remains one of the best-hidden gems in Belize due to its remote location. The road to Caracol is rough and bumpy, and it takes about 1,5 to 2 hours to get here from San Ignacio.
Many tour operators sell packages to Caracol, so if you don't have a 4X4 rental vehicle, you can also come here with an organized tour which is a better option, as you will get to learn the cool history of this place.
20. … Or explore Xunantunich
One of the most beautiful Mayan ruins in Belize, Xunantunich means "stone woman" in the Mayan language. It can be reached by taxi from downtown San Ignacio.
Xunantunich was an important ceremonial site for the ancient Maya and today it's one of the most popular tourist attractions in Belize with impressive sites with an impressive El Castillo pyramid.
Xunantunich's claim to fame is that it's the oldest continuously excavated Mayan ruin site in Belize. In 2016, archaeologists discovered the largest royal Maya tomb under the floor of one of the temples! The tomb contained the remains of a Mayan queen accompanied by gifts to the gods and remains of animals.
PRO TIP: If you want to visit a smaller and less touristy Mayan ruin site, make a stop at Cahal Pech, just outside of downtown San Ignacio. Cahal Pech is located above the steep hill and you can reach it on foot.
21. Learn about crocodile art in Lamanai
Famous for its incredible crocodile art, Lamanai is the longest-occupied Mayan site nestled along the New River Lagoon in Northern Belize. Lamanai means "submerged crocodile" in the Mayan language.
Among the highlights of Lamanai are impressive crocodile art, several plazas, and Mayan temples that house impressive Mayan artifacts. You can even see crocodiles on the banks of the river too, if you get lucky!
You can visit Lamanai only with a guided tour, because of its remote location, and normally it takes most of your day. When you come here, bring plenty of water and snacks and put on some sunscreen, as it gets pretty hot in the jungle.
22. Visit Belize Museum
Belize Museum is not on many travelers' radars, and yet, it's one of the best places to learn the history of the country.
Located on Queen Street in downtown Belize City, this museum houses exhibits documenting the country's history from the Mayan rule to its pirate days and colonial time that preceded its independence from Britain in 1981.
Here you can also learn about famous Belizeans like Philip Goldson a parliamentarian and journalist whose name graces the airport in Belize City. Before becoming a museum, the building was a jail, and to this day, visitors can check out some of the original cells.
The museum is easy to find because it sits right next to the Central Bank. Tickets cost 10 BZD, open times are from 9:00 a.m. to 5:00 p.m. on Tuesday through Thursday and 9:00 a.m. to 4:30 p.m. on Fridays and Saturdays.
23. Discover the many cultures of Belize
Belize identity is a colorful mix of many cultures and races.
The most prevalent ones are Mestizos, Maya, Kriol, Mennonites, and Garifuna. Although Belize is a small country, no part of it is similar to another. Today many American and Canadian expats are buying real estate in Belize, but this country has been inhabited by many other cultures throughout its history.
Hopkins is heavily influenced by the Garifuna culture, and if you plan to visit this town, the best way to learn about local culture is by taking one of Garifuna drumming classes.
The western Cayo district has many Mennonite communities but is also heavily influenced by neighboring Guatemala. You will hear more Spanish here than in coastal parts of Belize. Learning the country's cultural identity is one of the best things to do in Belize and you should take some time chatting with locals during your time in Belize.
24. Take a chicken bus in Belize
Chicken buses are a unique Central American thing and look like old school buses from the United States that have been painted in weird bright colors.
Many locals get around Belize by chicken buses and while they are definitely not the most comfortable mode of transportation (they don't have AC rides are often bumpy), you can save a good chunk of money by using this type of transportation.
Is it safe to take a chicken bus in Belize?
In some Central American countries, chicken buses have been associated with crime, however, in Belize, they enjoy a much safer reputation. Still, remember to keep an eye on your belongings and be vigilant during your ride. The space for luggage is limited on chicken buses and you should keep an eye on your things at all times.
25. Get off the beaten path in Punta Gorda
Where to stay: The Sea Front Inn
If you are looking where to stay in Belize, but want something less touristy, head to Punta Gorda, a small town in the southern part of Belize that sees very few tourists.
A gateway to Port Honduras Marine Reserve, Punta Gorda will be the longest trip that you will take in the country. If you don't feel like traveling on a chicken bus, you can also take a flight from Belize City on Tropic Air.
Punta Gorda is a perfect destination where you can get a taste of real Belize, take in those unspoiled landscapes and enjoy a slow-paced life after exploring all those awesome things to do in Belize.
Do I need to rent a car in Belize?
This is a tricky question.
Belize is a developing country with limited infrastructure and a small road network that includes major highways traversing main areas of the country and many primitive roads. Road tripping in Belize is not really a thing, as many travelers choose just one or two areas to stay, but renting a car is a great way to enjoy some of the best things to do in Belize that are off the beaten track.
There are several rental car companies in Belize City Airport and you can rent a vehicle here for your adventures on mainland Belize.
I recommend DiscoverCars, a great platform for renting cars that has flexible rates and no hidden fees.
Best things to do in Belize: FAQ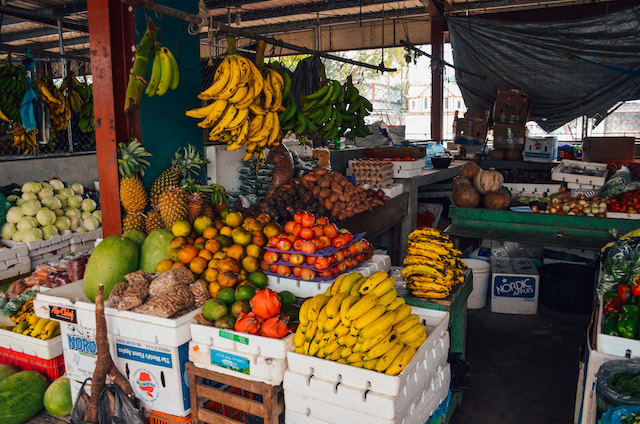 What is Belize known for?
Belize is known for its world-class diving, lush rainforests, and diverse culture. The country sits at the doorstep of the Great Mesoamerican Barrier Reef – the second-largest barrier reef in the world and boasts amazing biodiversity and opportunities for snorkeling and scuba diving.
Is Belize in Central America?
Belize is a Central American country with a Caribbean Coast that is bordered by Mexico to the north and Guatemala to the south and west. Located in the northeast of Central America, Belize was known as British Honduras until 1973.
Today, it is the only country in the region where English is the official language, which is a huge bonus for English-speaking travelers who want to visit Belize.
What's the official language in Belize?
While English is the official language of Belize, residents of the country also speak Spanish, Mayan, Creole, and Garifuna. The colorful identity of Belize is reflected in its cuisine, traditions, and culture, and you will see this incredible diversity when you travel to different regions in the country.
Is Belize safe to visit?
Belize is a relatively safe country for tourists, but the high crime rate in Belize City puts it in a bad category when it comes to overall statistics. San Pedro, Placencia, and San Ignacio are the most popular destinations for tourists, and the crime rate generally comes down to pickpocketing and petty theft.
Avoid walking around Belize City, especially by yourself, and especially during late hours. Belize City is not a major travel destination in the country, and is simply used as an entry point since it is home to the main international airport in Belize.
Is Belize cheap to visit?
Belize is one of the most expensive countries in Central America, so don't expect to travel cheaply when you come here. Many times, prices in Belize are comparable to the United States, and you can pay significantly higher prices for food and drinks on the islands like Ambergris Caye where most things are imported.
Is Belize worth visiting?
Belize is a hidden gem in Central America that's worth a stop. Here you can snorkel and scuba dive, explore unspoiled rainforests and enjoy a slow-paced life. Whether you like diving or roaming around Mayan ruins or just relaxing on a beach with a margarita in your hand, Belize has something for everyone!
How much time do I need in Belize?
Many travelers come to Belize with the idea that there's not much to do here except for diving and climbing a couple of ruins. By now you know that Belize is a diverse and unique country that is home to many cultures, landscapes, and fun things to do.
If you want to explore the country beyond a classic diving trip, stay between 7 to10 days to experience some of the best things to do in Belize. But if you want to go a bit deeper, and do some island hopping in southern Belize and explore the jungles, stay in Belize for at least two weeks.
Where should I go for 5 days in Belize?
5 days in Belize is not a lot of time, but you can still see some of the highlights like Ambergris Caye or Caye Caulker and visit a couple of places on mainland like ATM caves, Mayan ruins, or nature reserves.
What are the best months to visit Belize?
The best months to visit Belize are November through early May – the dry season in Belize. During this time, most of the country has warm, sunny weather, although the exact conditions could vary depending on what part of Belize you visit.
What is the rainiest month in Belize?
The rainy season in Belize lasts from June through November with October receiving the most precipitation. The rainy season is also the low season in Belize, and while the weather can be rainy, you will pay a lot less for hotels and tours during this time.
What's the best time to visit Belize?
The best time to visit Belize is from early December through April – the dry season when the country has no rain and plenty of sunshine. This is also the busiest time in Belize, so be ready to pay more for hotels, tours, and everything else in between. The rainy season in Belize lasts from June through early November and often brings hurricanes that can affect your activities.
For a better experience, visit Belize during the shoulder season – November through early December or April through May when prices are not too bad and crowds are smaller than during the high season.
FINAL WORD
That's a wrap! I hope this article helped to inspire you to visit Belize and embark on one of the biggest adventures in your life. Belize might not be the most well-known destination in Central America, but it's well worth a visit and once you visit Belize, you will want to come back again and again.