Disclaimer: This post contains affiliate links. At no cost to you, I might earn a small commission if you make a purchase through the links in this article.
San Ignacio is a popular destination for eco-tourism near the Belize-Guatemala border. This small town is one of the best places to stay in Belize, where you can get a real taste of this country and enjoy tons of activities from kayaking to caving and climbing some of the most beautiful Mayan ruins in Central America.
When you hear about Belize, it's mostly because of diving, snorkeling, the Great Blue Hole and the pristine islands dotting the country's coastline.
But that's not everything that Belize has to offer.
This small Central American country also boasts wonderful scenery on the mainland. From ancient Mayan ruins to nature reserves and underground caves, Belize is a true gateway to adventure.
✅ Check my Belize travel trips to have the best experience and avoid mistakes
Let's dig into some of the best things to do in San Ignacio Belize!
Read my article on some of the best things to do in Belize.
Best things to do in San Ignacio Belize
San Ignacio is a perfect base if you are looking for some cool adventures in the western part of the country such as visiting nearby Mayan ruins Xunantunich and Cahal Pech, tubing, and caving.
San Ignacio deserves a stop on your Belize itinerary, if you want to learn the history and get more familiar with its culture. It's also a popular stop for travelers who are making their way to Tikal in Guatemala.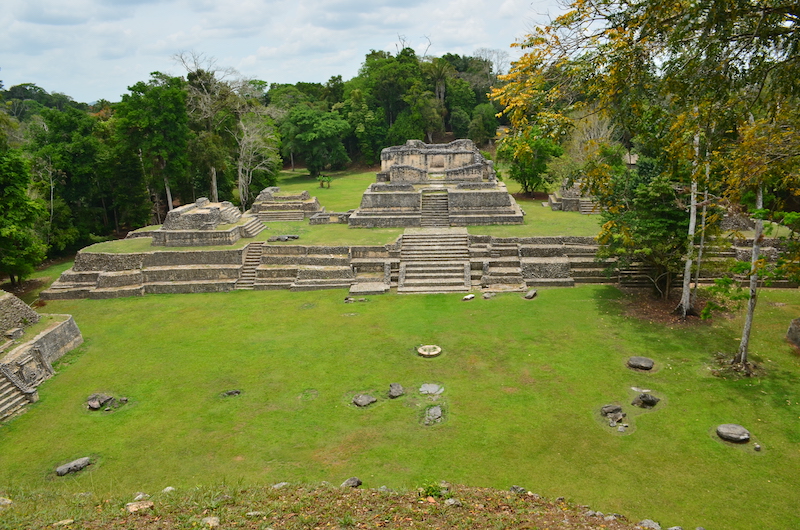 1. Take a guided tour of Xunantunich Mayan ruins
One of the most beautiful Mayan ruins in Belize, Xunantunich means "stone woman" in the Mayan language. It can be easily reached by taxi from downtown San Ignacio.
Xunantunich was an important ceremonial site for the ancient Maya and today it's one of the most popular tourist attractions in Belize with impressive ceremonial sites and the dominant El Castillo pyramid.
Taking a tour of Xunantunich is by far one of the best things to do in San Ignacio, because you will learn a lot of cool history of the country.
Best tours of Xunantunich from San Ignacio
You will find many companies offering private transportation and tours of Xunantunich for anywhere between $70-100 per person, but I'm here to tell you a little secret:
You can hire a guide on site for a fraction of the price, about $40-50 USD when you get to the entrance of the site that is separated by the Mopan River.
Many of the local guides who wait for tourists at the entrance are also willing to haggle with you, and if you arrive early enough, you can get an individual tour of Xunantunich, as there will not be any other tourists.
Visiting Xunantunich ruins without a guide
If you decide to tour Xunantunich without a guide, you will need cross the river by ferry. After that, you will have to walk for about 1,5 kilometers before you arrive at the entrance where you will need to pay $10 Belize (or $5 USD) at the entrance.
Xunantunich's claim to fame is that it's the oldest continuously excavated Mayan ruin site in Belize.
In 2016, archaeologists discovered the largest royal Maya tomb under the floor of one of the temples! The tomb contained the remains of a Mayan queen accompanied by gifts to the gods and remains of animals that appeared to be deer or Jaguar.
2. Spend a few hours cave tubing
Cave tubing is one of the best things to do in San Ignacio if you want to relax in the nature, and don't want to do too much physical activity.
Cave tubing is basically floating down the river that includes passages through the cave system that had been used by ancient Mayans for their rituals thousands of years ago.
✅ BOOK A POPULAR CAVE TUBING TOUR FOR JUST $65
There are several caves near San Ignacio that offer this activity, and you can easily book a tour online.
Best cave tubing tours in San Ignacio
3. Enjoy the solitude at Cahal Pech
If time is short, you don't have to travel too far from San Ignacio to see the Mayan ruins!
Cahal Pech is a Mayan ruin site perched on top of the hill about 5 minutes away from downtown San Ignacio.
It's a quick walk from downtown San Ignacio, but the hill leading up to the ruins is extremely steep, so make sure to bring plenty of water on your mini trip.
Spread over 2 acres, Cahal Pech has more than 30 structures that include temples, residential quarters, ball courts, and an altar. 
The solitude of this place makes for an incredibly refreshing experience as you are surrounded by nothing but the jungle!
Entrance price: $10 BZD or $5 USD
4. Discover Belize culture
Belize identity is a colorful mix of many cultures and races.
The most prevalent ones are Mestizos, Maya, Kriol, Mennonites, and Garifuna. Although Belize is a small country, no part of it is similar to another.
Today many American and Canadian expats are buying real estate in Belize, but this country has been inhabited by many other cultures throughout its history.
Best Belize culture tours
The western Cayo district where San Ignacio is located has many Mennonite communities but is also influenced by neighboring Guatemala.
✅ Find out what languages are spoken in Belize
You will hear more Spanish here than in coastal parts of Belize.
Learning the country's cultural identity is one of the best things to do in Belize and you should take some time chatting with locals and learn their way of living during your time in Belize.
5. Explore the spectacular ATM Caves
Profiled by The National Geographic, Actun Tunichil Muknal (more commonly known as ATM caves) is one of the best day trips from San Ignacio.
When I was first told about this place, I was a bit skeptical about whether it's worth the money, and I'm so glad I went against my doubts! Touring ATM caves in the heart of the thick rainforest were by far one of my best experiences in Belize that gave me the Indiana Jones vibes.
Although a visit to ATM caves requires a guide, it's not difficult to find one. Many tour operators in places like Placencia and San Ignacio selling tour packages to ATM caves.
Best tours of ATM caves from San Ignacio
A typical tour to ATM caves in Belize costs about $120 and lasts 8 hours which includes a pick-up from a hotel, transportation to the caves, an actual tour, and a lunch.
✅ Belize or Costa Rica? Check my honest comparison of the two countries
Because of the accidents in the past that damaged the fragile artifacts within the caves, you are not allowed to bring cameras of any sort on your tour.
Make sure to wear moisture-wicking clothes that dry quickly, as you will be wading and swimming in the water before you arrive at the underground exhibit where you will learn about ancient Mayan rituals and sacrifices that have taken place here.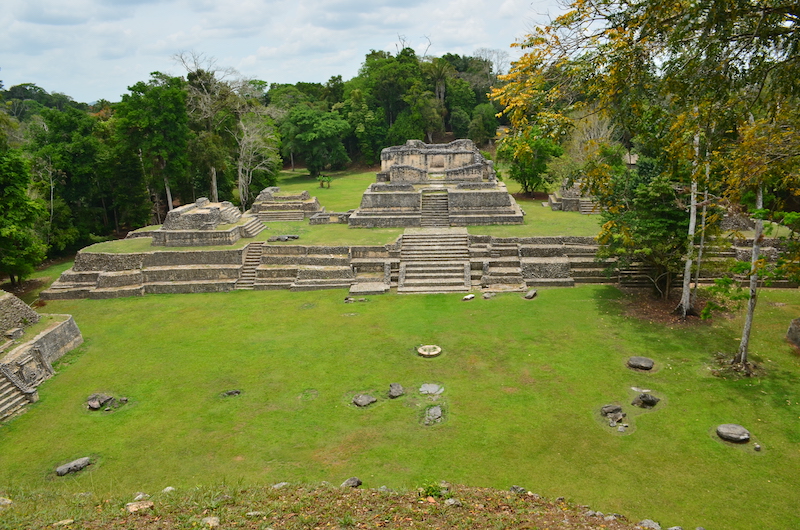 6. Climb the remote ruins of Carakol
Located in a remote jungle near the Guatemala border, Carakol is an impressive Mayan ruin site with a visitation of just above 10,000 people a year – a remarkably low number, when you consider other popular spots in the region such as Tikal, Palenque, and especially Chichen Itza in Mexico's Yucatan, that sees millions of tourists in a year.
Once the most powerful city in the Mayan world, Caracol was a rival of Tikal in neighboring Guatemala and commanded a significant economic and political influence.
Best tours of Caracol from San Ignacio
Caracol remains one of the best-hidden gems in Belize, as visiting Caracol requires time and effort. The road to to this Mayan ruin site is rough and bumpy in parts, and it takes about 1,5 to 2 hours to get here from San Ignacio, which is the closest town.
Many tour operators sell packages to Caracol, so if you don't have a 4X4 rental vehicle, you can also come here with an organized tour which is a better option in my opinion, as you will get to learn the cool history behind this place.
PRO TIP: If you decide to make your way to Caracol, stop at the nearby Mountain Ridge Forest Reserve, home to the tallest waterfall in Central America, a gorgeous Rio Frio Cave, and the beautiful pools where you can cool off after the day of adventures, as well as take a couple of scenic hikes.
7. Go on a hike to Mountain Pine Ridge Forest Reserve
If you have a car rental, and want to explore the San Ignacio area, take trip to Mountain Ridge Forest Reserve, home to the tallest waterfall in Central America, a gorgeous Rio Frio Cave, and the beautiful pools where you can cool off after the day of adventures, as well as a couple of scenic hikes.
Exploring this gorgeous reserve is one of the best things to do in San Ignacio, if you want spend some time in the nature and hit the trails.
Another option is to visit Pine Ridge Forest Reserve with a guided tour. Some tours of Caracol Mayn ruins also include a stop at Pine Ridge Forest Reserve on the way back.
8. Flow down Barton Creek
Barton Creek Cave is one of the most popular things to do in San Ignacio – and for a good reason – here you can cave tube or canoe inside the cool cave that was used for sacrificing rituals by Mayans.
The cave still has many artifacts such as pottery, and even skulls from prehistoric times.
 I recommend Viator, my go-to platform for booking tours in Belize and other destinations!
Best Barton Creek Tours from San Ignacio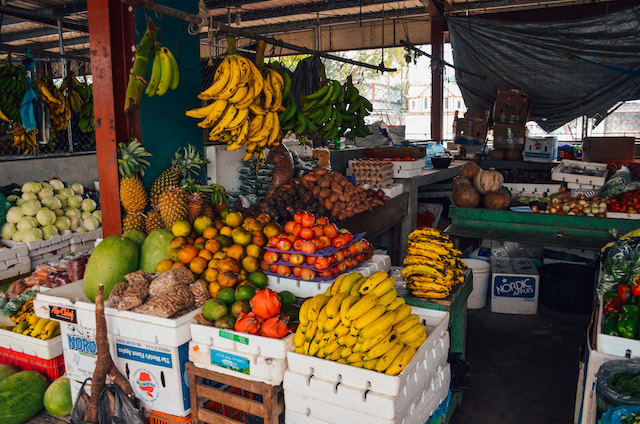 9. Buy fresh fruits at San Ignacio Market
San Ignacio Market is located in the heart of the town, so you can easily get there on foot if you are staying in downtown San Ignacio. This small local market is a perfect place to buy local produce such as veggies and fruits and get a souvenir such as wooden masks, bracelets, and magnets for your friends and family back home.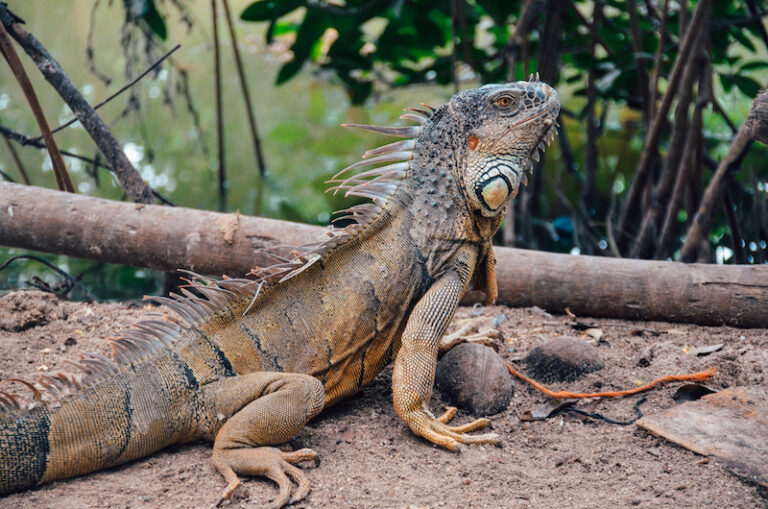 10. Visit Green Iguana Conservation Project
Located at the San Ignacio Resort Hotel, Green Iguana Sanctuary is a conservation project aimed at preserving and educating visitors about these cool reptiles native to Belize.
If you are up for a bit of walking, you can easily get there on foot in 10-15 minutes from downtown San Ignacio. A taxi is a quicker option which will get you there in 5-10 minutes depending on where you decide to stay.
You don't need to stay at the San Ignacio Hotel to visit, but you need to pay a fee to be able to feed the iguanas that are housed here.
At the time of writing this article, ticket price for Green Iguana Conservation Project was $18 Belizean dollars or $9 USD.
PRO TIP: Another place to see iguanas is a sanctuary is San Pedro on Ambergris Caye.
11. Learn about bird conservation at Belize Raptor Center
A close ally of Belize zoo, the Belize raptor center is located in the jungle on the outskirts of San Ignacio and is home to many birds that have been rehabilitated after injuries or accidents.
Unfortunately, the majority of these birds can't be released into the wild again because of the severity of the injuries or loss of their hunting instincts.
Since the raptor center is a bit away from San Igancio, you will need to catch a taxi to come here.
The volunteers who work at these place organize events and daily showings of the birds, so make sure to call ahead of your visit and ask if anything is planned for the day when you want to visit.
12. Go Kayaking on Macal River
If you want to enjoy the scenic sunrise while listening to thousands of birds singing above you, rent a kayak and make your way down the Macal River early morning.
There's something magical about kayaking pre-dawn and listening to all the birds above you. The river is pretty slow, so you will be able to stop and take a swim at any moment.
Another option is to take a walk along the river in the morning before the sunset – a cool experience. This is one of the most authentic things to do in San Ignacio, as you will most likely not see a whole lot of tourists doing the same thing!
13. Take a day trip from San Ignacio to Tikal
One of the most famous Mayan ruins, Tikal National Park in Guatemala is a popular day trip from San Ignacio.
Tikal was one of the most dominant cities in the Mayan kingdom in the Yucatan Peninsula and had to fight with many other cities in the region such as Caracol in Belize to defend this status.
The drive from San Ignacio to Tikal takes about 2 hours and you will need to bring your passport since you will be crossing the border between the two countries.
Most companies who organize tours of Tikal from San Ignacio will pick you up at your hotel, however, you can also hire a private guide.
Best tours of Tikal from San Ignacio
Make sure to bring plenty of water, wear comfortable shoes and comfortable clothing on your trip. Taking a couple of snacks such as trail mix and granola bars is also a good idea.
I hope you enjoy your trip to San Igancio!
How to get to San Ignacio Belize
To get to San Igancio, Belize you can either rent a car at Belize City airport, hire a private transfer (which is going to cost about $80-100 USD) or take a chicken bus, the most fun and inexpensive option which will cost no more than $10-15 USD.
✅ Check my complete guide on how to get from Belize City to San Ignacio
Taking a chicken bus from Belize City to San Ignacio
If you do a bit of research, you will find a lot of information about chicken buses in Belize, with some people describing them as unsafe. But as someone who has taken chicken buses in Belize several times, I can tell you that it's safe and convenient, as they allow you to travel in Belize very cheap.
If you decide to take a chicken bus, bring enough cash to buy tickets because credit cards are not accepted. As everywhere else during your trip, keep an eye on your belongings, and be aware of your surroundings, especially around busy bus stations with high foot traffic.
GOOD TO KNOW: Chicken buses in Belize typically have no air conditioning and have limited space for luggage, so if you are traveling with a big suitcase, you will have to put it on the seat next to you just like all your other belongings. There is some overhead space available, if you have a smaller bag.
Chicken buses from Belize City to San Ignacio depart from the main bus terminal called Novelo's. The area around the bus terminal is a bit seedy, so take a taxi to get there instead of walking around with your luggage, even if it's a short walk.
Private shuttle from Belize City to San Ignacio
If you don't feel like dealing with the logistics of organizing your transportation from Belize City to San Ignacio, book a private transportation. An English-speaking driver will pick you up at a designated spot and drive you straight to your hotel in San Ignacio.
It's a great option if you are traveling to Belize for the first time and want to save time on the road.
Renting a car to get to San Ignacio from Belize City
Another option is to rent a car to get to San Ignacio from Belize City. Most car rental companies can be found in Belize City International Airport (BZE), and you can rent a car there on the spot. Book your car online ahead of your visit, if you are traveling during the high season from December through April.
➡️ I recommend Discover Cars that offers dozens of vehicles at great rates.
Although tripping in Belize is not common, since the country is small and the infrastructure is limited renting a car is a great way to explore many cool places to visit in Belize where few other travelers go. I highly recommend you rent a car for your adventure in this country!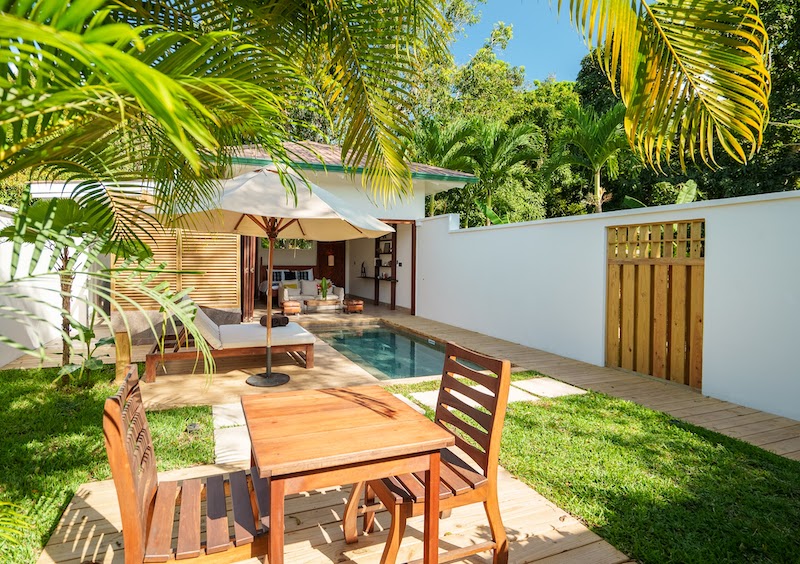 Where to stay in San Ignacio Belize
If you want a central location, book a stay near downtown San Ignacio Belize. There are many hotels around Burns Avenue, the main thoroughfare in the city where you can find tour companies, souvenir stores and restaurants. There are also plenty of hotels within 20 minutes of San Ignacio that offer more privacy and a relaxing atmosphere in the jungle.
Budget Hotels in San Ignacio
I stayed in Hotel Venus on Burns Avenue in the middle of downtown San Ignacio, and really enjoyed my stay! Not only this hotel is centrally located, but it also had an awesome staff who connected me with local tour operators and helped to book a tour of ATM caves.
As a backpacker hub for people traveling across Central America, San Ignacio has plenty of hostels such as Yellow Belly Backpackers where you can save a chunk of money and mingle with fellow travelers.
✅ Check my guide to the best hotels in San Ignacio
Mid-price Hotels in San Ignacio
Mariposa Jungle Lodge is one of the best hotels in San Ignacio for mid-budget travelers. Located in the Belize jungle, Mariposa Jungle Lodge has six comfortable cabanas, a nature trail and an outdoor pool with a slate waterfall. This boutique eco-lodge is a 30-minute drive from San Ignacio.
Falling Leaves Lodge is located right near Cahal Pech Mayan Ruins, and offers cozy accommodations with a restaurant with delicious breakfast, free private parking, a bar and a shared lounge. It's easily one of the most beautiful hotels in San Ignacio with gorgeous rooms and a jungle setting.
Barton Creek Cave is 16 miles from Falling Leaves Lodge.
Luxury Hotels in San Ignacio
Ka'ana Resort & Spa is an eco-friendly property and one of the best luxury hotels in San Ignacio, Belize. It features tropical gardens and is located about 6 km from the archaeological site of Xunantunich.
Ka'ana Resort & Spa has a spa, an infinity pool and spacious rooms with terraces. Located outside San Ignacio, it helps to arrange tours to nearby national parks, caves and the rainforest. And the staff here is super friendly!
San Ignacio Resort Hotel is one of the best places to stay in San Igancio if you want a luxury stay and central location. Nestled on 7 hectares of jungle next to the Macal River, this hotel is 7 minutes by walking from Cahal Pech Mayan Ruin and within walking distance from downtown San Ignacio.
GOOD TO KNOW: The Green Iguana Conservation Project is located on site, which means you have a direct access to one of the best things to do in San Ignacio, Belize
Best Villas in San Ignacio
If you need a private accommodation, consider booking a place a bit away from the center of San Ignacio. There are many resorts and private villas within 20 minutes of San Ignacio such as Villa Cayo, a country house with a terrace, free WiFi, and free private parking.
BEST THINGS TO DO IN SAN IGNACIO: FAQ'S
Why visit San Ignacio Belize?
San Ignacio is a hidden gem, located away from the beaten tourist track. Although most travelers spend time along the Belize coast, San Ignacio offers a different taste of the country thanks to its adventure opportunities.
✅ What language do they speak in Belize? Read my complete guide
Is San Ignacio Belize worth visiting?
San Ignacio is definitley worth a stop on your Belize itinerary. It's a culture hub and gateway to some of the best adventures in Belize like hiking, zip-lining, exploring Mayan ruins and cave-tubing.
Is it safe to walk around San Ignacio Belize?
Walking arounf San Ignacio is perfectly safe, but you should always be aware of you surroundings, particularly at night. The most common type of crime in San Ignacio that affects tourists is petty theft, so you should always keep an eye on your belongings.
What is San Ignacio Belize known for?
Plan between 3-5 days in San Ignacio to enjoy some of the best activities in the area and have enough time to get a taste of the Belizean culture.
How do you get around San Ignacio Belize?
You can get around Sna Ignacio by walking. This is a small town and you can easily explore all of its highlights in just a day before taking day trips to Mayan ruins, ATM caves and natural reserves.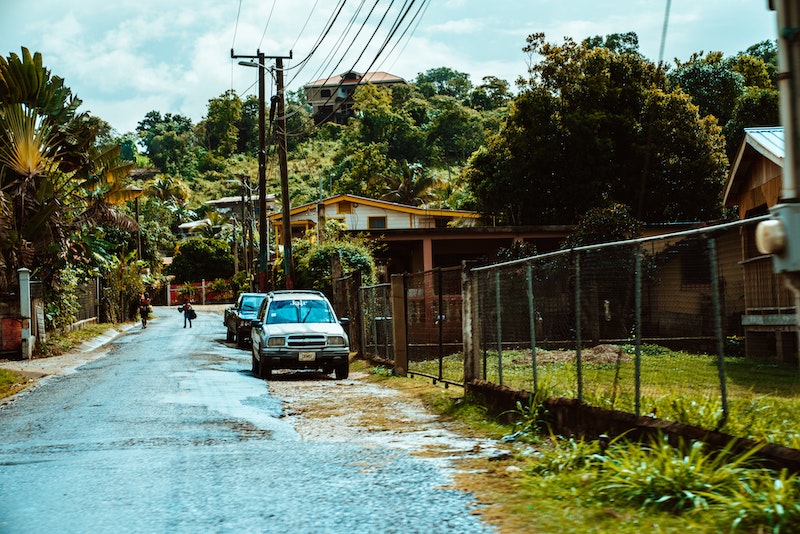 Tips for visiting San Ignacio Belize
Carry plenty of cash – While credit cards are generally accepted in most places in Belize. Small vendors, taxi cabs, and local markets only accept cash.
Hydrate often – San Ignacio sits in the jungle and has a humid tropical climate. Make sure to drink plenty of water while you are here.
Try to visit during the low season – San Ignacio has a low visitation from May through July, a slow season when prices on hotels and tours are lower than usual.
Enjoy wildlife – You can spot some cool wildlife in the San Pedro area. From spider monkeys in the jungle to macaws and coatis, this place is an adventure paradise.
Prepare for a workout – Since most activities in San Pedro Belize require you to be outside, prepare for physical activities. From hiking trails to climbing steps of the Mayan pyramids and swimming in caves, you will be moving a lot on your trip.
Travel resources for your trip to Belize