Disclaimer: This post contains affiliate links. At no cost to you, I might earn a small commission if you make a purchase through the links in this article.
San Francisco is the largest city in Northern California and one of the top destinations on the West Coast thanks to its outdoor opportunities, restaurant scene, and fascinating history and culture.
Whether you want to explore some of the best places to visit in San Francisco or take a scenic hike, this city has it all. Within a few hours from San Francisco, you will find many treasures from some of the best national parks in California to lush vineyards and scenic beaches.
In this guide, we will take a look at the best day trips from San Francisco that make a perfect getaway.
Best day trips from San Francisco: an overview
1. Santa Cruz
Distance from San Francisco: 1 hour 21 minutes (75.7 miles)
Where to stay: Edgewater Beach Inn
Santa Cruz is one of those classic day trips from San Francisco that is popular with many travelers who want to do a quick getaway from the Bay Area.
This is a short road trip from San Francisco that offers enough things to do to keep you busy for a couple of days. Santa Cruz is home to many spectacular beaches and superb outdoor opportunities.
Natural Bridges State Park and the nearby Capitola Beach with candy-colored houses are worth a stop. Unlike many other places in the Bay Area, Santa Cruz is perfectly walkable, so if you are staying downtown Santa Cruz, you can easily explore the city on foot before hopping in your car to see the natural gems.
2. Humboldt Redwoods State Park
Distance from San Francisco: 3 hr 50 minutes (217.2 miles)
Where to stay: Victorian Inn
Located in Weott, Humboldt Redwoods State Park is the state's largest redwood park with the tallest trees on the planet.
One of the best things to do in Redwoods State Park is driving along the Avenue of the Giants, a 31-mile stretch of Historic Highway 101 that snakes through the groves of these ancient trees – in fact, the park is home to the world's largest grove of old-growth redwoods.
Best hikes in Redwoods State Park
If you're looking for some awesome hikes through the Redwoods, the park has several options. When hiking the Founders Grove trail, you'll be able to get a better grasp of the sheer scale of these giants by craning your neck up to see a fallen redwood's root system. Another option is the Homestead and Big Trees Loop, where you'll have panoramic views of these 350-plus feet tall giants.
If you want to take a break from the Redwoods, the Eel River runs the length of the park, providing excellent kayaking or swimming opportunities in the summertime.
Don't forget to explore some quirky towns in the area. For example, Ferndale, just 24 minutes north of the park, is famous for its Victorian architecture that has been used as the filming location for many TV shows.
For a perfect home base just outside of the park's boundaries, book your stay at Redwood Suites.
Contributed by Jessica of Uprooted Traveler
3. Sacramento
Distance from San Francisco: 1 hr 24 min (87.9 miles)
Where to stay: Kimpton Sawyer Hotel
If you're looking for a fun day trip from San Francisco, look no further than Sacramento! The two cities are about 80 miles apart for about an hour and a half drive between them, but the train to Sacramento is an adventure in itself.
Best things to do in Sacramento
Once you're in the city, head over to the Old Sacramento Waterfront quarter, where you can relive the Gold Rush Era thanks to the Wild West-inspired architecture. Registered as a national historic landmark, the Waterfront has many attractions like museums, historic railroads, and more.
The hidden gem of the area is the California Native Plant Walk.
Planters of various indigenous California plants are placed strategically across the quarter, based on the direct needs of the plants. The California Native Plant Society has a full map of where to find each planter, what types of plants are growing, and why they're selected for that location.
Best Sacramento tours
Don't forget to visit one of the Old Sacramento Underground tours at the Sacramento History Museum to explore hollow sidewalks, sloped alleyways, and the underground spaces.
If you didn't take the train from San Francisco but still want the experience, you can opt for a historic railroad excursion from the California State Railroad Museum. Lounge in one of three antique-styled cars for a 50-minute round trip along the Sacramento River.
Contributed by Rachel from bucketlistplaces.com
4. Stinson Beach
Distance from San Francisco: 55 minutes (23.3 miles)
Where to stay: Calle Paradise
Located just 23 miles northwest of San Francisco, Stinson Beach is one of the best beaches in California. Stinson Beach is dog-friendly, which is great news for pet owners who can enjoy their weekend with their dogs on this wide beach.
Here you will find many hotels and resorts where you can spend your weekend. Some of the best and most renowned hotels in the Stinson Beach area are Sandpiper Lodging, and Calle Paradise.
If want to visit Stinson Beach in summer, you have to come early, as it's a popular destination for a quick getaway from San Francisco.
There are some places nearby Stinson Beach to explore this area. Stinson Beach Book is one of the most attractive places on this list. After exploring the book store you can head to Stinson Beach Gallery where you will see the vast collection of local paintings, sculptures, and other art works.
Stinson Beach is an excellent place for your day trip from San Francisco where you can enjoy your weekend with your dog.
Contributed by Trijit from Dog Travel Buff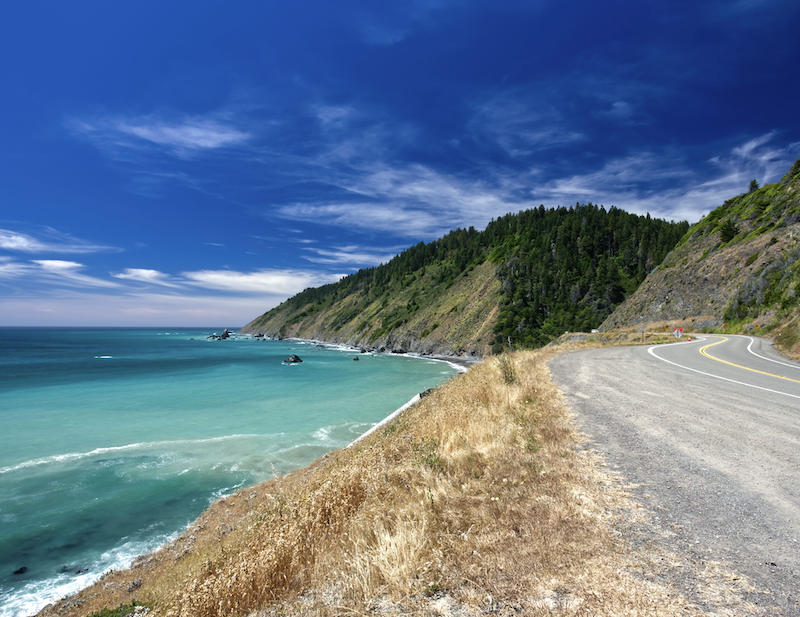 5. Mendocino
Distance from San Francisco: 3 hr 9 minutes (154.3 miles)
Where to stay: Brewery Gulch Inn
The quaint town of Mendocino is perched on a cliff overlooking the Pacific Ocean.
There are two options to get to Mendocino from San Francisco. You can take the coastal route along Highway 1 passing through Point Reyes, Bodega Bay, and Point Arena. Or the 101 Freeway to Highway 128 through Anderson Valley's wine region and the Navarro River Redwoods State Park.
Best things to do in Mendocino, California
The town is filled with historic Victorian buildings, charming boutiques and artisan galleries. For best better views, the trails of the Mendocino Headlands State Park extend from the town and wind their way through the cliffside. Explore the coves of greens and blues where seals are often seen.
Whales migrate off these shores from November through April, so, that can be a particularly exciting time to visit. Unfortunately, it can also be a wet and cool time as well. The spring wildflowers can be amazing in April and May. If you miss them, there's always the Mendocino Coast Botanical Gardens.
There are a couple of other parks in the area worth visiting.
Van Damme State Park has a nice beach and hiking trails that run through the Pygmy Forrest. MacKerricher State Park is home to the famous Glass Beach where the sand is literally sprinkled with lots and lots of sea glass.
There are many restaurants in Mendocino village, just a short walk over the Big River Bridge, but you'll want to eat at least one breakfast and one dinner at The Ravens that has vegan dishes.
Contributed by Denise from ChefDenise.com
6. Yosemite National Park
Distance from San Francisco: 167 miles
Where to stay: Alpine View
One of the best day trips from San Francisco is Yosemite National Park. The best way to get there is via I-580E and CA-120E.
Yosemite National Park is one of the most famous national parks in California and visitors from around the world come to see its famous granite formations like Half Dome and El Capitan along with the beautiful hiking trails and waterfalls.
If you only have a day in the park, it is best to use your time to explore Yosemite Valley. Within the valley, there are great waterfalls like Lower Yosemite Falls and lots of easy hiking trails. Cook's Meadow Loop has beautiful views of the granite rock formations.
In summer, use Tioga Road at the eastern entrance of the park to avoid the crowds. This is a beautiful and scenic drive you can take up to Tuolumne Meadows and Tenaya Lake.
Many travelers visit Yosemite with a guided tour from San Francisco.
Book your trip here.
Best tours of Yosemite from San Francisco
This 3-day camping tour from San Francisco also includes Yosemite and is super popular with travelers!
The two most famous viewpoints in the park are Tunnel View and Glacier Point and views that give Yosemite the exposure that it has.
If you want to stay overnight, Yosemite Valley is the most popular place. If you need something outside the park, you can look for hotels in El Portal, Yosemite West, or Wawona.
How many days is enough for Yosemite?
Spend at least 3 days in Yosemite if you want to see its highlights and do a combination of hikes. Yosemite is a big national park and its requires time and effort to enjoy some of the most iconic spots like Half Dome, Glacier Point, and Yosemite Falls.
Contributed by Candice, CS Ginger from www.csginger.com
7. Big Sur
Distance from San Francisco: 2 hr 43 minutes (146.1 miles)
Where to stay: Big Sur River Inn
Big Sur is one of the best day trips from San Francisco, and for good reason! With natural wonders, pristine beaches, and rugged cliffs, there's something for everyone in this beautiful corner of California.
To get there, take Highway 1 north from San Francisco. The drive will take you about 2.5 hours with scenic views of the Pacific Ocean. You'll pass through Monterey and the charming town of Carmel-by-the-Sea before arriving in Big Sur.
Best tours of Big Sur from San Francisco
Best time to visit Big Sur
The best time to visit Big Sur is in May or October when the weather is mild and there are fewer crowds. However, the area is beautiful year-round and there's always something to do. Big Sur tends to get crowded as the day gets later, especially in summer, so arrive early to avoid the traffic.
Begin your Big Sur day trip by hiking at Point Lobos Natural Reserve. This area has some of the best coastal hiking in California with stunning views at every turn.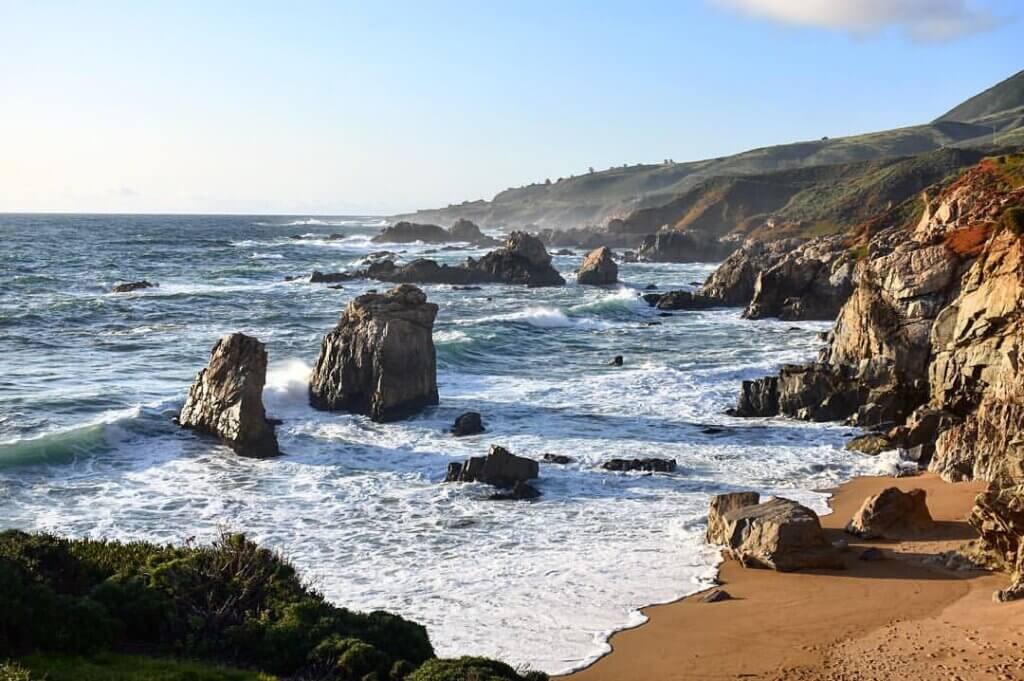 Best things to do in Big Sur
After a couple of hours of hiking, make a quick stop at the iconic Bixby bridge for a photo op, then head to Pfeiffer Beach, a local favorite, for a picnic lunch and some beachcombing. You also don't want to miss out on the purple sand or Keyhole Arch.
Other places you don't want to miss in Big Sur are the McWay Falls and Julia Pfeiffer Burns State Parks. McWay Falls is a waterfall that empties into the ocean and is a must-see on any trip to Big Sur. Julia Pfeiffer Burns State Park has some of the best views of the coastline
Although Big Sur is a manageable day trip from San Francisco, there are also plenty of places to stay if you'd like to extend your time in this gorgeous area.
You can camp in Big Sur at the Pfeiffer Burns Campgrounds. If you'd prefer more of a hotel stay, check out Carmel-by-the-Sea or Monterey.
However you choose to create your Big Sur itinerary, you'll be sure to have a marvelous time in nature!
Contributed by Pafoua from Her Wanderful World
9. Half Moon Bay
Distance from San Francisco: 39 minutes (29.4 miles)
Where to stay: Cypress Inn on Miramar Beach
Half Moon Bay is a small city is a long and narrow strip that is highlighted by a long stretch of sandy beaches that almost run its entire length.
To the north of the city, just past Pillar Point Harbor, you will find Mavericks Beach where you can watch surfers take on some of the biggest waves in the world when the swell hits the coast. As you head south, you will get into the center of the city with small shops, local restaurants, breweries, and a small winery.
The farther south you go, the more you will avoid the crowds as you head toward the Wavecrest Open Space and the surrounding beaches. These sections of beach including the Painted Wall Beach, Manhattan Beach, and Three Rocks Beach.
Best hikes near Half Moon Bay
The area is also a hub for hikers with trails for all ability levels ranging from the long flat Coastside Trail that runs the length of Half Moon Bay to the steep and heavily forested Purisima Creek Trail with its yellow banana slugs and towering redwoods. This makes it a great destination where you can hike for half a day and relax at Half Moon Bays' beaches after that.
Where to stay in Half Moon Bay
The options for accommodations in the area range greatly in luxury and price. On the top end, you have the stunning Ritz Carlton Half Moon Bay on the cliffs overlooking the ocean. For a more modest lodging option, choose the Nantucket Whale Inn in the center of town.
Contributed by Gabriel Glasier from Chef Travel Guide
10. Napa Valley
Distance from San Francisco: 1 hr 19 min (66.9 miles)
Napa Valley is one of the most popular day trips from San Francisco, and I would be lying to you if I didn't say that this is one of the most touristy destinations in Northern California.
The famous wine-producing region is just 60 miles north of San Francisco, and you can visit it by car, public transportation, or guided tour. Keep in mind that while public transportation is the cheapest way to get to Napa, it's also the slowest way, and it can be a bit convoluted.
Best tours of Napa Valley from San Francisco
I recommend taking a guided tour of Napa Valley from San Francisco that will allow you to explore the famous vineyards, and provide some history of the area. Some tours can have up to 30 people, that's why I suggest a small group tour of Napa Valley which will give you more freedom.
If you have a rental car, book a stay in Napa Valley to enjoy the region. There are many gorgeous hotels in Napa Valley where you can spend the night and enjoy some of the best things that Napa Valley has to offer like restaurants, spas, and other cool things.
Best hotels in Napa Valley
Napa has many hotels for all tastes and budgets. Here are a few suggestions:
Luxury: Solage, Auberge Resort – located half a mile from Calistoga, this luxury resort boasts a wellness spa center, a restaurant, and an outdoor pool, hot tub, and sauna. Bicycles can be rented on property. Sterling Vineyards and Chateau Montelena Winery are less than 3 miles away.
Mid-budget: Carneros Resort and Spa – Stay in one of the rustic cottages with beautiful interior designs and superb amenities including a spa, outdoor pools, and two restaurants with an outdoor dining area. Breakfast and lunch are served daily.
Budget: Up Valley Inn and Hot Springs – this hotel provides access to the area's hot springs, but for less money than other places in the area. Free parking, an airport shuttle, and access to the free Calistoga bus which can take you downtown.
11. Monterey
Distance from San Francisco: 2 hours (118.5 miles)
Where to stay: Blu Pacific Hotel
There are many attractions and scenic spots in San Francisco that make a perfect weekend getaway from San Francisco. Monterey is a coastal city covering an area of 12 square miles with a population of 30,000.
The best way to get to Monterey is by driving, and it takes about 2 hours to get there. For public transportation, take the bus line 20 or Caltrain, which will take about 3 to 4 hours for the ride.
Monterey is a popular getaway from San Francisco because of its breathtaking oceans. Stay in the Monterey Plaza Hotel and Spa, which is built at the waterfront with excellent massage and spa facilities that make the stay a relaxing one; or in the Old Monterey Inn, which is an intimate bed and breakfast that captures the countryside charm.
Best tours of Monterey
Monterey was founded in the year 1770 and it had quite a history of being the capital of Alta California in the early 19th century. The city is where California's first theatre, public library, and newspaper are established.
Apart from exploring the city's historic locations, the city has beautiful sceneries with pristine beaches, parks, and walking trails. Don't miss out on the city's Music and Arts Festival if you are visiting in May.
This popular full-day tour of Monterey from San Francisco takes tourists on a 17-Mile Drive, a scenic highway 1 that runs along the Pacific coastline.
Best guided tours of Monterey from San Francisco
To fans of the hit TV Show Big Little Lies, the story was based on a group of lead actresses (starring Nicole Kidman, Reese Witherspoon, and Meryl Streep) who live in Monterey, with a number of scenic spots featured in the show including the Bixby Bridge, Lover's Point Park, Paluca Trattoria on Fisherman's Wharf, Point Lobos Natural Reserves, and more.
Contributed by Kenny from Knycx Journeying
12. Alcatraz Island
Distance from San Francisco: 18 min (3.2 miles)
Where to stay: Argonaut Hotel
The Alcatraz Island is one of the best day trips from San Francisco without a car. It was used a military prison, a federal prison, and at one point was also occupied by Native American activists fighting for indigenous rights.
What is Alcatraz known for?
Alcatraz is best known for its prison days, which operated from 1934 to 1963. The prison was designed to house the most hardened criminals, like Al Capone, and it soon gained a reputation as one of the most brutal and inhumane prisons in the world.
Today, Alcatraz is a popular tourist destination managed by the Golden Gate National Recreation Area, where visitors can explore the abandoned prison cells and learn about the island's dark history.
The ferry ride to Alcatraz is an experience in itself, and as you watch the San Francisco skyline fade into the distance, you'll get a sense of what it must have been like for the prisoners who were incarcerated here.
How to get to Alcatraz from San Francisco
The only way to get from San Francisco to Alcatraz is by ferry. A 15-minute ferry leaves from San Francisco's Pier 33 every 20-30 minutes, starting from 8:45 am to 3:50 pm daily. Plan at least three hours for your excursion around the island.
Reserve ferry tickets beforehand, as they may be sold out ahead of time.
Best tours of Alcatraz Island from San Francisco
Once you reach the island, you can learn Alcatraz's fascinating history through posted signs and museum exhibits. The Cellhouse audio tour is very informative, and it's a great way to learn more about historic site as you wind your way through the remnants of the prison halls.
There are no food services on Alcatraz, and if you bring snacks, you can eat only in the dock area. Similarly, no accommodations exist on the island, so the nearest hotels are in San Francisco, like Club Quarters Hotel Embarcadero.
Contributed by Catherine Xu of Nomadicated
13. Point Reyes National Seashore
Distance from San Francisco: 1 hr 14 min (37.4 miles)
Where to stay: Olema House at Point Reyes
One of the most scenic day trips to do from San Francisco is to visit the Point Reyes National Seashore which is about an hour and 1/2 north in Marin County and bordering Sonoma County.
The drive to Point Reyes is beautiful through untouched countryside and farms leading up to the coastal areas of Point Reyes, a protected national seashore and preserve. This is one of the best year-round day trips from San Francisco, but the best time visit it is from late spring to summer when the weather is nice and wildflowers are blooming.
There are no guided tours, but you can stop along the way at the visitors center to check out the museum and see where the best hikes and drives are.
You can extend your trip to a nice weekend stay or longer and there are many small inns at Point Reyes station or Olema area to stay with nice restaurants to have a fantastic local dining experience.
Point Reyes is a wildlife refuge so you will spot some native weasels, black bears, beavers, elephant seals, tule elk, and the ever-present harbor seals, and when they are in season, grey whales migrating from Alaska.
Contributed by The Mature Traveler
14. Muir Woods National Monument
Distance from San Francisco: 41 minutes (16.8 miles)
Where to stay: Mill Valley
Muir Woods National Monument is just a 40-minute drive, or about 16 miles, outside of San Francisco, but it will make you feel like you're in a whole different world! Muir Woods is a preserved area in California's Golden Gate National Recreation Area containing California's hundred-year-old Redwood trees.
The Redwoods in Muir Woods range from 400 to 800 years old. The trees are impressive in size, with some reaching up to 250 feet tall. Other trees that you will find in the woods include California big leaf maples, Douglas fir, tanoaks, and red alders.
Muir Woods has nearly 10 miles of hiking trails, so you could spend your day trekking through the park. The main trails of Muir Woods are easy and include bridges and boardwalks. The main trail loops around Redwood Creek and has options for a half-mile hike, a mile hike, or a two-mile hike.
You can also find more extensive hikes that take you into neighboring Mount Tamalpais State Park.
Best tours of Muir Redwoods
Muir Woods is one of the best day trips from San Francisco without a car because you can also book a guided tour of Muir Woods from San Francisco. Another way to reach Muir Woods is on the Muir Woods shuttle, which transports passengers from the towns of Sausalito and Larkspur.
When planning your trip, remember that there's no cell phone service in the area. Parking is also limited, and reservations are required ahead of time.
If you are visiting without a tour, make a reservation, or you will be turned away!
While Muir Woods can be beautiful to visit any time of year, summer sees the biggest crowds. Plan to visit in early spring or late fall to for best experience.
For nature lovers, camping is the best way to turn your visit to Muir Woods into an overnight stay. You can find traditional campsites at nearby Mount Tamalpais State Park or oceanside campsites at Steep Ravine.
How far is Muir Woods from San Francisco?
Muir Woods is about 17 miles away from San Francisco. It's located near the town of Mill Valley and can be reached by public transportation and guided tours, aside from driving your own car.
Contributed by Melissa from Navigation Junkie
15. South Lake Tahoe
Distance from San Francisco: 3 hr 23 min (188.3 miles)
Where to stay: Basecamp Tahoe South
South Lake Tahoe is a town located along the southern shores of Lake Tahoe famous for its incredible beaches, hiking trails, and small hidden mountain lakes.
In summer, South Lake Tahoe attracts visitors from all over the country who come here to camp, enjoy water sports such as paddle boarding, and kayaking, and explore the scenic hiking trails.
This e-bike tour is a perfect option for exploring the stunning Lake Tahoe shoreline
The area is also home to several state parks such as Emerald Bay State Park, Donner Memorial State Park, and Van Sickle Bi-State Park.
And if you want to come in winter, South Lake Tahoe offers superb skiing options.
Not only you are skiing against the backdrop of one of the most beautiful lakes in the United States that doesn't freeze, but you are also pretty much guaranteed to enjoy the amazing sun! The Lake Tahoe area receives over 300 days of sunshine per year and the snowfall here is measured in feet!
Best tours of South Lake Tahoe
Book a private day tour of Lake Tahoe to see of its biggest highlights!
The ski lift to Heavenly Mountain Ski Resort, the largest ski resort in Lake Tahoe, is located in the heart of downtown South Lake Tahoe and offers quick access to great nightlife, restaurants, and cozy cabins that are perfect to relax after an active day.
And if you want to have some fun after a day's adventures, head to Stateline, a town in Nevada that sits right across the California border where you can explore many entertainment options.
16. San Luis Obispo
Distance from San Francisco: 3 hr 35 min (231.9 miles)
Where to stay: Madonna Inn
San Luis Obispo is one of the most underrated road trips from San Francisco with most people heading straight to Big Sur.
Located along the Central California Coast, San Luis Obispo bears the nickname "The Happiest City in America." The town offers great outdoor opportunities and rich culture, however, it is overshadowed by the glamorous Santa Barbara located south of it and the touristy Big Sur that sits to the north.
But this is exactly what makes San Luis Obispo a perfect destination for your next California trip. Unlike other places around the Golden state that might feel overcrowded during the peak season, San Luis Obispo offers a more quiet atmosphere and authentic flair.
Planning to spend a couple of days in San Luis Obispo? Check my complete guide to the best hotels in San Luis Obispo.
Best things to do in San Luis Obispo
Spend 2-3 days in the area to enjoy some of the best things to do in San Luis Obispo.
Begin your trip by exploring its quaint downtown and the cultural landmarks such as Mission San Luis Obispo de Tolosa, Bubblegum Alley, and Fremont Theater. If you crave some physical activity, spare about half a day for climbing one of the Seven Sisters, the dormant vocalic hills around San Luis Obispo. One of the most popular peaks among hikers is Bishop Peak, a 3.5-mile round-trip hike.
Best tours of San Luis Obispo
17. Santa Barbara
Distance from San Francisco: 5 hr 10 minutes (325 miles)
Where to stay: Hotel Californian
Santa Barbara boasts a rich colonial heritage and many historic buildings in the heart of town that can be explored on foot. These landmarks established by Spanish colonists can be easily recognized by white stucco walls, red tile roofs, and tall ceilings supported by wooden beams.
For example, El Presidio de Santa Barbara State Historic Park is one of the best places to learn about Santa Barbara's history through numerous exhibits. El Presidio is an open-air museum that is home to El Cuartel, the second oldest building in California and the oldest building in Santa Barbara.
Best tours of Santa Barbara
The city is also home to the most beautiful courthouse in the United States built in Spanish Colonial Revival Style, the historic Mission Santa Barbara, and Casa Del La Guerra – the incredible architectural landmarks that will give you a taste of Santa Barbara's history and provide a glimpse into how Spanish colonists have established their territory along the coast.
The town was destroyed twice by powerful earthquakes and was rebuilt in 1812 and 1925 to preserve its original architectural style.
In the early 1800s, Santa Barbara briefly came under Mexico's rule following the Mexican War of Independence and later was acquired by the United States in the process of expansion along with the rest of California as it defeated Mexico in the Mexican-American War.
Find out about the best things to do in Santa Barbara.
18. Lassen Volcanic National Park
Distance from San Francisco: 3 hr 51 min (235.8 miles)
Where to stay: Highlands Ranch Resort
Lassen Volcanic National Park makes a perfect getaway from San Francisco.
One of the least visited national parks in California, Lassen sits in the northern part of the state. This is a perfect place to visit if you like cool geology and spectacular mountain views. Similar to Yellowstone National Park, Lassen is home to thermal activity and you can see hot pools, bubbling springs, and other thermal features, although it's nowhere near as crowded as Yellowstone.
Best things to do in Lassen Volcanic National Park
The most famous volcano in this national park, Lassen Peak, erupted in the early 1990s.
The coolest thing about this national park is its untouched landscapes and less-discovered trails that take you to unspoiled backcountry. Camping at Lassen Volcanic National Park is a surreal experience because the entire area has incredibly dark skies. There are several campgrounds throughout the park where you can find spots for tents and RVs to spend the night here.
Whether you want to explore the geothermal activity along with the Bumpas Hell or hike Cinder Cone, you will have a blast in this national park.
Lassen Volcanic National Park is often combined with nearby places like Mount Shasta and Redding.
Best day trips from San Francisco: FAQ's
What is the closest national park to San Francisco?
Golden Gate National Recreation Area is managed by the National Park Service and is located near San Francisco's Golden Gate Bridge. It's one of the best day trips from San Francisco without a car, as you can get there by walking.
Is Yosemite near San Francisco?
The distance between Yosemite and San Francisco is 170 miles via Interstate-80 East which makes for a 4-hour drive. Leave early morning to avoid the traffic and get into the park early before it gets busy.
Can you do a day trip to Yosemite from San Francisco?
While you can visit Yosemite on a day trip from San Francisco, you won't see much of this national park in such a short time. If you only have a day for your trip, spend it in Yosemite Valley where you can see amazing waterfalls, enjoy easy hikes and overlooks like the Glacier Point.
Is the drive from San Francisco to Yosemite nice?
The drive from San Francisco to Yosemite National Park is one of the most scenic drives in California with many winding turns and towering redwoods along the way.
Best day trips from San Francisco: final word
Taking one of the best day trips from San Francisco is a great way to explore the diverse scenery of Northern California that ranges from towering redwoods to snow-capped mountains and secluded Pacific beaches. When visiting San Francisco, spare a few days to enjoy the region and everything that it has to offer.