Disclaimer: This post contains affiliate links. At no cost to you, I might earn a small commission if you make a purchase through the links in this article.
If you ask travelers for the best place to experience the California coast, you'll likely hear about Big Sur Road trip at the top of the bucket list.
Big Sur is a stunning region comprising nearly 90 miles along the Pacific Coast Highway.
This iconic location is a combination of breathtaking ocean views, inspirational hikes, and an incredible coastline. It's been dubbed the "longest and most scenic stretch of undeveloped coastline in the contiguous United States."
Now, there is an unincorporated village also called Big Sur. However, the area you'll learn about in this article is the large expanse bounded by San Simeon in the south and the Carmel Highlands in the north.
From magical redwoods to picturesque beaches, this awe-inspiring landscape attracts up to 7 million visitors annually.
CLICK HERE TO SAVE HUNDREDS OF $$ ON A CAR FOR YOR BIG SUR ROAD TRIP 🚗
Do you have an epic California coast road trip on your bucket list? This guide to plan your perfect Big Sur getaway. Learn what to do, where to stay, and how to plan your trip to enjoy some of the best things to do in Big Sur.
What's so special about Big Sur?
Big Sur is a natural wonderland removed from urban commotion, the peaceful realm attracts road trippers and outdoor enthusiasts. Big Sur provides majestic scenery with stunning Pacific Ocean views. Turn the other way, and you'll see dramatic cliff sides between redwood forests 🌳 and fog-laden skies ☁️
Cruising along the winding black belt natives call PCH (Highway 1) is a fun experience that you won't get anywhere else. Rather than rushing to the next big city, here is where you'll want to pull over occasionally, get out of the car, admire the views, and take photos 📸
NEED A PLACE TO STAY IN BIG SUR? CHECK THE STUNNING ALILA VENTATA RESORT
As you travel along Central California Coast, you can admire the flight of California condors, peer into the ocean for a glimpse of dolphins 🐬 or migrating whales 🐋 and marvel at elephant seals sprawled out on beaches 🏖️
Where is Big Sur?
Big Sur is a 90-mile stretch of the captivating coastline located roughly between San Simeon (Hearst Castle) and Carmel.
25 Best things to do in Big Sur: Highlights
Big Sur road trip is an experience like no other. You can do several of the stops highlighted in this article in one day. Here are 25 things to do in Big Sur so you can plan your itinerary 🚙
1. 17-Mile Drive
This gorgeous stretch of road takes you through Pebble Beach and Pacific Grove on the Monterey Peninsula. You'll pass by stunning homes, famous golf courses, and incredible ocean views.
There is a fee per car to enter the 17-Mile Drive. Motorcycles are not permitted, although bicyclists can enter through the Pacific Grove gate. Plan at least three hours for this drive.
2. Andrew Molera State Park
On the land once owned by Frances Molera, the Andrew Molera State Park offers 4,800 acres of mostly undeveloped land on the California coast. Visitors can enjoy hiking on wide paths through wildflowers and trees. Spend time walking along the beach to enjoy views of the Monterey Bay National Marine Sanctuary, a federal marine protected area.  
3. Big Creek Bridge
Big Creek Bridge spans 589 feet designed by Christian Theophil Gutleben and is renowned for arch structures and approach spans to the Golden Gate Bridge.
This bridge opened for traffic in 1938 and is found near Lucia on State Route 1, near the midway point of the Big Sur Coast. There is a pullout about 0.5 miles south of the bridge.
4. Big Sur Station
Big Sur Station is a visitor and ranger station about 26 miles south of Carmel. It is open 7 days a week. Staff can tell you about the latest hiking and camping information, natural history, and top tips for your visit to the area.
There is a Nature Store at Big Sur Station where you can buy maps, guidebooks, and travel essentials.
5. Bixby Canyon Bridge
What Golden Gate Bridge is to the Bay Area, Bixby Bridge is to Big Sur. One of the most photographed bridges in California, it's an unmissable stop on a classic Big Sur Road trip. You'll find several turnouts near the bridge where you can admire the architecture and take your Instagram photo 📷
Providing a way for automobiles to cross at 260 feet over the canyon below, it's one of the highest bridges of its kind in the world. The engineering behind this bridge is remarkable.
6. California Sea Otter Game Refuge
This wild game refuge covers a large area on the California Coast. It protects wildlife, including sea otters and sea lions. From a distance, you can spot groups of otters at rest and play. Some may enjoy floating around the kelp. Others are happy to claim a beach spot. It's a great place to view wildlife in a natural habitat.
7. Calla Lily Valley
If your Big Sur road trip occurs between January and April, plan to visit Calla Lily Valley. In a little valley along PCH, thousands of calla lilies flourish close to the highway. You'll find Calla Lily Valley near mile marker 63 by Garrapata State Park.
A short hike through wildflower-covered fields will bring you to a bluff with ocean views. A wooden stairway descends into the valley, where you enter the land of the lilies.
8. Esalen Institute
This holistic retreat and education institute offers exploration, comfort, and healing space. Visitors are welcome to the campus with reservations and can attend workshops. The 100-acre campus includes natural hot springs, an organic farm, and guest suites.
PRO TIP: Book an Esalen Massage for a great way to spend a day here.
9. Garrapata State Park
A jewel of Big Sur, Garrapata State Park offers serene hiking trails with access to the Big Sur coastline. Appreciate astounding views of the Santa Lucia Mountains, stroll among redwood groves, or even enjoy ocean fishing. During winter, you can spot migrating whales with the naked eye.
✔️ The park is along Highway 1, 6.7 miles south of Rio Road in Carmel. Layered clothing is advised as weather can wary depending on the season.
10. Hearst Castle
A brainchild of magnate William Randolph Hearst and architect Julia Morgan, Hearst Castle is a world-famous estate. The stunning hilltop destination includes a 115-room main house, guesthouses, pools, and 8 acres of gardens.
Select from a variety of one-hour tours, including the "Grand Rooms Tour," the "Upstairs Suites Tour," and the "Cottages and Kitchen Tour." Following your tour, take time to explore the grounds, including the Neptune and Roman Pools and magnificent gardens.
If you are driving into Big Sur from the south, this is a great initial stop for your Big Sur itinerary.
11. Henry Miller Library
This nonprofit arts center, bookstore, and performance venue document the life of writer and artist Henry Miller. The library offers community events throughout the year, including author talks, concerts, movie screenings, open mics, and more.
This one-stop shop for all things Big Sur is a magnet for artists, bohemians, poets, and beatniks. You'll find plenty of space to roam on the extensive grounds. Relax inside and try your hand at the piano or guitars. It's a fun place that pays tribute to Big Sur's rich cultural and natural history.
12. Hurricane Point
One of the options for a turnout on Highway 1, Hurricane Point, offers good views of Bixby Creek Bridge to the north. This is one of the highest elevation points along the Pacific Coast Highway in the Big Sur region.
13. Julia Pfeiffer Burns State Park
Located 12 miles south of Pfeiffer Big Sur State Park, this area is home to 300-foot-tall redwoods over 2,500 years old. The park is named for Julie Pfeiffer Burns, a pioneer rancher from the area in the early 20th century. Here you can enjoy over 3,700 acres in a beautiful stretch of land along the Big Sur coastline.
14. Pfeiffer Beach
Stopping at Pfeiffer Beach is one of the most popular things to do in Big Sur. Also known as "purple sand beach," Pfeiffer Beach is about one mile south of Pfeiffer Big Sur State Park's entrance. The best thing about this beach is that it's away from the crowds (you won't see it from Highway 1) and feels more remote than other popular beaches in Central California.
The main draw of Pfeiffer Beach is the Keyhole Rock that attracts so many photographers here. But if you are coming to take a photo, try to show up early to avoid the mid-day traffic and get better light. The entrance to Pfeiffer beach costs $12 USD.
PRO TIP: The purple sand is best seen after the rain.
✅ BOOK YOUR STAY AT BIG SUR RIVER INN 10 MINUTES AWAY FROM PFEIFFER BEACH 😀
15. Limekiln State Park
This California state park is home to four lime kilns from the late 1800s. Here you'll also enjoy a beach, Limekiln Falls, and forested redwood areas within the park's 711 acres. This peaceful park offers camping with a soothing creek and several hiking trails. You may even spot deer during your visit 🦌
16. McWay Falls
See a wonderful 80-foot-tall waterfall that flows year-round. Located within Julia Pfeiffer Burns State Park, you'll get to the falls from a hiking trail. The waterfall cascades directly into the ocean, one of only eight such waterfalls in the United States. The hike to the falls is an easy 0.64 mile out and back trek with a modest 50-foot elevation gain.
17. Old Coast Road
Native Americans initially created this dirt road for travel along the coast. Over time, improvements on the road enabled more accessible access to the area for recreational use. A 10.2-mile section of the original Old Coast Road survives today and is accessible to high-clearance vehicles.
You'll find the road entrance at El Sur Ranch, just north of the Bixby Creek Bridge. Ride through a canyon and coastal redwood forest. Be careful on the route. It's bumpy and unpaved. There are numerous blind curves during your ascent towards Andrew Molera State Park as you drive back to Highway 1.
18. Partington Cove
Partington Cove is found on an unmarked turn-off along the Big Sur coastline. This moderate-difficulty hike takes you on a steep and narrow trail. You'll pass through a forested area and a 60-foot tunnel on your way to the cove. The area was an anchoring spot for ships in the early history of Big Sur.
At the cove, take time to admire the gorgeous ocean view as powerful waves crash into the cliffs.
👉 The trail length is one mile. Get directions to the starting point from AllTrails.
19. Pfeiffer Big Sur State Park
A quiet river flows through the park, surrounded by impressive redwoods, conifers, sycamores, willows, and more trees. The park is attractive to campers and hikers, with many camping sites located on the banks of the Big Sur River. There are also accommodations available at Big Sur Lodge within the park.
✅ BOOK YOUR STAY AT BIG SUR LODGE FOR A FUN AND MEMORABLE EXPERIENCE
The park has numerous trails for hikers, including a self-guided nature trail. Among the wildlife that lives here are bobcats, deer, raccoons, and many bird species.
20. Piedras Blancas Elephant Seal Rookery
Elephant seals are the second largest seal species in the world, and they make themselves comfortable on the beaches here. Their activity varies throughout the year. The females molt in April and May, and the young seals make their way onto the beaches from September through November.
21. Point Sur Lighthouse
Point Sur Lighthouse sits in a California State Historic Park on top of volcanic rock. Built to navigate ships in the area, it continues to serve this function today. Tours are available on a limited basis. The Lighthouse is listed on the National Register of Historic Places and is a California landmark.
22. Ragged Point
See incredible views at this stop along the route in Big Sur. A half-mile trail to Ragged Point beach offers a steep hike with a 400-foot elevation change. The beach at Ragged Point sports black sand. You'll also find restaurants and lodging in the area amid the stunning views at Ragged Point.
23. Rocky Creek Bridge
Rocky Creek Bridge is a reinforced concrete arch bridge on State Route 1 in Monterey County. Located 12 miles south of Carmel, it is just a mile north of Bixby Creek Bridge. Constructed in 1932, this bridge allows traffic to cross Rocky Creek below. Keep in mind that the land below the bridge is private property which means you are not allowed to go there.
24. Sand Dollar Beach
The name of this beach suggests you'll find sand dollars in the sand though you are most likely to spot these when it is low tide. The beach also provides beachcombers with the ocean-side treasure of green jade stones and rounded sea rocks.
Sand Dollar Beach is 7 miles south of Limekiln State Park and is the largest stretch of continuous sand in the Big Sur area. The crescent-shaped beach is a great spot to relax or have a picnic. You typically won't find this beach crowded, so it's a nice place for quiet time. While the beach is popular with surfers, swimming here is considered dangerous.
25. Soberanes Point
Soberanes Point is found within Garrapata State Park, and makes for a perfect stop on your Big Sur road trip. Most visitors enjoy this site by hiking the Soberanes Point Trail. The trail is a 1.6-mile loop and is considered easy by hiking standards. Bring binoculars, as this is an excellent place for birdwatching. The shoreline here is rocky and challenging to traverse.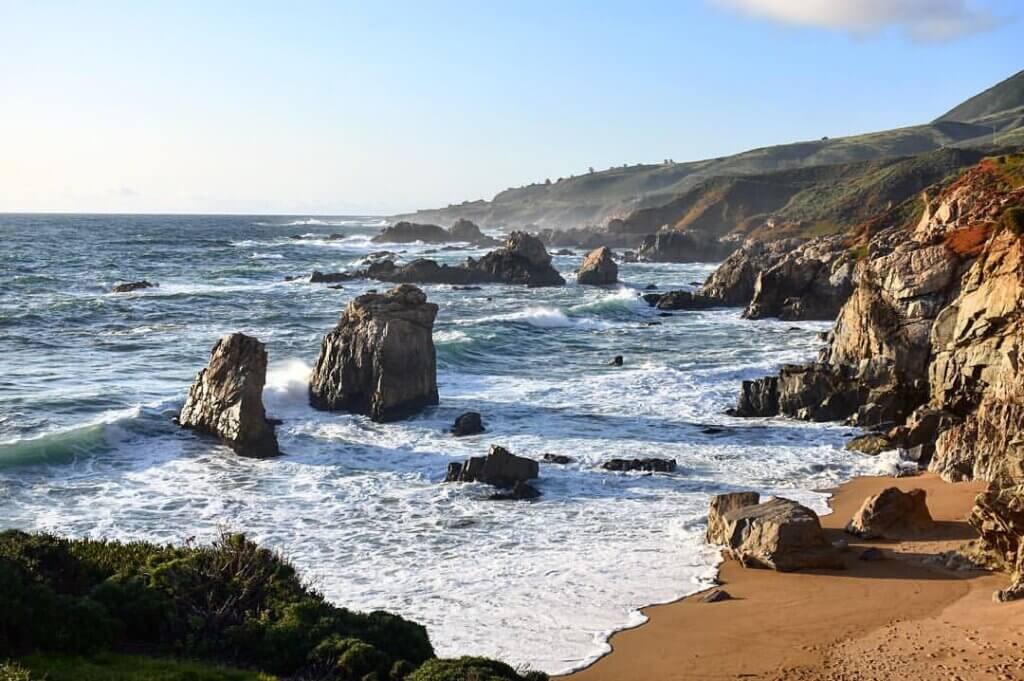 Renting a car for your Big Sur road trip
You need a car for your Big Sur Road trip and the best place to rent is DiscoverCars, the best car rental company that has thousands of vehicles, flexible rates and no hidden fees I often use DiscoverCars for my trips, and have had a great experience with them so far 🚗
✅ RENT A VEHICLE WITH DISCOVER CARS FOR YOUR CENTRAL CALIFORNIA ROAD TRIP
Where to stay in Big Sur
Big Sur is dotted with lodging options though prices are higher than your typical vacation areas. If you want to stay within Big Sur, you'll likely pay for the experience. For more economical lodging, staying in Carmel or Monterey will be easier on your wallet.
Here are a few places to stay in Big Sur for different tastes and price points.
😉 I always use Booking.com for finding great deals on hotels in California and beyond.
📍Luxury – Carriage House Inn – Carmel, California
This luxury Inn is located just 10 minutes away from a 17-mile drive. Elegant rooms feature a complimentary snack basket, flat-screen TV, and free Wi-Fi. Select rooms offer two-person spa baths or fireplaces.
Enjoy complimentary wine and hors d'oeuvres in the evening. Breakfast options include quiche, fresh fruit, and hot croissants.
📍Mid-budget – Hidden Valley Inn – Carmel Valley, California
Located in the Santa Lucia Mountains, the Hidden Valley Inn is a 5-minute walk to Carmel Valley Village. The village offers wine tasting, boutique shops, and fine dining. You can also explore miles of hiking trails or venture to nearby Monterey, one of the best cities in Central California.
Rooms at the Inn offer cable TV, complimentary Wi-Fi, and a private bathroom with a hairdryer and organic bath products. Enjoy views of either a pool, garden, or mountains from the rooms. Most rooms have a private patio space with tables and seating.
📍Budget – Briarwood Inn – Carmel, California
This quaint Inn offers bright rooms and suites with free WiFi, flat-screen TV, and a refrigerator. Most rooms offer a gas fireplace and handcrafted furniture. Pets are welcome in select rooms. You can also enjoy landscaped gardens, hiking and cycling opportunities.
Big Sur Camping
If you're ready for a camping adventure, you'll find many options within Big Sur. Campgrounds include State Parks and private campgrounds. The campgrounds in the Big Sur area fill up as much as six months to one year in advance. Don't expect to find a campsite without a reservation ⚠️
Here are some of the best Big Sur campgrounds:
Andrew Molera State Park
This hike-in campground is located in a meadow near Big Sur River and offers 22 tent sites. Campsites have a fire pit, picnic table, and food storage box. There is access to potable water and restrooms with flush toilets.
Make online reservations at Reserve California
Big Sur Campground & Cabins
Big Sur Campground and Cabins ⛺️ is year-round campground is suitable for tent campers and RV visitors. Located near the Big Sur river, you can rent inner tubes to float on the river or enjoy the nearby beach and hiking trails. The campground includes full hook-ups for RVs and hot showers for tent campers. There are also cabins available, many of which have kitchens.
Fernwood Campground
This campground offers tent, cabin, and RV camping at the Big Sur River. The campground has easy access to hiking trails. On-site, enjoy volleyball and horseshoes or relax at the restaurant and tavern.
✅ CHECK OUT FERNWOOD INN – A BASIC STAY WITH A SUN TERRACE AND MOUNTAIN VIEWS
Julie Pfeiffer Burns State Park
You'll find two hike-in campsites here. No vehicle access is permitted. These sites are popular,r so be sure to reserve months in advance. Reservations can be made here.
Kirk Creek Campground
Located amid Big Sur overlooking the Pacific Ocean, Kirk Creek Campground on a bluff offers spacious sites. A trail at the campground provides access to the beach below. Sites can be used for tent camping and RVers. There is no water so you must bring your own water.
Reservations can be made up to 6 months in advance here.
Limekiln State Park
This state park offers 33 sites for camping. Limekiln State Park is 56 miles south of Carmel.
Pfeiffer Big Sur State Park
This park offers 169 sites for camping with picnic tables. There are no hookups for RVs.
Plaskett Creek Campground
This family campground is situated between Carmel to the north and Cambria to the south nearby Sand Dollar Beach. Campsites are spacious and offer picnic tables, fire rings, and pedestal barbeques. This campground accommodates tenting and RV'ers. Roads are paved, water spigots, and bathrooms are accessible throughout the campground.
Reservations can be made up to 6 months in advance here.
Ponderosa Campground
Another family campground amid Big Sur is located along a trout stream among beautiful trees. Campsites offer picnic tables, fire rings, pedestal grills, and water availability between Spring Break through Thanksgiving.
Reservations can be made up to 6 months in advance here.
Riverside Campground & Cabins
A 16-acre property serves RV and campers. There are 12 cabins also available here among the majestic redwoods. The campground is pet friendly.
Treebones Resort
Treebones features 16 yurts and seven tent campsites offering ocean views. The facility includes a pool, hot tub, showers, and complimentary breakfast for two.
Ventana Campground
This 40-acre property is supplemented with three modern bathhouses. Each campsite has a picnic table, fire ring, and water faucet access within a short walk. Campsites here are for tent camping only. Camper vans and trucks with roof tents or small campers on top can be accommodated if the overall length is 22 feet or less. The campground is near general stores, restaurants, and gift shops.
Tips for visiting Big Sur
Plan your stops – We've listed 25 places to visit along your drive through Big Sur. If you only have one day in the area, select your own must-see choices from this list in advance.
Plan a few days for your trip – Don't try to cram your Big Sur road trip in just a day. Set your expectations accordingly and plan to spend a couple of days for your Big Sur Road trip to see the area's immense beauty.
Phone reception can be spotty – Download offline maps in advance. This could be helpful for general navigation in the area. Plus, if you plan on hiking, having pre-loaded maps on your phone from AllTrails can keep you from getting lost.
Consider different accommodations – Aside from hotels in Big Sur, your best options are campgrounds. You'll do well for a more traditional overnight option staying near Carmel to the north or Cambria to the south.
Conserve your gas – You can find yourself miles away from gas stations, so be aware of how much fuel you have in your tank when you start your Big Sur road trip and plan for your fuel stops.
Avoid weekends – You'll find better pricing if you avoid visiting Big Sur during peak times such as weekends and major holidays. It's also the busiest time when the area often gets overrun by crowds.
Check road conditions in advance – During the rainy season, it isn't uncommon for parts of the road to be closed due to rock slides or hazardous conditions.
Dogs are not permitted in many areas within Big Sur – If you plan on hiking and bringing your pet, check the trail rules in advance to know where you can bring your dog without a problem.
Best things to do in Big Sur: FAQ
How to spend one day in Big Sur?
A perfect day at Big Sur involves savoring the incredible views and doing a combination of hiking and beach hopping. Stop between Cambria and Carmel where you can snap photos, go for a hike, and enjoy a picnic while marveling at the ocean views.
✅ At the end of the day, roll into your lodging of choice to relax and reflect on the beauty you viewed on this road trip. I suggest Big Sur Lodge as a perfect stay.
Why visit Big Sur?
For those who live in a busy environment, Big Sur offers a chance to get away and disconnect. Much of the area is sparsely populated, so you'll not experience tourist crowds. You'll not find suburban strip malls or busy roads. It's where you forget about typical life as you enter a world that is all it's own.
The region opened to tourists after the Carmel-San Simeon Highway (today, part of State Route 1) was introduced in 1937. Anyone with a love of America's beauty should make a stop here.
How many days are enough to visit Big Sur?
Even if you only have one day, you can make your way through the entirety of Big Sur by traveling on State Route 1.
Beyond one day, you can transform your visit from a road-trip day to a camping or vacation adventure.
A 2-3 day itinerary will allow you to experience several hikes, visit Big Sur beaches, and wander through the small towns.
You'll have more time to visit tourist attractions in Cambria and Carmel with a four-day itinerary.
What is the best month to visit Big Sur?
Nearly any time of the year is excellent for visiting Big Sur. The area is subject to weather changes on the Pacific Coast. The good news is that this part of the county typically has at least 300 days of sunshine throughout the year. April through October usually afford sunny and pleasant weather. September through December are less crowded and have better prices.
Our tips are to be cautious of travel during rainy months as road conditions can become compromised.
Can you swim at Pfeiffer Beach?
Yes, swimming is permitted at Pfeiffer Beach but know that no lifeguards are watching the water here. The beach is for day use only, so evening camping is not permitted. Fires are also not allowed. Dogs can accompany you at Pfeiffer Beach on a leash 🐕
LA to Big Sur road trip
If you are driving from LA to Big Sur, you will have to drive for approximately 315 miles and pass cities like Malibu, Oxnard, Ventura, Santa Barbara and San Luis Obispo. This drive is one of the most popular road trips in the country, and you should take at least a couple of days for this drive.
Best things to do in Big Sur: final thoughts
Big Sur offers an incredible experience. Along the 90-mile drive, you can marvel at the beautiful coastline, walk among redwoods, get your feet wet at the sandy beaches, and admire the magnificence of nature. With rugged and forested mountains on one side and the crashing surf of ocean waves on the other, the highway lets you experience the majestic views during your journey.
This landscape attracts artists, musicians, and writers who find inspiration in the remarkable grandeur of this landscape. Come here with the expectation of having an experience versus a vacation.
✔️ This article was submitted by Art from The Places Where We Go
More resources for planning your Central California road trip