Disclaimer: This post contains affiliate links. At no cost to you, I might earn a small commission if you make a purchase through the links in this article.
If you dream about visiting Aspen, Colorado, there's no better month than September when the fall colors are in full glory. Aspen marks the transition from summer to fall with the first half of the month bringing plenty of warm, sunny days, and the second half getting cooler temperatures.
The middle to the end of September is when you can see the most spectacular fall colors, so if you plan on visiting Aspen in September, bring your camera! As temperatures get cooler, thousands of Aspen trees turn gold, creating a stunning display of colors.
The first Aspen trees that begin to change their colors are those at the higher elevations, with the trees at lower elevations waiting just a bit longer to show off their fall palette.
It's important to remember if you are coming to Aspen to take fall photos.
✅ BOOK A PRIVATE TRANSPORTATION TO ASPEN FROM THE AIRPORT
IS THERE SNOW IN ASPEN IN SEPTEMBER?
Although September sees the first cool days in Aspen, it's still a bit too early for the first snow which usually falls in October at higher elevations around Aspen mountains.
Since the cold season is not yet here, it's more common to see fall foliage and changing colors in the mountains during this time, rather than snow. Still, Aspen weather in September can vary, and while it's unlikely to see snow in Aspen in September, unexpected weather can occur.
➡️ Read my guide to planning an epic Colorado road trip
WHAT'S THE WEATHER LIKE IN ASPEN IN SEPTEMBER?
Aspen has mild and pleasant weather in September, marking the transition from summer to fall. Still, weather conditions can vary from year to year. September has daytime temperatures ranging from the mid-60s°F (around 18-20°C) to the mid-70s°F (around 23-25°C).
The evenings can be cooler, with temperatures dropping into the 40s°F (around 4-9°C). It's a good idea to layer your clothing for the temperature changes throughout the day.
September has lower chances of rain, unlike summer months. However, occasional rain showers or even early-season snowfall can occur, so pack a light jacket or raincoat.
✅ Did you know that November in Aspen is a perfect time to visit the area on a budget?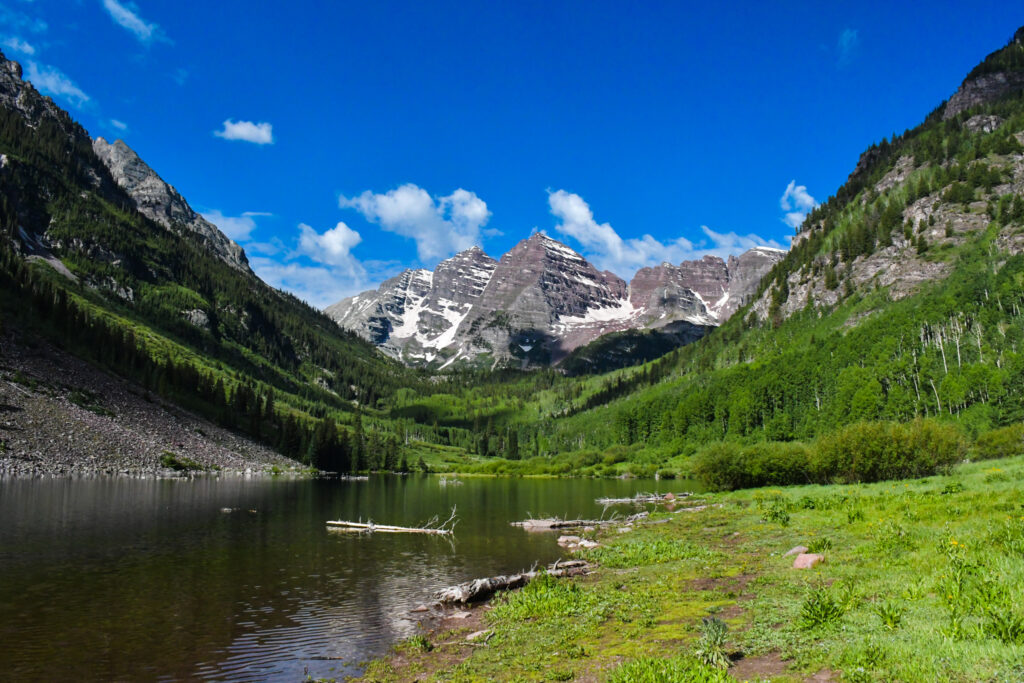 BEST THINGS TO DO IN ASPEN IN SEPTEMBER
With gorgeous fall colors on full display, September is the best time to enjoy Aspen. From hiking to mountain biking and attending local events, there are plenty of things to do in Aspen in September.
1. Visit the Maroon Bells
The iconic Maroon Bells are two majestic peaks just outside Aspen. Take a hike or bike ride in the area to enjoy the stunning fall foliage. September is the best time to see the Maroon Bells in their full glory,
September is also the busiest time at Maroon Bells when photographers from all over the world come here to snap photos of the majestic mountains framed by the golden Aspen trees.
If your goal is to take photos of the Maroon Bells, here are a couple of tips for you:
Plan your trip for a weekday – Most visitors come on weekends, so if you want to have a better experience, visit Maroon Bells on a weekday, when it's less crowded.
Come after the sunrise – Most photographers come to Maroon Bells before sunrise to capture the moment when the first rays of sun light up the iconic peaks. The area can be extremely crowded, and if you show up 10-15 minutes after sunrise, you will have a lot more space and much better experience.
Bring a tripod – Since the light is still low during this time, I recommend taking photos on a tripod.
2. Go for a hike
Aspen offers numerous hiking trails suitable for all levels of hikers. Some popular trails include the Hunter Creek Trail, Ute Trail, and the Rio Grande Trail.
3. Attend festivals
September in Aspen is known for its vibrant festival scene. Look for events like the Jazz Aspen Snowmass Festival or the Aspen Filmfest, which showcase music, film, and culture.
4. Visit the Aspen Art Museum
Explore contemporary art at the Aspen Art Museum, which has rotating exhibitions of established and emerging artists. Visiting Aspen Art Museum is a perfect idea for a fall day when the weather is less ideal for hiking and exploring.
5. Relax in the hot springs
Soak in the natural hot springs near Aspen for a rejuvenating experience. Popular options include the Glenwood Hot Springs and the Avalanche Ranch Hot Springs.
Book a stay at Glenwood Hot Springs Resort, where you can enjoy one of the best hot springs in Colorado.
6. Take a scenic drive
Drive along Independence Pass, a breathtaking mountain pass that offers stunning views of the surrounding landscape. It's particularly beautiful during the fall when the colors of the changing leaves are vibrant.
7. Shop and dine in downtown Aspen
Stroll through downtown Aspen and explore its charming boutiques, art galleries, and restaurants. Treat yourself to a delicious meal at one of the many gourmet Aspen restaurants.
8. Take a gondola ride
Ride the Silver Queen Gondola up Aspen Mountain for panoramic views of the surrounding mountains and valleys. You can also enjoy a meal or a drink at the Mountaintop restaurant.
9. Go for a scenic bike ride
Early fall is the most popular time for mountain biking in Aspen. Rent a bike in one of Aspen's bike shops and pedal along the Rio Grande Trail, which stretches for 42 miles from Aspen to Glenwood Springs. This scenic trail offers beautiful views of the mountains and is perfect for a leisurely bike ride.
10. Enjoy some local music
Every Sunday until the end of September, Aspen Snowmass hosts bluegrass bands at the top of Aspen Mountain.
BEST PLACES TO SEE FALL COLORS IN ASPEN
1. Hunter Creek Trail
One of the most popular and easily accessible hikes for leaf-peeping in Aspen, Hunter Creek Trail begins at the Roaring Fork River and follows Hunter Creek.
2. Owl Creek Road
Located between Aspen and Snowmass, Owl Creek Road is an easy drive where you can spot gorgeous fall colors.
3. Ashcroft
Take a trip to the nearby Ashcroft Ghost Town, located just outside of Aspen. Explore the well-preserved remains of this former mining town and learn about its history.
4. Castle Creek Road
If you drive past Ashcroft, you will arrive at Castle Creek Road where you will see more fall colors. Some of the most popular hikes in the area are Cathedral Lake and Castle Creek.
5. Maroon Bells
One of the most photographed places in Colorado, the Maroon Bells are two 14,000-foot peaks in the Elk Mountains. You can access Maroon Bells by car or by a quick bus ride from downtown Aspen. You can book your tickets here.
6. Independence Pass
Independence Pass is the highest continuous paved road in the United States that offers incredible views of the surrounding Rocky Mountains. Drive the pass from Leadville, the highest mountain town in the United States with an altitude of 11,000 feet. Leadville has an interesting mining history and is also near Twin Lakes where you can camp, kayak, and paddle board.
7. Crystal Mill
Also known as the Old Crystal Mill or the Sheep Mountain Powerhouse, this historic landmark was built in 1892 and served as a power source for nearby silver mines and later for a hydroelectric plant. Today, it's a well-preserved landmark about a 45-minute drive from Marble and approximately 1.5 hours from Aspen.
➡️ The Crystal Mill is not easily accessible by car, and you need to rent a 4X4 to get there.
The road leading to the mill, known as the Crystal River Jeep Trail, is rough and recommended for experienced off-road drivers. You can also reach the mill by hiking or biking along the trail, which adds more adventure to your tirp.
WHAT SHOULD I PACK FOR ASPEN IN OCTOBER?
October brings plenty of cool days to Aspen, especially in the second half of the month. While afternoons still see sunshine and temperatures hover in the low 60s, mornings and nights can get chilly, so it's essential to pack the right clothing.
Here's what you should pack if you plan to visit Aspen in October:
Ankle-length boots
Comfortable hiking shoes so you can enjoy trails around Aspen
T-shirts
Long-sleeve shirts and tops
A breathable jacket
A windbreaker
Sunglasses
Sunscreen
A hiking backpack
TIPS FOR VISITING ASPEN IN SEPTEMBER
1. Visit Aspen after September 15
Although you can see the first fall colors in Aspen in early September, you will see more of them during the second half of the month when more Aspen trees will show their colors.
2. Explore areas around Aspen
This is especially true if you are visiting Aspen during the first half of the month when there isn't as much fall color at lower elevations. There are several scenic passes around Aspen like Independence Pass and Kepler Pass where you can see more golden trees in early September if you can take a drive.
3. Rent a car
If you want to enjoy the best hiking trails in Aspen and surrounding areas and see the golden aspens, you need a car rental. While Aspen has a good public transportation network, you need a vehicle to get to most hiking areas.
➡️ CHECK PRICES ON CAR RENTALS HERE
4. Or get a rental bike
Aside from renting a car, you can explore many Aspen groves surrounding Aspen by bike. Aspen Mountain ski resort usually opens in November, while Snowmass and Buttermilk ski resorts near Aspen open in late November-mid December.
5. Plan your trip for a weekday
Weekends can get busy in Aspen, especially during the peak fall season when many travelers from all over Colorado and out of state come here to snap photos of the golden leaves. If you can, visit Aspen on a weekday to avoid weekend crowds.
6. Go for a hike
While there are plenty of scenic drivers around Aspen, you should also check out some hiking trails where you can find spectaculr fall colors.
7. Stay hydrated
I can't stress enough how important it is to stay hydrated on your trip. Aspen is located at an altitude of 7,908 feet (2,400 meters) and if you are not used to the high elevation, you can quickly develop symptoms of altitude sickness.
Drink plenty of water, and make sure you are used to the altitude before attempting hikes at higher elevations.
HOW TO GET AROUND ASPEN?
You can get around Aspen by public transportation, car, or, if you say downtown, simply by walking. A great way to navigate the area and enjoy the fall colors is by renting a bicycle.
Uber in Aspen is not always available, but if you need a quick ride, you can catch a taxi, which will be more expensive, but will get you to your destination very quickly.
If you want to enjoy scenic passes around Aspen and explore the area, you will need a car rental. You can rent a car in Aspen and surrounding areas, but do it ahead of your trip, because September is a busy season, and it's not uncommon for rental car companies to run out of cars during this time.
➡️ CLICK HERE TO CHECK PRICES ON CAR RENTALS IN ASPEN
HOW TO GET TO ASPEN
1. Car Rental
Renting a car in Denver and driving to Aspen is a popular option. You can take Interstate 70 west from Denver to Glenwood Springs, and then take Colorado State Highway 82 south to Aspen.
✅ Check my complete guide to car rentals in Denver
2. Shuttle Service
Several shuttle companies offer transportation from Denver to Aspen. These companies provide door-to-door service, picking you up at your desired location in Denver and dropping you off at your destination in Aspen.
The shuttle journey takes around 3.5 to 4 hours, depending on traffic and weather conditions. It's advisable to book your shuttle in advance, as availability may vary.
✅ Click here to book your shuttle from Denver to Aspen
3. Public Transportation
If you are on a budget, you can take public transportation from Denver to Aspen. Start by taking the A Line train from Denver International Airport to Union Station in downtown Denver.
From Union Station, you can catch a Bustang bus operated by the Colorado Department of Transportation (CDOT) to Glenwood Springs. Once you reach Glenwood Springs, you can transfer to a Roaring Fork Transportation Authority (RFTA) bus that will take you to Aspen.
4. Taking a flight
You can fly from Denver International Airport (DEN) to Aspen/Pitkin County Airport (ASE). Several airlines offer flights between the two airports, and the flight duration is approximately one hour.
From Aspen/Pitkin County Airport, you can take a rideshare, taxi, shuttle, or RFTA bus to your hotel in Aspen. Consider your preferences, budget, and schedule when choosing the best method of transportation from Denver to Aspen.
✅ CLICK HERE TO BOOK YOUR FLIGHT FROM DENVER TO ASPEN
5. Private transportation from Denver Airport to Aspen
Private transportation from Denver to Aspen is the best, hassle-free option which means you don't have to worry about catching Uber or using public transportation.
✅ CLICK HERE TO BOOK YOUR PRIVATE TRANSPORTATION FROM DENVER TO ASPEN
6. Uber from Denver to Aspen
If time is short, and you need a quick ride, you can catch an Uber at Denver Airport to Aspen. Don't expect to get a bargain though, as prices are usually around $170-200 for a one-way ride depending on the timing of your trip.
WHERE TO STAY IN ASPEN:
The Inn at Aspen – A 3-star hotels with a fitness center, a restaurant and a bar. It also has an outdoor swimming pool, air-conditioned rooms with free Wi-Fi, and free airport shuttle.
St. Regis Aspen Resort – One of the most popular resorts in Aspen, St. Regis is located at the base of Aspen mountain, and has an outdoor pool and ski storage space. On-site restaurants and spa services are also available. Free airport shuttle and private parking.
Limelight Hotel Aspen – A popular Aspen hotel with an outdoor pool, hot tub and rooftop terrace. Breakfast is served daily.
ASPEN IN SEPTEMBER: FAQ'S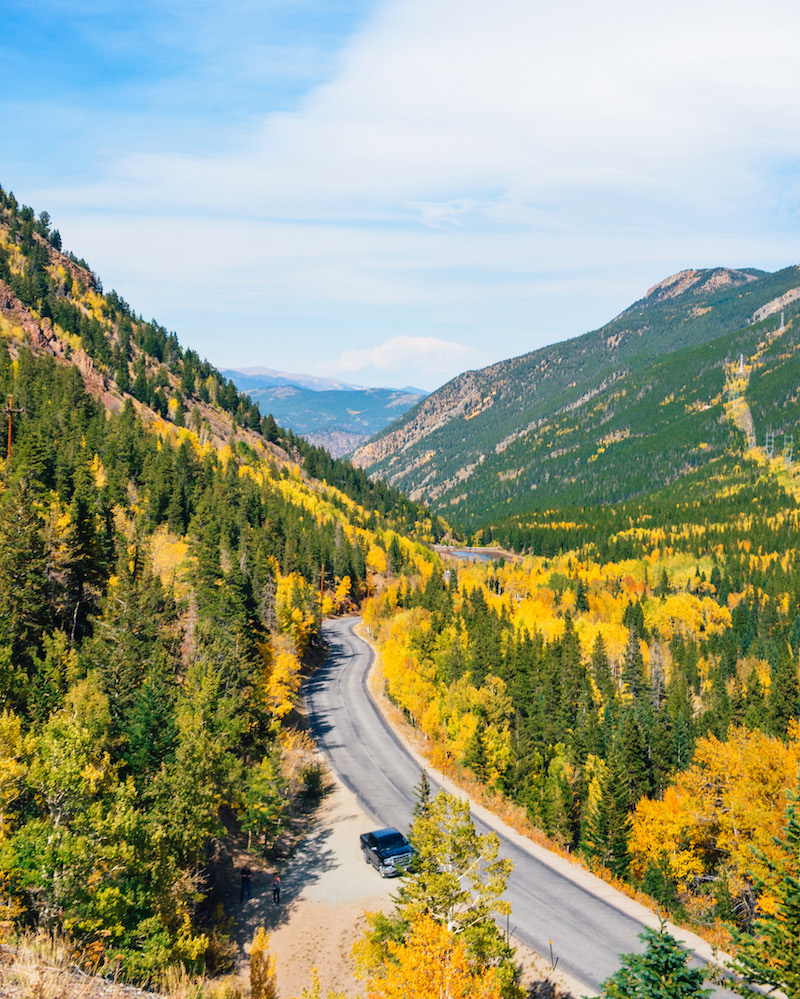 Is Aspen open in September?
Yes, Aspen is open in September. The town is open year-round, so visitors can enjoy its outdoor opportunities and fantastic fall colors. Although it's considered a shoulder season, it's still a perfect time to enjoy the last warm days in the Aspen Valley.
Is September a good time to visit Aspen?
September is the best month to visit Aspen, if you want to see the amazing fall colors and enjoy a combination of perfect hiking temperatures with plenty of sunshine. While the town is transitioning to fall during this time, it still has a lively atmosphere with many events like the Golden Leaf Marathon and the Hot Air Balloon Festival.
What is Aspen like in September?
September is the prettiest month in Aspen with many Aspen trees showing off the incredible golden color. The city has several cultural events and perfect weather for spending time outside.
Is Aspen pretty in September?
Aspen is gorgeous in September! The temperature isn't too hot anymore, and you can enjoy the spectacular fall colors and outdoor opportunities before cold weather moves in.
ASPEN IN SEPTEMBER: FINAL WORD
September is the best month to visit Aspen if you want to see the incredible fall colors, hike scenic trails amid golden Aspen trees, and enjoy the perfect weather that's not too hot and not too cold.