Traveling to Mexico and are wondering whether you can use US dollars?
You've landed in the right place.
Mexico is a diverse country with rich history, spectacular landscapes, and delicious food. Whether you want to lounge on a beautiful beach, explore ancient ruins, or enjoy the rich gastronomy, Mexico has something for everyone.
As you plan your trip, it's important to know whether you can pay in Mexico with US dollars, so you don't get stuck without money in a place with no banks or ATM's.
This comprehensive guide offers answers to the most common questions including what currency used in Mexico, where you can pay with US dollars in Mexico, what credit cards to use, and where you can withdraw money from ATM's in Mexico.
Can you use US dollars in Mexico?
You can use US dollars in popular destinations in Mexico like Cabo San Lucas, Cancun, and Puerto Vallarta. Many resorts, restaurants, and tour operators in these destinations accept US dollars. However, it's not uncommon for some businesses to give you a change in pesos, so you should always have a local currency on you.
If you want to see Mexico away from tourist areas, you will need Mexican Pesos, as US dollars are not a common form of payment in small towns and less visited destinations.
Where can you use USD in Mexico?
US dollars are accepted in some areas of Mexico that are popular with tourists, particularly in big resorts and major cruise ports. Some tourist attractions, restaurants, and souvenir shops may also accept US dollars.
Popular destinations like Cancun, Cabo San Lucas, and Puerto Vallarta in Mexico have many businesses that accept US dollars, especially in tourist zones.
These destinations have a variety of beautiful beaches, soft white sands, and a wide range of amenities and activities for all tastes.
Paying with US dollars in Mexican port cities
Major Mexican port cities in like Puerto Vallarta, Mazatlan, Cabo San Lucas and Cozumel accept US dollars. These popular destinations receive many American tourists throughout the year and usually accept cash payments and some might even give you change in US dollars.
You can usually use US dollars to pay at restaurants, tour offices and convenience stores.
What to know about paying with US dollars in Mexican port cities
If you are going to one of Mexican port cities, bring enough small dollar bills, no larger than $20 USD. Some vendors might not have change if you pay with larger bills like $50 or $100, and most would rather take paper bills rather than coins.
Do I need pesos for Mexico cruise?
Although many businesses accept US dollars in Mexican cruise ports, not everyone does. Small, locally-owned stores often operate on local currency, and having Mexaican Pesos will help you to get better rates, as dollar prices are often geared toward tourists.
What's the official currency of Mexico?
The official currency of Mexico is the Mexican Peso, which is often abbreviated as MXN. A Peso comprises 100 centavos and is abbreviated as MXN with a symbol $.
How much is 1 USD to a Mexican Peso?
1 USD is equivalent to about 18 Mexican Pesos. although the exact rate could vary slightly depending on where you exchange the money.
Why you should always carry Mexican pesos
Many local vendors, small businesses, and markets may not accept credit cards, so having Mexican pesos is essential. You will need the local currency to leave a gratuity in hotels, restaurants and other places.
👉 Check my Mexico travel tips to find out how to avoid the worst mistakes in Mexico.
Should you exchange money before going to Mexico?
If you are planning a trip to Mexico, it's a good idea to exchange some money before your trip. While you can exchange Pesos once you arrive in Mexico, there are a few reasons why you should have some Pesos on hand before you leave.
Why exchanging money before going to Mexico is a good idea
Avoid waiting in lines
Having some pesos in your pocket can help you avoid issues or delays when you arrive in Mexico, such as long lines at the currency exchange counters or ATMs, or difficulty finding an exchange office. It can also give you peace of mind to have cash on hand.
Better exchange rate
Exchanging money before you leave can help you get a better exchange rate. Currency exchange rates can vary significantly from day to day, and exchange rates at airports are usually less favorable than those offered by your local bank or currency exchange office.
👉 Check the best budget destinations in Mexico to save money on your trip
You don't need to exchange a large amount of money before your trip, as credit cards are widely accepted in Mexico for most transactions. Check with your bank or credit card company to see if they charge foreign transaction fees or have any restrictions for using your card abroad.
What credit cards have no foreign transaction fees in Mexico?
If you want to avoid foreign transaction fees on your credit cards while traveling to Mexico, I recommend Capital One VentureOne Rewards Credit Card. This credit card has no foreign transaction fees and allows you to collect points on every travel purchase.
You can convert your travel points into cash or use them to cover your travel purchases.
Can I pay with US dollars in Cancun?
You can pay with dollars in many places in Cancun Hotel Zone, but if you get outside the tourist zone, you should always have some Mexican Pesos in your wallet.
✅ Learn about the most fun tours from Cancun to plan a perfect day trip
Should I take US dollars to Cancun?
Having some US dollars in Cancun is a good idea, but make sure to bring more Mexican Pesos, because you will get better prices when paying in local currency.
Is it better to use USD or pesos in Mexico?
While US dollars are widely accepted in popular destinations like Cancun and Cabo, you should always have some Mexican Pesos in your pocket. Paying with Mexican pesos will likely give you a more advantageous rate while paying with US dollars could sometimes mean paying above the standard rate.
Some businesses in popular tourist destinations in Mexico may accept US dollars, but others may prefer or require payment in Pesos. Additionally, if you plan to travel outside of these areas, you should have Mexican pesos on hand.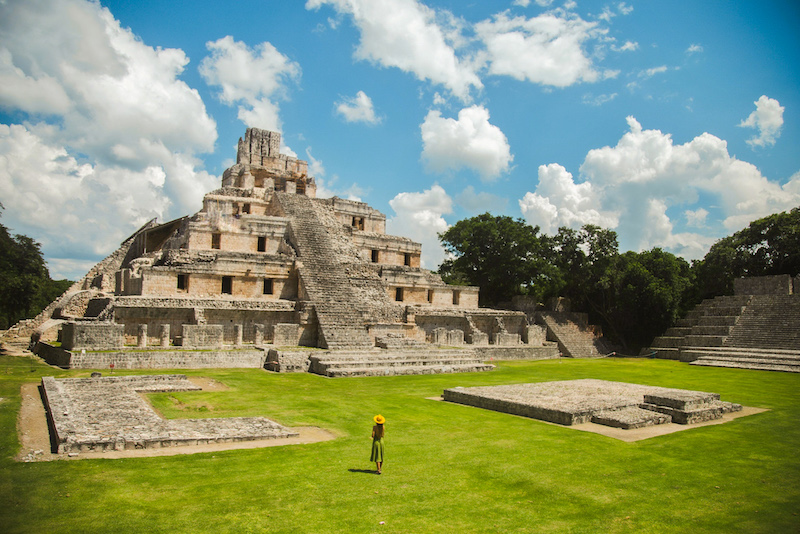 Do resorts in Mexico accept US dollars?
Although many resorts in Mexico accept US dollars, the rate might be less advantageous than if you pay in Mexican Pesos. As a rule of thumb, always have Mexican Pesos on you, even if you can pay for everything in US dollars to avoid paying extra money.
Do resorts in Cancun accept US dollars?
Major resorts through Cancun Hotel Zone accept US dollars. However, if you want to spend time outside the resort area, don't forget to get some Mexican Pesos, because US dollars are not accepted outside tourist areas. You can exchange money or find an ATM in many places throughout the area.
Can you pay with US dollars in Mexico City?
The most common form of payment in Mexico City are Mexican Pesos. US dollars are not widely accepted, even in places like restaurants and tour agencies where you usually need to pay in Mexican Pesos. If you dont have the local currency, you can also use a credit card in many places with exception of small stores, markets, taxis, and public transportation.
Other reasons to pay with Mexican Pesos
There are many other advantages to using pesos instead of USD. For instance, many individual vendors and small businesses in Mexico run entirely on cash, so having the local currency ensures that you can make purchases and avoid any inconvenience.
✅ Better prices and discounts
Paying with Mexican Pesos can sometimes result in better prices and discounts, especially in local markets and street vendors.
✅ Avoid unfavorable exchange rates
Lastly, using pesos can help you avoid unfavorable exchange rates and additional fees that may occur when exchanging foreign currencies or withdrawing money at airports or hotels.
✅ Support local economy
Also, as a tourist, you will help to support the local economy when you use pesos. Businesses will appreciate it, and you will get a feeling of being in Mexico and contributing to the economy of the country.
What are the best ATMs in Mexico?
When in Mexico, choose ATMs with low commissions to avoid unnecessary charges. When traveling around the country, you will find several major banks where you can withdraw your money, like Santander, Banco Azteca, HSBC, and Scotia Bank.
Santander
Santander is a major bank in Mexico that has an extensive ATM network throughout the country, and you can find their ATMs in many popular destinations like Playa Del Carmen, Tulum, and Mexico City.
Santander ATMs charge some of the lowest atm fees in Mexico for cash withdrawals about 35 Pesos per transaction, however, the exact amount depends on your card and transaction type.
Banco Azteca
Another option would be Banco Azteca which also offers low commissions for cash withdrawals at their ATM's at about 30 Pesos
You can find Banco Azteca branches in smaller towns and rural areas, making them a convenient option for travelers exploring off-the-beaten-path and budget destinations in Mexico.
Citi Banamex
Banamex is a subsidiary of Citibank and has a large ATM network throughout Mexico. They charge just over 30 Pesos for cash withdrawals.
What ATMs in Mexico charge high ATM fees?
Some banks in Mexico charge higher fees than others, which could be inconvenient if you need to make frequent transactions. Scotia Bank and BBVA Bank have some of the highest ATM fees in Mexico for cash withdrawals.
Scotiabank is a Canadian multinational bank that has branches in Mexico, and the fees for using their ATMs in Mexico vary depending on the type of account and the specific ATM you use.
PRO TIP: Always check the rates before withdrawing your money. If the fee is higher than 40 Pesos (2 USD), look for another option, if you can.
Where to find ATMs in Mexico?
You can find ATMs in most places in Mexico, especially in urban areas and popular destinations. ATMs are available in banks, shopping malls, airports, convenience stores, and other public areas.
Depending on where you are staying, some hotels in Mexico may have ATMs on their premises or nearby. It's best to check with your hotel to confirm whether they have an ATM on-site or within walking distance since it's not a guarantee.
How to avoid ATM scams in Mexico?
To avoid ATM scams in Mexico, use only ATMs associated with major banks. Avoid no-name, shady ATMs in building walls or dark places with little foot traffic to reduce the risk of theft or fraud.
Helpful phrases for exchanging money in Mexico
ATM: cajero automático.
Where's the ATM: Done es el cajero automatico?
I need to exchange money: Necesito cambiar el dinero
I'm looking for a bank: Estoy buscando el banco
Tipo de cambio: Exchange rate
Venta/compra: Buy/sell
Why use credit cards in Mexico?
Using a credit card in Mexico offers a way to save your cash for the time when you don't have any other options. It's also a good way to earn bonus points if you have a travel credit card that has no foreign transaction fees.
However, even if you use a credit card as your primary form of payment, you should always have cash on you in case your credit card gets lost or stolen. Use cash for small purchases and when you need to pay for your hotels or flights, use a credit card. Having a max of cash and credit cards is always a smart option.
What are the best credit cards for Mexico travel?
Cash is still king in Mexico, but paying with a credit card offers a lot of conveniences. Although the payment method depends on the situation and your preferences, remember that some businesses may charge an additional fee for card payments, and some may only accept certain types of cards.
Visa, MasterCard, and American Express are the most commonly accepted credit cards in Mexico. You should be able to use them in the most popular destinations.
However, most banks charge foreign transaction fees for using credit cards outside the US. find out if your bank also has fees for using your credit card overseas, or consider getting one one of the credit cards below that have no foreign transaction fees.
Chase Sapphire Preferred
If you plan on using your credit card in Mexico, choose a card that allows you to benefit from reward programs and foreign transaction fees. One of the accepted cards in Mexico is Chase Sapphire Preferred. This card offers a generous sign-up bonus, and rewards points for travel and dining. It also has no foreign transaction fees, which can save you money on purchases in Mexico.
Capital One VentureOne Rewards Credit Card
Another good option is Capital One VentureOne Rewards Credit Card. This card offers double miles on all purchases, making it a perfect option for earning rewards points while traveling to Mexico. It also has no foreign transaction fees and no annual fees
Charles Schwab Debit Card
Charles Schwab is a financial institution that offers a checking account with no foreign transaction fees and no fees for cash withdrawals from ATMs outside the US. It can be a good option for travelers who need to withdraw cash while in Mexico, as it can save them money on fees and commissions.
While Charles Schwab doesn't charge any fees for foreign ATM transactions, some ATM operators in Mexico may charge their fees for using their services.
Can I use my debit card in Mexico?
Yes, you can use your debit card in Mexico in hotels, restaurants and shopping malls. However, you shouldn't rely on your debit card as a primary form of payment because not all establishments accept debit cards. If you want to buy street food, a souvenir or pay for taxi, you will need cash.
Can you use US dollars in Mexico: FAQs
Mexico is a great value destination, which is well worth the money. With its rich culture, beautiful beaches, delicious food, and friendly people, Mexico attracts millions of visitors every year.
If you enjoy exploring new cultures, history, and traditions, Mexico has many interesting places to visit, such as ancient ruins, colonial towns, and museums. With that in mind, you might be wondering how much money to bring to Mexico.
How much are 100 US dollars in Mexico?
100 USD are approximately 1,800 Mexican Pesos.
Can I use my debit card in Mexico?
Yes, you can use your debit cards in Mexico, but be aware that most of them charge foreign transaction fees. Check with your bank before your trip to find out if you can use your debit card in Mexico without paying fees.
Is $100 a lot of money in Mexico?
The answer to this question depends on your travel style, the length of your trip, and what activities you want to enjoy. $100 USD is around 1,800 Mexican pesos (MXN). This amount of money can go a long way in Mexico, especially outside of tourist areas or major cities, where the cost of living is lower.
For some travelers, $100 might be a significant amount that they can use to cover their expenses for a few days, while for others it might be a small fraction of their daily budget.
The value of $100 in Mexico will depend on the individual situation and travel style, and it's important to keep in mind that there is a lot of variation in the cost of living and economic conditions throughout the country.
Can I use my Wells Fargo debit card in Mexico?
Wells Fargo has a 3 percent foreign transaction fee when you charge a currency other than USD.
How much money do I need per day in Mexico?
As a general rule, a budget of approximately MXN 1,000 to MXN 1,500 per day per person (equivalent to roughly USD 50 to USD 80) should be sufficient to cover basic expenses such as food, accommodation, transportation, and entrance fees to tourist attractions.
It's a good option if you are on a low-to-moderate budget, staying in mid-range hotels, eating at local restaurants, and using public transportation or taxis to get around. If you plan to participate in more expensive activities like snorkeling, scuba diving, or staying in luxury hotels, you should budget more.
Is it better to use cash or a credit card in Mexico?
Depending on where you are in Mexico, you might use cash or credit cards, but the payment method you choose may depend on the situation and your personal preferences.
Cash is beneficial for smaller businesses as they can offer better rates and discounts for cash payments. Using credit cards in Mexico could be a great option if your card has no foreign transaction fees and/or has cash rewards and other perks for spending money on travel.
As with any travel destination, there is always some level of risk associated with carrying cash in Mexico.
Taking some precautions can help minimize the risks. Keep your cash and valuables in a secure place, such as a money belt or hidden pocket, and avoid carrying large amounts of cash with you. Be aware of your surroundings and avoid carrying cash in areas with a high level of crime.
Where can you exchange Dollars for Pesos?
You can exchange US dollars for Mexican pesos at banks, exchange houses, airports, hotels, and some large retail stores in Mexico. Banks typically offer competitive exchange rates, but they may have limited hours and long wait times. Exchange houses and currency exchange booths, also known as "Casas de Cambio," are often open longer hours and thus may be more convenient.
Can you use US dollars in Mexico: final thoughts
You can use US dollars in many places in Mexico, especially in popular tourist destinations. Let your bank know about your travel plans and check if there are any fees or restrictions for using your credit or debit card abroad.
And don't forget to exchange your currency at a reputable currency exchange office or bank where you can receive a fair exchange rate and avoid scams or counterfeit bills.