Visiting Delray Beach and want to find out about the best restaurants in town? I got you covered!
Delray Beach is an idyllic town along the Atlantic Coast of Florida, about 1 hour north of Miami, where you can enjoy the gorgeous beach and relaxed atmosphere without the hustle and bustle of South Florida. No wonder so many travelers decide to spend their vacation here!
But that's not all: For a small coastal town, Delray Beach boasts an incredibly diverse food scene!
Whether you are craving a refreshing smoothie bowl or ice cream on a hot sunny day, or more in the mood for a flavorful lunch, or want to celebrate a special event, there are plenty of options in Delray Beach, so keep on reading!
Many Delray Beach restaurants are along Atlantic Avenue, the main thoroughfare that starts at the beach and continues toward downtown Delray Beach where you can find stores, hotels, and shops, but there are also some casual and fine dining spots tucked away along 2d Avenue if you are looking for a more quiet spot.
I put together some of the best places to eat in Delray Beach, so you have everything figured out and can stop planning your dream vacation without having to navigate the local restaurant scene on your own.
1. Papa's Tapas
One of the best breakfast and brunch restaurants in Delray Beach, Papa's Tapas is a hidden gem near Hilton's Ray Hotel.
As a vegan, I absolutely loved their couscous platter, but their menu also has plenty of standard breakfast/brunch options like omelets, quesadillas, soups, and flavorful bowls which can be made into burritos (or the other way around).
The visitors also leave great reviews for their sangria.
The place has a friendly, welcoming staff and Christina, the owner of this place provides a welcoming atmosphere, so it's no surprise this place is always busy.
Address: 259 NE 2nd Ave, Delray Beach, FL 33444
2. Yama Japanese Restaurant
Yama Sushi is a perfect spot to grab flavorful sushi and poke bowls in Delray Beach! Located on 2d Avenue, this is one of the most popular Asian restaurants in Delray Beach, and if you like seafood and sushi, you should stop by.
Popular menu options include the red dragon, spicy tuna, and avocado rolls which melt in your mouth as well as crispy dumplings and salmon teriyaki bento box. They also have a great selection of drinks and good happy hour options.
Address: 200 NE 2nd Ave #110, Delray Beach, FL 33444
3. Lulu's Café & Cocktails
Lulu's is a great casual spot with a restaurant and a small bar that boasts great flavors and affordable prices. They offer excellent staples like yummy breakfast burritos, falafel burgers, and eggs Benedict.
As a vegan, I recommend their Buddha bowl and avocado toast on delicious freshly baked bread. If you want something sweet, try their acai bowl – you won't be disappointed.
And their service is amazing – their servers make you feel welcomed and go beyond and above to make sure you have a great experience.
This is one of the best pet-friendly restaurants in Delray Beach located on a quiet corner along 2d Avenue surrounded by plants and tons of greenery, where you can feel truly at home.
Address: 189 NE 2nd Ave, Delray Beach, FL 33444
4. Foxtail Coffee
Foxtail is a new coffee shop in Delray Beach near Aloft Hotel where you can grab coffee and baked goodies. The place is quickly becoming popular with locals and visitors, and you should also check it out before everyone else finds out about it!
Address: 244 SE 5th Ave, Delray Beach, FL 33483
5. Playa Bowls
Playa Bowls is a perfect stop for frozen treats like smoothie bowls and drinks along Atlantic Avenue in Delray Beach. You can choose bowls with various bases, like acai, pitaya (dragon fruit), banana, oatmeal, chia pudding, and green.
I tried their Electric Mermaid which comes with pineapples, kiwis, granola, and pitaya base, and loved it! Playa Bowls' products have an amazing presentation, and the store is gorgeous inside and out with funky decors and artsy murals.
Don't forget o try their cold-pressed juices, cold brews, and smoothies like mango Pina colada smoothie, Aloha, summered smoothie, and pink pitaya.
Address: 1134 E Atlantic Ave, Delray Beach, FL 33483
6. Gelato and Co.
This small quaint gelato shop is a perfect spot to grab some Italian gelato, and coffee after enjoying your meal. The store has a great selection of gelatos from traditional Italian flavors to conscious sorbet options, as well as cakes and homemade pastries.
I highly recommend trying one of their fruit sorbets like limoncello, pineapple mint, or chocolate which are absolutely delicious. If you want to add more of a sweet taste, try their salted caramel – you will love it!
Their lattes are also extremely good!
Address: 1207 E Las Olas Blvd, Fort Lauderdale, FL 33301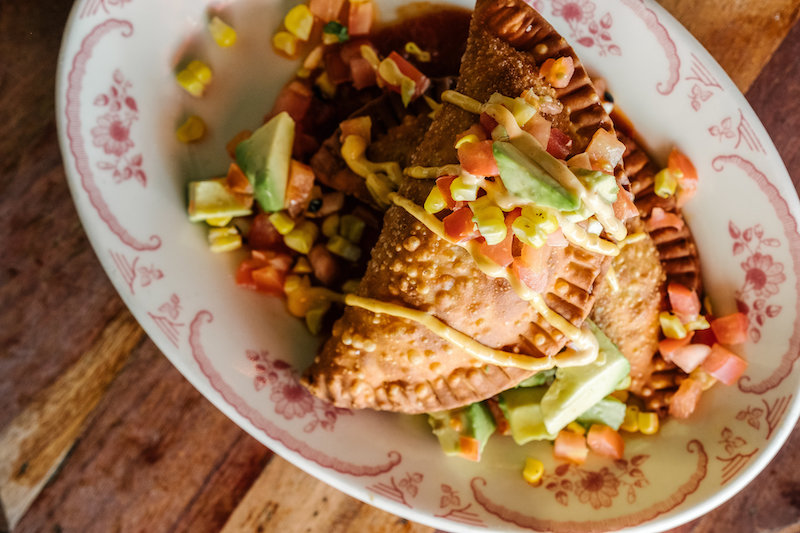 7. Rocco's Tacos
Rocco's Tacos is one of the most popular Mexican restaurants in Florida that has locations in Las Olas, Delray Beach, Boca Raton, West Palm Beach, Orlando, Sarasota, and Tampa, among other places.
From their authentic decorations to incredible food and upbeat atmosphere, it's not hard to see why so many visitors choose this place over other restaurants: Rocco's Tacos has it all!
The restaurant offers classic Mexican flares like tacos, a variety of appetizers like fried plantains, burritos, queso fundido, enchiladas, molcajete, and over 400 types of tequila.
And they also mix guacamole right at your table!
Start with salsa verde and continue and continue with nachos and signature tacos. Don't forget to try their margaritas too.
They also have separate menus for their happy hour and brunch as well as desserts like tres leches cake, churros, and Mexican chocolate brownie sundae.
You will also love Rocco's Tacos' reasonable prices – which means you can enjoy some of the best Mexican food in South Florida without breaking the bank.
Address: 110 E Atlantic Ave, Delray Beach, FL 33444
8. Le Colonial Delray Beach
Le Colonial is one of the most popular upscale Delray Beach restaurants that offers traditional Vietnamese cuisine.
Popular menu options include tartare, sesame ravioli, dumplings rolls, crispy Brussels sprouts, and typical Vietnamese pho.
If you are a vegan or vegetarian, try their vegetable rolls, beet salad, and garlic noodles.
The dishes on the menu come in a nice presentation, and the restaurant has a great ambiance and tasteful decor. If you are looking for a fine dining place to celebrate a special occasion or treat yourself while visiting Delray Beach, you should check out this spot.
Keep in mind that the restaurant also has a dress code, so if you want to come here, change your athleisure and sandals for more fancy clothing.
Address: 601 E Atlantic Ave, Delray Beach, FL 33483
9. Deck 84
Located along the waterfront in Delray Beach, Deck 84 makes for a perfect spot for a fun night out. This casual restaurant offers wonderful menu options with plenty of typical American dishes as well as drinks that you can try in their bar.
The venue has incredible food, friendly service, and live music which makes for a fun atmosphere. The menu has plenty of seafood options, but they also have some Latin-inspired options, like great tacos, freshly made guacamole, and Margherita flatbread. They're spinach pesto, which is a perfect option for vegetarians.
I also suggest their roasted tomato soup with garlic croutons, jasmine rice, and sautéed spinach – which are great healthy options.
Deck 84 has a separate sushi and drink menu and a weekend brunch menu which is available until 2 pm every Saturday from 12:00 p.m. and Sunday from 11:30 a.m. Taco Tuesday at Deck 84 is every Tuesday after 5 p.m. and offers fun deals on classic tacos, nachos, and beverages.
Their happy hour food menu is available at bar & high tops, Monday through Friday 3-6 pm. Dine-in only.
Valet parking is available at the restaurant, and there's a free parking area across the street. If you are visiting by boat, staff can also help you dock your boat right along Intercostal Way in front of the restaurant.
Address: 840 E Atlantic Ave, Delray Beach, FL 33483
10. The Seed
The Seed is a cute spot along Atlantic Avenue in Delray Beach that doubles as a coffee shop and juice bar.
The menu includes hot and cold brews like espresso, latte, Americano, Macchiato, Chai Latte, and Green Matcha Latte.
And don't miss out on their smoothies! I recommend Hypnotize which is made with coconut milk, pineapple, banana, and spinach, and topped with coconut flakes and chia seeds.
I recommend trying one of their acai bowls, which you can even put in a pineapple bowl! A pink flamingo acai bowl is a popular option that comes with organic Brazilian Navito Pitaya (Dragon Fruit), mango, and orange juice, topped with granola and fresh fruits like bananas, blueberries, strawberries, kiwi, and coconut flakes.
The store also has vegan goodies like banana coconut loaf, home-baked empanadas, croissants, quiche, and blueberry scones. Seasonal and custom cakes like carrot, cheesecake, red velvet, and chocolate are available upon request.
Aside from Delray Beach, The Seed has locations in Lighthouse Point and Boca Raton.
Address: 526 E Atlantic Ave, Delray Beach, FL 33483
11. Lemon Grass Asian Bistro
Lemon Grass offers Authentic Asian cuisine in downtown Delray Beach. The restaurant has several locations in South Florida, including Boca Raton, Boynton Beach, and Delray Beach.
They have separate menus for dinner, lunch, happy hour, and catering where you can find poke bowls, sushi sashimi, bento lunch boxes, and a variety of Asian lunches like pad Thai, and lemongrass fried rice.
Dinner options include an extensive sushi menu as well as Asian noodles, soups, salads, and edamame, which are great if you are a vegan or vegetarian and are looking for healthier options. I recommend their Wakame seaweed salad and Thai spring roll.
Address: 420 E Atlantic Ave, Delray Beach, FL 33483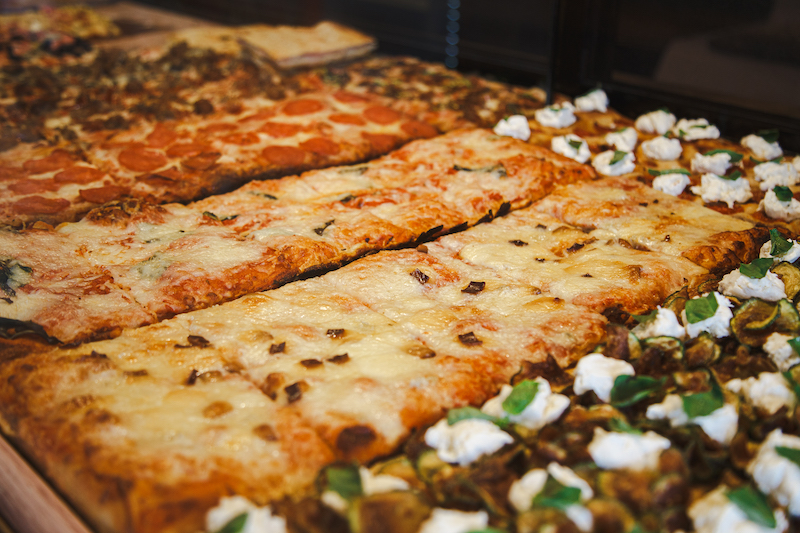 12. Sazio Express
If you are looking for good NY-style pizza while vacationing in Florida, don't miss Sazio Express, a popular pizza restaurant in downtown Delray that has top-notch service and crunchy thin-crust pizza that will make you think you are on the East Coast.
Sazio's menu includes popular Delray's Only 20 Pizza Pie, with custom options like vegetarian, Al Fresco, Spinach Ricotta, Traditional a variety of others. They also have sandwiches, and wraps, as well as healthy salad options with homemade dressings.
I recommend their baby greens salad that comes with mixed greens, cucumber, tomato, carrots, kalamata olives, and balsamic vinaigrette.
Another option is Gorgonzola salad which has mixed greens, tomato, cucumber, roasted red peppers, gorgonzola, and balsamic vinaigrette. Top it off with a refreshing frozen strawberry-lemon drink, and finish your meal with ice cream from their fridge.
Address: 1136 E Atlantic Ave, Delray Beach, FL 33483
13. The Office Delray
The Office is a casual bar in downtown Delray Beach where you can sample a variety of draft beers like IPAs, Wheat Ale & Apple Cider, as well as great cocktails and phenomenal appetizers.
The Office is one of the busiest places on the main drag in Delray, which boasts a lively atmosphere, and friendly service.
Address: 201 E Atlantic Ave, Delray Beach, FL 33444
DELRAY BEACH RESTAURANTS: FAQ's
Is Delray Beach worth a visit?
Delray Beach is a cute beach town along the Atlantic Coast of South Florida that offers laid-back vibes, spectacular white-sand beaches, and a great food scene. Unlike Miami or Fort Lauderdale, Delray Beach doesn't see as many crowds and retains its small-town charm.
What is the main street in Delray Beach?
The Main Street in Delray is Atlantic Avenue with stores, restaurants, cafes, and other local businesses. Atlantic Avenue is the center of the action, and it runs from the Delray Beach shoreline to Interstate-95 inland.
What makes Delray Beach special?
Delray is home to some of the most underrated beaches in South Florida like Pineapple Grove Beach and Ocean Ridge Hammock Park Beach, where you can enjoy the unspoiled scenery and take in the tranquil atmosphere with rustling palm trees and light ocean breeze coming from the Atlantic.
Is Delray Beach a walkable city?
Delray Beach is a perfectly walkable city. You can explore downtown Delray Beach on foot and proceed along Atlantic Avenue toward the beach. While having a car offers more flexibility if you want to explore the coast of Florida, you can get around Delray Beach on foot, if you plan to spend your vacation here.
Delray Beach restaurants: the final word
There are tons of great Delray Beach restaurants for all tastes and budgets where you can enjoy breakfast, lunch, and dinner. Many eateries and cafes in town have menus with vegan and vegetarian meals and classic options, which means you won't go hungry when visiting this town.
CHECK OTHER SOUTH FLORIDA ARTICLES: