Disclaimer: This post contains affiliate links. At no cost to you, I might earn a small commission if you make a purchase through the links in this article.
Fort Lauderdale Beach is a slice of paradise just over a mile from the popular Las Olas Boulevard. Framed by swaying palm trees, it boasts seven miles of pristine sandy beaches and clear blue waters.
This popular vacation spot is known for its laid-back atmosphere, endless sunshine, and dozens of waterways, which gave the city its nickname the "Venice of America."
Whether you want a lazy beach day, enjoy paddle boarding, snorkeling, or kayaking, you can do it all on one of the beaches in Fort Lauderdale. And make sure to stop in one of the restaurants along the promenade where you can sample local specialties like seafood and Latin-inspired dishes.
➡️ Read: The best cheap hotels near Fort Lauderdale Beach
Where is Fort Lauderdale Beach?
Fort Lauderdale Beach is located along the eastern coast of Fort Lauderdale, Florida. It stretches for approximately 2 miles (3.2 kilometers) from Sunrise Boulevard in the north to the southern tip of Hugh Taylor Birch State Park.
If you are in downtown Fort Lauderdale, you can head east towards the coast on East Las Olas Boulevard, which will take you directly to the beach in Fort Lauderdale. If you are coming from the north or south via A1A (Fort Lauderdale Boulevard), you can follow the road until you reach the section of the beach you are looking for.
Parking meters are located along the road, so don't forget to pay for your spot!
BEST THINGS TO DO IN FORT LAUDERDALE BEACH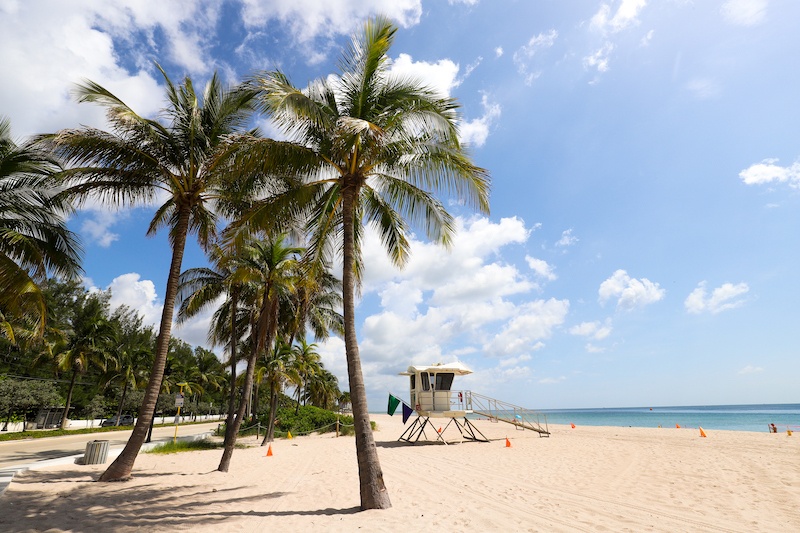 Enjoy the beach
There's no better way to spend your Fort Lauderdale vacation than by enjoying beach activities like swimming, sunbathing, playing beach volleyball, and building sandcastles. You can also rent beach chairs, umbrellas, and various water sports equipment such as jet skis, paddleboards, and kayaks.
Many beachfront hotels in Fort Lauderdale provide sun loungers and umbrellas and can also find fun tours for you, so it's a good idea to book your stay in a place like Ritz Carlton, The Maren or Ocean B.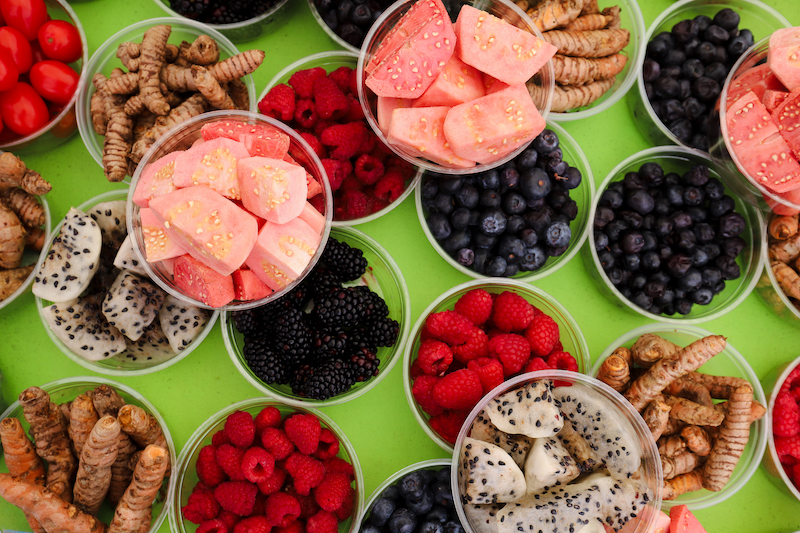 Visit the Saturday market
The Las Olas Oceanside Park Farmers, Antiques and Artisan Market takes place every Saturday from 9 a.m. till 4 p.m. and features local artisans who sell jewelry, clothing, fresh produce, sweets, and more.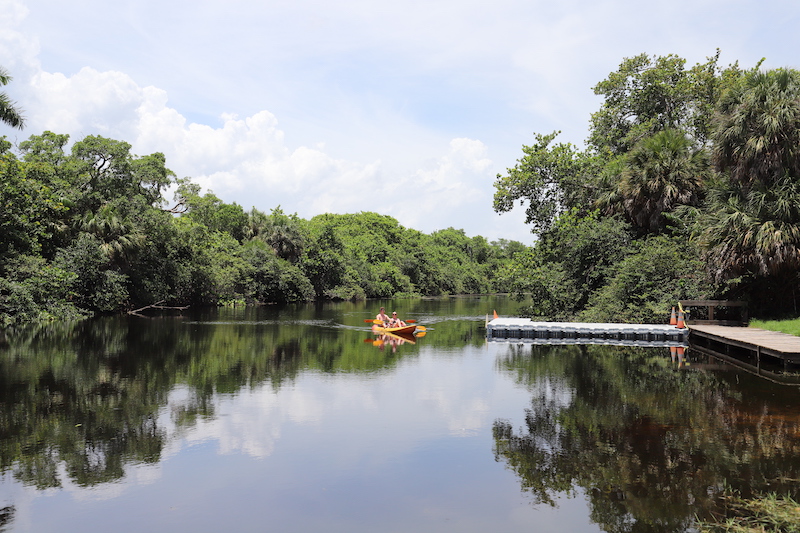 Visit Hugh Taylor Birch State Park
Hugh Taylor Birch State Park is a gorgeous natural area locatef across the road from Fort Lauderdale Beach. Here you can check out cool trails, rent a kayak and enjoy a serene environment. The park also has opportunities for wildlife watching, and scenic trails.
Rent a bike
You can rent a bike at several spots around Fort Lauderdale promenade. One of the most popular spots is Broward B Cycle in the south parking lot. Other bicycle stations are located on Bayshore Drive near W Hotel Fort Lauderdale and Sonesta Hotel.
Book a tour of Everglades
Home to Florida's largest national park, Everglades is a wetland ecosystem characterized by sawgrass marshes, cypress swamps, mangrove forests, and tons of wildlife like alligators, American crocodiles, manatees, and panthers.
The national park covers approximately 1.5 million acres and is the third-largest national park in the contiguous United States. You can visit it by renting a car or taking a guided tour, which is a popular option among many travelers.
Go paragliding
Paragliding in Fort Lauderdale is one of the most fun activities and a perfect way to enjoy the panoramic view of the area that most travelers don't get to experience. You can book your paragliding tour online ahead of your visit.
Explore the Fort Lauderdale boardwalk
The beach features a scenic promenade and a paved beachfront boardwalk called the Fort Lauderdale Boulevard (A1A). It's perfect for strolling, jogging, or biking, with beautiful views of the ocean and nearby hotels, restaurants, and shops.
Grab a bite
Along the beach, you'll find a wide range of restaurants, cafes, and bars, many of which have outdoor seating areas where you can enjoy a meal or a refreshing drink while overlooking the Atlantic Ocean.
One of my favorite places to eat in Fort Lauderdale is SoBe, a vegan restaurant just a block away from the beach where you can enjoy delicous comfort vegan food.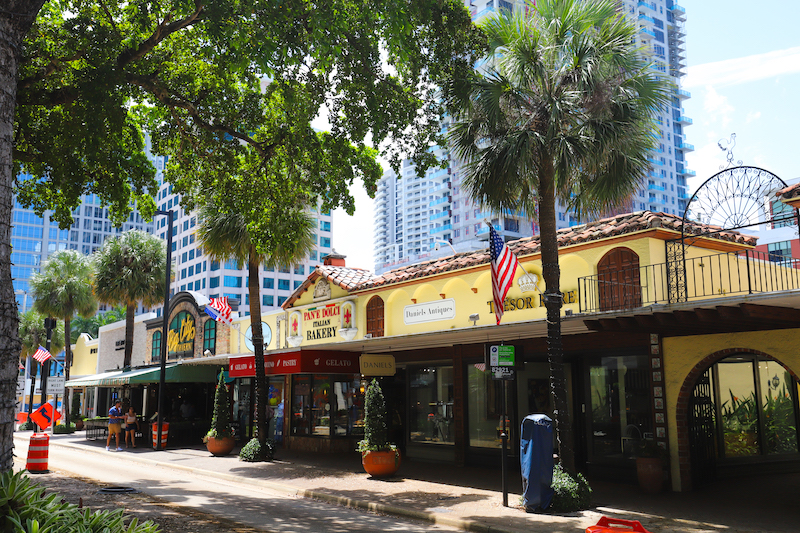 Visit Las Olas Boulevard
Just a short distance inland from the beach is Las Olas Boulevard, a busy street lined with boutiques, art galleries, and some of the best restaurants in town. If you want to enjoy some of the best Fort Lauderdale shopping and get a tasty of the local culture, this place is a must!
Another option is The Galleria At Fort Lauderdale, a big shopping mall near Las Olas.
Kayak at Hugh Taylor Birch State Park
This scenic park provides nature trails, picnic areas, and canoe rentals. It's an excellent spot to escape the beach and enjoy some peaceful moments in nature. You can also rent a kayak and enjoy the view of the canals.
Enjoy Beachfront Events and Festivals
Throughout the year, Fort Lauderdale hosts various events and festivals, including concerts, art shows, and sporting events. These events contribute to the lively and festive atmosphere of the beach.
Learn local history at Bonnet House Museum and Gardens
Located near the beach, the Bonnet House is a historic estate that offers guided tours of its art-filled interiors and beautiful gardens. It's a popular attraction for history and nature enthusiasts.
Fort Lauderdale Beach seaweed
It's not uncommon to see some seaweed on the beach in Fort Lauderdale, but it usually happens during spring when seaweed arrives from the Sargassum Sea in the Atlantic. By June, most of the seaweed has usually cleared, and you can enjoy the pristine white-sand beaches in Fort Lauderdale.
BEST FORT LAUDERDALE HOTELS NEAR THE BEACH
Pelican Grand – A popular hotel with a private beach area, Pelican has bright spacious rooms, oceanfront restaurants, and spa services.
Check the best hotels Lauderdale by the Sea for a quiet getaway.
✅ CHECK PRICES AND AVAILABILITY AT PELICAN GRAND
✅ CHECK PRICES AND AVAILABILITY AT HOTEL MAREN
B Ocean Resort – Located along the private beach, B Ocean Resort has an outdoor swimming pool, private parking, a fitness center, a restaurant, and a bar. Fort Lauderdale Hollywood Airport is 6 miles away.
✅ CHECK PRICES AND AVAILABILITY AT B OCEAN
FORT LAUDERDALE BEACH RESTAURANTS
Fort Lauderdale has a great variety of restaurants from small cafes where you can grab a brunch to upscale restaurants and popular bars that are perfect for a fun night out.
SoBe Vegan – My favorite restaurant in Fort Lauderdale, SoBe has some the best vegan food in Fort Lauderdale! Their menu includes comfort options like burgers, wraps, sandwiches, and tacos. I highly recommend you stop there during your Fort Lauderdale vacation!
Casablanca Cafe – a popular beachfront cafe in Fort Lauderdale, Casablanca offers a mix of American, Italian, and Mediterranean cuisines with vegan and vegetarian options. Friendly service and a lively atmosphere make it a perfect spot to enjoy a breakfast or brunch.
S3 Restaurant – If you are looking for a nice ambiance and great food, don't miss this place! S3 is a popular bar and restaurant.
Takato – One of the most popular restaurants along the beach, Takato offers Korean cuisine with a gorgeous view of the Atlantic Ocean.
Village Cafe – A perfect spot for breakfast or brunch, the village cafe is tucked in a quiet corner behind the Conrad Hotel. The place offers pastries, pancakes, and coffee.
Lona Cocina – Located near the Westin Hotel, Lona Cocina is a popular Mexican restaurant that offers tacos, empanadas, quesadillas, and delicious margaritas.
BEST FORT LAUDERDALE BARS NEAR THE BEACH
Elbo Room – this popular bar is the staple of the Fort Lauderdale restaurant scene, and if you are looking for a fun night out, you simply can't miss it!
McSorley's Beach Pub – One of the most popular bars along the beach in Fort Lauderdale. McSorley's is a great spot to grab a beer and enjoy a spectacular Fort Lauderdale sunset from the rooftop.
How to get to the beach from the Fort Lauderdale Airport:
Many travelers arrive to Fort Lauderdale via Fort Lauderdale-Hollywood International Airport, and depending on your plans and budget, there are a couple of ways to get to the beach from there.
By car – If you want more flexibility and freedom to explore some of the best beaches in Fort Lauderdale and beyond, a car rental is your best option. You check car rental prices online at DiscoverCars, my go-to platform for renting cars in popular travel destinations.
DiscoverCars allow you to choose from dozens of cars at affordable rates. They have no hidden fees or surcharges, and you can also buy your insurance at the same time when you book your car online.
CLICK HERE TO BOOK A CAR FOR YOUR FLORIDA VACATION
By Uber – Uber is a popular option for getting around Fort Lauderdale and surrounding areas.
By transfer – If you plan to spend your Fort Lauderdale vacation in a beachfront resort, an airport transfer is a perfect option. Your driver will meet you at the arrivals and get you to your hotel.
BEST BEACHES NEAR FORT LAUDERDALE AIRPORT
If you have more time, don't forget to explore other Fort Lauderdale beaches near the airport. Whether you want to check out the boardwalk in Hollywood or enjoy a quiet atmosphere at Dania Beach or Lauderdale by the Sea, there are plenty of beaches in the Fort Lauderdale area.
Fort Lauderdale, Florida, is renowned for its beautiful beaches. While opinions on the best beaches may vary depending on personal preferences, here are some of the top beaches in Fort Lauderdale:
Fort Lauderdale Beach: Located along the bustling A1A strip, Fort Lauderdale is the most popular and well-known beach in the area. It offers a wide stretch of sandy shoreline, clear turquoise waters, and a lively atmosphere. You'll find plenty of restaurants, bars, and shops along the promenade.
Las Olas Beach: Adjacent to the iconic Las Olas Boulevard, Las Olas Beach offers a picturesque setting with palm trees, white sand, and calm waters. It's a great spot for sunbathing, swimming, and strolling along the promenade. You'll also find beachfront cafes and shops nearby.
Dania Beach: Located just south of Fort Lauderdale, Dania Beach is a quieter alternative to the more crowded beaches. It has a relaxed atmosphere and is known for its pristine sand and clear water. The Dania Beach Pier is a popular spot for fishing and offers great views of the coastline.
Pompano Beach: A short drive north of Fort Lauderdale, Pompano Beach is a family-friendly destination with a wide beach, gentle waves, and excellent amenities. The Pompano Beach Fishing Pier is a favorite spot for fishing and offers beautiful views. There are also waterfront restaurants and picnic areas nearby, as well as the Hillsboro Lighthouse.
Fort Lauderdale Beach: FAQ's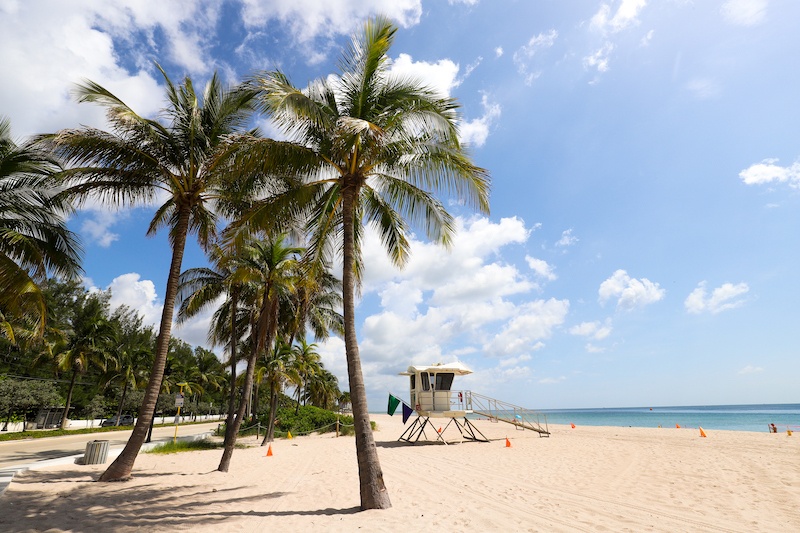 Does Fort Lauderdale have nice beaches?
Fort Lauderdale boasts some of the best beaches in South Florida like Dania Beach, Hollywood Beach, and Las Olas Beach, where you can sunbathe and enjoy countless water activities like kayaking, paddle boarding, scuba diving, and snorkeling.
What's the prettiest beach in Fort Lauderdale?
Las Olas Beach is the prettiest beach in Fort Lauderdale. It boasts crystal clear shallow waters that are perfect for swimming, snorkeling, and paddle boarding and a good variety of cafes and restaurants right across the road.
Is Fort Lauderdale beach swimmable?
Yes, the beach in Fort Lauderdale is swimmable and is perfect whether you are an advanced or rookie swimmer. The beach has calm shallow waters and has many lifeguards.
Which beach is better Miami or Fort Lauderdale?
While Miami and Fort Lauderdale offer spectacular beaches, amazing food scenes, and plenty of entertainment, Fort Lauderdale is more laid-back and quiet while Miami is busier and has a more urban feel to it.
Which beach has the clearest water in Fort Lauderdale?
Lauderdale by the Sea is known to have some of the clearest water in Fort Lauderdale where you can enjoy a perfect swim. One of the best places for snorkeling and diving in South Florida, this beach offers great opportunities for sporting marine wildlife.
FINAL WORD:
Fort Lauderdale is a perfect vacation spot thanks to its stunning beaches, great entertainment options, and fun dining scene. Here you can have a lazy beach vacation or enjoy adventurous water sports like parasailing and scuba diving. You can also take a day trip to Everglades to see one of the biggest national parks in the United States, where you can learn about its unique ecosystem and spot wildlife including crocodiles and manatees.