Disclaimer: This post contains affiliate links. At no cost to you, I might earn a small commission if you make a purchase through the links in this article.
Dubrovnik is a trendy destination along the Adriatic Coast of Croatia that boasts a medieval Old Town, incredible beaches with clear turquoise waters, and famous cultural landmarks. Dubrovnik is also often used as a starting point for visiting neighboring countries like Montenegro and Bosnia and Herzegovina.
Although Dubrovnik has a low crime rate and as a tourist you are statistically safe, there are certain things that you should know. This article will take a look at the safety aspects of visiting Dubrovnik, so you can enjoy a fun and safe vacation in one of the most popular destinations in Croatia.
➡️ Read my top travel tips for Croatia
Is Dubrovnik safe?
Statistically, you are very safe in Dubrovnik. Still, petty theft can occur in popular areas like beaches, restaurants, and popular landmarks, and you should also be aware of tourist scams which often involve charging visitors extra money.
Dubrovnik has a lower crime rate than other popular European capitals like Paris, Berlin or Athens. I've never felt unsafe for a minute when visiting Dubrovnik and had a great time during my visit.
What does the U.S. State Department say about Croatia?
As of 2023, the U.S. State Department advises exercising standard precautions in Croatia.
Is Dubrovnik safe for solo female travelers?
Dubrovnik is generally safe for solo female travelers. The locals are very friendly and the city is known as one of the safest destinations in Europe. You can explore the most famous landmarks in Dubrovnik like Old Town, hike Srd Mountain, or spend time on the beach without worrying about your safety. 
But as any other destination, Dubrovnik is not 100% percent safe. That's why if you are visiting the city by yourself, you should take extra safety precautions. Join guided tours, like a kayaking tour of Dubrovnik, exercise caution when going out, and don't divulge too much information about your travel plans to strangers.
Best tours of Dubrovnik:
If you are visiting Dubrovnik as a solo female traveler, consider staying in a hostel that can offer a good social atmosphere and daily activities and tours. Lastly, avoid excessive drinking, and if you stay out late, take an Uber back to your hotel, and avoid unlicensed taxis. 
✅ BOOK OLD TOWN HOSTEL – ONE OF THE BEST HOSTELS IN DUBROVNIK
Get a travel insurance for your trip to Croatia
Safety Wing is one of the best insurance plans for long-term travelers and digital nomads that covers you in the event of stolen and lost luggage, hospital visits and other unforeseen circumstances. WorldNomads is one of the most popular travel insurance options that offers option for long and short-term travel.
SAFETY TIPS FOR VISITING DUBROVNIK
Always keep an eye on your belongings
Whether you are exploring Old Town, taking a boat tour, or spending a couple of hours at one of the beaches in Dubrovnik, don't leave your belongings out of sight!
Petty theft is not uncommon in tourist hot spots, and you have a higher chance of someone taking off with your valuables if you leave them unattanded, even for a short time.
Double-check prices and carefully count the change
Tourist scams can occur in a popular place like Dubrovnik, so you must always check prices in restaurants, taxis, and popular attractions. If you are going out for a drink, always pay upfront instead of running the tab.
Don't accept food or drink from strangers
When going out, make sure you don't accept any beverages or food from strangers.
✅ Book a popular food and drink tour in Dubrovnik
Leave your wallet in your hotel
In a popular destination like Dubrovnik, there's always a risk that you might run into pickpockets. To avoid becoming a victim, leave your wallet in a safe in your hotel and only carry some cash and a credit card.
Avoid Dubrovnik during peak hours
If you are visiting Dubrovnik in summer, plan your activities for early morning, late afternoon, or evening, because it can be very hot, especially in July and June. On top of that, Dubrovnik can be extremely crowded in the afternoon, which makes it easier for pickpockets to operate.
✅ Visit Dubrovnik in September for better experience
Stay away from dark or poorly lit areas
If you are staying out late, it's best to stay away from poorly illuminated areas. If you are visiting Dubrovnik by yourself, it's also a good idea to avoid staying out late and skip areas with bars and nightclubs where you can find intoxicated people. 
Keep someone posted about your surroundings
Regardless of what your travel plan is for Dubrovnik or Croatia, always let someone know about your travel plans.
Don't let others distract you
Always be wary of overly friendly people, especially if they are trying to help you with something. While not everyone is a con artist, and things often depend on the context of the situation, it's not uncommon for scammers to use the distraction tactic.
Follow local laws and customs
Familiarize yourself with the laws, regulations, and customs of Croatia. Did you know walking around in a bathing suit in Croatian towns is prohibited, unless you are on a boat, on a beach, or in any other area near the water? Don't wander into Old Town Dubrovnik in your swimsuit, after spending your day at the beach, or you can get a fine!
Check weather reports
Croatia is a coastal country, and the weather here can change quickly. Check weather reports, especially if you plan to rent a boat or spend time on the water.
While Dubrovnik is generally considered safe, it's always a good idea to stay informed about the current situation by checking travel advisories and consulting official sources before your trip.
✅ Book a popular tour of Mljet National Park
Do they speak English in Dubrovnik?
Dubrovnik is a major destination, and most people who work in the tourism industry speak English. If you plan on taking local buses or visiting places away from the tourist zone, you will likely encounter fewer people who speak English, so it's always helpful to learn at least a few words in Croatian.
Speaking from my own experience, most people in major cities in Croatia like Dubrovnik, Split, or Zagreb speak at least basic English, so if you are sticking to a popular tourist path, you should have no problem communicating.
Is Dubrovnik expensive?
Dubrovnik is one of the most visited places in Croatia, and prices on food, hotels, and tours here tend to be higher than in many other parts of the country. If you want to save on your trip to Dubrovnik, visit it during the shoulder months of May or October.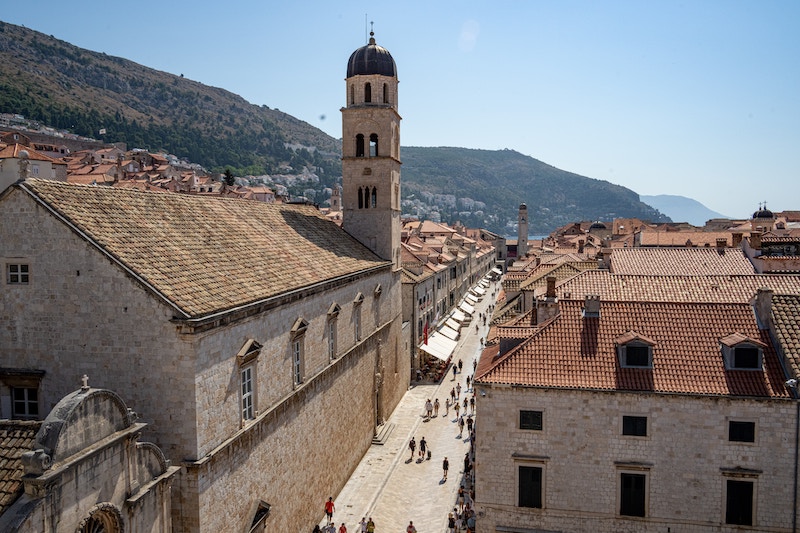 WHAT IS THE BEST AREA TO STAY IN DUBROVNIK?
Dubrovnik has several areas where you can spend your vacation. Here are some of the best neighborhoods in Dubrovnik:
Old Town (Stari Grad): The historic heart of Dubrovnik, Old Town is a UNESCO World Heritage Site and one of the most popular neighborhoods. It has well-preserved medieval architecture, charming streets, and historic landmarks like the City Walls and Stradun (main street).
✅ Where to stay in Old Town Dubrovnik: Boutique Hotel Stari Grad
Ploče: Located just outside the eastern entrance of Old Town, Ploče offers breathtaking views of the city walls and the Adriatic Sea. This neighborhood is home to luxurious hotels, stylish restaurants, and beach clubs. You can also access the famous Banje Beach from Ploče.
✅ Where to stay in Ploce: Hotel Vis
Lapad: Situated on the western side of Dubrovnik, Lapad is a residential area known for its beautiful promenade, green parks, and sandy beaches. It's a quieter neighborhood compared to the bustling Old Town and has accommodations, restaurants, and recreational activities.
✅ Where to stay in Lapad: Hotel Lapad
Pile: Located at the western entrance of Old Town, Pile is a popular neighborhood with easy access to the city's main attractions. It is home to Fort Lovrijenac and serves as a starting point for the scenic walk along the City Walls.
✅ Where to stay in Pile: Hilton Imperial Dubrovnik
Gruž: Situated in the northwest part of Dubrovnik, Gruž is the city's main port and a vibrant neighborhood. It offers a lively local market, a marina, and many shops, and is an excellent place to experience the local culture.
✅ Where to stay in Gruz: Boutique Hotels Kazbek
Babin Kuk: Located on the Lapad Peninsula, Babin Kuk is an upscale neighborhood. It features pristine beaches, luxurious resorts and is ideal for those seeking a relaxed atmosphere.
✅ Where to stay in Babin Kuk: Royal Blue Hotel
IS DUBROVNIK SAFE: FAQ'S
Is it safe to walk in Dubrovnik at night?
Yes, it's safe to walk in Dubrovnik at night, especially around Old Town, which stays busy until late. Even though the city is known to be fairly safe, stick to well-lit areas and skip remote parts of town.
Is Dubrovnik public transportation safe?
Public transportation in Dubrovnik is safe, well-maintained, and clean and can be used to get around different neighborhoods, as well as Dubrovnik Airport. Keep a close eye on your belongings, especially during busy hours, when there are a lot of people on a bus.
➡️ BOOK A PRIVATE TRANSFER FROM DUBROVNIK AIRPORT TO YOUR HOTEL
Is it safe for Americans to travel to Croatia?
It's safe for Americans or any other tourists to travel to Croatia.
Is Dubrovnik tourist friendly?
Dubrovnik has become one of the most touristy places in Croatia after it appeared in the Games of Thrones show. The local economy depends heavily on tourism, and locals are friendly and welcoming to visitors.
Is Dubrovnik nicer than Split?
Dubrovnik is known for its UNESCO-listed Old Town, pebbly beaches, and proximity to popular places in the region like Kotor Bay and Mostar. Split is famous for its promenade, the Diocletian Palace, and is often used as a starting point for island hopping in Croatia. Split is less expensive than Dubrovnik, and makes a perfect base if you want to visit Krka and Plitvice National Parks or visit Zagreb, the underrated capital of Croatia.
Where to avoid in Dubrovnik?
Although Dubrovnik is safe, it's best to skip Old Town Dubrovnik in the afternoon as it can be very crowded and hot, especially in summer. For the best experience, visit Old Town Dubrovnik early morning or late afternoon.
What is the safest place in Croatia?
Dubrovnik, Zagreb and Pula are the safest cities in Croatia. Although they don't have any violent crime, petty theft and pickpocketing can occur in popular areas, so it's essential to be aware of your surroundings.
IS DUBROVNIK SAFE: FINAL WORD
Dubrovnik is a popular destination with a low crime rate. You can enjoy the best of Dubrovnik without worrying about your safety, but remember that like any popular destination, Dubrovnik is not free from tourist scams and petty crime. Always be aware of your surroundings and watch your belongings when visiting major landmarks or public beaches.
Dubrovnik emergency numbers
U.S. Embassy in Zagreb – (385) (1) 661-2200
Dubrovnik Police Department – (385) 20 443 333
Dubrovnik Traffic Police – (385) 20 443 666
Croatia Emergency Number – 112