Disclaimer: This post contains affiliate links. At no cost to you, I might earn a small commission if you make a purchase through the links in this article.
If you are looking for the best things to do in Bern, you will never run out of options. The capital of Switzerland has a small town feel to it, but it's full of fun activities.
Unlike some big European cities that might overwhelm you with their hustle and bustle, Bern is more reminiscent of a quaint town with its leisurely pace and cobble-stone medieval streets that make you feel like you were transported into the 15th century.
I visited this city several times, and wanted to share some of the highlights of my trip with you, so you too can enjoy this underrated capital!
BEST THINGS TO DO IN BERN: AN OVERVIEW
1. Stroll through Old Town Bern
The city has a charming Old Town (Altstadt) that is listed as a UNESCO World Heritage Site.
One of the most notable features of the old town is the arcade-style buildings that stretch for almost 6 kilometers. Here you can find stores, restaurants, cafes, and shops with souvenirs.
Bern has four main streets, Marktgasse, Kramgasse, Spitalgasse and Gerechtigkeitsgasse that run in the eastward direction from Bern's central station. Although these streets are pedestrian-friendly like the rest of the city, they also have some car traffic.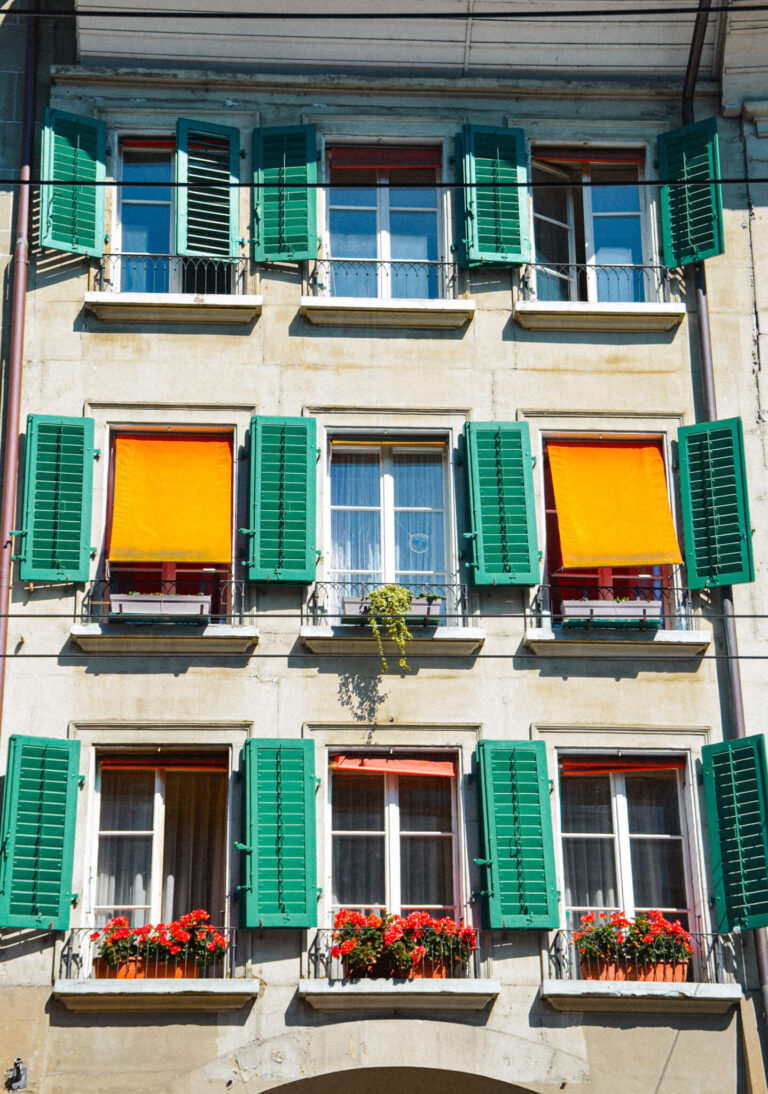 The city was built from the 12th through the 15th century, and its layout remained virtually the same.
After a big fire in early 1400 destroyed much of the city's wooden architecture, most of its buildings were built in sandstone.
While the Swiss capital offers many things that deserve your attention, walking along the old city's cobble stone streets will allow you to feel the true magic of this place without having to spend money on tours.
Rathaus Platz is a good place to start your walking tour. Here you will find the church of St. Peter and Paul, a fountain and Town Hall.
2. Take a day trip from Bern
Bern sits at the foothills of Bernese Oberland – one of the most spectacular regions of Switzerland that boasts incredible mountain views and is home to some of the most popular ski resorts in the country. You can take a day trip to the nearby mountains and villages like Grindelwald or take a shorter trip to Thun, which boasts one of the most beautiful castles in the country.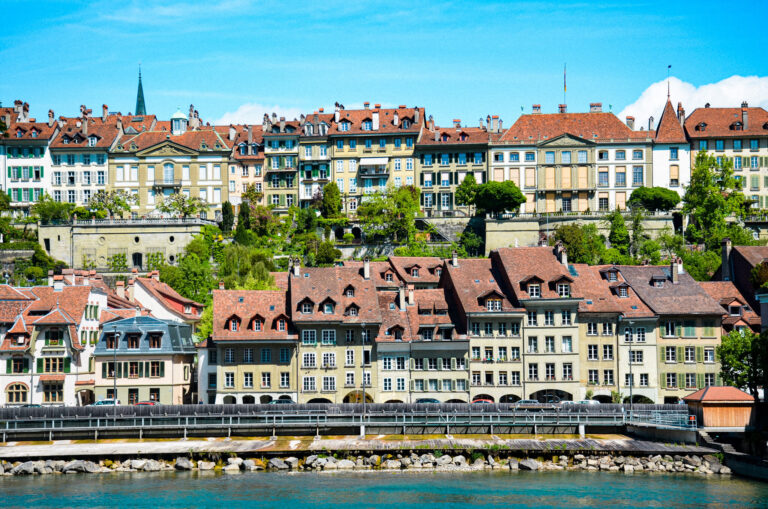 3. Swim in the Aare River
The area along the Aare River is perfectly safe for swimming during summertime.
When you walk along the riverbank, you will find designated spots for swimming, rafting, river surfing and paddle boarding. Like many other cities in Switzerland, it offers a combination of culture, history and proximity to the outdoors, which is why I recommend about 2 days for your stay.
Keep in mind that the current is strong in parts of the river, and there are also several dams, so if you want to swim in the Aare, make sure you do so ONLY in designated areas marked by signs.
4. Check out Zytglogge
Bern's historic clock tower is one of the city's main highlights.
Built in the 12th century, Zytglogge is located on Marktgasse, and is one of the oldest pieces of architecture in this city. When the astronomical clock added to the tower in the 16th century begins to strike every hour, the mechanical figures show up for a mini show.
PRO TIP: I recommend booking a highly-rated clocktower tour that will show you the mechanism controlling the historic cook and the figurines. Many travelers say that it's one of the best experiences in Bern!
During the tour, you can climb the 130 stairs leading to the top of Zytglogge's tower to enjoy the view of Bern's rooftops.
5. Take a guided tour of Bern
If you are short on time, take a city tour that will show you some of the city's top highlights before you continue your trip to other places in Switzerland. Taking a guided tour is one of the best things to do in Bern if you are in the city only for a short time and want to learn the city history on the go.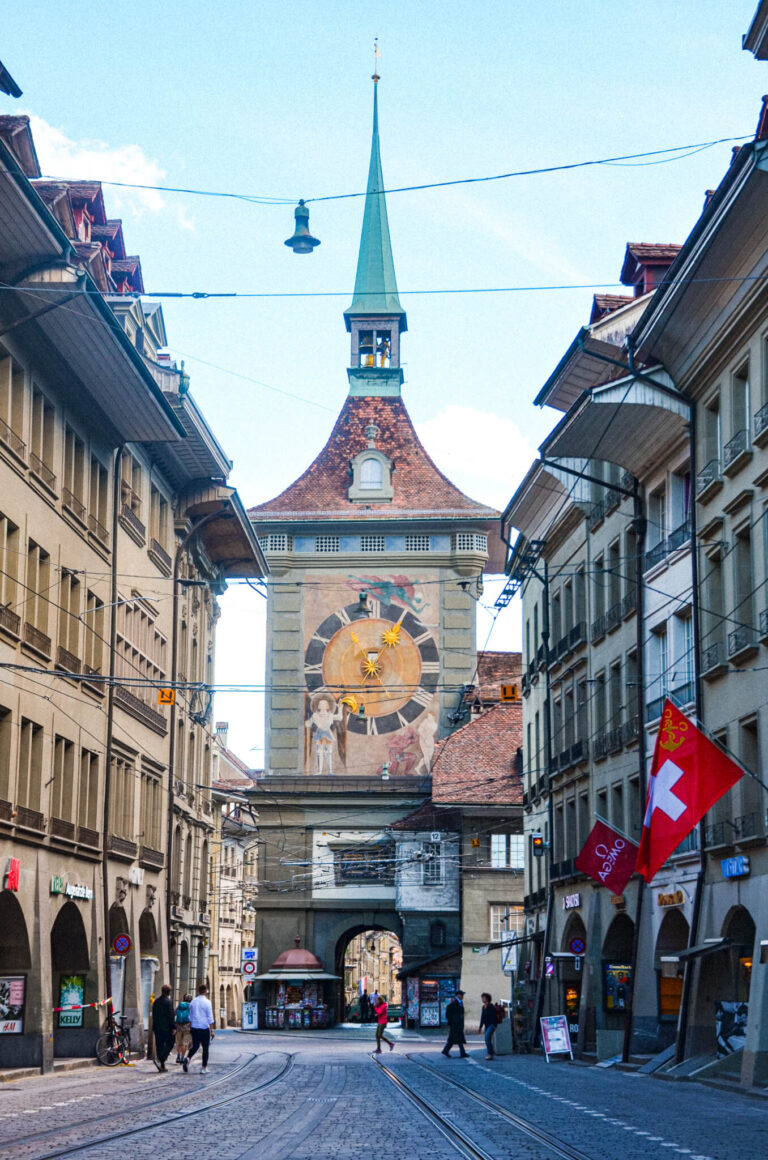 A parade of mechanical figurines including bears, a rooster, and a jester come out to do their performance as groups of tourists who gather in front of the Clock Tower.
6. Walk on Nydeggbrucke
The Nydeggbrucke is a bridge that connects the Old City with the new part. It's pretty hard to miss and it's the best spot from which you can get a good viewpoint on the entire city. Come here to snap a photo of the turquoise Aare River flowing along the fairytale-like row of colorful houses.
From here, you can also see the older stone bridge of Untertorbrucke, which was the only original bridge crossing the Aare River.
7. Say hi to the bears in Bärenpark
Walk across Nydeggbrucke and you will arrive at the Bärenpark, home of the famous Bernese bears. Here you can see the three bears, Finn, Bjork, and Ursina walking around and playing. Walk to the lower bank of the river to see the area where bears roam free!
Bern – The City of Bears
The city was named after the bear when one was found roaming the nearby forest.
Today, you can find bears in the city's Bärenpark (Bear Park) along the Aare River. What's cool about this place is that it has been created in a way where bears can swim, fish, and walk around the large area of 5,000 square meters on the bank of the river.
A bear is an official symbol of the city and the canton of Bern. You can find this animal gracing flags and emblems throughout the city.
PRO TIP: Want to save money? Read my article that covers the worst tourist mistakes that many tourists make while visiting Switzerland.
8. Get scared by The Child Eating Fountain
Bern has over 100 mountains many of which date as far as 500 years back.
The 11 Renaissance fountains created by the Swiss sculptor Hans Gieng in the city center are some of the most famous Bern fountains.
Other notable fountains in Bern including Lauferbrunner (Runner Fountain), Zahringerbrunnen and Gerechtigkeitsbrunnen (the Justice Fountain). One of the most famous fountains is Kindlifresserbrunnen, which translates as "the child-eating fountain."
The unsettling figure depicts a man that snacking on a bunch of children out of a sack and according to history, it dates back to the 16th century.
✅ Find out the best time to visit Switzerland
There are several theories about how the Child Eater fountain came to be. Over the years, the fountain has become one of the city's most famous sites with many tourists coming here to snap a picture.
Kindlifresserbrunnen is located at Kornhausplatz in Bern.
✅ Check: How to visit Thun Castle
9. Tour Einstein House
Not many people know that Albert Einstein lived in Bern from 1903 to 1905.
The house that he rented is is located along Kramgasse and it has been refurbished to resemble the original atmosphere and turned into a museum. If you are not sure whether you should stop there, I will only say that this is the house where Einstein has developed his Theory of Relativity, so that alone makes it worth a visit.
Einstein House is open every day from 11 a.m.- 4 p.m. except for major holidays like Christmas and New Year's Eve.
PRO TIP: This is one of the most popular museums in Bern, and since the museum is essentially a small apartment, it can get pretty crowded here.
➡️ Check: Thun or Interlaken?
10. Einstein Museum
Want to learn more about Einstein?
Head to Einstein Museum that celebrates the connection between the famous scientist and the city. On top of developing the Theory of Relativity in this town, Einstein has also taught in the University of Bern and published some of his most important papers while living in this city.
The museum includes a collection of artifacts such as his school items, letters and reports. It also showcases major historic events that took places during Einstein's life.
GOOD TO KNOW: Einstein Museum is a great place to add to your itinerary if the weather calls for rain or colder temperatures. You can easily spend 1,5-2 hours here learning all the cool facts about Einstein that you had no idea about!
The Einstein Museum is open every day except for Mondays.
11. Climb to the top of Bern Münster
Bern Münster also known as Bern's Gothic Cathedral is the tallest church in the city, thanks to the big spire at the top that was completed in 1983.
Inside the cathedral you can see beautiful stained glass windows and sculptures as well as the Baroque organ that dates back to the 18th century.
Climb 254 steps to the top of the cathedral to get a bird's eye view of Bern and the surrounding area called the Bernese Oberland, the higher part of the Canton of Bern that has scenic landscapes with mountains, lakes and small picturesque villages tucked between the green hills. Inside the tower, there's the largest bell in Switzerland (Grosee Glocke or the Big Bell) that weighs a whopping 10 tons!
On a clear day, you can even see Eiger, Monch, and Jungfrau in the distance.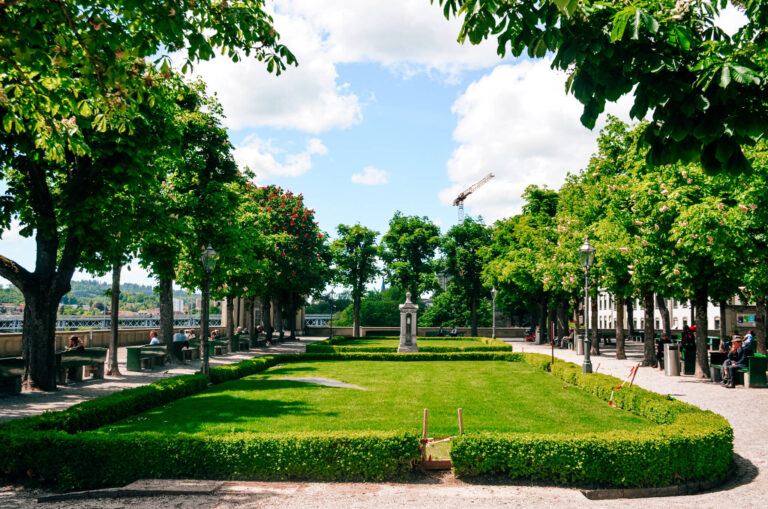 Right in front of Bern Münster you can find a nice park overlooking the Aare River. It's a perfect place to sit down and relax after a long day of sightseeing.
12. Get a tour of The Bundeshaus
Home to the Swiss Parliament, the Bundeshaus sits in the main square, where you can also find farmers' markets during summer. 
The Bundeshaus is open to the public when the Parliament is not in session and offers guided tours in different languages. Here you can learn about some of the most important moments in Swiss history, however, make sure to reserve your spot online at least 3 days ahead of your visit.
13. Enjoy a relaxing afternoon at Rosengarten
Located on the right bank of the Aare River, Bern's Rose Garden is a perfect spot to visit during warmer months. Situated at the top f the steep hill, it has gardens, fountains, neat lawns and ponds. Come here to relax and take in the views of the Old Town.
14. Make your way to the top of Gurten
Gurten is a picturesque hill on the slopes of the Swiss capital and you can get there by catching a cable car in Waben.
It's one of the most popular outdoor spots near Bern with green spaces, trails and gorgeous meadows that are perfect for take picnics and casual strolls through the area. To get to Gurten, you will need to catch Gurten funicular that runs from 7 a.m. until late in the evening. You buy tickets on the spot the you arrive.
GOOD TO KNOW: In mid-July, you can come here for the famous Gurtenfestival that has been steadily growing in the last couple of years. The area gets busy during this time, so be prepared, if you decide to visit Bern during this time.
15. Visit Zentrum Paul Klee
Visiting Zentrum Paul Klee is a great way to get familar with Bern's native Paul Klee, a painter known for his abstract and surrealist works is one of the city's most celebrated figures.
Zentrum Paul Klee was opened in 2005 and has about 4,000 paintings of the famed artist which were donated to the museum. This modern museum is also famous for unique architectural style which looks like a wave – a neat design created by the Italian architect Renzo Piano.
Zentrum Paul Klee is located outside of the city, so you will have to get on public transportation to get there. You can catch Line 12 Bus from Old Town in the direction of Paul Klee or Line 7 Tram.
16. … or Bern Historical Museum
The second biggest history museum in Switzerland, the Historical Museum of Bern is has a mix of temporary exhibits and classic staples that show various stages of Swiss history. If you have some spare time before moving to your next destination, stopping here is one of the best things to do in Bern!
Bern Historical Museum is located at Helvetiaplatz 5.
17. Take a helicopter tour of the Alps
There's nothing like taking a helicopter tour of the stunning Alps, and you catch catch a ride directly from Bern! Since the city is located near the Swiss Alps, taking a helicopter tour a must, if you are looking for a truly unforgettable experience while visiting Switzerland.
One of the best tours of the area begins in the Bern airport and takes you to the Eiger North Wall and the Jungfraujoch. Some of the highlights of the flight include the rugged valley walls of the Lauterbrunnen and the Schilthorn, as well as the flyover of Lake Thun and the Guerbetal.
Other popular tours of Bern
BEST HOTELS IN BERN SWITZERLAND
Bern offers tons of great hotels for different budgets. Since hotel standards are pretty high in Switzerland, even cheaper hotels typically nice and clean. And because the city is compact, there are many hotels within walking distance of Old Town, so you don't necessarily need public transportation to get around.
One of the best hotels in Bern is the historic Hotel Schweizerhof with gorgeous rooms and central location. Travelers love hotel's proximity to some of the best things to do in Bern as well its friendly staff!
Hostel 77 Bern is a perfect budget accommodation close enough to Old City Bern where you can get there by public transportation. The hostel is 2.9 miles from Bärengraben and 3.2 miles from the Clock Tower. It has a shared kitchen, and luggage storage for guests.
Best Western Plus Hotel is a classic hotel with no frills and basic amenities in the heart of the city near Zytglogge and other landmarks in Bern.
Bed and Breakfast Rose boasts central, yet quiet location in the heart of the city and a super friendly host. Delicious breakfast and lunch are offered at the property.
How to get around Bern?
When you check into your accommodations, you will get a free travel card that is called Bern Ticket.
And since the city is generally on the pricey side, Bern Ticket comes in very handy. It allows you to use public transportation within zones 100/101 that is operated by the LIBERO Association. In addition, it includes transport to and from the airport as well as cable car to Gurten and Bern Munster.
Aside from using the pass, the best way to get around this city is by train and bus.
PRO TIP: The best way to get around Switzerland is by train. It's quick, efficient and far less expensive than renting a car. If you plan on traveling in Switzerland by train and stopping here, you should buy the Swiss Pass. 
Renting a car for your trip to Bern
If your Switzerland itinerary includes other places and you want to be flexible and visit them at your own pace, renting a car in Switzerland is a good idea. I recommend Discover Cars, one of the best car rental companies with tons of cars available in many parts of Switzerland.
✅ CLICK HERE TO RENT A CAR IN BERN
BEST THINGS TO DO IN BERN: FAQ'S
Is Bern worth visiting?
Yes, Bern is worth visiting. As the capital city of Switzerland, it offers a rich history, stunning architecture, and a small town atmosphere that's perfect for taking a break.
What is Bern best known for?
The city is known for its well-preserved Old Town, connection to Albert Einstein, numerous museums and galleries and the scenc riverfront along the Aare River. As a capital of Switzerland, Bern also offers insights into the country's political life. 
How many days in Bern is enough?
A typical trip to Bern usually ranges from one to three days. The number of days that you need for your trip depends on your interests, the pace at which you prefer to explore, and the amount of time you have available.
How to spend one day in Bern?
If you have limited time, you can still get a taste of Bern in just a day. Explore the charming Old Town, visit the famous Bear Park, climb the Bern Munster for panoramic views, and take a walk along the Aare River. You can also visit a couple of museums or do some shopping and dining.
Is Bern or Zurich better?
If you prefer a larger city with more diverse activities and amenities, Zurich might be the better option, but if you appreciate a smaller city with a rich history, Bern may be the better choice for you.
Bern is the capital of Switzerland famous for its well-preserved medieval old town. It has a charming and laid-back atmosphere with cobblestone streets, historic buildings, and a slower pace of life. Zurich is the largest city in Switzerland and is its economic and cultural hub. Zurich is known for its modern architecture, arts and culture, and a wide range of restaurants and nightlife options.
Which is better to visit Lucerne or Bern?
While Bern is known for its historic architecture and many museums, Lucerne is a popular stop for many tourists thanks to its proximity to Zurich and access to many natural attractions like Mount Pilatus, Mount Rigs, and Lake Lucerne.
If you're seeking a mix of natural beauty and historical charm, Lucerne is an excellent choice. The city is known for its Chapel Bridge and spectacular natural scenery, while Bern offers historical attractions, including the famous Zytglogge clock tower, Bear Park, the Bern Cathedral, and several museums.
Is Bern the most beautiful city in Switzerland?
Bern is one of the most underrated capitals in Europe and is widely regarded as one of the most scenic destinations in Switzerland with its well-preserved medieval old town, stunning architecture, and picturesque setting along the Aare River.
Other destinations that are often called one of the most beautiful cities in Switzerland are Geneva, Interlaken, and Lausanne.
For instance, Lucerne, located on the shores of Lake Lucerne, is often considered one of the most beautiful cities in Switzerland. It offers a combination of natural beauty, with its stunning lake and surrounding mountains, and charming old town architecture.
Zurich, despite being a larger and more modern city, also has its own beauty. It features a mix of contemporary architecture, historical buildings, and the scenic Lake Zurich.
What are the best things to do in Old Town Bern?
Some of the best things to do in Old Town Bern are visiting Zytglogge, the iconic Clock Tower with an astronomical clock face, where you can observe the figurines moving and enjoy the panoramic views from the top of the tower, getting on top of Bern Cathedral, the tallest in Switzerland where you can get panoramic views of the city, as well as taking a walk through Rosengarten,
Other fun things to do in Old Town Bern include taking a guided tour of the Bundeshaus, visiting Bern Historical Museum, and exploring the arcades where you can find stores, cafes, and restaurants.
DAY TRIPS FROM BERN, SWITZERLAND
Interlaken: Known as the adventure capital of Switzerland, Interlaken is located between two stunning lakes and offers breathtaking views of the surrounding Alps. You can enjoy outdoor activities like hiking, and paragliding, or visit the Jungfraujoch, the "Top of Europe," for spectacular mountain panoramas.
Gruyères: Visit the charming medieval town of Gruyères, famous for its cheese production. Explore the Gruyères Castle, wander the picturesque streets, and indulge in a traditional Swiss cheese fondue.
Murten: This small town on the shores of Lake Murten is known for its well-preserved medieval old town. Enjoy a stroll along the ramparts, visit the castle, and enjoy the gorgeous lake views.
FINAL WORD:
Bern is one of the most charming cities in Switzerland that boasts a well-preserved medieval city center and quick access to the nearby mountains. While it's not as big as Zurich or Geneva, it offers plenty of things to do whether you want to enjoy the culture and history or get outside.
Love it? Pin it!