Costa Rica Caribbean Side is a rugged and little developed part of the country known for its national parks, pristine beaches, and diverse wildlife. While the Caribbean side of Costa Rica receives less attention than the busy Pacific coast, it's worth a visit if you want to discover a different side of the country 🎒
Whether you want to watch wildlife in Cahuita National Park, chill on pristine Costa Rica Caribbean beaches 🏖 free from mass development, or explore the fascinating Afro-Caribbean culture of the region, the Caribbean side of Costa Rica has something for everyone.
I put together this guide to help you explore this area so you can plan your adventure 🗺 Whether you are looking where to stay on the Caribbean Coast of Costa Rica or how to get there, you will find answers to your questions in this article 😉
✅ Check my complete guide to the best things to do in Costa Rica
What is the Caribbean Side of Costa Rica
Costa Rica's Caribbean Side is located in the eastern part of the country and stretches from Nicaragua to Panama.
Costa Rica Caribbean Side: Best Places To Visit
1. Cahuita
Where to stay: Papaya Wildlife Lodge
Cahuita is a small fishing village on the southern side of Costa Rica's Caribbean Coast. Most tourists stop in Cahuita on their way to Cahuita National Park, the main attraction of the area.
If you love animals, visit Tree of Life, the monkey 🐒 and sloth 🦥 wildlife rescue center.
DID YOU KNOW: It's not uncommon for Costa Rica to run out of rental cars during the high season. If you plan to visit the country during this time, rent your car in Costa Rica ahead of time 🚙
CLICK HERE TO SAVE HUNDREDS OF DOLLARS ON CAR RENTALS IN COSTA RICA
Cahuita National Park is one of the best places to visit in Costa Rica off the beaten track 👣 This park is not too big, and there is a beautiful hike that takes you along white-sand beaches where you can spot lots of animals like sloths 🦥 monkeys 🐒 raccoons 🦝 and tropical birds. You can also enjoy water activities like snorkeling 🤿 and scuba diving.
✔️ BOOK YOUR STAY AT PAPAYA WILDLIFE LODGE RIGHT ON THE BEACH!
Best tours of Cahuita National Park
2. Puerto Viejo
Where to stay: Vanilla Jungle Lodge
Located between Cahuita and Manzanillo, Puerto Viejo is one of the most happening places on the Caribbean side of Costa Rica. Until recently, Puerto Viejo was a hidden gem, mostly known for its surfing. But this town is quickly becoming popular among travelers looking to escape the busy Pacific Coast.
👉 BOOK A PRIVATE TRANSFER TO PUERTO VIEJO FROM THE AIRPORT
While Puerto Viejo is still somewhat under the radar, it boasts plenty of hotels, restaurants, and day trips, so you can spend at least a few days enjoying this laid-back town. And there's a party scene here too, with plenty of bars and small eateries where you can mingle with fellow travelers and enjoy local food.
Best guided tours from Puerto Viejo
✔️ Check this amazing guide to the best Puerto Viejo hotels
Looking for a great place to surf? 🏄‍♂️
Head to Playa Cocles that's best to visit from December through April and from June through July because of the salsa brava, a powerful wave 🌊 that breaks over the shallow reef, creating perfect conditions for surfing and snorkeling. 
✅ Read: Best time to surf in Costa Rica
3. Manzanillo
Where to stay: Pineapple House
Located just 12 km south, Manzanillo is Puerto Viejo's smaller sibling. It's a perfect spot if you are looking for a more relaxed atmosphere, and the best part is that you can walk from Manzanillo to Puerto Viejo along the beach.
👉 Most people know Manzanillo because of diving and snorkeling since the reef is close to the shore. Unlike Puerto Viejo which has a bigger party scene, Manzanillo attracts hippies and snow birds looking for a more quiet getaway.
The town sits within the Gandoca-Manzanillo Wildlife and Marine Refuge, which boasts superb hiking trails where you can spot sloths, monkeys, and all kinds of birds. Hire a local guide who can help you spot these animals.
👉 CLICK HERE TO BOOK GORGEOUS PINEAPPLE HOUSE
4. Tortuguero
Where to stay: Casa Marbella
How to get there: You can get visit Tortuguero only by catching a boat from Limon or by taking a flight from San Jose. The best way to visit Tortuguero is with a guided tour which will take care of all logistics.
Tortuguero is a small town that is a gateway to the Tortuguero National Park – one of the most remote parts of the country with dozens of species of mammals, birds, amphibians, and reptiles. But the region is most famous for sea turtles 🐢 that come here to lay eggs on its black sand beaches.
✅ BOOK A PRIVATE TRANSFER TO TORTUGUERO FROM SAN JOSE
FUN FACT: Tortuguero means "region of turtles" in Spanish.
If you want to spot the turtles, the best time to visit Tortuguero is from February through November, the nesting season when you can spot four different types of sea turtles along local beaches. Leatherback turtles come here from March through May, and loggerhead turtles show up from July through October.
Check best guided tours of Tortuguero
Keep in mind that although the beaches in Tortuguero are beautiful, they are not safe for swimming due to strong rip currents and sharks 🦈 roaming around.
Besides wildlife watching, Tortuguero offers hiking, tours along the canals, and a truly remote feel that you can't find in many other parts of Costa Rica.
Best time to visit Tortuguero: If you want to enjoy the perfect dry weather, visit Tortuguero from January through April.
5. Limon
Where to stay: Miss Junie's Lodge
How to get there: Take a 30-minute domestic flight between San Jose and Limon with Nature Air and Sansa Airlines.
The major hub on Costa Rica Caribbean side is Limón, a port city with a grungy feel that is very different from popular towns along the Pacific Coast. But don't let it deter you – Limón is a convenient jumping point to many destinations in the region.
It's also a great budget destination 💰
You can stay in Limón for a couple of days without spending hundreds of dollars on hotels, eat inexpensively and have fun exploring the area.
Best guided tours from Limon, Costa Rica
What makes Limon worth a visit is its Afro-Caribbean culture. The city has long been a melting pot of cultures influenced by its neighbors in the Caribbean, and nowhere else it's more evident than in Limon.
The southern end of Costa Rica Caribbean side has long been overlooked by visitors and developed its distinct flair. If you like reggae music, don't miss this town! Reggae and calypso music are common in the region, and are particularly prevalent in Limon.
✅ BOOK A FUN ZIPLINE TOUR FROM LIMON
Spend a couple of days in Limon learning a new culture, enjoying Caribbean food staples like rice and beans at small hole-in-the-wall restaurants, and discovering a different side of the country.
6. Punta Uva Beach
Where to stay: One Beachfront Bungalow
Located next to the Panama border, Punta Uva is an untouched beach protected by the Costa Rica government. Here you can relax and take in the stunning unspoiled views – no development is allowed within 50 meters of the high tide. It's one of the least visited beaches in Costa Rica, so you are most likely to have this place to yourself, especially if you visit it during the low season.
Best tours of Punta Uva
Diving and snorkeling are some of the most popular activities at certain times of the year, thanks to the nearby reef located off-shore. Another attraction of the area is BriBri indigenous reserve.
Costa Rica Beaches Caribbean
The main draw of Costa Rica's Caribbean beaches is their rugged charm. Unlike the busy Pacific side, these beaches don't have condos and big chain hotels. If you want to spend some time in the area, you will find cozy bungalows and huts, and small locally-owned hotels along the untouched palm-fringed beaches framed by the turquoise waters of the Caribbean.
Here are some of the most popular beaches in the area:
How to get to Costa Rica Caribbean Side
The closest airport to the Caribbean side of Costa Rica is Juan Santamaria International Airport ✈️ (SJO) in San Jose, Costa Rica.
✅ Trying to figure out the perfect time for your trip? Check my guide to the best time to visit Costa Rica.
When you arrive in San Jose, you have a few ways to get to the Caribbean Coast. The quickest and most expensive option is to take a domestic flight to one of the airports in the region. However, you can also rent a car, which is a better option in my opinion, as it will allow you to explore the entire Caribbean Coast and without relying on costly transfers and public transport.
Best private transfers to Costa Rica Caribbean side
Renting a car for your road trip in the Costa Rica's Caribbean
I recommend renting a car with DiscoverCars, one of the best car rental companies that offers a good selection of vehicles at flexible rates. Unlike other major car rental companies, they have no flexible fees and are transparent about their terms and rates. All you need to do is type in your travel dates and browse hundreds of available vehicles.
✅ CLICK HERE TO RENT A CAR IN COSTA RICA
👉 Never rented a car in Costa Rica? No problem! Check this guide on renting a driving a car in Costa Rica to stay safe on the road 🚙
Costa Rica Caribbean Side weather
The eastern side of Costa Rica has a notably different climate from the dry Pacific Coast. It has high humidity and gets more rainfall throughout the year. If you decide to spend time on the Caribbean side of the country, there's a chance you will see more animals than tourists, as it's overall less developed.
✔️This part of Costa Rica receives the most rain during June and November. Temperatures stay around 90 degrees Fahrenheit throughout the day and don't get lower than the '70s.
The best time to visit Costa Rica Caribbean side is from September through October and from February through March – the dry seasons. The area receives the most rain in July, December, and January – a good time to save money on tours and accommodations.
Why you should visit Costa Rica Caribbean Side
Escape the busy Pacific Coast – The Caribbean side has long been missed by tourists in Costa Rica, but things are starting to change as more people discover this undeveloped and scenic region. Still, you won't find the same level of crowds here as in Manuel Antonio, La Fortuna or Guanacaste, one of the most popular regions for spending 7 days in Costa Rica.
Spot amazing wildlife – This is one of the most biodiverse regions of the country where you can spot dozens of animals like monkeys, toucans, sloths, turtles, and even sharks!
Dive into the Afro-Caribbean culture – From the traditional Caribbean food staples like rice beans to reggae music on the streets and different languages, the Caribbean side of Costa Rica is the best part of the country, if you are looking for cultural diversity.
Laze on the pristine beaches – Although the Pacific side of Costa Rica has many pretty beaches, many of them are admittedly touristy. The Caribbean beaches of Costa Rica offer a whole different flair with white sand, wonderful wildlife, and turquoise waters. They are also refreshingly uncrowded!
Save money – One of the best things about the Caribbean Coast of Costa Rica is that it's much cheaper than the Pacific Coast. Here you can find plenty of budget accommodations, inexpensive food and transportation options. Depending on what places you want to visit, your biggest expenses could be guided tours.
Costa Rica Caribbean Side: FAQs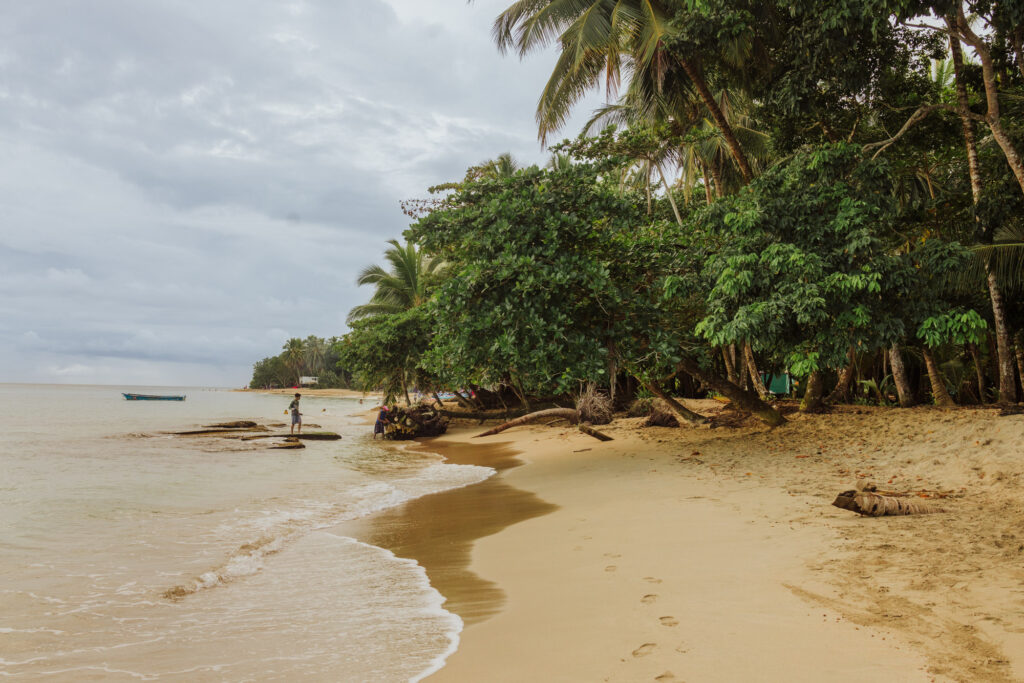 What's the Costa Rica Caribbean known for?
The Caribbean side of Costa Rica is known for its beaches, untouched landscapes, wildlife, and Afro-Caribbean culture.
Is it worth going to the Caribbean side of Costa Rica?
The Caribbean side is a must on your Costa Rica itinerary. It boasts amazing wildlife, delicious Caribbean food, and gorgeous white-sand beaches free from crowds.
Is the Caribbean coast of Costa Rica safe?
While Costa Rice is the safest country in Central America, you should exercise caution while traveling around the Caribbean Coast of the country. Don't leave your valuables in the car. Keep an eye on your belongings when you are going to swim. Always be aware of who's around you, and stay away from dark, desolate areas, especially if you travel by yourself.
✅ If you plan to spend a few weeks in Costa Rica, get World Nomads insurance that will protect you in case of lost or stolen luggage, accidents, hospital visits and many other unforeseen events.
What is the best time to visit Costa Rica Caribbean Coast?
The best time to visit Costa Rica's Caribbean side is between March and September when the area sees the least rain.
What is the best place to stay on Costa Rica Caribbean Side?
The best places to stay on the Caribbean side of Costa Rica are Puerto Viejo and Limon. While these two towns have a notably different vibe, they offer plenty of hotels, and restaurants and provide quick access to nearby beaches and national parks.
Costa Rica Caribbean Side: Final Thoughts
The Caribbean Coast is one of the most beautiful and culturally diverse parts of Costa Rica. Here you can enjoy pristine white-sand beaches, hike in the rainforests, and spot wildlife. This region provides a perfect escape from the Pacific Coast, and if you want to see Costa Rica that few other tourists experience, you should stop here during your visit to the country.