Disclaimer: This post contains affiliate links. At no cost to you, I might earn a small commission if you make a purchase through the links in this article.
Costa Rica and Colombia are two Latin American countries that attract travelers from all over the world. Costa Rica boasts lush cloud forests, gorgeous beaches, volcanoes, waterfalls, and abundant wildlife. It's a top destination in Latin America for eco-tourism. Colombia has a rich cultural heritage with a mix of indigenous, African, and Spanish influences that you can see in Cartagena, Medellin, and Bogota. It also offers access to the Andes and the Amazon.
Costa Rica is popular with North American retirees and expats who often buy real estate in coastal parts of the country. Colombia has become a top destination for digital nomads in Latin America, thanks to its abundance of activities and relatively low cost of living.
The two countries share many similarities in their language, culture, and spectacular landscapes. But there are also plenty of differences.
In this article, we will go over both destinations to decide which one you should choose for your next trip.
Should I go to Costa Rica or Colombia?
Costa Rica is a perfect choice if you want to surf, hike in cloud forests, and spot wildlife. Colombia is a more budget-friendly destination that has colorful colonial cities with rich culture and history, and more varied landscapes.
Colombia is a diverse country with tropical beaches in the west, snow-capped Andes, and jungle in the east. It covers a bigger geographical area than Costa Rica, so there's a wider range of activities.
✅ Check my guide to the best things to do in Costa Rica
Costa Rica has better beaches than Colombia and is considered a conservation model in Latin America. Almost a third of Costa Rica is protected as national parks, or reserves.
There are a lot of differences between the two countries, but they also share similarities. It's up to you which country to visit, depending on what type of experience you are looking for.
Why go to Colombia:
Diverse landscapes: Colombia offers a wide range of landscapes, from Caribbean beaches to high mountains, and the jungles of Amazon.
Rich culture: Colombia has a rich cultural heritage with a mix of indigenous, African, and Spanish influences. You can explore its history through museums, festivals, and historical sites.
Adventure opportunities: Colombia is known for adventure activities such as trekking to Ciudad Perdida (the Lost City), exploring the Amazon rainforest, and paragliding in Medellín. Unlike Costa Rica, which has a well-established tourism industry, Colombia has plenty of less explored places that feel more off the beaten path.
Vibrant nightlife: Cities like Medellín and Bogotá have clubs, bars, and restaurants.
Why go to Costa Rica:
Eco-friendly practices: Costa Rica is a model for conservation in Latin America. It's well known for its eco-tourism, making it a perfect option for those who want to support environmentally responsible travel.
Adventure and outdoor activities: You can enjoy zip-lining through the rainforest, hiking in national parks, surfing on the Pacific coast, and snorkeling in crystal-clear waters.
Relaxed atmosphere: Costa Rica has a laid-back and friendly atmosphere, with a "Pura Vida," (pure life) philosophy that encourages a stress-free, positive lifestyle.
Safety: Costa Rica is the safest country in Latin America. It has low crime, and as a tourist, your top concern is becoming a victim of petty theft or tourist scams.
Is Colombia or Costa Rica better?
Costa Rica is an adventurer's paradise renowned for its eco-tourism and safety, while Colombia is a popular hub for digital nomads famous for its colorful colonial cities, varied geographical landscapes and low cost of living.
Determining ehether Colombia or Costa Rica is "better" depends on your interests, travel goals, and budget.
Both countries offer unique experiences and have their advantages and disadvantages. Here are some factors to consider when choosing between the two.
✅ Read: Best time to surf in Costa Rica
Colombia: highlights
Cultural diversity: Colombia is known for its cultural diversity, with influences from Indigenous, African, European, and other cultures. You can see this diversity through music, dance, art, and cuisine.
Natural beauty: Colombia boasts a stunning variety of landscapes, from lush rainforests to high-altitude Andean mountains, beautiful beaches on both the Caribbean and Pacific coasts, and unique geological formations like the Tatacoa Desert.
Adventure: Colombia offers a range of adventure activities, including trekking in the Andes, and discovering unique flora and fauna in its national parks. Outdoor activities here are less regulated and cheaper than in Costa Rica.
Lower cost: Colombia is more budget-friendly than Costa Rica, making it an attractive option for travelers looking to maximize their experiences while minimizing costs.
Book popular tours in Colombia:
Costa Rica highlights:
Natural Wonders: Costa Rica is famous for its well-preserved nature, including cloud forests, diverse wildlife, and 30 national parks. It's a top destination for eco-tourism and wildlife enthusiasts in Latin America.
Sustainable tourism: Costa Rica is a leader in sustainable tourism practices, making it an excellent choice for travelers who want to support eco-friendly and conservation efforts.
Adventure and outdoor activities: The country offers a wide range of outdoor activities, such as hiking, zip-lining, surfing, and snorkeling, thanks to its diverse landscapes.
Safety: Costa Rica has a reputation for being one of the safer countries in Central America, which can be reassuring for travelers.
Ease of travel: Costa Rica has a well-developed tourism infrastructure, making it relatively easy for travelers to navigate and plan their trips. It also has a big expat community and more native English speakers than Colombia.
Book popular tours in Costa Rica
Ultimately, the choice between Colombia and Costa Rica comes down to your interests and priorities. If you're more interested in cultural diversity and a wide range of landscapes, Colombia might be your preference. If you're passionate about eco-tourism, wildlife, and sustainability, Costa Rica is a better choice.
➡️ GET A CLASSIC HYDRATION BACKPACK FOR HIKING
Nightlife in Colombia
Colombia has a more vibrant nightlife scene than Costa Rica, with tons of entertainment options. Major cities like Medellin, Cartagena, Cali, and San Andres Island all offer great options with plenty of bars and nightclubs.
When it comes to nightlife in Colombia, one thing to know is that in recent years, there has been an increase in the drugging incidents at nightclubs. I will talk about it in detail below.
Here are some of the best places for nightlife in Colombia:
Bogotá: The capital of Colombia, Bogotá, has a thriving nightlife with numerous bars, clubs, and restaurants. The Zona Rosa and Parque 93 neighborhoods are popular nightlife districts. You'll find everything from salsa clubs to electronic dance music venues.
Medellín: The El Poblado neighborhood is a hotspot for bars and clubs, and the city is known for its lively atmosphere. Parque Lleras is a popular area for nightlife in Medellín.
Cartagena: Cartagena's Old Town comes alive at night with a mix of bars, restaurants, and street performers. You can enjoy music, dancing, and cocktails in this historic setting.
Cali: Cali is often referred to as the salsa capital of the world. There are numerous salsa clubs and live music venues throughout the city.
San Andrés: The island of San Andrés has a unique nightlife scene with beach parties and reggae music. It's a popular destination that offers beach relaxation with nightlife.
Nightlife in Costa Rica
Nightlife in Costa Rica is more relaxed is concentrated mostly in beach towns popular with tourists and expats. Most people don't go to Costa Rica because of its nightlife, but you can still find some decent options in places like Jaco, Tamarindo, and Puerto Viejo, an up-and-coming hot spot on the Caribbean side of Costa Rica.
San José: As the capital and largest city in Costa Rica, San José has a good nightlife scene. The neighborhoods of Barrio Escalante and San Pedro are known for their bars, clubs, and live music venues. The city offers a mix of electronic dance music, rock, reggae, and Latin music clubs.
Tamarindo: This beach town on the Pacific Coast is a popular destination for surfers and travelers looking for a laid-back nightlife experience. Tamarindo has a range of beachfront bars, open-air clubs, and live music venues.
Jacó: Another Pacific Coast destination, Jacó is known for its vibrant nightlife, particularly on weekends. You can find bars, clubs, and beachfront parties that cater to locals and tourists.
Puerto Viejo: Located on the Caribbean coast, Puerto Viejo has a unique and relaxed nightlife atmosphere. Reggae and Caribbean rhythms dominate the music scene, and you'll find beachfront bars and open-air venues.
La Fortuna: This town near Arenal Volcano may not have a bustling nightlife, but you can still find a few bars and restaurants where you can unwind after a day of exploring.
Costa Rica vs Colombia: safety
Colombia safety
Colombia is not a crime-free country, but it doesn't deter millions of travelers who come here. While this nation was known as the epicenter of cocaine production in the 1990s, it has cleaned up its image and become one of the most popular destinations in Latin America because of its affordable prices and rich culture.
The high level of violent crime that has once plagued this country is no longer there, as homicide and abduction rate are significantly down.
Petty theft is still a major issue in Colombia, and you shouldn't flash your belongings in public, especially anything expensive. Avoid walking around at night, to avoid trouble. If someone attacks, just hand over your stuff.
👉 According to the U.S. Embassy in Bogota, there's been an increase in incidents involving the use of sedatives to drug and rob foreigners who are routinely targeted through online dating apps or in bars and nightclubs, where criminals put Scopolamine in their drinks.
Also known as Devil's Breath, Scopolamine is a drug commonly used in Colombia to rob unsuspecting victims, so you should never leave your food and drink unattended, or accept them from people you don't know.
✅ If you plan to spend a few weeks in Colombia, get World Nomads insurance that will protect you in case of lost or stolen luggage, accidents, hospital visits and many other unforeseen events.
Costa Rica safety
Costa Rica is generally safe for travelers, but like any other place in the world, it's important to be aware of potential safety concerns and take precautions no matter what place you visit.
Here are some key points to keep in mind regarding safety in Costa Rica:
Costa Rica is the safest country in Latin America. It has a lower crime rate compared to other countries in Central America, and violent crime against tourists is relatively rare. Petty crimes such as theft and pickpocketing are the most common types of crimes in Costa Rica, especially in tourist areas.
Popular tourist destinations like San José, Arenal, Monteverde, Manuel Antonio, and Guanacaste are generally safe. These areas have a strong police presence and mostly live off tourism.
Costa Rica is known for its stunning natural beauty, but it's important to be aware of potential natural hazards like earthquakes, volcanoes, and flash floods. Pay attention to local warnings and follow safety guidelines.
Safety tips for visiting Costa Rica
Be careful on public transport: Exercise caution when using public transportation, especially in crowded buses. Keep an eye on your belongings to avoid theft.
Drink bottled water: Take precautions to prevent food and waterborne illnesses, such as drinking bottled water and eating at reputable restaurants. Mosquito-borne diseases like dengue and Zika can also be a concern, so use insect repellent and wear long sleeves and pants when necessary.
Vet tour operators: Costa Rica offers a range of adventure activities like zip-lining, white-water rafting, and hiking. Choose reputable operators with good reviews and proper safety measures in place.
Get travel Insurance: Consider purchasing travel insurance that covers medical emergencies, trip cancellations, and other unforeseen events. It's a good safety net to have while traveling.
Respect local customs: Be respectful of local customs and traditions. Dress modestly and always ask for permission before taking photos of people.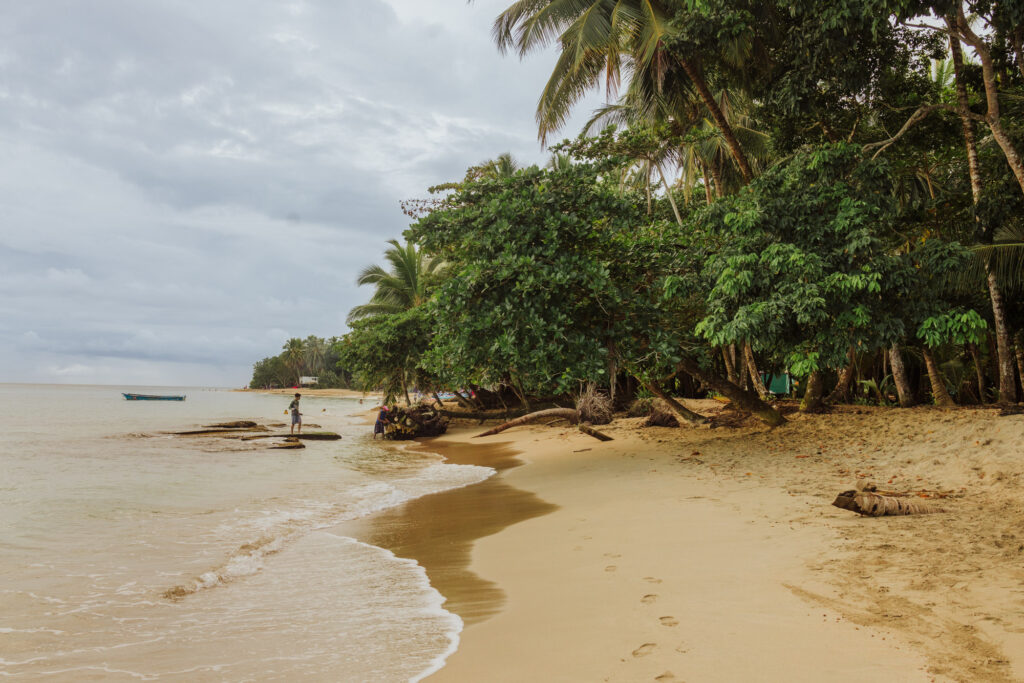 Costa Rica vs Colombia cost of living
Colombia has a lower cost of living compared to Costa Rica in terms of overall costs including food, housing, transportation, and activities, but prices on popular activities are starting to go up because Colombia has seen a major uptick in visitation in the last 5 years.
Here are some factors to consider:
Hotels: Colombia offers a wider range of accommodation options, including budget hostels and affordable hotels. In Costa Rica, especially in popular tourist areas, it's not uncommon for accommodations to charge a few hundred dollars per night during the high season.
Food and dining: Eating out in Colombia is cheaper than in Costa Rica, with a variety of affordable street food and local restaurants. Prices in restaurants in Costa Rica, particularly in touristy areas are higher than in most of Latin America and are often comparable to those in Europe or the United States,
Transportation: Public transportation in both countries is relatively affordable. Costa Rica's public transportation network may be more limited in some areas, leading to higher costs for private transportation.
Activities and tours: The cost of activities and tours vary in both countries depending on location, but Costa Rica often has higher prices for eco-tourism and adventure activities due to its reputation as an eco-friendly destination.
Seasonal variations: Both countries have peak tourist seasons when prices for accommodations and activities may be higher. Traveling during the off-peak or shoulder seasons can lead to cost savings.
Location: The specific city or region within Colombia or Costa Rica can greatly influence prices. Touristy destinations tend to be more expensive than less-visited areas.
Costa Rica vs Colombia: food
Colombia food:
Colombian cuisine is diverse and delicious, reflecting the country's rich cultural heritage and varied regions. Here are some popular foods and dishes you should try when visiting Colombia:
Arepas: Arepas are a staple in Colombian cuisine. These round, flatbreads are made from cornmeal and can be grilled, fried, or baked. They are often stuffed with cheese, meat, or other fillings.
Empanadas: Colombian empanadas are savory pastries filled with ingredients like meat, potatoes, cheese, or rice. They are typically deep-fried and served with ají (a spicy salsa).
Sancocho: Sancocho is a traditional Colombian soup or stew made with meat along with vegetables like corn, plantains, yuca (cassava), and potatoes. It's a comforting and filling meal.
Pandebono: Pandebono is a type of cheese bread made with yuca (cassava) and cheese. It's a popular snack or breakfast item.
Costa Rica food
Costa Rican cuisine is characterized by its simplicity, use of fresh ingredients, and a focus on rice and beans as staple components of many dishes. Here are some popular Costa Rican foods you should try when visiting:
Gallo Pinto: Gallo Pinto is the quintessential Costa Rican dish and a breakfast staple. It consists of rice and black beans mixed and flavored with spices, including Salsa Lizano (a popular condiment).
Empanadas: Costa Rican empanadas are similar to those found in other Latin American countries. They are pastry pockets filled with varios ingredients
Tamal Asado: Tamal Asado is a variation of tamales where the masa is wrapped in banana leaves and roasted over an open flame, giving it a smoky flavor.
Sopa Negra: Sopa Negra is a black bean soup that's typically served with a poached or fried egg on top. It's a simple yet flavorful dish.
Costa Rica vs Colombia: transportation
Let's take a look at transportation in Colombia and Costa Rica to find out how you can get around these two countries.
Transportation in Colombia is relatively well-developed and offers various options for getting around the country. Here are some of the main modes of transportation in Colombia:
Transportation in Colombia
Domestic Flights: Colombia has a well-connected network of domestic flights, making it easy to travel between major cities and regions. Airlines like Avianca, LATAM, and Viva Air operate domestic routes.
Buses: Buses are a common and affordable way to travel within Colombia. The country has an extensive network of intercity and long-distance buses. There are different types of buses, including luxury coaches for longer journeys and local buses for shorter trips within cities.
Taxis: Taxis are readily available in cities and towns. In larger cities like Bogotá and Medellín, you can use ride-sharing apps like Uber and Didi for added convenience and safety.
Metro systems: Medellín and Cali have metro systems, that provide efficient and reliable transportation within these cities and their surrounding areas.
Cable cars: In cities with hilly terrain like Medellín, cable car systems are used as a mode of public transportation to reach neighborhoods in the hills.
Trains: Colombia's train network is not as extensive as other forms of transportation, and train travel is limited to certain routes, mainly for cargo transport. However, there have been efforts to revive passenger train services in some regions.
When using public transportation in Colombia, it's essential to keep safety in mind, especially when using taxis or colectivos. Choose registered taxis, and if possible, use ride-sharing apps like Uber for added security.
Transportation in Costa Rica
Transportation in Costa Rica is diverse and generally reliable, although the quality and availability of transportation options can vary depending on the region. Here are the main modes of transportation in Costa Rica:
Public buses: Public buses are the most common and affordable means of transportation in Costa Rica. They serve most cities and towns, making them a popular choice for both locals and tourists. The buses are often crowded, and schedules can be somewhat irregular in rural areas.
Taxis: Taxis are readily available in cities and towns, and they are generally safe and metered. In San Jose, you can also find Uber and other ride-sharing services. Just make sure the taxi has a functioning meter, or agree on a fare before starting the ride.
Domestic flights: Costa Rica has several domestic airports, making it easy to travel between different regions of the country quickly. This is particularly useful for reaching remote or distant destinations. The two main domestic airlines are Sansa and Nature Air.
Rental cars: Renting a car in Costa Rica is a popular option for tourists who want more flexibility in their travel. However, road conditions can vary, and some areas may require four-wheel-drive vehicles. Be cautious when driving, as road signage can be limited.
Renting a car for your road trip in the Costa Rica
I recommend renting a car with DiscoverCars, one of the best car rental companies that offers a good selection of vehicles at flexible rates. Unlike other major car rental companies, they have no flexible fees and are transparent about their terms and rates. All you need to do is type in your travel dates and browse hundreds of available vehicles.
✅ CLICK HERE TO RENT A CAR IN COSTA RICA
👉 Never rented a car in Costa Rica? No problem! Check this guide on renting a driving a car in Costa Rica to stay safe on the road 🚙
Shuttles and Private Transportation: Many tour operators and hotels offer shuttle services and private transportation for tourists. These options are convenient, especially for getting to popular tourist destinations. They can be more expensive than public transportation but offer comfort and reliability.
Trains: Costa Rica has a limited railway system, primarily serving the San Jose metropolitan area. There's also a tourist-oriented scenic train ride between San Jose and the Pacific coast.
Bicycles: Bicycles are a popular means of transportation in some cities, particularly in places like San Jose and La Fortuna, where you can rent bikes for short trips or tours.
Walking: In many towns and cities, walking is a practical way to get around, especially for short distances. Many tourist areas also have pedestrian-friendly streets.
When it comes to transportation in Costa Rica, the quality of roads and transportation services can vary greatly between urban and rural areas. Additionally, Costa Rica's mountainous terrain and rainy season can make some roads challenging to navigate, so plan your transportation options accordingly. Always check current conditions and schedules when traveling in Costa Rica.
Colombia vs. Costa Rica Coffee
Costa Rica primarily grows Arabica coffee beans known for its smoother, milder flavor. Colombian coffee is often characterized by its well-balanced flavor profile. It typically has a medium body with bright acidity. You can expect notes of citrus, caramel, nuts, and chocolate in Colombian coffee.
Both Colombia and Costa Rica are renowned for their coffee production, and they each have unique characteristics that make their coffee distinct.
Here's a comparison of Colombian and Costa Rican coffee:
Colombian Coffee
Growing regions: Colombia has several coffee-growing regions, with the most famous being the Coffee Triangle (Eje Cafetero), which includes areas like Armenia, Manizales, and Pereira. Each region may produce coffee with slightly different flavor profiles due to variations in climate and altitude.
Varieties: Colombia is known for growing a variety of coffee bean types, including the common Arabica beans but also unique varieties like Geisha and Typica. This diversity contributes to the richness of Colombian coffee.
Processing methods: Coffee in Colombia is often processed using the washed method, which helps maintain its clean and bright flavor profile. However, other processing methods are also used.
Costa Rican Coffee
Flavor profile: Costa Rican coffee is recognized for its bright acidity and full-bodied flavor. It often has a clean, crisp taste with fruity and floral notes. You might detect hints of citrus, berry, and even honey in Costa Rican coffee.
Growing regions: Costa Rica has various coffee-producing regions, with Tarrazú, Naranjo, and Tres Ríos being some of the most famous. The high-altitude regions are known for producing exceptional coffee.
Varieties: Costa Rica primarily grows Arabica coffee beans, with various varietals like Typica, Caturra, and Villa Sarchí. Some farms are experimenting with unique varietals, contributing to the diversity of Costa Rican coffee.
Processing methods: Coffee processing in Costa Rica often includes the use of the honey process and the natural process, which can impart unique flavors to the beans.
Both Colombia and Costa Rica produce high-quality coffee, but they have distinct flavor profiles and characteristics. If you like a well-balanced cup with bright acidity, Colombian coffee might be your choice. If you prefer a coffee with a bright, fruity, and floral profile, Costa Rican coffee is your best choice. Ultimately, trying both and exploring different beans from various regions within each country can be a delightful coffee journey.
So, should I go to Colombia or Costa Rica?
If you don't mind paying more, don't speak Spanish, and want to spend time in nature, surf, hike volcanoes, and enjoy wildlife watching, book a trip to Costa Rica. If you want to save some money, explore colonial cities, enjoy nightlife, and take outings to see national parks, beaches, and scenic trails, then go to Colombia.
Costa Rica vs Colombia: FAQs
Which is better Costa Rica or Colombia?
Colombia is often seen as an exotic destination when it comes to its culture and people, and offers an inexpensive getaway when plenty of opportunities to spend time on the beaches, go hiking, or explore the Amazon. Costa Rica is less urban and has more opportunities for outdoor adventures and wildlife watching, with well-preserved national parks and pristine habitats.
Is Colombia or Costa Rica cheaper?
Colombia is significantly cheaper than Costa Rica and is one of the most popular budget destinations in South America.
Why is everything so cheap in Colombia?
Colombian prices are low due to the strength of the US dollar compared to the Colombian peso which means you can enjoy a budget-friendly location.
Is Costa Rica as cheap as Mexico?
Costa Rica is more expensive than Mexico when it comes to food, accommodations, transport, and other travel costs. Some places in Mexico, like Tulum, San Miguel De Allende, and Cabo San Lucas have become more expensive, however, Mexico is still more budget-friendly than Costa Rica.
Is Colombia cheap for Americans?
Colombia is a good budget destination for Americans, where you can enjoy rich culture, hit the beach, and eat delicious food without spending a ton of money. You can eat at local restaurants very inexpensively and pay as little as less than $10 per night at some hostels.