Disclaimer: This post contains affiliate links. At no cost to you, I might earn a small commission if you make a purchase through the links in this article.
January is a busy month in Fort Lauderdale when most people come here to escape the cold winter up north. Prices are high on hotels and popular tours like sunset dinner cruise and sailing can get booked up quickly.
But that doesn't mean that you can't have a great time!
If you plan to visit Fort Lauderdale during this month and need some guidance, this article is for you! Read on to find out how to make the most of your visit to Fort Lauderdale in the middle of winter.
Weather in Fort Lauderdale in January:
Fort Lauderdale has pleasant weather in January, with an average of 8 hours of sun per day. The high temperatures are from low to mid-70's (22°C to 25°C), while low temperatures range from 57°F to 62°F (14°C to 17°C).
January is also one of the drier months in Fort Lauderdale, with an average rainfall of around 2.5 inches (63.5 mm). Humidity levels are lower in January than in summer, which makes it easier to enjoy outdoor activities.
The Atlantic Ocean's water temperature is around mid-60s in January, which might be a bit cool for swimming, but if you are not afraid of the cold water, you will have fun.
Travel resources for your trip to Florida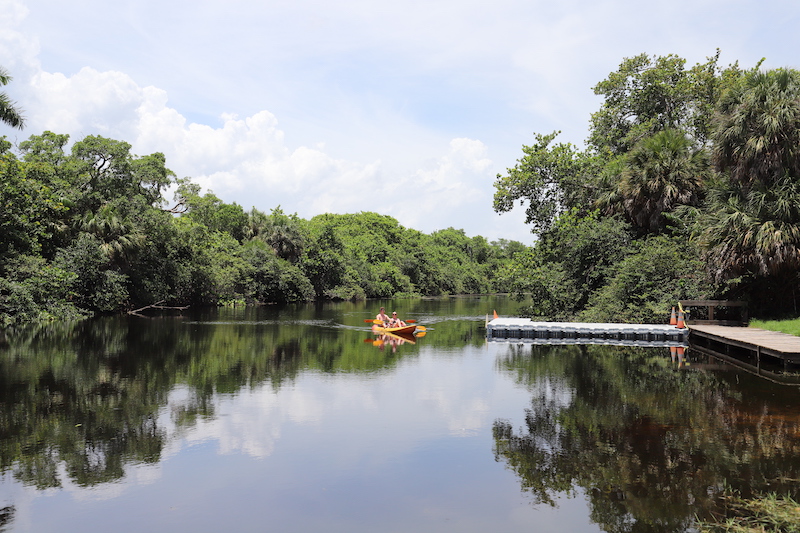 Things to know about visiting Fort Lauderdale in January
January is a great time for your trip to Fort Lauderdale if you prefer milder temperatures and want to avoid the hot and humid summer weather. It's also a good time to escape colder climates and enjoy outdoor activities.
Check the weather forecast closer to your travel dates for the most accurate information.
✅ Pack accordingly
January in Fort Lauderdale is generally mild and dry, but it can still be cool in the evenings. Pack clothing like t-shirts and shorts for the daytime and some layers for cooler evenings. Don't forget a hat and reef-safe sunscreen that won't hurt the marine life.
GET THIS ANTI-THEFT BAG TO KEEP YOUR BELONGINGS SAFE
✅ Plan for crowds
January is a popular time to visit Fort Lauderdale, especially for those seeking to escape colder climates. Be prepared for crowds, and consider making reservations for popular restaurants and tours in advance.
✅ Book your hotels ahead of time
January is the middle of the high season in Fort Lauderdale, and if you don't book your accommodations ahead of time, you could end up paying a lot of money even for a simple hotel.
Check prices on Booking ahead of your visit.
✅ Plan your activities
Since many people come to Florida in January, it's important to plan your tours and other adventures ahead of time. I recommend checking popular tours like sailing and parasailing in Fort Lauderdale on Viator, my favorite platform for booking guided tours online.
Since it's not unusual for tours to be sold out during this time, you should book them in advance.
✅ Bring a wetsuit
Fort Lauderdale offers a variety of watersports and boating activities. The water temperatures are relatively comfortable, but you may want to wear a wetsuit if you plan to spend extended time in the water.
GET A WATERPROOF BAG TO KEEP YOUR STUFF SAFE
✅ Check your calendar
Fort Lauderdale hosts various events and festivals in January, including the Fort Lauderdale International Boat Show, which typically takes place later that month. It's one of the largest boat shows in the world and attracts boating enthusiasts from around the globe.
Things to do in Fort Lauderdale in January:
Now, let's talk about planning your activities in Fort Lauderdale. January is a perfect time to enjoy the mild outdoor temperatures, but it's also important to plan, as tickets might get sold out quickly and popular venues might be busy.
Here are some spots to include on your Fort Lauderdale itinerary when visiting in January.
✅ Read: Fort Lauderdale in February
Everglades National Park
If you're interested in wildlife, book a tour of the nearby Everglades, which is a short drive from Fort Lauderdale. January is a good time for wildlife viewing, as the cooler weather encourages many animals to come out.
Best Evergaldes tours from Fort Lauderdale
Bonnet House Museum and Gardens
Built in the 1920s, "Bonnet House" is a historic estate in Fort Lauderdale that offers a unique blend of architectural styles, combining elements of Mediterranean and Caribbean Plantation architecture.
It's known for its impressive collection of art and decorative objects. Frederic Bartlett was a talented artist, and the house is adorned with his paintings and sculptures.
Grab a bite on Las Olas
Las Olas is one of the best places for a night out in Fort Lauderdale. Home to some of the best restaurants and bars in Fort Lauderdale, this street is often buzzing with live music performances, street festivals, and events.
Las Olas Boulevard runs through the heart of Fort Lauderdale and offers scenic views of the New River.
Best foodie tours in Fort Lauderdale
Parasailing
Parasailing is a type of sport that involves being harnessed to a parachute-like sail (parasail) attached to a speedboat. Parasailing in Fort Lauderdale is a thrilling water activity that allows you to see the breathtaking views of the coastline and the surrounding area while soaring above the Atlantic Ocean.
➡️ BOOK A PARASAILING TOUR IN FORT LAUDERDALE
A boat tour
Sightseeing boat tours are a great way to explore Fort Lauderdale's scenic waterways and see the city from a different perspective. Tour guides usually give insights into the city's history, architecture, and notable landmarks.
Best boat tours from Fort Lauderdale
Scuba diving and snorkeling
Fort Lauderdale is known for its vibrant underwater ecosystems. Take a snorkeling or scuba diving trip to explore coral reefs, shipwrecks, and marine life. Many dive shops can assist you in arranging dives.
➡️ BOOK YOUR SNORKELING TOUR IN FORT LAUDERDALE
Nightlife and dining
Fort Lauderdale has a vibrant nightlife scene and numerous dining options. You can enjoy outdoor dining or visit restaurants and bars along Las Olas Boulevard.
✅ Read: Best Mexican restaurants in Fort Lauderdale
High Taylor Birch State Park
Located near the beach, Hugh Taylor offers a variety of outdoor activities such as hiking, picnicking, swimming, and wildlife viewing. It's a perfect spot to avoid the crowds and spend time in nature.
Best Fort Lauderdale Tours
Where to stay in Fort Lauderdale
From budget inns to luxury resorts, there are tons of great hotels in Fort Lauderdale for any type of traveler.
Here are a few suggestions:
Each room at the hotel has Wi-Fi, a tea and coffee maker, and a refrigerator. Select rooms offer a kitchenette. The onsite Cafe and bar has handmade pizza, craft beers, and boutique wines. Guests love the delicious continental breakfast and the spacious pool area.
Rolo Beach Hotel – Located steps away from the beach, Rolo Beach is a perfect budget stay with basic amenities including free Wi-Fi throughout the property, a big swimming pool, and paid parking which can be arranged on request.
Pelican Grand – A popular hotel with a private beach area, Pelican has bright spacious rooms, oceanfront restaurants, and spa services.
➡️ Read: Best Hotels in Lauderdale by the Sea
What to pack for your trip to Fort Lauderdale in January:
Packing for Florida in January depends on the specific activities you plan to do and the weather you expect, as Florida's climate can vary during this time of year.
Generally, Florida experiences milder temperatures in January compared to the summer months, but it can still be quite chilly in some areas, especially in the northern parts of the state.
Here's a general packing list for a trip to Florida in January:
Clothing
Outerwear
Accessories
Electronics
Travel essentials
Any necessary travel documents (ID, passport, driver's license).
Cash and credit/debit cards.
Optional items
Weather-Appropriate Clothing: Check the weather forecast for the specific region of Florida you'll be visiting. The southern part tends to be warmer, while the northern part can be cooler in January.
Rain Gear: Florida can experience sporadic rain showers, so bringing a compact umbrella or a rain jacket might be a good idea.
Travel Adapters/Chargers: If you're traveling internationally or using multiple devices, pack the necessary adapters and chargers.
Reusable Water Bottle: Staying hydrated is important, and having a reusable water bottle can save money and reduce plastic waste.
FAQ's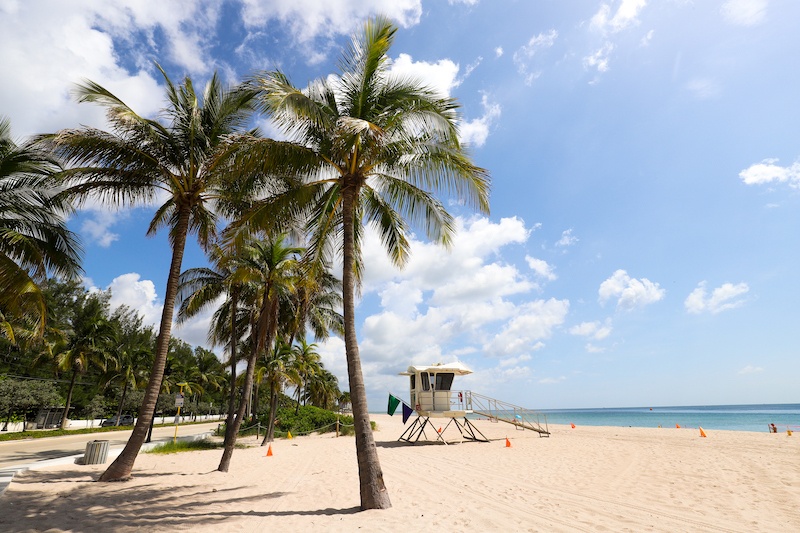 Is January a good time to visit Fort Lauderdale?
January is a perfect time to visit Fort Lauderdale if you want to escape the cold winter up north and enjoy warm sunny weather with minimal rain.
The downside of visiting during this month is that prices are higher than normal, which is why you should book your accommodations and activities ahead of time.
Can you swim in Fort Lauderdale in January?
Swimming in Fort Lauderdale in January is possible, but the water temperature during this month can be cooler compared to the summer months. The average ocean water temperature in Fort Lauderdale in January is typically in the mid-60s°F (around 18-20°C).
Whether or not you find this temperature comfortable for swimming depends on your personal preferences and tolerance for cooler water. Some people may still enjoy taking a dip, especially on warmer days, while others may find it too chilly for extended swimming.
Is Fort Lauderdale warm in January?
Fort Lauderdale is relatively warm in January compared to many other parts of the United States, especially for those seeking to escape colder winter temperatures.
How warm is Fort Lauderdale Florida in January?
The city typically experiences mild and pleasant weather. The average high temperature during the day ranges from the mid-70s°F in January, while nighttime temperatures can drop to the upper 50s°F, which are usually comfortable for outdoor activities.
Is Fort Lauderdale busy in January?
January is the middle of the high season in Fort Lauderdale when many tourists from colder regions of the United States and abroad flock to South Florida. The city is also home to a major cruise port, and January is a popular time for cruise departures and arrivals, which can lead to crowds around the port area and nearby attractions.
Final thoughts:
While January is busy in Fort Lauderdale, remember that busyness can vary depending on the specific dates and events during your visit. If you prefer a quieter experience, plan your trip for earlier or later in the winter season or research less crowded areas and activities within Fort Lauderdale. It's also a good idea to make reservations for accommodations and restaurants ahead of time, especially if you plan to visit popular places.