Northern Arizona is one of the most beautiful regions on the planet. An unpopulated and vast land of red desert, bottomless canyons, and towering mountains, northern Arizona wows everyone. To help you explore the region, we will go over the top things to do in northern Arizona and how to experience this part of the United States.
Where is Northern Arizona?
For this article, Northern Arizona is considered anything on or north of I-40, the major interstate highway that spans the state. So while places like Sedona and Prescott National Forest are amazing, they're considered central Arizona for this article.
Read: Why is Arizona so hot?
Central Arizona is also beautiful, home to endless mountains and epic barren fields of saguaro cacti. Southern Arizona is also incredible. Home to Saguaro National Park, southern Arizona is what most people picture when they think of a desert or the southwestern United States.
But enough about that, our focus here is on things to do in northern Arizona so let's get on track!
BEST THINGS TO DO IN NORTHERN ARIZONA: AN OVERVIEW
We will go through all these sites in detail in the sections that follow, but let's start with a basic outline of all the best places to visit in northern Arizona here:
Grand Canyon National Park
Petrified Forest National Park
Antelope Canyon
Monument Valley
Glen Canyon National Recreation Area (Horseshoe Bend)
Vermillion Cliffs
Four Corners
Havasu Falls
Flagstaff
Winslow and Meteor Crater
WHERE TO START YOUR NORTHERN ARIZONA ROAD TRIP
For exploring Northern Arizona you will want to fly into either Phoenix or Las Vegas. Both cities have domestic and international connections. If you're starting your Northern Arizona road trip from Las Vegas you could add a Southern Utah road trip as well or a trip to Death Valley, one of the most underrated national parks in the United States.
Alternatively, you can also explore some of the best national parks near Las Vegas like Zion and Bryce Canyon national parks in Utah before starting your northern Arizona road trip.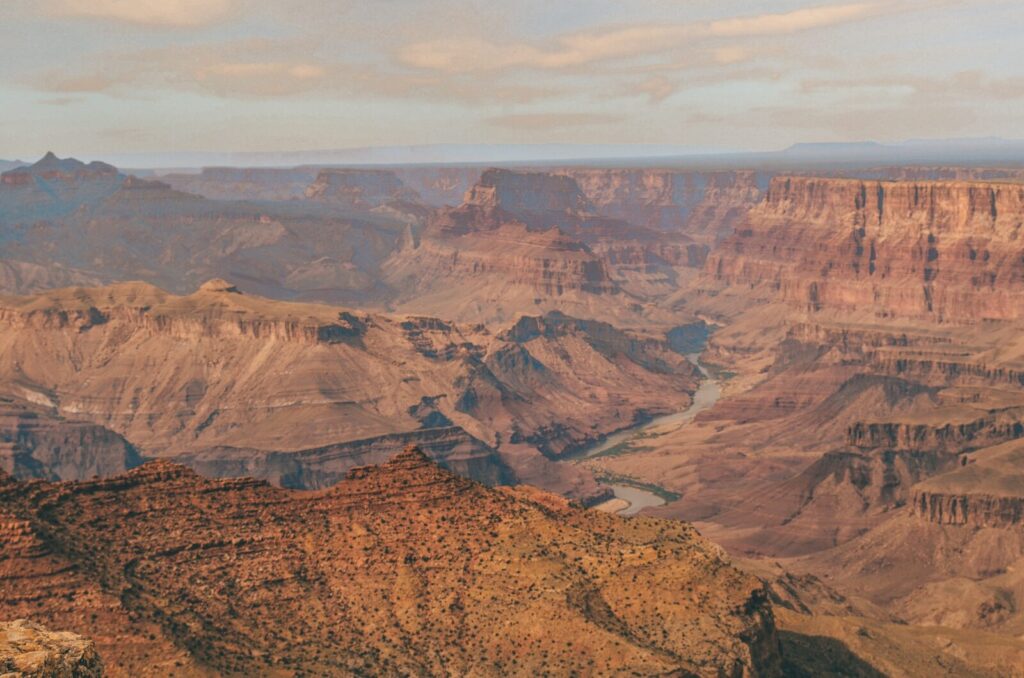 1. GRAND CANYON NATIONAL PARK
Hiking is one of the most popular things to do in Northern Arizona and there's no better place for it than Grand Canyon National Park.
The 6,093-foot deep and 277-mile-long canyon is quite possibly the most famous geological formation in the world. Covering a significant portion of northwest Arizona, Grand Canyon National Park one of the most popular West Coast National Parks.
How to get to Grand Canyon National Park
Grand Canyon Village is about 90 minute norths of Flagstaff. Many of the best viewpoints of the South Rim can be reached by car along the park roads. The North Rim is more remote and can only be accessed from Utah.
Grand Canyon National Park Entry Fee
$35 per vehicle (free with the National Parks Pass)
What to do in Grand Canyon National Park
There are a few different ways to experience the Grand Canyon. Most people just visit to take in the views from the top, maybe walking along the South Rim and basking in its glory. There is nothing wrong with that, but for a more intimate experience, nothing beats a hike down to the bottom of the canyon.
The two main ways to get into the canyon are the South Kaibab Trail and the Bright Angel Trail. Each drops you nearly 5,000 feet down to the Colorado River. Along the way, you pass various ecosystems, from an alpine forest to a red rock desert floor. Better yet, make a loop of it and stop at Phantom Ranch for a snack or a beer. But don't celebrate too soon, as you still have to hike out!
What to know about hiking Grand Canyon
You should be in decent physical condition to successfully hike in and out of the Grand Canyon. Every year, the National Park Service has to rescue people that hike into the canyon and are unable to get out.
If hiking straight up 5000 feet of elevation sounds too difficult for you, then enjoying the views from the rim is the way to go. Your experience the Grand Canyon it will forever stay in your most cherished memories.   
2. PETRIFIED FOREST NATIONAL PARK
Petrified Forest is a national park that has been flying under the radar for years. The park protects the jaw-dropping Painted Desert and a giant collection of petrified logs.
Petrified wood is essentially ancient fossilized wood that was buried in sediment for millions of years. Barring the geology lesson, it still looks like wood but is now solid rock. Petrified Forest National Park holds one of the largest collections of petrified wood in the world.
How to get to Petrified Forest National Park
Interstate 40 splits the park in two. There is a dedicated exit for the park off the highway and it's right there. It couldn't be easier to reach by car. The section of the park north of the highway is smaller, consisting of just a few Painted Desert viewpoints, while the vast majority of the petrified logs are south of the Highway mixed in with unique desert badlands.
Petrified Forest National Park entrance fee
$25 per vehicle (free with the National Parks Pass)
Best things to do in Petrified Forest National Park
Petrified Forest is an easy park to experience in just a few hours. All the park's main landmarks are right off the park road, sometimes with a short nature walk involved, often on paved trails.
Due to the fragile environment, you're not supposed to go off-trail (unless you have purchased a backcountry permit from the park) or take any of the pieces of petrified wood with you. If you want to bring some petrified wood home, there are shops outside the park that sell small pieces of it.
✅ If you are in Arizona, consider visiting Sonora, one of the most scenic states in Mexico
Stopping at the various viewpoints and doing some short walks will take you about 2-3 hours to get a good sense of the park.
There are a few longer trails that take you deep into the badlands, such as the Old Jasper Forest Road hike or the Devil's Playground loop. But for the most spectacular petrified logs, park at the Rainbow Forest Museum and Visitors Center and set out on the Giant Logs Trail. These petrified logs need to be seen to be believed.
Be sure not to pass up the views of the Painted Desert on the north side of the highway. The vast landscape of colorful badlands of the desert will blow you away!
3. ANTELOPE CANYON
Antelope Canyon is a small, narrow slot canyon outside of Page, Arizona that has gained fame thanks to social media. The canyon is known for its wavy rock layers and for being so narrow that the sun only shines in it briefly each day when it's at just the right angle.
The canyon is on Navajo Nation land, and you can only tour it with a Navajo guide. There are dozens of tour operators and you can check out the list on the Navajo Nation Parks website.
Book at least a few days in advance to ensure the tours are not all sold out, but it's often possible to do it last minute too. If you want a mid-day tour, when the sun is high and shines in the canyon, you need to book well in advance as those sell out quicker. 
There are two individual portions of the canyon – Upper Antelope Canyon and Lower Antelope Canyon and tour tickets are sold separately for each portion. Upper Antelope Canyon is more visited, as it is above ground and easier to access. Lower Antelope Canyon is a bit cheaper and requires descending some ladders below ground.
How to get to Antelope Canyon
Antelope Canyon is right outside of Page, Arizona. The parking lot is just off Route 98 on the east side of town. From the parking lot, 4x4s operated by your tour company will take you to the entrance of the canyon.
Antelope Canyon entrance fee
A 90-minute tours of Upper Antelope Canyon start at $100 and similar tours of Lower Antelope Canyon start at $55. It's the only way to see these famous canyons though, so you're just gonna have to suck it up and pay.
What to do in Antelope Canyon, Arizona
The main attraction of Antelope Canyon is the famous slot canyon with narrow walls. Your guide will explain the history of the region and talk about how the area was formed as you walk through the slot canyon.
One of the most fun parts of the tour is that you get to take photos of the parts of the canyon that resemble animals. For example, there are some spots in the canyon that look like an eagle, another one looks like a lion, and finally, there's "The Wave and the Lady in the Wind."
If you want to have more time to snap photos on a tour, stay at the end of your group, as you have less than a minute at every spot.
4. GLEN CANYON NATIONAL RECREATION AREA
Glen Canyon National Recreation Area is a massive chunk of land managed by the National Park Service that encompasses much of southern Utah and a little bit of Northern Arizona.
While there is some amazing stuff on the Utah side, the Northern Arizona side is known for Horseshoe Bend, the most famous and beautiful canyon view along the Colorado River .
How to get to Glen Canyon National Recreation Area
Glen Canyon National Recreation Area is just west of Page, Arizona. The parking lot for Horseshoe Bend is only a 10-minute drive south of Central Page.
Glen Canyon National Recreation Area entrance fee
There is a $30 per vehicle entry fee for Glen Canyon National Recreation Area (free with the National Parks Pass). However, if you only visit Horseshoe Bend there is no need to pay this, as the city of Page charges $10 for parking and there is no NPS fee collection for Horseshoe Bend
What to do in Glen Canyon National Recreation Area
The number one thing to do in Glen Canyon is gaze upon the iconic Horseshoe Bend. It's only about a 20-minute walk from the parking lot to the canyon. Once there, you're free to roam around and maybe walk along the canyon rim for some different views. Horseshoe Bend is an amazing place to watch the sunset, so if you can, visit in the evening.
If you are feeling more adventurous, you can head to the Lee's Ferry portion of the park, about an hour's drive from Page as you have to go quite far south just to get on a different road that crosses the Colorado River.
From here you can embark on some beautiful hikes, an epic kayaking tour of the canyon, or even just jump in the water to cool off. You can also camp down at Lee's Ferry.
Lastly, for some freakishly cool views of Lake Powell, head up to Wahweap, a little resort town within the park. The lake here can only be described as incredibly funky, unlike anything you'll see anywhere else.
If you have all week, why not rent a houseboat and spend a few nights on the lake.
5. MONUMENT VALLEY 
Located along the border of Utah and Arizona, Monument Valley is one of the most unique landscapes on the planet, and a can't-miss spot on your Northern Arizona road trip itinerary.
The region is essentially a relatively flat high desert with giant sandstone rock buttes that stick out of the desert floor.
The buttes make for stunning views and endless vistas. The region was first made famous by old Western movies – especially ones starring John Wayne – and then by Forrest Gump, as the place Forrest stops running after three years on the road.
If you want to spend a night in Monument Valley, keep in mind that most accommodations are on the Utah side, while the area's main attraction – Monument Valley Tribal Park – is on the Arizona side. It's a sparsely populated area and is contained entirely within the Navajo Nation, a self-governing Native American land with its own rules and regulations to be aware of.
How to get to Monument Valley
Monument Valley is along Highway 163 as it passes through southeastern Utah and northeastern Arizona. It's not exactly close to anything, but it's not hard to reach by car.
Monument Valley entrance fee
There is no fee for the general region, and many of the most famous viewpoints are just along the highway. There is a fee of $8 per person to enter Monument Valley Tribal Park, however.
What to do in Monument Valley
Start by visiting Monument Valley Tribal Park, which contains the most spectacular collection of rock formations in Monument Valley. The park is operated by the Navajo Nation and contains a 17-mile scenic drive loop as well as numerous short hiking trails to get out into the desert.
Over on the other side of the border in Utah, be sure to check out Forrest Gump Point to take a photo of yourself running on the road like Forrest did in the movie. If you don't mind driving a bit further into Utah, it's also worth stopping by Goosenecks State Park and Valley of the Gods, two underrated desert parks.
How many days to spend in Monument Valley?
Try to spend at least one night in Monument Valley and take in an epic desert sunset while enjoying some tasty Navajo tacos. Many places in northern Arizona will take your breath away, but Monument Valley stands out in that sense.
6. VERMILION CLIFFS NATIONAL MONUMENT
One of the most scenic, but difficult, places to visit in northern Arizona is Vermilion Cliffs National Monument. Straddling the Utah-Arizona border north of the Grand Canyon, Vermilion Cliffs is most famous for a stunning layered red rock formation known as "The Wave."
Do I need a permit for the Wave?
The official name of this wavy, rocky area is Coyote Buttes North and a permit is required to access the 6.7-mile out-and-back hike that takes you to the famous rocks. 
How to get a permit for the Wave in Arizona?
Getting a permit for the Wave is not easy. Every day thousands of people apply for a permit and only 64 are awarded. You have to apply two days in advance and you must be physically present in either Page, AZ, or Kanab, UT to apply (even though it's a digital system). It's a lottery system so it's all down to luck of the draw.
Don't visit Vermilion Cliffs expecting to get to see The Wave. If you win the permit, consider it a bonus.
Luckily there are tons of other amazing things in the park. You could spend days exploring the backcountry, or just hit some other highlights. There are no services in the park so come prepared with enough water, food, and gas for your vehicle.
How to get to Vermillion Cliffs National Monument
Vermilion Cliffs have two entrances, one about an hour from Page in Arizona and the other entrance blends into Grand Staircase-Escalante National Monument in Utah, about an hour from Kanab. There are no paved roads in the park.
The main road is accessible by a four-wheel drive if it has not rained, but most of the side roads that lead to some of the main sites in the park require a 4×4 with high clearance. It's advised to rent a Jeep in Page or Kanab if you truly want to explore Vermilion Cliffs the right way.   
Vermillion Cliffs National Monument entrance fee
There is no fee to enter Vermilion Cliffs, but if you want to apply for a permit for the Wave there is a $9 application fee and then another $7 if you get it. South Coyote Buttes (which is far easier to get a permit for that North Coyote Buttes) also has a $9 application fee.
Best things to do in Vermillion Cliffs National Monument
Assuming you were unsuccessful in your Wave application, you still have a ton of other options. All of these options involve hiking in the desert wilderness, though. If that doesn't sound like your cup of tea, then maybe you should skip Vermilion Cliffs. It's not a drive-your-car around and stops-at-the-viewpoints kind of park.
For those wishing to get out and explore (and who have rented the proper vehicle), White Pocket is another beautiful collection of colorful desert rocks.
There's also the hike to Buckskin Gulch, which starts at the same parking lot as The Wave Trail. Buckskin Gulch is one of the longest slot canyons in the area and can be explored all day if you have time. There are many more options for hikes in the park as well that we haven't covered in this brief overview here.
7. FOUR CORNERS MONUMENT
Four Corners Monument is the only place in the US where you can stand in four states at the same time. It's essentially a concrete slab with some paving commemorating the four different states.
Taking photo here is one of the most fun things to do in Northern Arizona1
Four Corners Monument is in Navajo Nation, so the monument is managed by Navajo Nation Parks. The road to the monument is lined with little shops and stalls where local Navajo artists sell their creations. You can also try a Navajo taco, which is way different than a Mexican taco. More like a fried tostada.  
How to get to Four Corners Monument
Four Corners is where New Mexico, Colorado, Utah, and Arizona meet. It's pretty much the middle of nowhere but it is right along Highway 160, which links Navajo Nation to Southwest Colorado that's home to beautiful mountain towns like Telluride.
If you're not on your way to New Mexico or Colorado, it's pretty out of the way from anything else in this part of Arizona. 
Four Corners Monument entrance fee
$8 per person.
Best things to do in Four Corners Monument
Four Corners is just a quick stop. There is not much to do other than get your photo at the point where the four states meet and do some shopping for local goods. You will likely have to wait for your photo, though, so be advised sometimes it won't be as quick of a stop as you'd think.
8. HAVASU FALLS
Havasu Falls is one of the most famous waterfalls in the United States. The falls are just outside of Grand Canyon National Park, still within the tributaries of the canyon, on the south side, not far from Grand Canyon Village as the crow flies. Havasu Falls takes quite an effort to get to and needs to be thoroughly planned out well in advance.
The waterfall and surrounding pool of turquoise water are on the private land of the Havasupai Tribe, meaning that the tribe dictates access to the waterfall and the canyon that leads to it. Campground or lodge reservations are required and are made available for the season on February 1.
Do I need a permit for Havasu Falls?
The overnight reservation is your permit to start the hike. There is far more demand than supply for camping and lodge reservations and they sell out within minutes for the entire year. So if you're not on your computer and ready on the morning of February 1, you will not be visiting Havasu Falls on your trip around Northern Arizona. 
How to get to Havasu Falls
As mentioned previously, Havasu Falls is not easy to reach. If you're lucky enough to have a permit, it's about a 3-hour drive from Flagstaff to the trailhead where you leave your car. From there it's a 10-mile hike each way in and out. It is not allowed to do the hike as a day trip!
Havasu Falls entry fee
No entry fee but camping fees are steep, $100-125 per night, and a 3-night stay is required.
What to do at Havasu Falls
The falls are the highlight of the trip, reached after a grueling 10-mile hike. There are also gorgeous terraces of crystal clear turquoise water and epic desert wilderness to explore. If you're camping you'll be there for three nights and you'll have plenty of time to relax and swim.
There are multiple waterfalls in the area to check out, though the main Havasu Falls is the top attraction, And if you're up for it, you can also hike to the Colorado River in Grand Canyon National Park.
9. FLAGSTAFF
The largest city in northern Arizona is Flagstaff. With a population of not even 150,000 people in the greater area, it pales in comparison to Phoenix, just down I-17. But it's the only major population center in northern Arizona.
It's an amazing place to live if you love hiking, rock climbing, mountain biking, or skiing. The city itself has a lot going for it too, with a great craft brewing scene, trendy restaurants, and cozy pubs. You won't find skyscrapers in Flagstaff, but you will find a peaceful, laid-back city along historic Route 66. 
How to get to Flagstaff
Flagstaff is just north of Interstate 40 about halfway between California and New Mexico.
What to do in Flagstaff
Describing everything there is to do in Flagstaff would take its article. For a small city, there is a lot to do and see in and around Flagstaff. We will just list the main highlights here:
Lowell Observatory: One of the best places in the country for stargazing, Lowell Observatory was the world's first designated international dark sky city. Fun fact: the planet Pluto was discovered here. 
Humphrey's Peak: The highest peak in Arizona – at 12,633 ft (3850m) is just north of downtown Flagstaff. Ski it in the winter and hike it in the summer.
Walnut Canyon National Monument: This national monument protects the ancient cliff dwellings of the Sinagua people, who roamed the region in the 1100s and 1200s. 
Museum of Northern Arizona: On the northern side of town, the Museum of Northern Arizona celebrates the region's Native American history and culture.
The Arboretum at Flagstaff: a peaceful garden of native flora and fauna southwest of downtown.
Northern Arizona University: Flagstaff is home to Northern Arizona University, with over 20,000 students enrolled at any given time. The athletic facilities of the university are often used by Olympic athletes to train, due to its high elevation (nearly 7000 ft)
Historic downtown Flagstaff: Route 66 runs right through downtown Flagstaff and the city streets are lined with old brick buildings housing everything from craft breweries to art galleries. 
If you want to get even further outside the city, Sedona is one of the most popular tourist destinations in the Southwest. A stunning town built into red rock cliffs, Sedona is heaven on earth, but about 50 minutes south of Flagstaff.
Coconino National Forest is another red rock area near Sedona that is more isolated. A great place for getting in touch with nature, hiking in the forest is a popular weekend activity for Flagstaff residents. 
10. WINSLOW AND METEOR CRATER
Well, I'm a standin' on a corner in Winslow, Arizona. Such a fine sight to see. It's a girl my, my lord, in a flatbed Ford, slowing down to take a look at me.
Perhaps no small town in America is more known for a song than Winslow, Arizona. The Eagles put Winslow on the map in 1972 when Take It Easy was released as their debut album. In 1997 a memorial to the classic rock song was built on the corner of historic Route 66 and North Kinsley Avenue.
There isn't a whole lot else that Winslow is known for, after it faded from its heyday after the construction of Interstate-40. But is you are in northern Arizona, it's worth stopping by Winslow to get a photo of yourself standing on the corner.
About 25 miles west of Winslow you will find Meteor Crater Natural Landmark. Over 50,000 years ago a giant meteor slammed into Earth in the middle of the desert, exploding upon impact and leaving a giant crater on the surface of the Earth that still exists today.
There are various viewpoints on a trail that leads around the crater and even a small museum where you can learn more about the crater and the meteor that created it.
How to get to Meteor Crater in Arizona
Winslow is right on Interstate 40, one hour east of Flagstaff. Meteor Crater is west of Winslow, a few miles off the highway.
Meteor Crater Arizona entrance fee
It's free to stand on the corner in Winslow, Arizona but visiting the crater will cost you. At $25 per person, it's pretty steep.
Best things to do in Winslow
The number one thing to do in Winslow is to stand on the corner. Near the monument there are some shops and old-time feeling restaurants and saloons, all celebrating historic Route 66 and the famous song. If you're visiting Meteor Crater, you can walk around it or down into it, or both. It doesn't take long to visit if you just want to take in the views.
WEATHER IN NORTHERN ARIZONA
The weather in northern Arizona varies drastically with its rapidly changing elevation. The city of Flagstaff is situated over 6900 feet above sea level, and therefore not nearly as hot as Phoenix, just 2.5 hours down the highway.
With an average July high of only 82 degrees, it feels like a world away from the hottest city in the United States. Winters in Flagstaff can get damn cold too, with winter lows being well below freezing. And you thought Arizona was hot?
Contrary to Flagstaff, the lower elevations of northern Arizona can get pretty hot. At the base of the Grand Canyon, summer temperatures are downright brutal. Even in Page – with an elevation of about 4000 ft – summers can be really hot. The climate in northern Arizona is pretty temperate. Snow is common and winters can get cold at higher altitudes.
NATIONAL PARK PASS
If you're going to northern Arizona you might want to consider purchasing America the Beautiful Interagency Pass before your trip. This pass is more commonly known as the "national park pass" and gets you into any national park, monument, historical site, etc in the US for one year. It only costs only $80 and it will pay for itself after visiting the Grand Canyon, Petrified Forest, and Glen Canyon, not to mention all the other amazing places you'll be able to get into for the rest of the year.
GETTING AROUND NORTHERN ARIZONA
You will need a car to visit all of the destinations on this list (except for if you're doing a Grand Canyon helicopter tour from Las Vegas). For some of these places, you might even want to consider renting a 4×4.
NORTHERN ARIZONA FAQS
What is Northern Arizona known for?
Northern Arizona is known for being home to some of the most stunning desert landscapes in the world, including the Grand Canyon, Monument Valley, and Horseshoe Bend. It's rugged and sparsely populated, a paradise for anyone who loves the great outdoors.
What is the best month to visit Northern Arizona?
The best time for northern Arizona is from about late March to early November, with the best month being June or September. This is based on weather, crowds, and accommodation costs. Prices soar in the summer (naturally) but winter visits to this part of the world come with their challenges. You can't even go to the North Rim of the Grand Canyon in winter, as it's closed for the season.
What is the largest city in northern Arizona?
The largest city in northern Arizona is Flagstaff. With a metro population of almost 150,000 people, it's the cultural, economic, and education hub of the northern part of the state. There are no other large cities in northern Arizona, with the next most populated regions being Bullhead City and Kingman, each with populations of less than 50,000.
Phoenix, the largest city in Arizona, is only a couple hours down the highway, but it is not considered northern Arizona, as it's actually in the southern half of the state.
What is the prettiest place in Arizona?
Arizona is one of the most stunning states in the United States. Full of absolutely beautiful places, it's difficult to say what the prettiest place in Arizona is, but it's most certainly in northern Arizona. Many would say the Grand Canyon, though Monument Valley and Glen Canyon National Recreation area could also be considered the most beautiful place in the state.
Does it snow in Flagstaff Arizona?
While Arizona cities are typically known to be hot and dry, Flagstaff is pretty damn cold and gets a lot of snow. Flagstaff receives about 7'-6" inches (229 cm) of snow a year, and the high mountains outside of town get far more. Skiing is a popular winter activity for Flagstaff residents.
Is it better to stay in Sedona or Flagstaff?
While Sedona is about 45-50 minutes south of Flagstaff, many consider it also to be part of northern Arizona. If your itinerary includes a stop in Sedona, it can be a far more beautiful place to stay than Flagstaff City. The red rocks that make up the landscape of Sedona are world-class, and there are many more accommodation options than in the city. It's more of a luxury destination though, so if you're traveling on a strict budget, it will be much cheaper to stay in Flagstaff.
NORTHERN ARIZONA: FINAL WORD
So there we have it, the absolute best things to do in Northern Arizona. Most of the destinations on this list are world-class attractions and could also make a list of the top things to see and do in the United States. We hope you enjoy your road trip across Northern Arizona!