Disclaimer: This post contains affiliate links. At no cost to you, I might earn a small commission if you make a purchase through the links in this article.
If you want to explore best places to visit in Colorado, get ready for a real adventure!
Colorado's scenery is second to none as it boasts the snow-capped Rocky Mountains, red mesas and even shifting sand dunes! While you could spend weeks exploring this part of the United States, you can scratch the best places to visit in Colorado off your list in a couple of weeks, if you plan your trip the right way.
Colorado is a true outdoor mecca with a well-established travel route and although there are many popular places to visit in Colorado there is also a ton of great spots off the beaten track that not many tourists get to see.
I've spent a long time in Colorado, and have the first-hand knowledge of the state.I decided to put this article together since I always get a ton of questions about how to plan a perfect road trip.
So grab a pen and paper and get ready to take some notes to plan your Colorado Road trip.
BEST PLACES TO VISIT IN COLORADO: AN OVERVIEW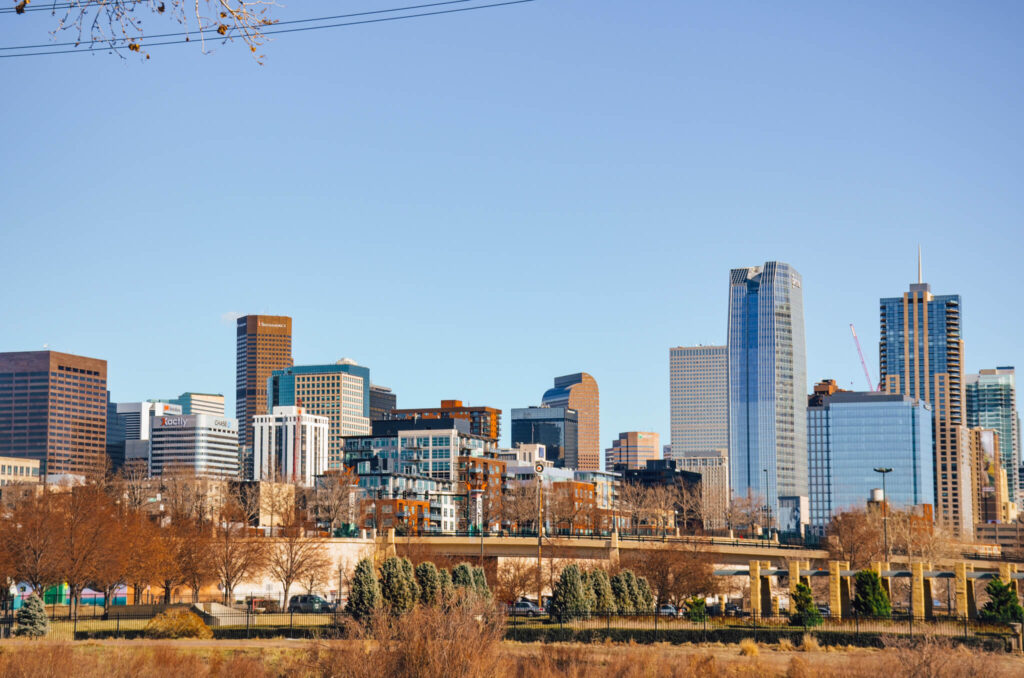 1. Denver
Where to stay in Denver: Hilton Garden Inn Denver Tech Center
The largest city in Colorado is a perfect starting point for your adventure.
Located along Colorado's Front Range, Denver is one of the most popular up-and-coming cities in the United States with a great dining and entertainment scene. The Mile High City has undergone a dramatic transformation over the last decade, and today it boasts amazing museums, world-class restaurants, and close access to the great outdoors.
✅ Check my complete guide to the best Denver tours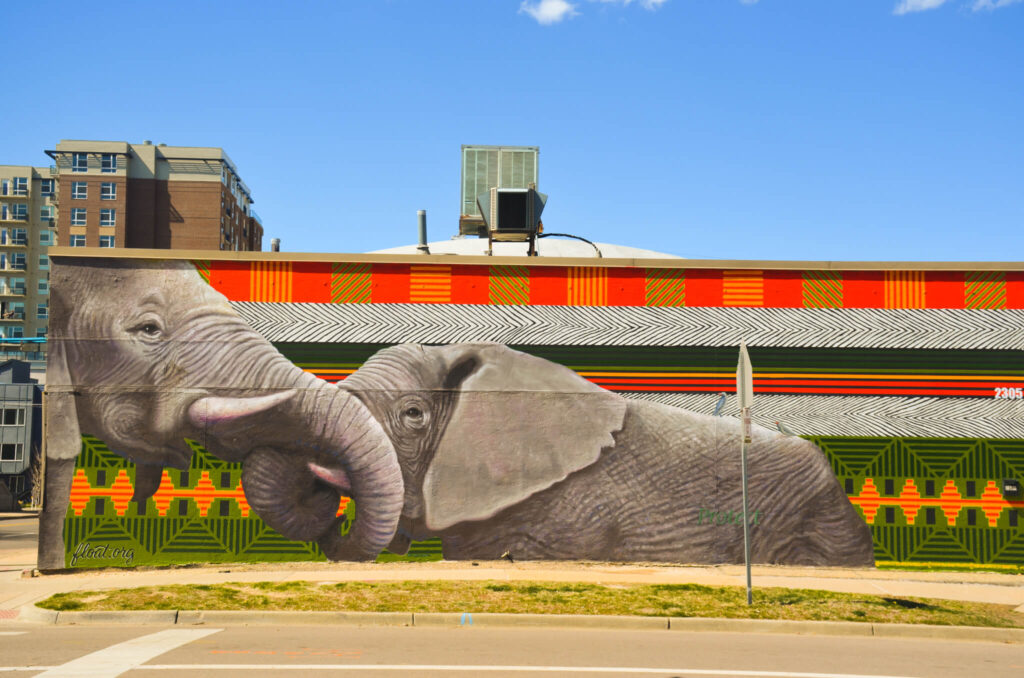 Looking for a great atmosphere and fun night out while in Denver?
Head to RINO, the city's River North District, a former industrial area that has been revitalized and today it is one of the most popular places in Denver for dining and going out.
PRO TIP: Read my guide to some of the most awesome things to do in Denver! 
2. Fort Collins
Where to stay: Hampton Inn Fort Collins
The biggest city in Northern Colorado, Fort Collins is one of the most overlooked spots in Colorado.
Fort Collins boasts a charming downtown with a thriving art and restaurant scene, as well as cool outdoor places such as Cache La Poudre River Canyon and Horsetooth Reservoir, one of the most beautiful lakes in Colorado that is less crowded than other popular spots along Colorado's front range.
Visit the signature Fort Collins Municipal Railway that runs on summer weekends and continue by sampling local beer at Fort Collins breweries or taking a bike tour through town.
✅ Find out how to get from Denver to Fort Collins
Whether you are going traveling to Wyoming from Colorado or just taking a quick getaway from Denver, you shouldn't treat Fort Collins as a mere pit stop on your Colorado itinerary: there's plenty to do here, so plan to spend at least one night in the town.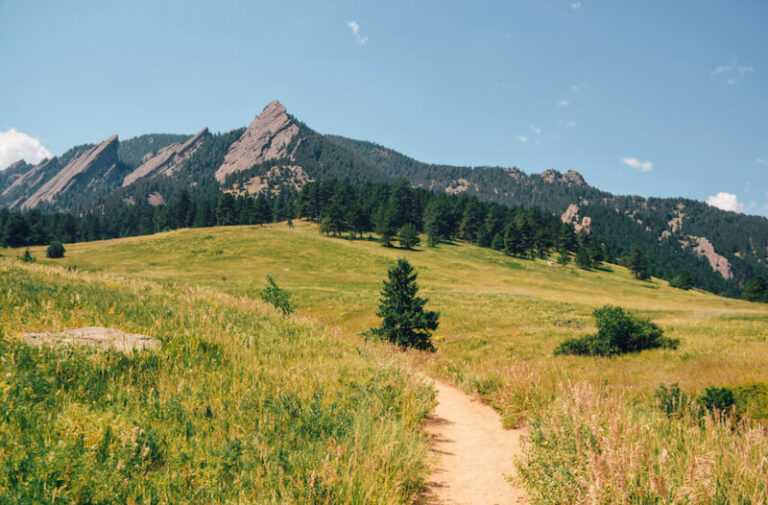 3. Boulder
Where to stay in Boulder: Hotel Boulderado
Denver's smaller neighbor, Boulder is home to the University of Colorado Boulder and a booming tech scene. It's also home to the University of Colorado Boulder, the state's flagship school.
Located at the foothills of the iconic Rocky Mountains, Boulder offers year-round opportunities for rock climbing, hiking, mountain biking and a great restaurant scene with dozens of eateries for all tastes.
A must-visit place in Boulder are Flatirons, a popular spot for hiking, rock climbing, and mountain biking. The 2.5-mile hike through the meadow in Chautauqua Park will bring you to the first and second set of Flatirons – and further up, if you want a good challenge.
Another cool hike in Boulder is Mount Sanitas, a steep trail with the quick elevation gain. Outside of Boulder, you will find the incredible Eldorado Canyon State Park that boasts views of the snow-covered Continental Divide.
When you are done burning calories, head to Pearl Street Mall, the main thoroughfare of the city where you can enjoy local beer, shop for some souvenirs and grab a tasty bite.
4. Golden
Where to stay: Table Mountain Inn
A historic town with a rich pioneering history, Golden is one of the most popualr places to visit in Colorado in summer when so many people bring their inflatable tubes to float down the Clear Creek. Or pop into an American Mountaineering Museum where you can learn about the favorite activity of many Coloradoans.
Whether you choose to explore downtown Golden with its restaurants and breweries afterward (Coors Brewery is a must-stop if you are a fan of beer) or decide to take one of the best hikes near Golden, you will not get bored here.
If you have extra time on your hands, consider driving to the top of Lookout Mountain for panoramic views of the Mile High City and the surrounding eastern plains.
PRO TIP: Because of its proximity, Golden is one of the most popular road trips from Denver, and it tends to get crowded on weekends. For a better experience, plan your trip for a weekday.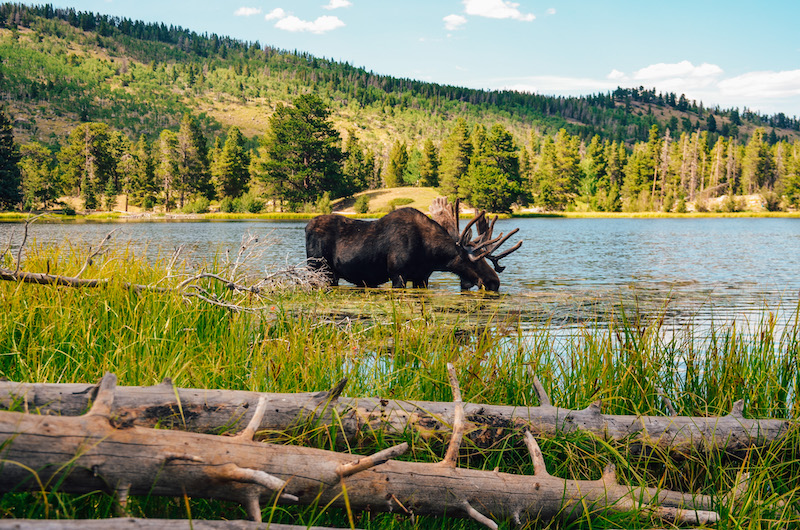 5. Rocky Mountain National Park
Where to stay in Rocky Mountain National Park: There are no hotels in Rocky Mountain National Park. The Nearby Estes Park offers plenty of hotels such as Bear Paw Suites.
One of the most popular national parks in the United States, it boasts majestic peaks, alpine lakes, and hikes for all levels. A gateway to the Rocky Mountain, Estes Park is a charming small town with renowned attractions such as the haunted Stanley Hotel where you can book the ghost tour, the Estes Park Aerial Tramway and Open Air Adventure Park.
Estes Park is perfect to grab a bite and stay for the night after a day of hiking instead of making a long drive back to Denver.
As of 2021, reservations are required to visit Rocky Mountain National Park. To reserve a time slot, head to Recreation.gov website.
PRO TIP: One place near Rocky Mountain National Park that should be on your radar is the Indian Peaks Wilderness – an area popular for multi-day trips and backpacking. One of the most stunning hikes in the Indian Peaks Wilderness is Mirror Lake that's typically tackled in two days.
6. Estes Park
Where to stay: Discovery Lodge
The gateway to the Rocky Mountain National Park, Estes Park is a great place to visit!
While it serves as a convenient stop for travelers thanks to many restaurants and accommodations, Estes Park also offers a great outdoor scene and you can easily spend a couple of days here enjoying kayaking, hiking, and mountain biking, after visiting RMNP.
Summer is the busiest time in Estes Park, while winter is a quiet downtime when you can enjoy snowshoeing, skiing and take in the stunning views of the winter wonderland.
The famous Stanley Hotel is a popular stop among many travelers who come to Estes Park, thanks to its famous history. To learn about this popular historic landmark (which is believed to be haunted), you can either book a stay at Stanley Hotel or take a guided tour.
Similar to RMNP, Estes Park has an alpine climate which means temperatures here can vary drastically during the day and the night.
7. Nederland
Where to stay: Nederland Getaway
When you visit Boulder, you might feel like everybody else had the same idea and decided to come here – Boulder is indeed one of the most popular day trips from Denver, with many visitors heading here.
Check out the neighboring Nederland, a small town tucked into the Rockies, that is home to Eldora Ski Resort, an awesome music scene, and tons of opportunities for an adventurous lifestyle.
If Boulder feels too busy to you, you will love Nederland for its laid-back atmosphere and slower pace of life.
8. Grand Lake
Grand Lake is located near the western entrance of the Rocky Mountain National Park.
It's a perfect spot for camping and enjoying many outdoor activities like hiking, kayaking, and boating.
You can also hike Mount Audobon, "a thirteener" located in the Indian Peaks Wilderness and one of the most popular hikes near Denver that offers views of the entire Front Range and several surrounding peaks.
The trail to the summit of Mount Audobon begins at Brainard Lake Recreational area. When hiking, be aware of the wildlife, as moose and mountain lions are common in the area.
9. Peak to Peak Byway
Right outside of Nederland you can find the spectacular Peak to Peak Highway, a 55-mile route that takes you along the Continental Divide and treats with the sweeping views of the adjacent Rocky Mountain National Park. This drive is popular during fall when all the aspen trees in the area burst with colors.
Although Peak to Peak Scenic Byway is most popular during fall because of its stunning golden colors, this scenic byway makes for one of the best day trips from Denver, if you are craving some time in the outdoors.
This 55-mile scenic route is one of the most popular drives in Colorado thanks to its incredible scenery and a number of hikes in the area such as Mt. Audubon. Peak to Peak Scenic Byway starts as Colo. 7 in Estes Park brings you past Allenspark on Colo. 72, before heading to Nederland.
10. Evergreen
Where to stay: Alpen Way Chalet Mountain Lodge
Located in Park County just west of Denver, Evergreen is a charming town at the base of the Rocky Mountains. Besides hiking and all things outdoors (obviously), Evergreen offers a lively art scene and plenty of decent restaurants to make you forget that you are after all in a small town.
In fall, many people come to enjoy the gorgeous Kenosha Pass with its stunning fall foliage or Guanella Pass that takes you straight to Georgetown.
11. Buena Vista
Where to stay: Mount Princeton Hot Springs Resort
One of the cutest mountain towns in Colorado, Buena Vista is less than 2 hours from Denver.
Buena Vista is home to some of the best hot springs in Colorado, Buena Vista still flies under the radar.
Summer is the best time to visit Buena Vista if you like spending time outboards. The Arkansas River provides superb white water rafting opportunities, and the nearby mountains have a plethora of hikes.
If you want to test your stamina, try to summit one of "the Collegiates," the "fourteeners" that surround Buena Vista before camping under the clear dark skies at night.
And, if you come here in winter, you can have plenty of sun riding a snowmobile on Cottonwood Pass, hit the nearby slopes, or soak in the bubbling hot springs.
12. Colorado Springs
Where to stay: Spring Hill Suites
Most visitors who come here head straight to the natural landmarks such as the Garden of the Gods with tons of easy hikes; and Pikes Peak, one of the few fourteeners (or mountains with an elevation of at least 14,000 feet) in Colorado that can be accessed by car via a 19-mile road that leads to the top.
If you are craving some good exercise, visit Manitou Incline, one of the most popular hiking and strenuous trails in Colorado that gains over 2,000 feet of elevation in less than one mile and attracts runners, professional athletes and outdoor enthusiasts.
Colorado Springs is the second-largest city in the state after Denver which means there are plenty of restaurants and accommodations if you decide to spend a night here.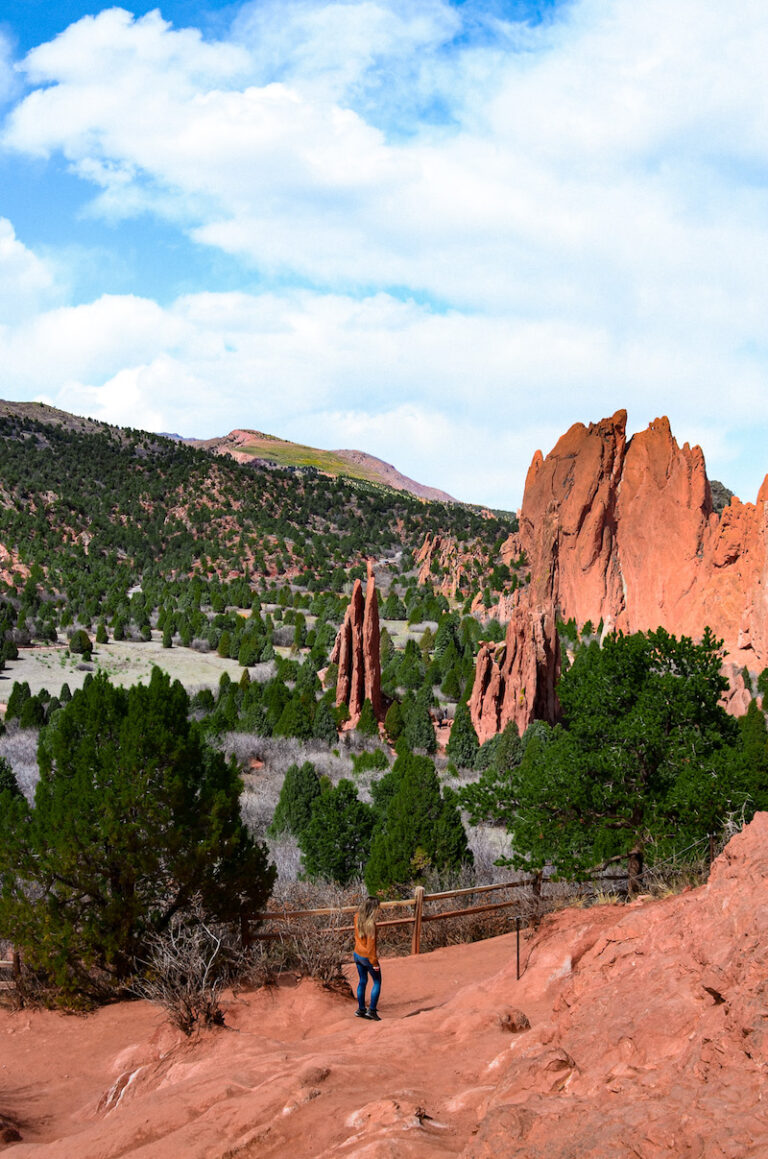 13. Garden of the Gods
Where to stay: TravelStar Inn&Suites
Garden of the Gods sits near Colorado Springs about 1 hour and 20 minutes south of the Mile High City.
With dramatic red outcrops jutting out of the landscape dominated by the Pikes Peak, Garden of the Gods is one of the most popular stops in the area.
Garden of the Gods' trails range from easy to moderate and don't require advanced hiking skills, which means that this area is accessible to most hikers.
14. Great Sand Dunes National Park
Where to stay: Valley Motel
Dunes in Colorado? You betcha!
If you continue your trip to Southern Colorado, you will find the Great Sand Dunes National Park, one of the most striking natural sites in the Centennial State that spans over 30 square miles. Not only you will be able to hike around the shifting dunes but you will also see Star Dune, the tallest dune in North America rising at 750 feet!
You can have a lot of fun sandboarding or using a sled to slide down the dunes. All you need to do is stop in the nearby town Alamosa that has several rental shops. And If you have enough time, stay for the sunset to see how the incredible dark shadows fall over the area.
When it gets dark, grab your camera and snap a few photos of the clear dark sky.
15. Interpretive Mines State Park
While most of us picture snow-capped mountains, alpine meadows and gurgling streams when we think about road trips from Denver, there are couple of cool places that defy that stereotype.
On your way to Colorado Springs (or the other way around) make a stop at the Painted Mines Interpretive Park that has candy-cane like rock formations that you will not find anywhere else in Colorado.
Besides offering a perfect backdrop for your photos, this place is also home to some cool history as Native Americans said to have mined the materials from this thousands of years ago.
You can visit Painted Mines seven days a week for FREE and enjoy its gorgeous and relatively easy hikes. As always, stay on trails, do NOT climb rock formations as you can damage them.
16. Idaho Springs
Where to stay: The Silver Lake Lodge
A neighbor of Georgetown to the west, Idaho Springs is another mountain town along the Interstate-70 that deserves a spot on your list of best day trips from Denver.
Home to Indian Hot Springs where you can soak in mineral-rich hot waters, and a number of superb hikes such as St. Mary's Glacier (there's technically no glacier here), Idaho Springs provides quick access to Mt. Evans Scenic Byway as well as Mount Bierstadt, one of Colorado's most popular "fourteeners."
You can also explore several mining tours in the area including the Argo Gold Mine and Mill, which used to be one of the largest mines in the state. And don't forget to soak in some of the best hot springs in Colorado when you come here!
17. Mount Evans Scenic Byway
Where to stay: Mountain Mama's House
As most travelers hurry to make their way to some of the most popular mountain towns in Colorado, many miss out on taking a drive along Mount Evans Scenic Byway.
Mount Evans is the HIGHEST paved road in North America.
It is also one of the 54 "fourtneers" (or mountains with the elevation higher than 14,000 feet), and one of the handful of fourteeners in Colorado that can be accessed by a paved road.
The journey to the top takes you to the elevation of 9,000 feet, so bring some sunscreen, as the sun can be harsh at the high elevation. Mount Evans Scenic Byway is open to visitors from May through the end of September, because of the unpredictable weather conditions in the mountains.
Mount Evans Scenic Byway directions: Take Interstate-70 west and take exit 240 when you get to Idaho Springs. Along the way you will find the National Forest Information Center where you can learn about hikes and overlooks in the area.
18. Georgetown
Where to stay: Clear Creek Inn
A mountain town along Colorado's Interstate-70, Georgetown is considered more of a stopover, rather than a day trip from Denver.
Still, Georgetown deserves a stop on your Colorado itinerary because it is one of the best-preserved mountain towns in Colorado with a rich gold mining history that you can learn by touring its famous museum.
Another famous landmark, Georgetown Loop Railroad offers a spectacular train ride to nearby Silver Plume where many miners lived back in the day.
As Georgetown is starting to receive more visitors, and more stores and restaurants (La Lucha Cantina is one of them) have opened in the city's downtown in recent years.
19. Leadville
Where to stay: Leadville Retreat with the hot tub
Leadville is the highest incorporated city in North America that sits 10,152 feet above sea level.
Surrounded by the highest mountains in the Rockies, Leadville offers a different taste of Colorado – compared to popular mountain towns with ski resorts and tourist downtowns, Leadville feels more rugged, and that's exactly what makes it so special.
Many travelers stop in Leadville, before making a hike to the top of Mount Elbert, the highest "fourteener" in Colorado that towers at 14,433 feet and Mt. Massive at 14,421 feet.
The nearby Twin Lakes boast spectacular views of the surrounding peaks and great opportunities for camping.
As one of the most prominent boomtowns, Leadville has seen many people coming here to work in the nearby mines, and you can see it in places like the National Mining Hall of Fame and Museum, home to replicas of underground minerals; of Healy House Museum where you can see how people in the area lived back in the day.
20. Independence Pass
No Colorado road trip is complete without a drive along Independence Pass, the highest pass in North America that sits at the elevation of more than 12,000 feet.
This 32-mile stretch connects the towns of Leadville and Aspen and features magnificent views as you go through Continental Divide, a natural boundary that separates North America's river systems.
While the pass is closed in winter, it's a popular destination for summer road trips in Colorado. Make sure to take your time, as you will be treated to the awe-inspiring views of the Rockies. June and July is the best time to visit Independence Pass if you want to see the blooming wildflowers.
21. Aspen
Where to stay in Aspen: Mountain Chalet Aspen
Aspen is known for its stunning scenery and ski resorts. While winter and summer are the two busiest seasons here, early-to-mid fall is the best time to visit this town.
With thousands of aspen trees turning gold, Indian summer is the best time for hiking, mountain biking and spending time outside in Aspen.
If you are visiting in winter, don't forget to stop at Aspen Snowmass, one of the best ski resorts in Colorado.
The Aspen area is also home to Maroon Bells, the most photographed peaks in North America. Make sure to come from middle to late September to see these iconic mountains framed by the golden colors of the surrounding aspen trees.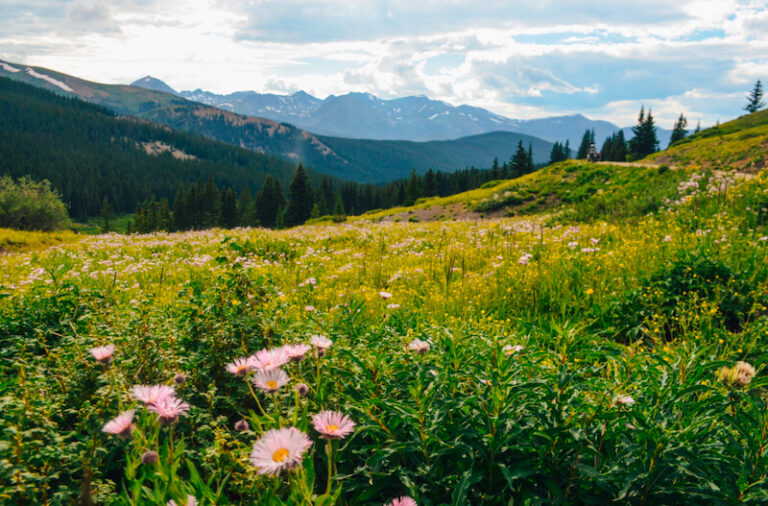 22. Summit County
Where to stay in Breckenridge: Elk Trail House
Located in the heart of Colorado's Rocky Mountains, this small county is a true adventurer's paradise year-round with tons of opportunities for hiking, mountain biking, camping, kayaking and so much more!
Home to popular mountain towns in Colorado like Frisco, Dillon, Breckenridge, and Keystone, Summit County is a perfect blend of gorgeous mountain scenery and colorful history that can be seen in historic buildings and museums left from the mining era.
Winter in Summit County bring out tons of outdoor enthusiasts who come here to enjoy gorgeous snow-powdered ski slopes and superb backcountry.
Some of the most popular places for skiing in Summit County are Keystone, Breckenridge, and Arapahoe Basin.
Most visitors who take a day trip from Denver to Summit County end up staying more than just one day because there's no way you could get a good glimpse of this area in such a short time.
Spare at least a couple of days for the most popular hikes near Breckenridge such as Mohawk Lakes, Boreas Pass and Mt. Baldy. 
And don't forget to visit the historic downtown Breckenridge, where you can grab a bite, shop and visit The Breckenridge Welcome Center Museum where you can learn about the colorful history of Colorado's frontier towns.
23. Steamboat Springs
Where to stay: Mariposa Lodge Bed and Breakfast
Although Steamboat Springs might not have the glamor of Aspen or exclusivity of Telluride, this ski resort boasts a one-of-a-kind Indie vibe, and a proud nickname "Ski Town USA."
Besides from hitting the slopes, visitors enjoy Strawberry Park Hot Springs, and panoramic views from the Steamboat Gondola. In summer and fall, Steamboat Springs offers many trails for hiking and biking such as Yampa River Core Trail, Gilpin Lake and Blackmere Trail.
24. Vail
Where to stay: Four Seasons Vail
Surrounded by 350,000 acres of national forest, Vail mountain covers over 5000 acres and is the third-largest ski mountain in North America. It has many trails for all types of skies from beginners to experts.
✅ Find out how to get from Denver to Vail
While the town has developed as a complementary area of the famous ski resort, skiing is not the only game here. Summers are beautiful in Vail too with gorgeous alpine scenery, a multitude of hiking and mountain biking trails.
Although many people skip Vail on their Colorado in favor of other mountain towns, Vail is worth a stop because it offers a combination of gorgeous scenery, great shopping, and dining.
The drive to Val along Interstate-70 will take you around the snow-powdered peaks and mountain towns, so it's well worth the drive!
25. Dinosaur National Monument
Although most of Dinosaur National Monument is in Utah, the Centennial State still has a small portion that should be on your Colorado itinerary.
With a staggering 210,000 acres, Dinosaur National Monument is a true treasure trove of undiscovered beauty and thousands of years of paleontological history that was unearthed by the climatic forces.
Located on the border of Utah and Colorado, this national sees history buffs from all over the world who come here to see the evidence of the dinosaurs that used to roam this area.
But while this national monument might lack the popularity, it's a must-stop if you want to see the incredible dinosaur fossils, footprints, and cool prehistoric sites. Since Dinosaur National Monument sits off the well-established travel route, it's a perfect place to visit if you are looking for less-discovered places.
26. Grand Junction
Where to stay: Holiday Inn Express
Grand Junction is a city on the western slope of Colorado near the border with Utah along the Colorado River.
Grand Junction offers proximity to many outdoor attractions in the region and is also a convenient stop for those who are going to southwestern Colorado, as it has the largest airport in Western Colorado.
It is home to the Colorado National Monument, one of the most famous attractions in the Western part of the state and one of the most popular places to visit in Colorado for camping and stargazing.
The area also offers many adventures along the Colorado River such as speed boating, rafting, and paddleboarding.
✅ Find out how to get from Denver to Grand Junction
If you are in a good shape, consider venturing into the remote Dominguez Canyon, just outside of Grand Junction. The canyon spans for four miles and boasts many well-preserved Native American petroglyphs.
To finish your day, check out Two Rivers Winery just west of downtown Grand Junction where you can sample locally made that has won many awards.
27. Palisade
Where to stay: Wine Country Inn
Located just to the east of Grand Junction along Interstate-70, Palisade is the heart of Colorado's wine country where you can tour several wineries and walk among the lush vineyards.
While wine tasting might be one of the first activities in mind when it comes to best things to do in Colorado, where you can try several types of locally produced wine and also tour a couple of peach farms that grow in this part of Colorado thanks to the dry warm climate.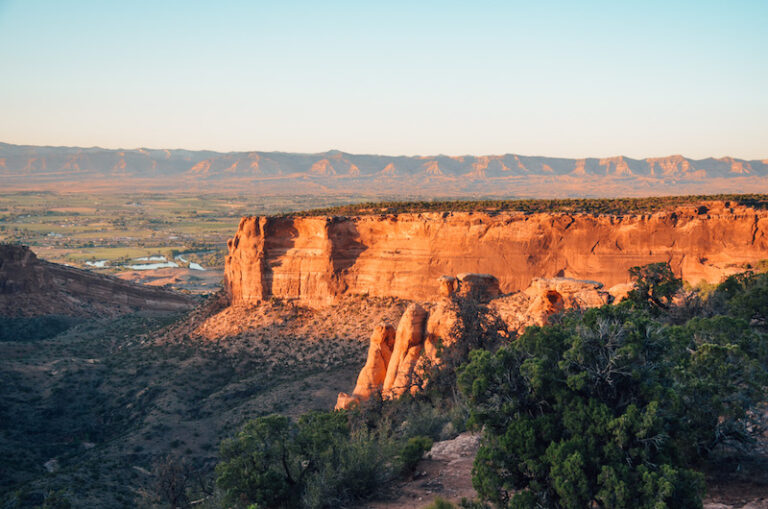 28. Colorado National Monument
Where to stay near Colorado National Monument: If you don't plan on camping at Colorado National Monument, book a hotel in Fruita or Grand Junction. 
When make your way toward the end of Colorado's Western Slope, don't forget to visit Colorado National Monument.
Besides enjoying the striking red rock formations, you can also hike, run or ride your bike along the vast mesas and sprawling canyons inside the Colorado National Monument. At night this area offers incredible dark skies, so you might want to blow the dust off your camera to take photos of the Milky Way.
29. Glenwood Springs
Where to stay: Glenwood Hot Springs Resort
Located on the Western Slope of the state, Glenwood Springs is a year-round destination where you can enjoy rafting on the Colorado River, bicycling on trails and soaking in some of the best hot springs in Colorado.
Unlike some of the most popular Colorado mountain towns, Glenwood Springs offers a combination of affordability and fun. You don't have to break you bank to afford a getaway in this place and the best news is you can easily drive to places like Aspen, Vail and Eagle from here since Glenwood Springs sits right along Interstate-70.
30. Hanging Lake
Where to stay near Hanging Lake: Glenwood Hot Springs Resort
Located near Glenwood Springs, Hanging Lake has become one of the most popular Colorado landmarks. A few years ago, thousands of people were stopping to see it until officials implemented a permit system to save the lake's fragile ecosystem.
The permit costs between $10-12 and has to be obtained before your visit. While Hanging Lake is worth a visit, plan your visit early morning. Many people travel to Hanging Lake by car, and to minimize the wait time and skip traffic, you can take a shuttle from Glenwood Springs.
31. Mount Elbert
Are you ready for a challenge?
Try making your way up Mount Elbert, the highest 14er in Colorado, and the second-highest peak in the continental United States only behind Mount Whitney in California.
It's one of the most popular mountains to climb in Colorado, and once you get to the top, you will see why!
While Mount Elbert is not a technical hike, summiting it will earn you bragging rights! Still, hiking a 14er is a serious business, and you need to be in a good physical shape and have experience hiking at high altitudes in addition to brining proper gear and snacks.
32. Crested Butte
Where to stay in Crested Butte: Elevation Hotel&Spa
If you are going to visit Colorado in fall, make a stop in Crested Butte to see some incredible foliage. When you get to this town, you will see stunning fall colors in every direction, however, even if you happen to come here during a different season you will not be disappointed.
In winter, Crested Butte is true magic covered with snow, and in summer, it boasts gorgeous alpine meadows with wildflowers.
Dubbed "Wildflower Capital of Colorado," Crested Butte boasts some of the best hikes in Colorado such as Snodgrass Trail, 403 Trail and Lake Meridian.
33. Black Canyon of The Gunnison
Where to stay: Stone House Inn
While Rocky Mountain National Park is one of the most popular stops on a classic Colorado road trip, the Black Canyon of the Gunnison is one of the four national parks in Colorado that sits in a remote area of the state.
Compared to the Rocky Mountain National Park, the Black Canyon of the Gunnison sees very few visitors. Here, you can take in the views of the canyon that have been carved out by the Gunnison River.
If you are looking to get away from the crowds and enjoy nature and spectacular scenery, make sure to visit this place.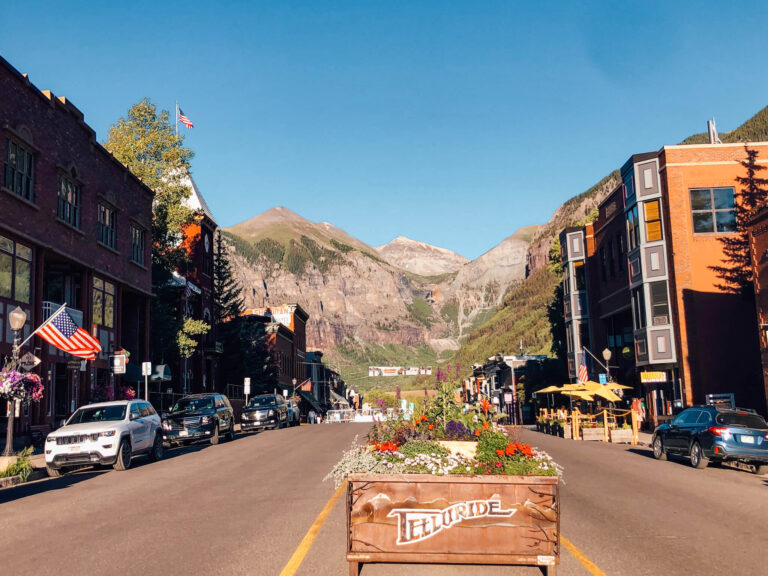 34. Telluride
Where to stay in Telluride: Mountainside Inn
Telluride boasts some of the most amazing scenery in the state and packs on tons of adventure at any time of a year. Nestled in the box canyon and surrounded by the majestic San Juan Mountains, Telluride is unlike any other mountain town in Colorado.
Telluride has been spared from mass development and that's exactly what makes it so appealing to those who come here. I recommend no less than a few days in Telluride!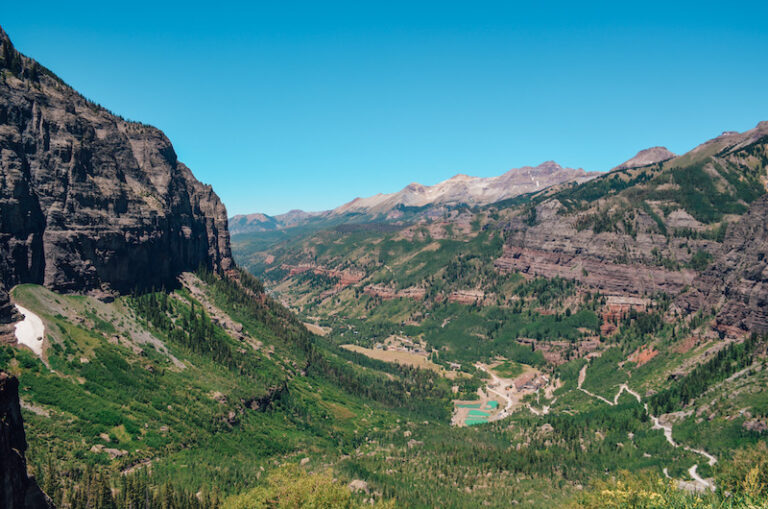 The main drag of Telluride, Colorado Avenue, is occupied by local eateries and stores with outdoor gear and vintage clothing. Here, you will not find chain restaurants and will enjoy all things local, as many of these places offer farm-to-table dishes on their menus.
To learn about Telluride's colorful past, stop at Telluride Historical Museum where you can find out how a mining camp transitioned into one of the best ski destinations in the United States.
35. Ouray
Where to stay in Ouray: Ouray Inn
If you have extra time after visiting Telluride, consider stopping at Ouray, a less-famous sibling of Telluride that has been nicknamed "Switzerland of America."
Located in the heart of the San Juans, Ouray offers natural hot springs, great hikes and tours of the surrounding mines that operated back in the day. Oh, and don't forget to hit the famous "One Million Dollar Highway" between Ouray and Silverton.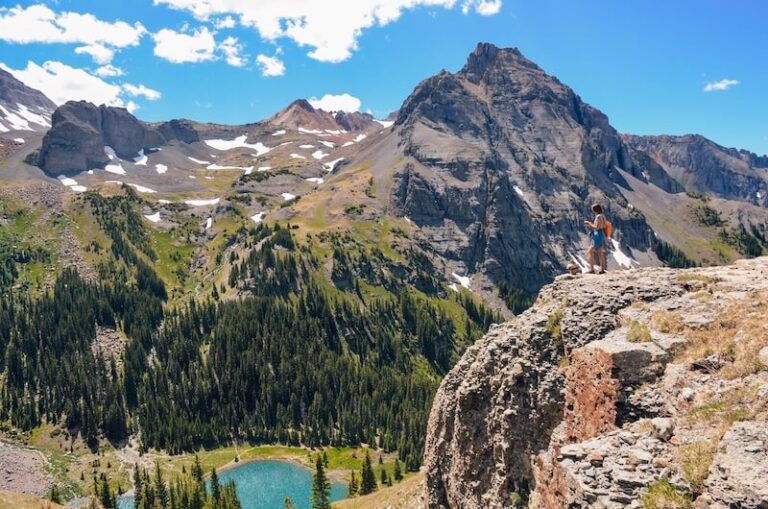 36. Blue Lakes near Telluride
Nestled between Ridgeway and Telluride, Blue Lakes is one of the best hikes in Colorado. This challenging trail leads to the pair of stunning alpine lakes surrounded by the jagged peaks with some of the most incredible turquoise water you have ever seen!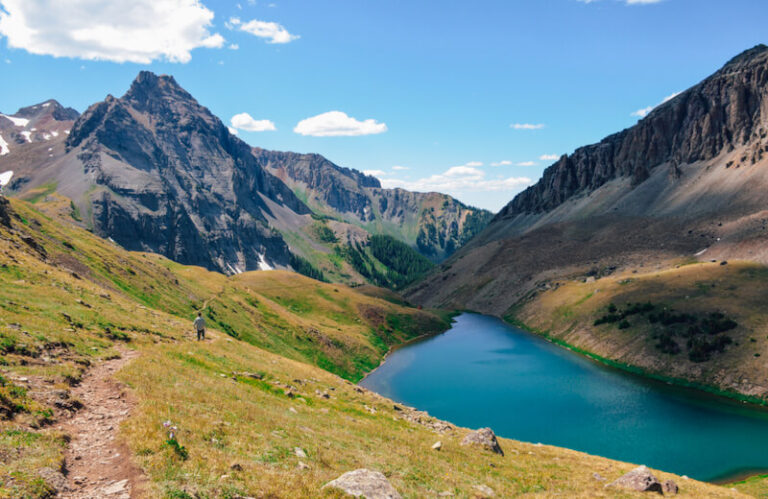 While the trail to Lower Blue Lake is rated moderate, it feels more strenuous as you climb up a series of steep switchbacks before arriving at incredible alpine meadows with bright wildflowers (during June and July).
Bring enough water and snacks because this hike will test your stamina. And if you are up for some adventure, you can also camp near the lake!
37. One Million Dollar Highway
When you come to Ouray, don't miss the chance to drive along One Million Dollar Highway, a portion of U.S. Highway 550 that will take you along the Red Mountain Pass.
From Ouray, the road climbs the two-lane mountain pass with steep drop-offs and no guardrails. It's a fascinating drive that will take your breath away and tell you the mining history of this remote region with hundreds of small mining towns scattered in the area.
38. Silverton
Where to stay: Teller House
Silverton is a National Historic Landmark, that until recently has seen very few visitors.
Located in the heart of Southwest Colorado, this little hamlet is perhaps one of the most worthy stops for your Colorado Itinerary. Located along San Juan Skyway, Silverton is a perfect place to unplug and enjoy the unspoiled mountain views.
39. Mesa Verde National Park
Where to stay near Mesa Verde National Park: Canyon Of The Ancients Guest Ranch
Located in the southwestern corner of Colorado, Mesa Verde National Park is a UNESCO World Heritage Site famous for its vast collection of the dwellings and artifacts left by the Ancestral Pueblo people.
The park boasts about 5,000 archaeological sites and over 600 cliff dwellings built into the cliff sites that were preserved from the time when Pueblos occupied the area.
After learning the history through the ancient cliff dwellings, check out overlooks along the 6-mile Mesa Top Loop Road on the Chapin Mesa, an area that has several hikes.
✅ Read: Denver to Grand Junction
The cliff dwellings inside this national park are extremely fragile, so make sure not to touch them.
40. Durango
Where to stay in Durango: Adobe Inn
Durango is a small town in southwest corner of the state, that is largely off the beaten tourist path. Located not far from Mesa Verde National Park, Durango has an Old West feel to it with historic buildings lining the downtown.
One of the main attractions in Durango is the Durango and Silverton Narrow Gage Railway, a historic train that takes you up the valley from Durango to Silverton, an old mining town that is one of top destinations for backcountry trips in Colorado.
Places to visit in Colorado in summer
Summer is the best time to enjoy some of the best hiking, mountain biking and rafting in many parts of the state. Some destinations like Boulder, Breckenridge and Aspen can get especially busy, but the good news is that there are still plenty of hidden gems in Colorado like Salida, the Black Canyon of the Gunnison National Park or Silverton.
Since summer is the high season, make sure to begin your adventures early, especially if you are traveling on a weekend. I also recommend to narrow down on a specific area and spend your time there to minimize the driving. For example, the Southwest corner of Colorado is home to the jagged San Juan Mountains, and you can spend weeks there, hiking and camping.
Places to visit in Colorado in winter
As the snow blankets the Rockies, hundreds of people hit the slopes in Colorado's most popular mountain towns like Aspen, Vail, Breckenridge, and Steamboat Springs. While skiing and snowboarding in Colorado is second-to-none, avoid weekends, as it can be too busy, and take away from the experience.
If winter sports are not your forte, there are still plenty of things to do in Colorado during this time of the year. For example, you can soak in hot springs in places like Glenwood Springs or Buena Vista, or visit wineries in the Grand Junction area. You can also go snowshoeing in Rocky Mountain National Park to enjoy a less crowded area with spectacular views.
How to see the most beautiful places in Colorado?
To see some of the best places in Colorado, you will need a vehicle.
Whether you decide to rent an RV or a regular car depends entirely on your plans. If you are looking for an RV, check out RVshare, a website with a great selection of all sorts of RVs, and if you are looking for a regular car, you might want to look at DiscoverCars, one of my favorite websites for car rentals.
How many days do I need in Colorado?
Colorado is not the biggest state in America, but because it's literally jam-packed with incredible scenery, it takes months to explore. I recommend at least one week for your Colorado road trip, and ideally a little bit more because it will allow you to explore some of the best places to visit in Colorado that are often located off the beaten track.
Colorado travel tips
Before planning your trip to Colorado, know that you will need some adjustment. I spent a while exploring Colorado's mountain towns, hiking some of the most beautiful places in Colorado and exploring front range cities. Here are some of my top tips for Colorado travel.
Drink plenty of water – This is especially true if you are going to the mountains, because the altitude sickness is a very real thing, and you don't want to cancel your travel plans because you start developing signs of altitude sickness.
Take time getting used to the altitude – If you are traveling to Colorado from a flat place and are not used to high altitudes, take it easy. Spend a couple of days in Denver before going on a road trip around the state.
Get proper gear – Whether you plan to hike or just spend time in the nature, make sure to bring comfortable shoes with a good grip, comfortable clothing, and layers.
Plan your hikes for early morning – If you plan to hike during summer, always plan your hikes before noon. It's not uncommon for thunderstorms to roll through the high terrain in the afternoon, and getting stuck above the tree line during this time can be really dangerous.
Bring plenty of sunscreen – Colorado's sun at high altitudes is no joke. Whether you are visiting in winter or in summer, always make sure to put on some sunscreen, because you can get a sunburn without even noticing it.
Check out more inspiration for your Colorado Road trip:
Final words
When it comes to incredible landscapes, nothing can compare to Colorado.
Here you will be treated with amazing scenery and will have an opportunity to venture onto some of the most scenic trails you have ever seen. I hope you enjoy your trip and get to visit most of the most beautiful places in Colorado!