Southwest Colorado is one of the most gorgeous areas of the Centennial State, and I can vouch for this after spending a week here. Home to snow-capped San Juan Mountains, and charming towns, this region boasts a one-of-a-kind atmosphere.
With no major airports nearby, it takes hours to get here. This makes Southwest Colorado more exclusive compared to other areas along Interstate-70 that have heavy tourist traffic year-round. However, you can catch a flight from Denver to Grand Junction, the major city on the western slope of Colorado.
But be prepared to rent a car in Grand Junction, if you decide to fly. 
While some places in Southwest Colorado are inaccessible during winter and even mid-spring, May through early September is the best time to visit this region. Summer is the busiest when scores of outdoor enthusiasts descend on this region. And if you want to visit Southwest Colorado during summer, plan your trip ahead of time!
I recommend starting your trip in Grand Junction where you can have a dinner and spend a night before heading south next day. Grand Junction has plenty of affordable hotels such as the Bookcliffs Bed&Breakfast, Grand Junction Palomino Inn or the historic Train House 
Continue south to on Highway 50 before you get to Montrose. From there, get south on U.S. Highway 550 before you make it to Ridgeway. From there make a left turn on State Highway 62 to reach Telluride.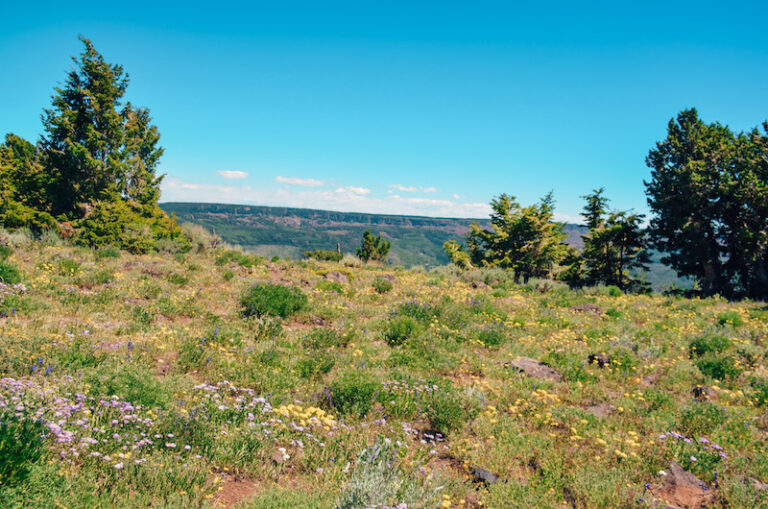 The largest flat-top mountain in the world, Grand Mesa sits nearly 6,000 feet above the valley floor. Located about 40 miles east of Grand Junction, it is worth a visit, if you are want to get a reprieve from the heat of Grand Junction.
The best way to reach Grand Mesa is via Grand Mesa Scenic Byway that goes for 63 miles through the forest providing visitors with breathtaking views of clear alpine lakes and green meadows sprinkled with beautiful flowers during early-to-mid summer. You can also spot wildlife such as marmots, bald eagles and if you get lucky – even moose!
Another point of interest for Grand Mesa visitors is The Land's End Observatory. While this historic landmark is no longer in use, it is located near a steep drop-off where visitors can enjoy sprawling views. From here, you can continue going south via a series of switchbacks carved into the side of the cliff toward the town of Delta.
Colorado National Monument
One of the most popular places to visit near Grand Junction – Colorado National Monument is home to steep-walled canyons, wide mesas, and plateaus with millions of years of history. For a second, you might think that you are in Utah – the monument is located just across the state line from the Arches and Canyonlands National Parks.
Camping at Colorado National Monument
Colorado National Monument has one campground that costs $22 a night. It's a perfect place to enjoy the clear dark skies. If you travel during summer, you might feel that it's a bit hot here during the day, however, nights bring pleasant temperatures, and speaking from personal experience, I felt comfortable sleeping in a tent.
Entrance to Colorado National Monument costs $25, and if you plan to visit other national monuments and national and state parks, you should purchase America the Beautiful Pass for $80.
Blue Lakes is one of the best hikes in Colorado.
Tucked between Ridgeway and Telluride in the Uncompaghre National Forest, this trail leads to the pair of stunning alpine lakes surrounded by the jagged peaks. (But don't confuse it with the Blue Lakes trail above Bridal Veil in Telluride).
The trail to Lower Blue Lake is rated moderate, it feels more strenuous as you climb a series of steep switchbacks before you arrive at incredible alpine meadows with bright wildflowers (during June and July).
Carry enough water and snacks, because this hike will test you! Luckily, there are many streams along the way, where you can refill your water bottle, so I recommend bringing a water filter.
The area around Lower and Upper Blue Lakes has plenty of space for dispersed camping, so grab a tent, a sleeping bag and some warm clothes (it gets chilly at night) for the ultimate experience!
Lower Blue Lake: 6.3 miles roundtrip, moderate 
Upper Blue Lake: 8.2 miles roundtrip, strenuous 
Blue Lakes Pass: 11 miles roundtrip, strenuous 
How to find Blue Lakes Colorado
Take Highway 62 toward Telluride and make a left turn on County Road 7 marked as Dallas Creek. The unpaved road will bring you to the parking lot where the trailhead begins. While it's better to come here in an SUV, a smaller vehicle will do just fine, although it might take you a bit longer to get there on a bumpy road.
Nestled in the box canyon, Telluride is one of the most charming mountain towns in North America and a renowned destination for sports enthusiasts.
Telluride origin goes back to the days of mining when prospectors from all over the country rushed here after the discovery of gold and other precious metals in the 1870s. Mining was the bloodline of Telluride for about a century until the demand plummeted, and a group of locals established the first ski resort to reinvigorate the region.
Since then, Telluride has evolved into much more than a ski resort.
Located in the San Juan Mountains, this town boasts incredible outdoor scenery year-round and even as rich and famous continue to buy homes here, the town's Old West history continues to live on. The summer season brings a slate of Telluride festivals and cultural events – it's never a dull time here!
Here are some of the best things to do in Telluride
This popular 4.6-mile roundtrip trail begins in downtown Telluride and brings you to the scenic falls. The trail climbs just over 1,000 feet in less than 3 miles and provides scenic views of the town and the surrounding cliffs at the end.
Start your trial at the end of South Pine Street and continue toward Bear Creek Preserve where you will walk through the grove of aspens and surrounding cliffs. It is a relatively easy hike by Telluride standards, and it's perfect for beginners.
The Judge Weibe Trail is a 3-mile loop that offers panoramic views of Telluride and provides an exercise amid aspen groves. The trail begins in downtown Telluride and takes you up the mountain to an elevation of 10,000 feet, so don't forget to put on comfortable shoes, get some snacks and water.
Bridal Veil Falls is a 1.8-mile hike that takes you to the bottom of the tallest waterfall in Colorado. The waterfall plunges from the height of 365 feet and feeds the San Miguel River that flows through Telluride. I recommend making your way to the top of the waterfalls for the sweeping view of the valley.
Craving a real challenge? Continue to the backcountry of Bridal Veil Basin toward Blue Lake that sits at the elevation of 12,220 feet.
It's a very demanding hike, so come prepared. You should bring sunscreen (the hike is exposed and there's very little shade), water, and water filter (when I did this hike, I was refilling my water in the creeks along the way). Also, make sure to wear comfortable hiking shoes and breathable clothing. The hike is very exposed!
The round trip takes about 6 miles, however, because of the steep switchbacks and 1,600-feet elevation gain, it feels longer. If you do this hike in June or July, you will walk past incredible waterfalls, creeks, and alpine meadows. Occasionally, you can also spot some mining structures and relics from the bygone era strewn throughout the area.
If you have a 4X4, you can drive to the beginning of the trailhead along the switchbacks carved into the wall of Telluride's box canyon, instead of hiking.
After hiking to the Blue Lake, you will need a break. Take FREE Telluride gondola to Mountain Village and take a walk around the area. In summer, you can rent a mountain bike and explore the area's many trails.
Where to stay in Telluride
Finding hotels in Telluride is not easy in the middle of the high season. Accommodations here are limited, and if you don't make a reservation ahead of time, you might be stuck with either a very expensive hotel or trying to find available space in one campsite near Telluride.
If you travel during summer, I recommend checking a campground at Alta Lakes south of Telluride or dispersed camping. One of the dispersed camping areas is located along Mill Creek Road near Shell gas station outside of Telluride.
Thrill-seekers can head to Imogene Pass, the second-highest road in Colorado that is popular off-road driving. This 17-mile pass stretches from Telluride to Ouray and provides incredible views of the surrounding mountains. You can also hike this pass (or a portion of it), and there is even a race here called Imogene Pass Run that takes place every September!
Nicknamed "Switzerland of America," for its high number of mountain activities, Ouray is a less-famous sibling of Telluride.
This small town makes for a perfect day trip from Telluride, however, if you want to spend a few days here, there are enough things to keep you busy. The area boasts plenty of hikes trails (one of the best areas for hiking in the Bear Creek National Recreation Trail); historic mining ghost towns and opportunities for backcountry camping and off-roading.
A place not to miss in Ouray is Box Canyon Falls, a stunning waterfall that drops down from the high distance. If you have additional time, I recommend checking out Cascade Falls Parks where you can check out seven stunning waterfalls by hiking the Lower Cascade Falls Trail that begins near the end of 8th Avenue in Ouray.
If you like a fun tour, check out the Bachelor Syracuse Mine that will tell you the history of one of the largest gold producers of gold of the 19th century. Another excellent place to learn the history of the area is the Ouray County Museum that features multiple exhibits and artifacts.
One Million Dollar Highway
When you come to Ouray, don't miss the chance to drive along One Million Dollar Highway, a portion of U.S. Highway 550 that will take you along the Red Mountain Pass.
From Ouray, the road climbs the two-lane mountain pass with steep drop-offs and no guardrails. It's a fascinating drive that will take your breath away and tell you the mining history of this remote region with hundreds of small mining towns scattered in the area.
On the third switchback just south of Ouray you will find an overlook called "Switzerland of America." This spectacular viewpoint located above Ouray is surrounded by tall mountains.
A hamlet of Silverton is a remote spot in Southwest Colorado. Located at the end of One Million Dollar Highway, Silverton is a frontier mining town that today is popular for its backcountry hiking, camping, and off-roading. In winter the area is a magnet for expert skiers who come here to enjoy pristine skiing trails that are unlike anything you have seen at big ski resorts.
A popular hike in the area is the 7-mile roundtrip Ice Lake Trail with stunning vistas along the way.
Durango is a spot you should include in your Southwest Colorado itinerary. It's one of the most popular Southwest Colorado cities, and unlike other places in this part of the state, it's pretty easy to access.
From the historic downtown Durango where modern-day living coexists with its Old West heritage, to whitewater rafting and zip lining to the famous Colorado Trail that stretches for 500 miles from Durango to Denver, this little corner of Colorado is a treasure trove of adventures.
And when you finish your Durango adventure, take a drive to Mesa Verde National Park where you can learn about the history of the Ancestral Pueblo people who once populated this part of Colorado.
I hope you enjoy your adventure in Southwest Colorado! However, if you need more ideas on what places to visit in this gorgeous state, check out my guide.
Disclaimer: This post contains affiliate links. At no cost to you, I might earn a small commission if you make a purchase through the links in this article.