Puerto Vallarta is a gorgeous town on the Pacific coast of Mexico framed by the lush Sierra Madre mountains. Famous for its golden sand beaches and jungle, Puerto Vallarta is a popular getaway destination in Mexico. To explore the city better, you can rent a car.
In this guide, I will tell you how to rent a car in Puerto Vallarta. Let's dig in!
Where is Puerto Vallarta?
Puerto Vallarta is in the state of Jalisco on the Pacific Coast of Mexico. Puerto Vallarta is a resort town that neighbors the state of Nayarit, another popular vacation destination along Mexico's West Coast.
Do I need to rent a car in Puerto Vallarta?
You don't need a car if you plan on staying in Puerto Vallarta, because the city has a compact layout and is perfectly walkable. But make sure you don't miss out on some of the most beautiful places to visit near Puerto Vallarta! Hidden gems and beautiful beaches are all around this city, and since some of them can be hard to access without a vehicle, renting your car in Puerto Vallarta is your best option!
Check my complete guide to some of the best things to do in Puerto Vallarta!
Why rent a car in Puerto Vallarta
Renting a car in Puerto Vallarta will allow you to visit some of the best places in the region. Not only you will be able to explore some of the best Puerto Vallarta beaches, but you will also be able to take trips inland that require public transportation or guided tours.
What places can I visit after renting a car in Puerto Vallarta?
Best beaches near Puerto Vallarta
Puerto Vallarta boasts some of the best beaches in Mexico, many of which are located within a driving distance, but require a car. Playa Conchas Chinas, Playa Las Animas, Playa Boca De Tomates, and Playa Colomitos are perfect for spending a lazy afternoon and escaping the crowds of Puerto Vallarta.
Sayulita
Located in the neighboring state Rivera Nayarit, Sayulita is a colorful surf town that has become a magnet for travelers. Sayulita is also one of the most popular day trips from Puerto Vallarta. If you have a rental car, it takes 50 minutes to reach Sayulita from Puerto Vallarta.
Check my complete guide to the best things to do in Sayulita.
San Pancho (San Francisco)
San Pancho (or San Francisco) is a hippie town about 20 minutes north of Sayulita. It has a notably different vibe from Sayulita, and you won't find tons of tourists here compared to Sayulita. San Pancho sits slightly off the beaten path and is an alternative to more popular places in Rivera Nayarit.
After visiting San Pancho, you can continue your trip to other places in Nayarit like the pueblo of Lo De Marcos, Chacala, and San Blas.
Tequila
Known as one of the top-producing regions of Mexico's famous drink, Tequila is a designated pueblo Mágico and one of the most popular days trips from Puerto Vallarta. Many travelers come here to take tours of local distilleries where they can try the signature drink of Jalisco and learn about how it's made.
Renting a car in Puerto Vallarta will allow you to enjoy this popular destination, as you can take your time exploring the area, visit museums and spend the night in one of the Tequila hotels. Visiting Tequila with a guided tour is also an option, with many combos available.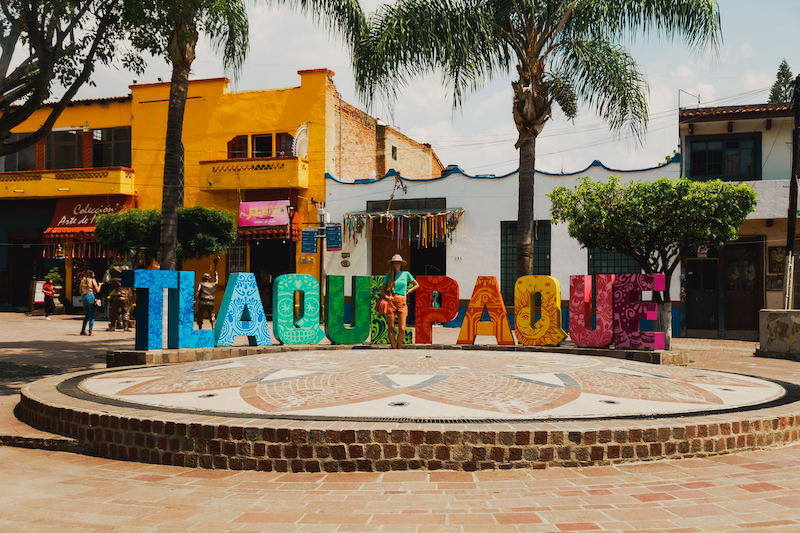 Guadalajara
A day trip to Guadalajara from Puerto Vallarta is a great option if you want to learn about the culture of Jalisco State. Guadalajara is the second largest city in Mexico with 1,5 million people. Guadalajara is home to mariachi bands and tequila and is also one of the most important cultural cities in the country. As the largest city in the country's heartland, it doesn't get more authentic than Guadalajara!
Taking a drive from Puerto Vallarta to Guadalajara is a lot of fun, as you will enjoy the beautiful mountainous landscapes of the Jalisco State.
San Sebastian Del Oeste
If you are spending a couple of days in Puerto Vallarta and need a break from the heat and humidity of the coast, take a day trip to San Sebastian Del Oeste, a picturesque town high in the mountains (about 4,900 feet in altitude) in the state of Jalisco.
San Sebastian is a small town where you can hike the mountains, ride an ATV and explore the pueblo's main square surrounded by cobblestone streets and small restaurants and shops. Although you can see the highlights of San Sebastian in just a day, I recommend spending a night here, as the sunrises and sunsets here are simply magical!
Mascota
A sleepy pueblo set in the Sierra Madre mountains, Mascota doesn't receive the attention of other popular destinations in the region, and yet, it has so much to offer!
Nestled at 4,160 feet, Mascota remains largely off the tourist radar. But don't be fooled – it boasts wonderful culture, impressive natural landscapes, and friendly locals. A trip to Mascota can be combined with a stop in San Sebastian Del Oeste which makes renting a car in Puerto Vallarta worth it!
It takes about 2 hours to reach Mascota from Puerto Vallarta, and the drive takes you through several spectacular mountain passes.
Talpa de Allende
Another hidden gem of the region, Talpa De Allende is one of the places that make renting a car in Puerto Vallarta worth it! A former silver mining town founded by the Spanish in 1599, Talpa de Allende is a site of the annual pilgrimage and a wonderful lesson of Mexico's history. Spend some time wandering quiet Talpa's streets, trying Mexican candies, and enjoying the atmosphere of this place.
Where to rent a car in Puerto Vallarta
The best place to rent a car in Puerto Vallarta is at the Puerto Vallarta Airport (PVR).
You can do it as soon as you land and avoid spending money on Uber and taxis in Puerto Vallarta. Many rental car companies have offices at the Puerto Vallarta Airport, but I recommend renting your car with Discover Cars, a car rental company that has offices in many popular destinations in Mexico including Puerto Vallarta.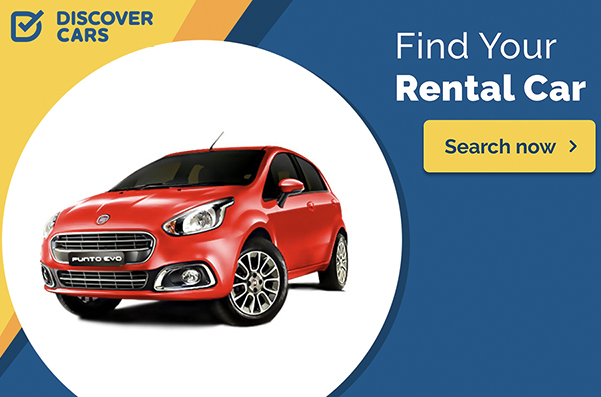 Why rent with Discover Cars?
DiscoverCars is my favorite platform for renting cars in Cabo San Lucas. They work with major car rental companies in Mexico and offer some of the best prices on many types of vehicles. You can also add full Mexican insurance for your car rental for less than $10 per day when booking your car with DiscoverCars.
How to save money on car rental in Puerto Vallarta:
Book your car rental at the airport – if you book your car in Puerto Vallarta ahead of time, you will not have to pay higher prices
Learn to drive a stick shift – since many people don't know how to drive a stick shift, cars with a manual transmission tend to be cheaper and more available than those with the automatic transmission
Travel during the off-season – visiting Puerto Vallarta during the off-season will allow you to skip high rental car rates, among many other things
Do I need insurance when renting a car in Mexico?
Insurance is mandatory for all rental cars in Mexico. Most car rental companies will not allow you to rent a car unless you buy personal liability insurance that covers the bare minimum in case of an accident or damages. Many travelers choose complete insurance that covers you in the event of a totaled, damaged, or stolen car, so you don't have to pay anything out of pocket.
Can I use insurance from my credit card company?
Some US travel credit cards offer rental car insurance, however, not many car rental companies in Puerto Vallarta will accept it. Your best bet is to get Mexican car insurance from your car rental company.
How old do you have to be to rent a car in Puerto Vallarta?
You have to be at least 21 to rent a car in Mexico. Drivers between 21 and 25 have to pay additional daily charges that are typically between $10-15 a day on top of their daily rate.
Is driving in Puerto Vallarta safe?
Driving in Puerto Vallarta is safe. The city is surrounded by mountains, you will probably end up driving on some mountain passes. If you want to visit places like San Sebastian De Oeste, Mascota, or Talpa de Allende, gear up for some challenge. Drive with caution and be prepared to slow down, especially if you visit in summer when the area has frequent rain. There could be some rocks falling from the mountains.
But don't forget to pay attention to road signs, follow the posted speed limit and slow down for topes (speed bumps in Spanish), as they can be high, and can damage your vehicle if you hit them at full speed.
Is there Uber in Puerto Vallarta?
Yes! There's Uber in Puerto Vallarta in addition to regular taxis, and you can catch it to get around town and to the airport, if you are not renting a car in Puerto Vallarta, or renting it outside the airport. Uber in Puerto Vallarta costs significantly cheaper than in the United States, and you can expect to pay about $5-7 USD for a ride from the city to the airport.
Check DiscoverCars.com for rental car options.
What documents do I need for renting a car in Puerto Vallarta?
Renting a car in Mexico is a straightforward process, and it is no different in Cabo San Lucas. You will need to provide a standard set of documents and also fill out some paperwork when you arrive at the office.
Here's what you will need:
A passport
When renting a car in Puerto Vallarta, you will need your passport. A representative of the car rental company will most likely make copies of your passport before giving it back to you.
A driver's license
You will also need to provide a valid driver's license. If you are traveling to Mexico from countries that don't use a Roman language alphabet, you will need an international driver's license.
Credit or debit card
You can use a debit or credit card to pay for a rental car in Puerto Vallarta.
A car rental company will charge you for a car rental and put a hold on your credit card which ranges between a few hundred dollars to over a thousand dollars.
When you return your car rental with no damages, the hold on your credit card will go away.
A word about Mexico car insurance
Car rental insurance is mandatory in Mexico, and you can choose from basic, medium, and full coverage when filling out your paperwork. Read my article about renting a car in Mexico to find out more about Mexico car insurance, since it's a pretty big topic.
When renting a car in Puerto Vallarta, you can choose from three types of car insurance: basic, medium, and full coverage, with basic insurance offering only minimal protection and full coverage protecting you if your car is totaled or stolen.
Mistakes to avoid when renting a car in Puerto Vallarta
Check reviews – When renting a car in Cabo San Lucas, you can find a lot of information by checking what other customers have to say about a given company. If you use DiscoverCars, this platform will automatically find the best rates for you, and you can also check reviews before booking your car rental.
Fill up your tank before returning your car – Since there are many car rental companies near Cabo airport, you will have no problem finding a gas station. Fill up your car before returning it because you will get charged extra if you bring back your car with an empty tank.
Road Signs in Mexico
After renting a car in Puerto Vallarta, you will be excited to get on the road. Don't forget that most road signs in Mexico are in Spanish, and you should follow them when driving on highways and city streets.
Learning basic Spanish words and expressions are my top tips for all Mexico travelers. However, if you don't speak Spanish, here are the most common road signs in Mexico.
 No Hay Paso – Road closed
 No estacionarse – No parking
 Curva peligrosa – Dangerous curve
 Conserve su derecha– Keep right
General driving tips for Mexico
Renting a car in Puerto Vallarta is not much different from other places in Mexico, and if you travel the country, you will see that the process is pretty similar whether you go to Cancun, or Cabo San Lucas.
Driving in Mexico, however, might take some getting used to. Here are some of the general tips that will help you stay safe on the road and save money:
Don't pump your gas
Mexican gas stations have attendants who put gas in your car when you get to the pump. Make sure to specify the amount of gas that you need and clarify the price before they begin doing it. Many people who work at gas stations make only minimum wage, so leave a little tip before driving off.
PRO TIP: Pay close attention to how much money you are giving to a gas pump attendant. A gas pump scam is one of the most common petty scams in Mexico, and if you are not paying attention, you could easily get ripped off.
Be prepared to stop at checkpoints
Checkpoints are not uncommon in Mexico, even around the country's tourist corridors. Be ready to stop and open your vehicle, if you are asked to do so. As a tourist, you will most likely get a few simple questions, unless you manage to draw some suspicion.
Always carry cash
From tipping gas station attendants to giving a few coins to people who might come up to your car to wash windows while you are sitting in traffic, carrying cash is a good idea while you are driving around Mexico. Street vendors who sell drinks and snacks on the side of the road accept only cash.
Mexico uses kilometers, not miles
If you travel to Mexico from the US, know that Mexico uses kilometers, not miles. A mile equals about 1.6 kilometers, but when it comes to driving, your best bet is to follow the posted speed limit to avoid trouble.
Use toll roads
Toll roads are not the cheapest option (you will need to have cash in your car to pay for them), but they are the best option if you travel between major cities and want to get around quickly. They are also considered safer for traveling than smaller secondary roads and better, as they have fewer potholes.
When it comes to traveling around Puerto Vallarta, you have only one major highway, so you will not have a lot of options for secondary roads.
I say don't cave in, if they say that you will get a fine unless you give them money. You can just take a ticket and pay for it later. But this depends on the situation (and what they stopped you for), so my advice is to follow your instincts and do what looks to be the best way to skip the trouble.
Follow the rules
Your best bet to avoid trouble is to follow the rules. Wear a seat belt, respect the signs, follow a posted speed limit and put down your phone. This will help to avoid any unwanted attention and not get pulled over by police in the first place.
Drive during the day
Depending on what region of Mexico you plan to visit, you might want to limit your driving to the daytime. Parts of Mexico are considered less safe than others, and you should check the most up-to-date information before planning your trip.
Check my complete guide to renting a car in Mexico! It will help you save money and have a better experience while traveling the country.
If you are traveling to Mexico from the United States, check information on the U.S. State Department ahead of your visit.
Here are the distances to some of the most popular places to visit near Puerto Vallarta:
Puerto Vallarta to Sayulita – 54 minutes – 40.3 km (24 miles)
Puerto Vallarta to Tequila – 3 hours 22 minutes – 277 km (172 miles)
Puerto Vallarta to Guadalajara – 4 hr 57 min – 332.3 km (206 miles)
Puerto Vallarta to San Sebastian Del Oeste – 1 hr 30 min – 67.9 km – 42 miles
Puerto Vallarta to Tepic – 3 hr 1 min – 170.4 km – 105 miles
Check rates on car rentals in Puerto Vallarta
The final word on renting a car in Puerto Vallarta
Renting a car in Puerto Vallarta is a perfect option if you want to explore the state of Jalisco beyond the famous resort town. From the lush mountains to waterfalls and pueblos Magicos, this part of Mexico is a real adventurer's paradise, and the best way to access many of its gems is with a rental vehicle.
Most importantly, relax, take your time, and stop and explore enchanting towns while making new friends. There is always a friendly Oxxo convenience store or family-run store to grab staple items like coffee, snacks, and some fresh fruit on your way.
Disclaimer: This post contains affiliate links. At no cost to you, I might earn a small commission if you make a purchase through the links in this article.