Disclaimer: This post contains affiliate links. At no cost to you, I might earn a small commission if you make a purchase through the links in this article.
Renting an ATV in Tulum is an excellent idea if you want to explore the area on your terms and navigate the bumpy roads along the beach and in remote parts of town, which are often unpaved.
Unlike a scooter, an ATV is more heavy-duty, which means you can ride it on rough roads without worrying about possibly damaging your rental.
The Rivera Maya is home to a stunning jungle dotted with cenotes, and spectacular sun-drenched beaches – you simply couldn't find a better place for riding ATVs in Mexico!
Whether you already decided to rent an ATV during your stay in Tulum, or just starting to explore your options, this article is for you.
How much does it cost to rent an ATV in Tulum?
Tulum ATV rental prices depend on the season and individual shop, but you should be ready to pay an average of $70-100 per day.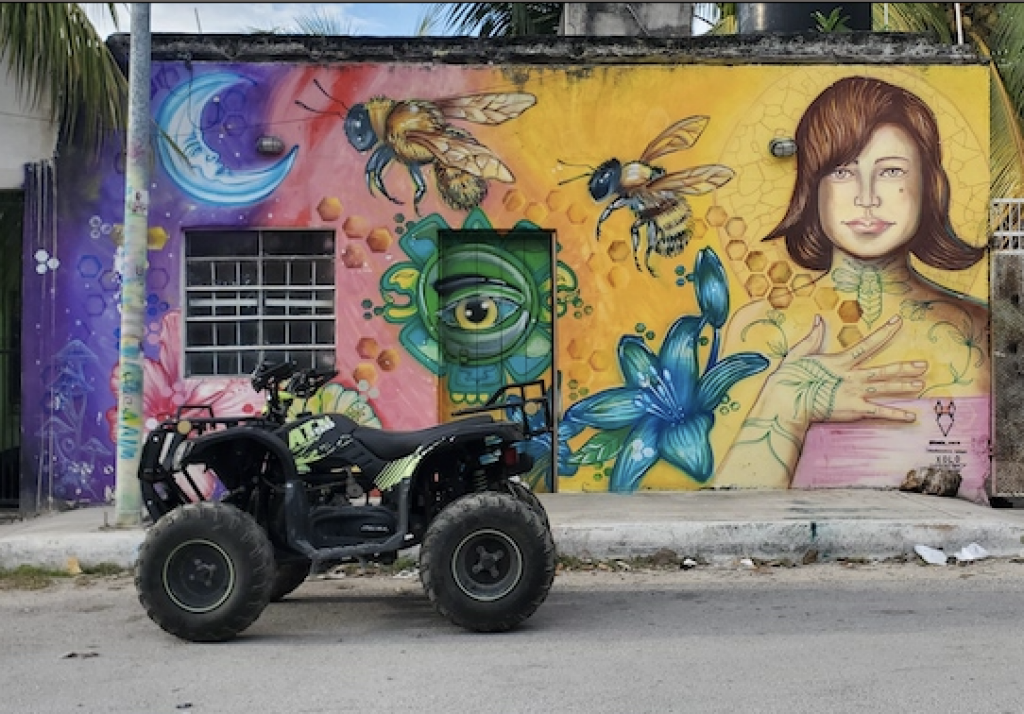 Should I rent an ATV in Tulum?
ATV can be a great way to explore the area and enjoy your visit. Here are several reasons why you might consider renting an ATV.
➡️ More flexibility
Tulum has many attractions spread out over the area which are not easy to reach by bicycle or on foot. An ATV gives you the flexibility to navigate through the town, visit the beach, explore the ruins, or venture into the jungle without being confined to a single location.
➡️ Opportunities for off-roading
Tulum has a diverse landscape with beachfront and jungle areas. ATVs are designed for off-road adventures, allowing you to access remote and scenic spots that might be difficult to reach with a regular vehicle.
➡️ More freedom
Renting an ATV allows you to set your schedule and explore the area at your own pace. You won't be dependent on public transportation or guided tours.
➡️ Adventure
ATVs can provide an exhilarating and adventurous experience. Riding through the jungle or along the coastline can be a thrilling way to enjoy Tulum's natural beauty.
➡️ Access to hidden gems
Tulum has many hidden gems and less crowded places that you can discover with your ATV. You can access secluded beaches, cenotes, and local eateries that may not be part of mainstream tourist itineraries.
Best ATV shops in Tulum: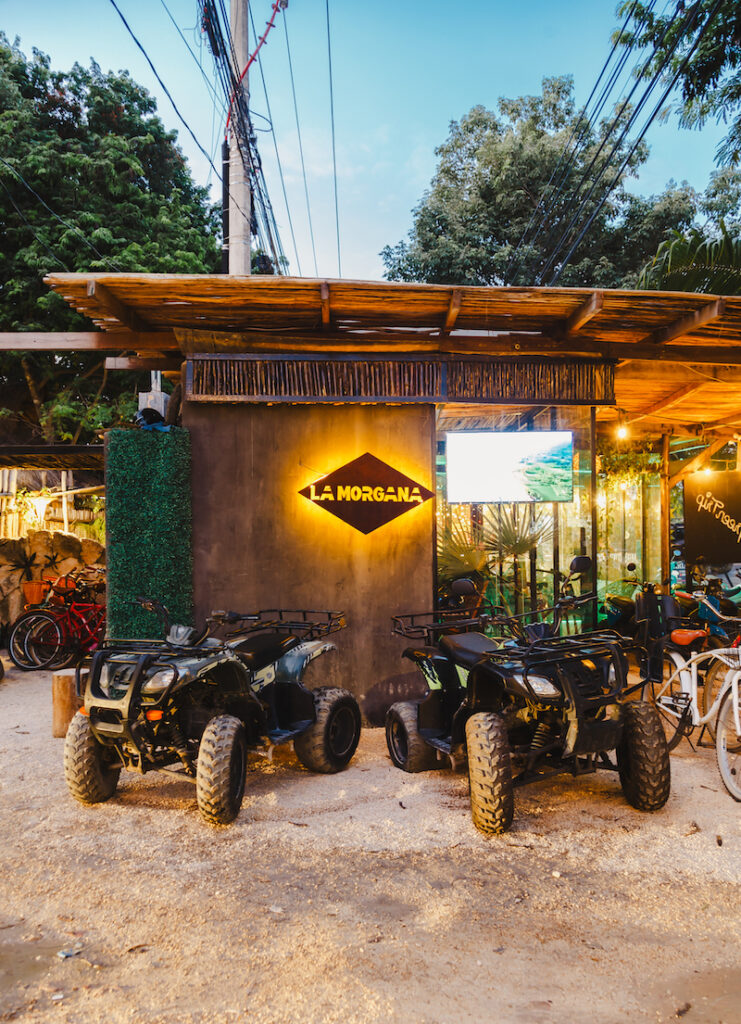 ✅ ATV Tulum Rentals
One of the most popular places for ATV rentals in town, this shop has a friendly team and always delivers scooters on time to your hotel. Their pricing is very competitive, and vehicles are well maintained.
It's one of the few shops in Tulum that offers insurance for ATV rentals. Scooters and buggies are also available.
Another perk of this place is that you can use credit cards for payments and security deposits. Customers consistently give this shop 5-star reviews.
Address: Colonia, Av. Kukulkan, Av. 2 de Octubre, 77760 Tulum, Q.R., Mexico
✅ Tulum ATV Rides
A great ATV shop, Tulum ATV Rides enjoyed stellar reviews from customers, thanks to its super customer service and incredible rates, which will help you save money while visiting Tulum.
They also offer scooter and bicycle rentals.
Address: Neptuno Ote. 268, Tulum Centro, 77760 Tulum, Q.R., Mexico
✅ Mayan Ride
Mayan Ride offers scooter and ATV rentals in Tulum and can deliver them to your hotel or Airbnb for FREE. The team who runs this shop is very friendly, and their scooters and ATVs are all in mint condition!
They are easy to communicate with and quickly respond to any WhatsApp messages. Easy pickup and return.
Address: C. 10 Sur, La Veleta, 77760 Tulum, Q.R., Mexico
✅ Monzarentals
Monzarentals offers brand-new scooters, ATVs, and buggy rentals with GPS trackers at reasonable rates. The shop has weekly and monthly scooter and ATV specials available and is in downtown Tulum.
Insurance, helmets, and locks are included.
Address: Av. Tulum mzn1, lote 14, entre calle saturno y luna sur, 77760 Tulum, Q.R., Mexico
What to consider before renting an ATV
Safety
Ensure you have the necessary safety equipment, follow local traffic rules, and drive responsibly to minimize the risk of accidents.
Environmental impact
Be mindful of the environment and stick to designated trails and pathways to avoid damaging natural habitats. Do not go off the path where it's not allowed.
Rental requirements
Make sure you meet the age and have proper documents for renting an ATV. You should also thoroughly inspect the vehicle for issues or damages before renting it.
Weather conditions
Check the weather forecast, as heavy rain or adverse weather conditions can affect your ATV adventure.
Local regulations
Be aware of any regulations or restrictions related to riding ATV's in Tulum.
What documents do I need to rent an ATV in Tulum?
To rent an ATV, you will need a driver's license and a passport or ID that you often need to leave at the shop throughout your rental. Most rental shops in town also require a cash deposit.
✅ Read: Best pizza in Tulum
Tips for renting ATV's in Tulum
➡️ Read reviews
You should carefully read reviews before choosing a shop. What other travelers have to say is often a good indicator of what the place and service are like.
➡️ Send a message via WhatsApp
If you find a company you are considering, see if you can message them via WhatsApp with any questions. Many scooter shops respond to your questions and comments.
➡️ Check the rates
Make sure you understand how much you need to pay for a specific time and if they require a deposit. Also, ask if your insurance is going to be included in the price of your rental.
➡️ Look into required documents
Different shops might have different policies and requirements for cash deposits and required documentation.
➡️ Ask if helmets are included
Many ATV shops in Tulum also offer protective gear like helmets, but it's important to double-check if one is included.
➡️ Agree on the pick-up spot
Some shops can deliver your ATV's to your hotel, while others don't. Make sure you understand where you need to pick it up.
➡️ Read the agreement before signing
Before you sign your scooter rental agreement, make sure to give a thorough read and understand all terms and conditions. In case something looks unclear, always ask questions. You should understand every point of the contract before you sign it.
Best ATV tours in Tulum
If you are still unsure about renting an ATV, booking a guided tour is an excellent idea. It will give you a chance to explore some of the most beautiful places near Tulum by ATV and also give you a taste of what it's like to ride one.
1. ATV, ziplines, and cenote with lunch and transport
This action-packed tour allows you to visit the Mayan jungle on a day-long adventure. Start with a quick visit to cenote, where you can enjoy a refreshing swim and continue with a zipline course. A local Mayan lunch is included in the price.
✅ BOOK THE ATV AND CENOTE TOUR
What's included:
Lunch
Safety equipment for the activities
Round trip transportation
Admission to Ruta de los Cenotes Park
Admission to ATV road, ziplines and cenote
Bottled water
2. Tulum Adventure -archeological zone, ziplines and cenote
This small-group tour offers a chance to see Mayan pyramids, swim in the local cenote caves, and fly through the canopy on a zipline, as you explore one of the most beautiful parts of Mexico by ATV.
What's included:
Roundtrip transportationGuide
Equipment for all activities
Lunch
Bottled water
3. Half-day cenote adventure with ziplining, ATV & lunch
Pilot an ATV through muddy jungle roads, coast through the trees on a zipline, rappel down a rock, and swim in cenotes on this fun tour. Top it all off with a regional Mayan lunch of tacos for a fun cultural experience
✅ BOOK ATV ADVENTURE WITH ZIP-LINING AND CENOTE
What's included:
All activities and equipment
ATV's, zip lines, rappel, and Mayan ceremony
Local snacks & drinks
Round trip transportation
Bilingual guide
BEST PLACES TO VISIT NEAR TULUM
After you rent a scooter in Tulum, it's to explore the area. There are so many great places in the area to make a scooter rental well worth the price.
Here are some places near Tulum, that you can visit by an ATV:
1. Gran Cenote
The closest cenote to Tulum, Gran Canote is a semi-open cenote with overhanging rock formations and inlets surrounded by lush greens. You can reach this cenote by a bike ride from Tulum.
👉 Read: Best guided tours from Tulum
2. Cenote Calavera
One of the most popular cenotes near Tulum, Cenote Calavera can be reached by a quick ride from downtown.
It's a small cenote with a surface opening shaped like a skull, which is where it gets its name. (Calavera means skull in Spanish). The cenote consists of three sinkholes or entrances, providing access to the cenote's underground cave system.
3. Cenote Corazon
Cenote Corazón is just a couple of minutes north of the entrance to Laguna Kaan Luum. This heart-shaped cenote is most popular for drone photography, but it rarely feels crowded because it is like a small lake in the middle of the lush Mayan jungle.
4. Cenote Escondido
Cenote Escondido is a hidden gem of the area and one of the best cenotes near Tulum if you are looking to escape the crowds. Located along Highway 307, this open cenote is popular for swimming and diving and makes for a perfect stop on your way to Laguna Kaan Luum.
Check my complete guide to some of the best cenotes in Tulum
5. Muyil
Muyil is one of the best Mayan ruins in Mexico off the beaten track, that sits near Sian Ka'an Biosphere Reserve. It's a smaller archaeological area with several temples that are connected by white routes (or Sac-be in the Mayan language).
The ruins that you will find here are very impressive and you can also walk along the boardwalk surrounded by the lagoons and mangroves before you arrive at the tall observation tower.
6. Laguna Kaan Luum
Laguna Kaan Luum is one of the best places to visit near Tulum. The lagoon is a small lake with a cenote in the middle surrounded by the lush jungle where you can get a nice break from the heat of Tulum.
Several wooden piers jut out into the lagoon, which are great for catching the sun. Grab a spot on the edge of the pier, dip your feet in the water, and enjoy the view!
RENTING ATV'S IN TULUM: FAQ'S
Should I rent an ATV in Tulum?
You should rent an ATV if you are looking for some adrenaline. Getting around Tulum by ATV is faster than by bike or scooter, and you can also navigate unpaved roads with ease.
Can you ride ATVs in Tulum?
Yes, you can ride ATVs on most roads in Tulum. Some roads may have restrictions for ATVs, so it's important to follow the rules.
Can you ride ATVs on the beach in Tulum?
Riding ATVs is not allowed on Tulum beaches, since they are designated as protected areas for sea turtles.
Can you rent an ATV in Mexico?
You can rent an ATV in many popular destinations in Mexico like Tulum, Playa Del Carmen, and Cabo San Lucas. ATVs offer a quick and easy way to get around popular beach towns.
How old do you have to be to rent an ATV in Mexico?
Most shops in Mexico require you to be at least 16 years old to rent an ATV, however, some shops also set the bar a bit higher at 18 years old.
Can you rent an ATV in Mexico?
Yes, you can rent an ATV in many parts of Mexico, but different destinations and individual shops could have their own rules and requirements.
Renting ATV in Tulum: Final word
ATVs are a great way of transportation in Tulum that offer a quick and easy way to explore the town and surrounding jungles. Tulum has several shops where you can rent ATVs, and if you want to get a feel for what it's like you can also choose from one of many ATV tours in Tulum that offer a glimpse of the Mayan jungle and cenotes.