Disclaimer: This post contains affiliate links. At no cost to you, I might earn a small commission if you make a purchase through the links in this article.
Renting a bike in Tulum is a perfect way to get around the city and reduce your carbon emissions. As Tulum keeps growing, bicycles are becoming more popular with prices on scooters and ATVs rising fast.
While you can get around downtown Tulum on foot, walking to the beach or other parts of Tulum like La Veleta or Aldea Zama, could take you a long time. That's where a bicycle comes in handy.
A bicycle is the most budget-friendly option for getting around town, and unlike other types of transportation, it doesn't require insurance or a large cash deposit.
If you are considering renting a bike in Tulum, I got you covered. Here I will tell you about the most popular bike shops in Tulum, offer safety tips, and give insights into the best places near Tulum that you can visit by bike. 
✅ Read: Is Tulum worth visiting?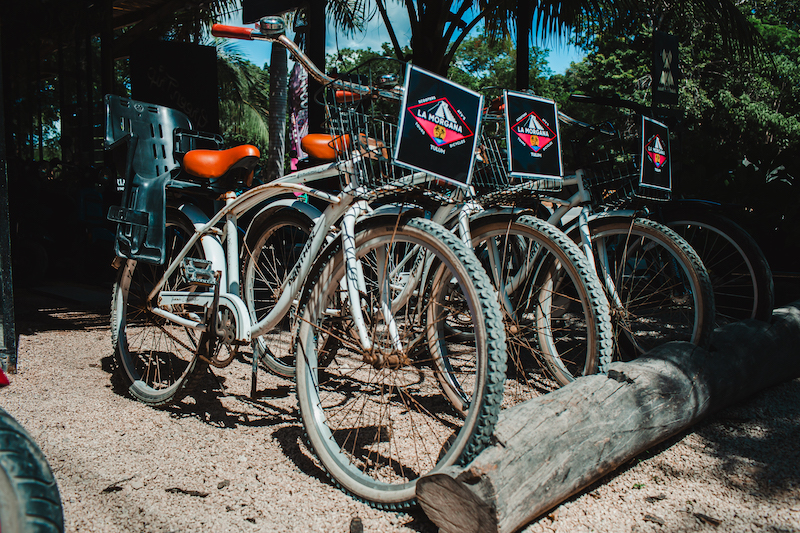 Why rent a bicycle in Tulum?
Renting a bicycle in Tulum will give you more freedom to explore the area and get from downtown Tulum to the beaches and popular neighborhoods like La Veleta and Aldea Zama. A bicycle is a great eco-friendly option and a perfect way to get exercise.
How much does it cost to rent a bicycle in Tulum?
Bike rentals in Tulum start at around 150 Pesos per day. Many hotels in Tulum offer on-site bike rentals, and you can also find bike rental shops in downtown Tulum and Tulum Hotel Zone.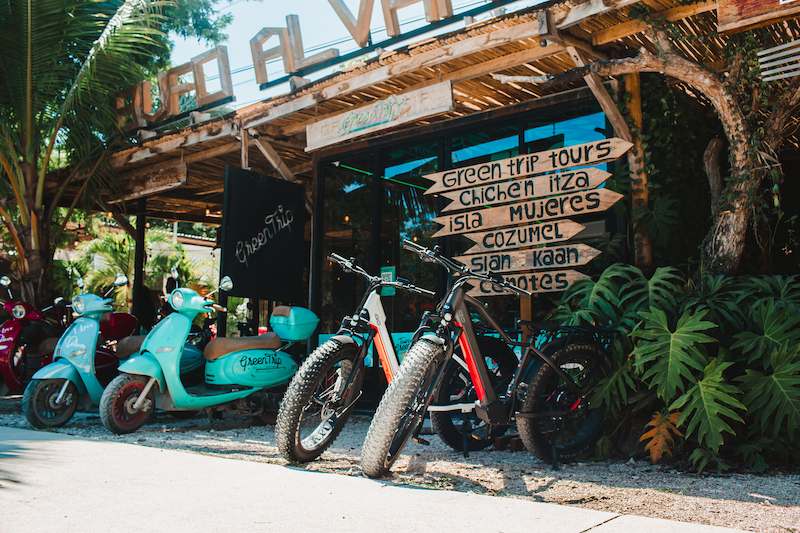 Can you get around Tulum by bike?
A bicycle is the best way to get around Tulum if you want to explore different parts of town and get around between downtown and the beach with its stunning turquoise waters.
Can I ride a bike to the Tulum ruins?
Yes, you can ride a bike to Tulum ruins but always follow road signs and watch out for traffic.
✅ GET AN ANTI-THEFT BAG TO KEEP YOUR BELONGINGS SAFE
Top reasons to rent a bike in Tulum
Have more freedom 😀
Tulum is a relatively small town, and many of its attractions, restaurants, and shops are easily accessible by bike.
Avoid traffic and parking issues 🚘
Tulum can get congested with traffic, especially during peak tourist seasons. Biking can help you avoid traffic jams and the hassle of finding parking, which can be very limited in some areas.
Save money 😙💰
Renting a bicycle is cheaper than renting a car or using taxis for short trips within the town. It's a budget-friendly way to get around town.
Explore the area at your own pace 👣
Biking allows you to explore Tulum at your own pace, stop wherever you like, and take in the sights, sounds, and learn local culture.
Get exercise 🚴🏽‍♂️
Riding a bicycle is a great way to get some exercise and stay active during your travels. It's a fun way to combine sightseeing with physical activity.
Discover hidden gems 💎
Tulum has many hidden gems and off-the-beaten-path locations that you may not find if you stick to the main tourist areas. Biking allows you to explore these hidden spots and enjoy a more authentic experience.
Tips for riding a bicycle in Tulum
✅ Always lock your bike
Lock your bike if you park it at your accommodation, or go out to places around Tulum.
✅ Wear a helmet
It's recommended to wear a helmet for safety. Some rental shops may provide helmets, but it's a good idea to bring your own if you have one.
✅ Look out for potholes
Tulum has some roads with potholes, so you should always watch out when riding your bike around town.
✅ Lock and secure the bike
Most rental shops will provide you with a lock. Use it to secure your bike when you're not riding it. Bike theft can be a concern in some areas, so take precautions.
✅ Understand local traffic rules
Familiarize yourself with local traffic rules and regulations. In Tulum, you'll generally ride on the right side of the road, but traffic conditions vary, so be cautious and follow local rules.
✅ Use sunscreen
Protect yourself from the sun's rays by applying sunscreen, wearing a hat, and using sunglasses. Sunburn can be a concern in tropical climates.
✅ Plan your route
Before you set out, plan your route and have a general idea of where you want to go. Tulum has many attractions, including the beach, Tulum ruins, cenotes, and the town itself. Having a basic plan will help you make the most of your time.
✅ Respect the environment
Tulum is known for its eco-conscious culture. Dispose of any trash properly and be respectful of the natural surroundings. Stick to designated paths and trails to avoid damaging the environment.
✅ Use bike lights when it's dark
If you plan to bike during the evening or early morning hours, make sure your bicycle has working lights, both front and rear, to increase your visibility to others on the road.
Best bike shops in Tulum
✔️ Ola Bike Tulum
Ola Bike is one of the most popular bike rental shops in Tulum that's been around for a couple of years. The shop offers flexible policies, and you can easily extend your bike rental if you want to stay in town longer. Their bikes are in good condition and the staff is happy to recommend places around Tulum that you can visit.
How much is the Ola Bike in Tulum?
A daily bike rental at Ola Bike costs 200 Pesos. They also offer home delivery services for an additional charge, if you rent your bike for 2 days or longer. It costs 1,400 Pesos to rent a bicycle with Ola Bike in Tulum.
Address: c. jupiter sur c. sol poniente calle, Neptuno Pte., Tulum Centro, 77760 Tulum, Q.R., Mexico
✔️ Barbel Rental Electric Bike Scooter
The best place for renting bicycles in Tulum, Barbel offers a large selection of e-bicycles at affordable rates. The bikes came with cables to charge the batteries and locks.
The bikes can go up to 32 km an hour, which makes it great for visiting many cenotes and Mayan ruins in the area. They also have scooter rentals.
Address: Calle Júpiter Nte., Tulum Centro, centro, 77760 Tulum, Q.R., Mexico
✔️ Mexigo Bike Rentals
Mexigo offers bikes and scooter rentals in Tulum. They offer friendly service and deals on multiple-day rentals. The owners are happy to recommend restaurants and places to avoid crowds.
Address: Av. Coba SUR-LOCAL 5 Y 6, 77760 Tulum, Q.R., Mexico
✔️ Aldea Zama Bike Rental
Located in the Aldea Zama neighborhood of Tulum, this small shop boasts outstanding service and delivers bicycles to your place and also can pick them up. Great communication and convenience if you are staying in one of Aldea Zama hotels.
Rent a bicycle in Tulum
Tips for renting a bicycle in Tulum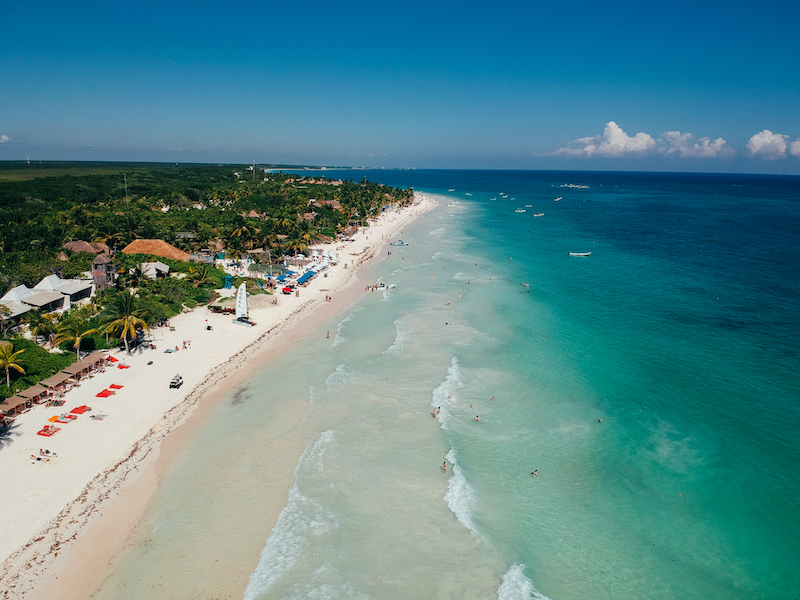 ➡️ Choose a bike shop with good reviews
Find a reputable bike rental shop that offers well-maintained bicycles. Read online reviews or ask for recommendations from locals or other travelers.
➡️ Inspect the bicycle
Before you leave the rental shop, thoroughly inspect the bicycle for any damage, including the brakes, tires, and gears. Ensure that the bike is in good working condition.
➡️ Bring cash and identification
Carry some cash, as not all places in Tulum may accept credit cards. Also, carry identification, such as a photocopy of your passport, in case it's needed.
➡️ Carry accessories
Consider bringing a backpack to carry essentials like water, snacks, and sunscreen. Also, a phone or GPS device can be helpful for navigation.
What documents do I need to rent a bike in Tulum?
To rent a bike in Tulum, you will need your ID and a cash deposit. Some shops might also ask you for your passport, so you might want to send them a message ahead of your visit to verify the required documents.
What to know about bike theft in Tulum
Bike theft is a big issue in Tulum. Two of my friends had their bikes stolen, and while theft usually occurs in popular places, it's critical to leave your bike in secure locations and have a good lock.
Many bike shops in Tulum provide locks, but you should check that the lock is in good condition before leaving the shop.
Bike thieves in Tulum usually use lock cutting scissors and other equipment, so having a good lock is essential, especially if you plan on visiting popular restaurants, beach clubs and other busy areas where bike thefts usually occur.
If possible, leave your bike inside your hotel at night, and don't park it on busy streets for an extended time.
Places to visit near Tulum by bicycle
1. Gran Cenote
One of the closest cenotes to Tulum, Gran Canote is a semi-open cenote with overhanging rock formations and inlets surrounded by lush greens. You can reach this cenote by a quick bike ride from Tulum. Watch out for passing cars, as you have to take the main highway toward Coba to get here.
2. Cenote Calavera
One of the most popular cenotes near Tulum, Calavera is a small cenote with a surface opening shaped like a skull, which is where it gets its name. (Calavera means skull in Spanish).
The cenote consists of three sinkholes or entrances, providing access to the cenote's underground cave system.
3. Cenote Cristal
A hidden gem of Tulum, Cenote Cristal is located along the highway across the entrance from Cenote Escondido. Cenote Cristal has incredible clear waters and a wooden platform from where you can jump in the water.
➡️ Check: Best breakfast places in Tulum
4. Laguna Kaan Luum
Laguna Kaan Luum is one of the best places near Tulum by scooter. The lagoon is a small lake with a cenote in the middle surrounded by the lush jungle where you can get a nice break from the heat and crowds of Tulum.
Several wooden piers are stretching into the lagoon, which are great for catching the sun. Grab a spot on the edge of the pier, dip your feet in the water, and enjoy the view!
5. Cenote Car Wash
Cenote Car Wash is about 5.5 miles from Downtown Tulum past the entrance to Cenote Calavera.
Cenote Car Wash got its name because people used to wash their cars nearby and this cenote was used as a landmark to help find the place.
This open cenote looks more like a big lake than the limestone caverns that you see around Yucatan. Most people come to Cenote Car Wash to see its impressive underwater garden that you can see while snorkeling or scuba diving.
Hotels in Tulum that offer bike rentals
1. Ahau Tulum
Ahau Tulum is an eco-friendly hotel with a famous Ven a La Luz sculpture. It has yoga and massage and rustic beachfront cabanas. Ahau also has a restaurant that serves Mexican dishes as well as international ones.
There are daily yoga and windsurfing classes on the beach, plus bike rentals.
✅ CHECK RATES AND AVAILABILITY AT AHAU TULUM
2. Suenos Tulum
Suenos Tulum is an eco-resort popular with travelers because of its amenities like spa therapy, and yoga classes. The hotel is near the southern end of Tulum Hotel Zone.
The spacious bungalows come with shady gardens and Caribbean views, private patios or balconies. Sueños Tulum features an on-site bar and a casual restaurant serving local cuisine, and there are other dining options within walking distance of the property.
You can rent a bike and a kayak for an additional fee.
✅ CHECK PRICES AND AVAILABILITY AT SUENOS TULUM
3. Sanara Tulum
Sanara Tulum is a beautiful minimalistic boutique hotel with a spa and wellness center, and a beach-side yoga studio, The hotel offers gorgeous suites and villas with gorgeous views and a chill atmosphere with a private beach.
Many visitors stay in Sanara because of its wellness center that has Ayurveda-inspired healing treatments with massages, yoga classes (including paddle board yoga), and other therapies. Bike rentals and water activities are available upon request.
✅ CHECK PRICES AND AVAILABILITY AT SANARA TULUM
Renting a bike in Tulum: FAQ's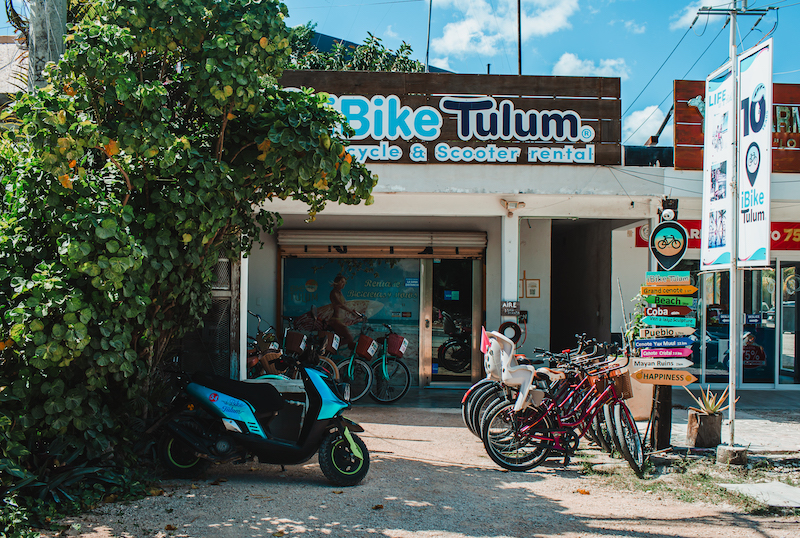 Can you get around Tulum by bike?
A bicycle is the best way to get around Tulum if you want to explore different parts of town and get around between downtown and the beach area.
Can you cycle to Gran Cenote?
Gran Cenote is one of the closest cenotes to Tulum which can be easily reached by bicycle.
Is it safe to walk around Tulum?
While Tulum is safe to walk around, you should always be aware of your surroundings and stick to popular parts of town. Avoid remote parts of Tulum and poorly lit streets where crime is more likely to occur.
Do you need Pesos in Tulum?
While US dollars are accepted in some places in Tulum, you should always have Pesos on you. Many restaurants and stores in Tulum run on cash, and you might not always be able to use your credit card.
Should I take a credit card or cash to Tulum?
You can use credit cards in some restaurants and hotels, however, you should always carry pesos. Local food vendors, tour operators, and taxis usually run on cash.
Renting a bicycle in Tulum: final word
A bicycle is a fast and inexpensive way to get around Tulum. You can visit different parts of town, and also get outside and explore freshwater cenotes and Mayan ruins in the area.