Disclaimer: This post contains affiliate links. At no cost to you, I might earn a small commission if you make a purchase through the links in this article.
Although not many travelers come to Mexico to try Italian food, you can try some of the best pizzas in Tulum, a popular destination in the Mexican Caribbean that has many pizzerias from small casual spots to more fine-dining restaurants.
As a vegan, I was able to find great options, and I always felt like the town had plenty to choose from. While not all pizza places in Tulum are strictly plant-based, most of them have at least a few vegan or vegetarian options on the menu.
But, if you follow a regular diet, you have nothing to worry about: The town has plenty of restaurants to choose from.
If you are thinking about getting some pizza while staying in Tulum, keep on reading. 
1. Pizza Papi
Pizza Papi is my favorite plant-based restaurant in Tulum that offers pizza, salads, and classic pasta.
All pizzas are made in-house with vegan cheese with toppings like garlic pesto and pickled onions. The place also serves natural wines and cocktails.
✅ Check: A complete guide to Aldea Zama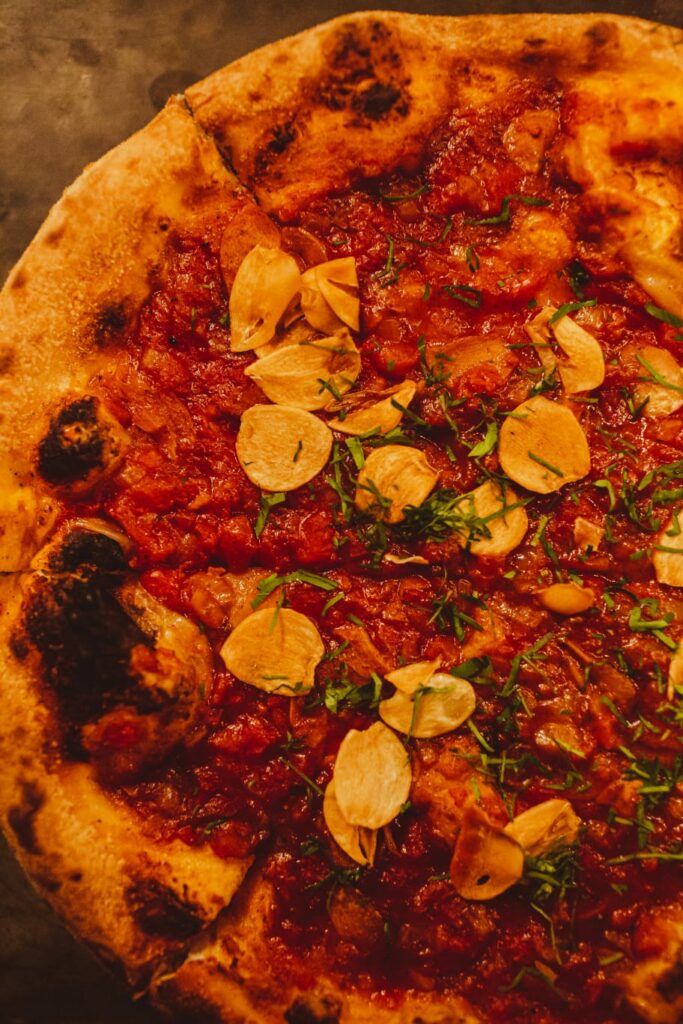 Try their guacamole, pasta, and salads – you will not regret it!
The margarita pizza is made with a 48-hour fermented sourdough crust and in-house mozzarella.
Pizza Papi is located right next to Matcha Mama, another popular restaurant that's known for its delicious acai bowls, smoothies and dairy-free ice creams.
Matcha Mama also boasts photogenic decors that attract many travelers who come here to snap colorful shops while enjoying a delicious meal.
Address: Calle Andromeda L6 Entre calles Orion y Centauro, 77760 Tulum, Q.R., Mexico
2. Pizzeria 85 Ciento Tulum
One of the best places to grab a pizza in Tulum, 85 Ciento serves Italian classics like pepperoni primavera, and wonderful focaccias that will make you think you are in Italy!
Their dough is crunchy light, and fluffy, and the salsa is rich with tomato pasta. The staff is friendly, and their low-key environment is perfect to enjoy a relaxed atmosphere after exploring Tulum and touring surrounding cenotes and Mayan ruins.
✅ Read: How to rent an ATV in Tulum
They also have some vegan options too. Their tomato pizza and vegetarian lasagna and pies are worth a try.
Address: Calle Sol Ote., Tulum Centro, 77760 Tulum, Q.R., Mexico
3. Check Point Ciao Tulum
If you're looking for authentic Neapolitan pizza, stop by Check Point Ciao Tulum! It's a casual eatery that offers top-notch service, attention to detail, and expertise similar to upscale restaurants in Tulum like Arca and Hartwood without crazy high prices.
A perfect spot to enjoy a classic wood-fired pizza in Tulum, Check Point Ciao offers high-quality cheese, prosciutto, and pizza dough. Yum 😃
Their sourdough crust gets a lot compliments.
The tomato sauce boasts an exhilarating fresh taste, and the consistency of the cheese on the pizza is just right. Pizzas also come with tons of toppings, and they offer salads with locally sourced greens and veggies to give your meal a healthy twist.
Check Point Ciao also has a beautiful bar lounge where you can try their signature drinks made right in front of you!
Address: KM 7, Zona Hotelera, Carr. Tulum-Boca Paila KM 7, Tulum Beach, 77760 Tulum, Q.R., Mexico
4. La Onda
A great sit-down restaurant that serves homemade pizza in Tulum, La Onda is a perfect place to try pizza and classic Italian dishes and spaghetti carbonara, as well as guacamole, delicous arugula salad made from fresh veggies.
Spicy cucumber margarita is one of the best drinks on their menu.
Address: QROO 15 60, Tulum Beach, 77766 Tulum, Q.R., Mexico
Book one of the best foodie tours in Tulum
Tulum is a foodie heaven! To make sure you don't miss any culinary delights during your visit, book one of the best food experiences in town.
5. Pizza Paz
A hidden gem of Tulum in La Veleta neighborhood, Pizza Paz is a cozy low-key place to grab a delicious slice of Margarita to spend your evening. This spot has yummy sourdough pizza, and their staff is friendly and welcoming.
A few vegan options are available on the menu. They also have more budget-friendly prices compared to other popular restaurants in Tulum.
Address: C. 7 Sur, La Veleta, 77760 Tulum, Q.R., Mexico
6. Boccanera Pizzeria y Cerveceria
Boccanera is a beloved pizza place with two locations – one in La Veleta and another in Tulum Hotel Zone, which is convenient, because La Veleta is close to downtown and Hotel Zone offers quick access to the best beaches in Tulum.
Boccanera serves delicious Neapolitan Pizza with a fluffy crust that will make you think you are in Italy.
I recommend trying their bruschetta and tiramisu, which is out of this world.
They also have free beer during the happy hour from 1 p.m. to 6 p.m.
If you are a vegan or vegetarian enthusiast, try their plant-based pizza with dairy-free cheese and vegetables like eggplant, tomatoes, mushroom, and zucchini.
The restaurant is within walking distance of many hotels in the area and has a small street parking in front with plenty of space for bicycles, ATVs, and scooters.
Address: C.8 Sur, La Veleta, 77780 Tulum, Q.R., Mexico
7. Dark Side Pizza
Dark Side Pizza is a small shop where you can get pizza and tacos for a simple, yet filling dinner. Since Dark Side Pizza is a bit away from the center of Tulum, you can rent a bike, ATV or scooter to get there faster.
Address: Carr. Tulum-Boca Paila km8.5, Tulum Beach, 77780 Tulum, Q.R., Mexico
8. La Pizzine
La Pizzine serves delicious pizzas and other food items like huevos rancheros and almond milk lattes. Their pizzas come in a variety of flavors with gluten-free and vegan options also available.
Keep in mind that they serve pizza only in the evenings.
Grab a drink and head to their rooftop where you can enjoy a bar and amazing views.
Address: Calle 7 SUR y calle 14, La Veleta, 77760 Tulum, Q.R., Mexico
9. Pizzas Tulum
If you are looking for cheap pizza in Tulum, this IS the spot!
A simple shop that serves crunchy and flavorful pizza, this place offers fairly big portions with tons of toppings and rich flavors at reasonable prices.
Pizzas Tulum is open only in the afternoon, but it fills up quickly, so arrive on time. Although it used to be only locals who were coming to this place, the secret is out, and now more tourists come here.
Address: Calle Osiris Sur S/N, Centro, 77760 Tulum, Q.R., Mexico
10. Pizzeria Manglar
One of the best pizza joints in Tulum, Pizzeria Manglar offers a good selection of pizzas, rich pasta, and juicy lasagnas. They also have local prices and low-key vibes and you can make your pizza too.
While the outside doesn't look very fancy, don't let it stop you: This place offers good value for your money and generous portions.
If you are a pizza lover and spending time in Tulum, you can't miss Pizzeria Manglar as it puts a creative spin on classic Italian fares with inventive toppings and flavorful sauces.
Their vegan pizza comes with delicious dairy-free cheese and yummy veggie toppings.
Address: C. Asunción Manzana 38 Lote 2, La Veleta, 77780 Tulum, Q.R., Mexico
11. Posada Margherita
Posada Margherita is a photogenic restaurant that offers the best pizza on the beach in Tulum.
Enjoy freshly made pasta or try one of their specialties from the on-site pizzeria.
There are also plenty of meat and seafood options and yummy pies like prosciutto e fungi. The restaurant has a pretty extensive breakfast menu where you can find pancakes, omelets, and salads.
Also, try their signature gelato from coconuts that grow on-site.
Address: Km 4.5 Carretera Tulum Boca Paila, 77760 Tulum, Q.R., Mexico
Food delivery Tulum
Tomato.mx is a popular food delivery service in Tulum that offers pick-ups from many restaurants in town. It's relatively inexpensive and offers a quick and friendly service that can save you a lot of time.
How to use food delivery services in Tulum?
To use food delivery service in Tulum, you need to download the Tomato.mx app, create a free account, and browse available restaurants. Verify your location before placing your order and don't forget to tip the driver when you get your food.
How long do I have to wait for my food to arrive?
Tomato is very simple to use, and they offer deliveries from over 100 restaurants in Tulum. The food usually arrives within 20-30 minutes after you place your order, but the exact waiting time also depends on the timing and season.
During the high season, when the number of orders is usually higher, waiting times are typically longer.
What is the best food delivery app in Tulum Mexico?
Tomato.mx is the best food delivery platform in Tulum where you can order food from dozens of popular restaurants and cafes without leaving your hotel.
Do I need to tip when ordering pizza in Tulum?
Yes, you should tip when using food delivery services in Tulum. Tips are expected and appreciated in Mexico, and a standard tip for good service is about 20 percent of your bill.
How much do I need to tip food delivery drivers in Mexico?
Feel free to leave anywhere from 10-15 percent of your bill in tips for your delivery driver. There's no set structure for tipping food delivery drivers in Mexico, so the amount you should leave depends on how quickly they deliver food and how good their service is.
Tips for visiting the best pizza restaurants in Tulum:
1. Make reservations
Many popular restaurants in Tulum can get crowded, especially during peak tourist seasons, and pizza places are no exception. To get a table, consider making reservations in advance, especially if you are going out to a more high-end restaurant.
2. Explore diverse cuisine
Tulum offers many cuisines, from traditional Mexican to international fusion. Don't limit yourself to just pizza; try various dishes to appreciate the culinary diversity. Some restaurants also have tacos and other Mexican classics that are worth a try.
3. Ask locals for recommendations
Talk to locals or fellow travelers for recommendations. They often know hidden gems that some travelers might now know about. Knowing Spanish could help you out, although some locals might also speak a bit of English, depending on who you run into.
4. Be mindful of opening hours
Restaurants in Tulum can have varying hours. Some may not open until late afternoon, so check their opening hours to avoid disappointment. Also, hours that are listed online might not always be accurate, so make sure to double-check them before heading out to get food.
5. Always carry cash
While many places accept credit cards, it's a good idea to carry cash, especially for smaller pizzerias away from downtown Tulum, where credit cards may not always be accepted.
6. Expect relaxed service
Tulum has a laid-back vibe, and this can extend to restaurant service. Don't be surprised if the pace is slower than you might be used to. Although your server might not check on you every 5 minutes, they are usually pretty friendly and chill.
If you are done with your food, and nobody is showing up to check on you, just let them know that you would like to pay your bill.
7. Check if there's a dress code
Tulum is generally casual, but some high-end restaurants may have a dress code. It's a good idea to check in advance and dress accordingly, although pizza places might be an exception to this rule.
8. Don't forget to tip
Tipping is customary in Mexico, and service charges are not always included in the bill. A standard tip is around 15-20% of the bill. Check the bill to see if a service charge is included.
Also, it's best to leave your tip in cash, as serveers don't have to pay any taxes on it.
9. Avoid tap water
Stick to bottled water to avoid stomach issues. This rule applies to drinking water and also to being cautious when ordering drinks with ice in Tulum pizzerias and anywhere else in Mexico.
Restaurants in Tulum usually serve filtered or bottled water. While more casual restaurants might offer you water for free, other, more high-end places usually charge you for a bottle of water, so it's always a good idea to ask.
10. Take it slowly
Tulum is known for its relaxed atmosphere, so take your time to savor your food and enjoy the surroundings. Many places on the list offer outdoor seating, so make sure to take advantage of it if you are going out to eat on a bright sunny day.
11. Learn some basic Spanish
While many people in Tulum's service industry speak English, it's always helpful if you know a few basic Spanish phrases. It will make your overall experience better, as not every server speaks fluent English, although staff in popular restaurants in Tulum usually speaks at least basic English.
TULUM PIZZA: FINAL WORD
As one of the most popular places in Mexico, Tulum has all sorts of pizza that you can wish for: from classic Neopolotan to vegan, and vegetarian and local pizzas that come with creative toppings and sides, this town really delives when it comes to tastes and varieties.