Disclaimer: This post contains affiliate links. At no cost to you, I might earn a small commission if you make a purchase through the links in this article.
The largest town in Mexico's Costa Maya, Mahahual is a hidden jewel along the country's Caribbean Coast.
Mahahual Mexico is a popular stop for cruise ships, yet it remains a quiet seaside village with plenty of local charm. Thanks to its location away from the busy tourist centers like Cancun, Playa Del Carmen, and Tulum, Mahahual offers a quiet getaway and more authentic taste of Mexico.
What is Mahahual known for?
Mahahual is known for its pristine beaches, world-class diving and relaxed lifestyle. It's a seaside village free from big resorts where most things are uniquely local. You can walk or bike to most places in Mahahual due to its compact size.
Mahahual Mexico: Best Things To Do
Mahahual might be small, but it packs on plenty of charm and adventure! I spent 3 days here but was sad to leave when it was time to head to Bacalar. In this article, I will share some of my favorite things to do in Mahahual, so you can also plan your dream getaway.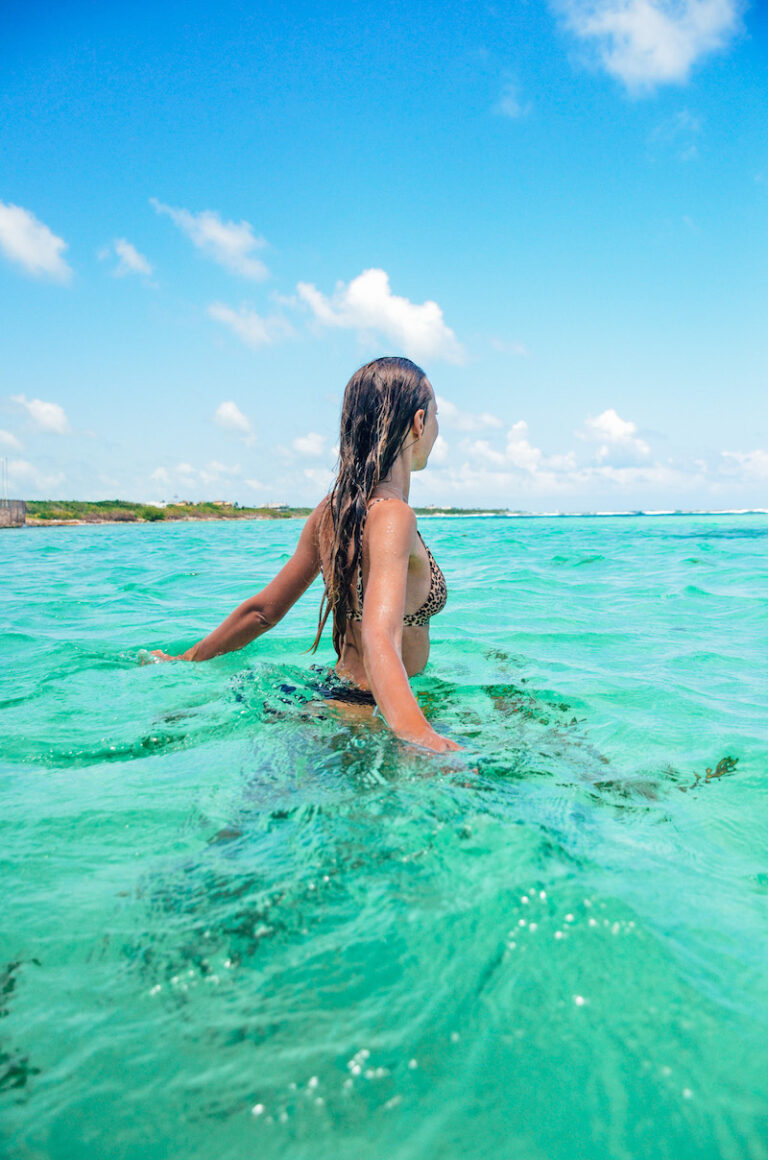 1. Dive in the barrier reef
The World's Second Largest Barrier Reef (or the Mesoamerican Reef System) is at the doorstep of Mahahual, which means you are less than 10 minutes away from some of the best diving in the world! When you go on a diving trip in Mahahual, you will see a stunning array of marine wildlife such as sea turtles, manta rays, all sorts of fish, and if you get lucky – even manatees!
Best diving companies in Mahahual
There are several shops in Mahahual that offer diving and snorkeling tours, and most of them are located along the waterfront (Malecon).
Among them are Alux Divers that offers private and small group tours; Pepe Dive Mahahual that also sells diving trips to the neighboring town of Xcalak famous for its marine biodiversity and Banco Chinchorro Biosphere Reserve that can be reached by boat from Mahahual; and Mahahual Dive Center that also offers diving and snorkeling tours.
2. Learn scuba diving in Mahahual
If you have never tried diving, you can learn it in Mahahual. You can obtain your PADI certification at any of these diving schools in town who will do a couple of diving sessions with you.
3. Go snorkeling
Snorkeling is one of the most popular things to do in Mahahual if you are not diver. You can rent a snorkeling gear from one of the tour companies in Mahahual, or book a snorkeling tour with a diving company.
Where can I snorkel in Mahahual?
The Great Meso American Barrier Reef is just a few hundred meters from the Mahahual beach. You can grab your snorkeling gear and swim in the designated area to see the colorful fish, but you can also book a guided snorkeling tour.
There are also several other popular recreational options in Mahahual Mexico: paddle boarding and kayaking, both of which can be rented at businesses along the beach.
4. Relax on Mahahual beach
Mahahual beaches are some of the best in Costa Maya. Many restaurants along Malecon have beach clubs where you can stay all day after purchasing a drink and a meal. Crazy, right?:) My favorite beach club in Mahahual is Blue Kay across from Blue Kay Hotel on the northern end of Malecon.
👌 Book your stay at BlueKay Hotel to enjoy the stunning Mahahual beach!
This beautiful beach club with dreamy views has hammocks above the water and also offers kayak rentals to its patrons, so you can get some exercise while enjoying the views of the barrier reef and look at the colorful fish swimming beneath you.
Mahahual beach clubs
Mahahual has many beach clubs here you can enjoy delicious food and drinks with a view. Maya Chan Beach is a poplar beach club that has snorkel and kayak rentals, and paddle boats. Nacional Beach Club and Bungalows is another popular beach club in Mahahual that has a palapa restaurant and amazing views of the Caribbean.
Is Mahahual beach free?
Mahahual beach is free for everyone and is open 24/7. Unless you want to spend time in one of Mahahual beach clubs, you don't have to pay anything.
5. Ride a bike on Malecon
Mahahual's main promenade is a scenic stretch along the beach where you can find restaurants, beach clubs, street vendors, and all kinds of stores. Riding a bike on Malecon is a lot of fun, however, you can also walk if you want to stop for some souvenirs and talk to locals, that are super friendly by the way.
PRO TIP: If you have a bike, you can also take a mini trip to the residential area of Mahahual where you can get groceries and stop at the ATM if you need cash. Book this bike tour, which includes free transport from the port, paddling and a beach day.
6. Shop for souvenirs along Mahahual Malecon
Shopping for souvenirs was one of my favorite things to do in Mahahual Mexico. Walk along Malecon, and you will find dozens of street vendors selling beautiful handcrafted goods such as dream catchers, bracelets, hats, and much more.
I loved shopping in Mahahual and left the town with a beautiful dream catcher. Even if you don't want to buy anything, local vendors are very nice, and always want to talk to you.
While many of them speak English, you should learn at least a couple of words in Spanish, to make things a bit easier. Applications like Babel and Duolingo are great if you are just a beginner.
7. Visit Mayan ruins near Mahahual
When you get tired of lazying on the beach, take a road trip to Mayan ruins in the area. Chacchoben is the closest archaeological area to Mahahual, about 25 minutes away. If you want to go a little bit further, you can also visit more remote ruins like Dzibanche and Kinichna that are about 2 hours from Mahahual.
Best tours of Mayan Ruins in Costa Maya
If you don't have a car, you can still see Mayan Ruins near Mahahual. To do that, book a guided tour that will pick you up at your hotel and bring to the ruins. A tour is accompanied by an English-speaking guide who will tell you about the history of the area. After the tour, you will get transported back to your hotel.
Other cool Mayan ruins south of Mahahual are Dzibanche, Kinichna and Kohunlich.
Kohunlich is a standalone site and takes about 2 hours from Mahahual by car, and Dzibanche and Kinichna are two very remote archaeological areas less than 5 minutes away from each other.
🙂 Book a private tour of Kohunlich Mayan Ruins
I visited all of three sites and loved every second of my trip! I was the only person in Kohunlich when it opened at 9 a.m. If you decide to explore Costa Maya's Mayan ruins make sure to bring enough cash, as entrance fees can't be paid with a credit card.
GOOD TO KNOW: The Mayan ruins in Mexico's Costa Maya are some of the most beautiful and less-explored in the country. Not many visitors come here, so you should make your way here while in Mahahual.
8. Take a photo with a Mahahual sign
Right at the end of the Malecon, you will find a colorful Mahahual sign that is perfect for snapping a photo for your friends and family. There's also a white lighthouse that is cool to watch during the nighttime when you can see the light that is used for ships in the area.
If you are an early riser, I come watch the sunrise at this spot, as the colors are so stunning!
9. Take a day trip from Mahahual to Bacalar
If you want to explore the region a little bit more, take a day trip to Bacalar, a small town about 1 hour south of Mahahual that boasts a stunning lagoon of seven colors that will blow you away.
While Bacalar in itself is a destination and deserves more time than just a day, in my opinion, you can easily do it as a day trip from Mahahual. Book a boat tour of the Bacalar lagoon before your trip.
😉 Check my guide to the best boat tours of Bacalar Lagoon.
Best Bacalar tours
PRO TIP: Bacalar is one of the most beautiful places in Mexico, but its ecosystem is very fragile. You shouldn't use sunscreen or any cosmetics if you when you swim in the lagoon or Bacalar cenotes.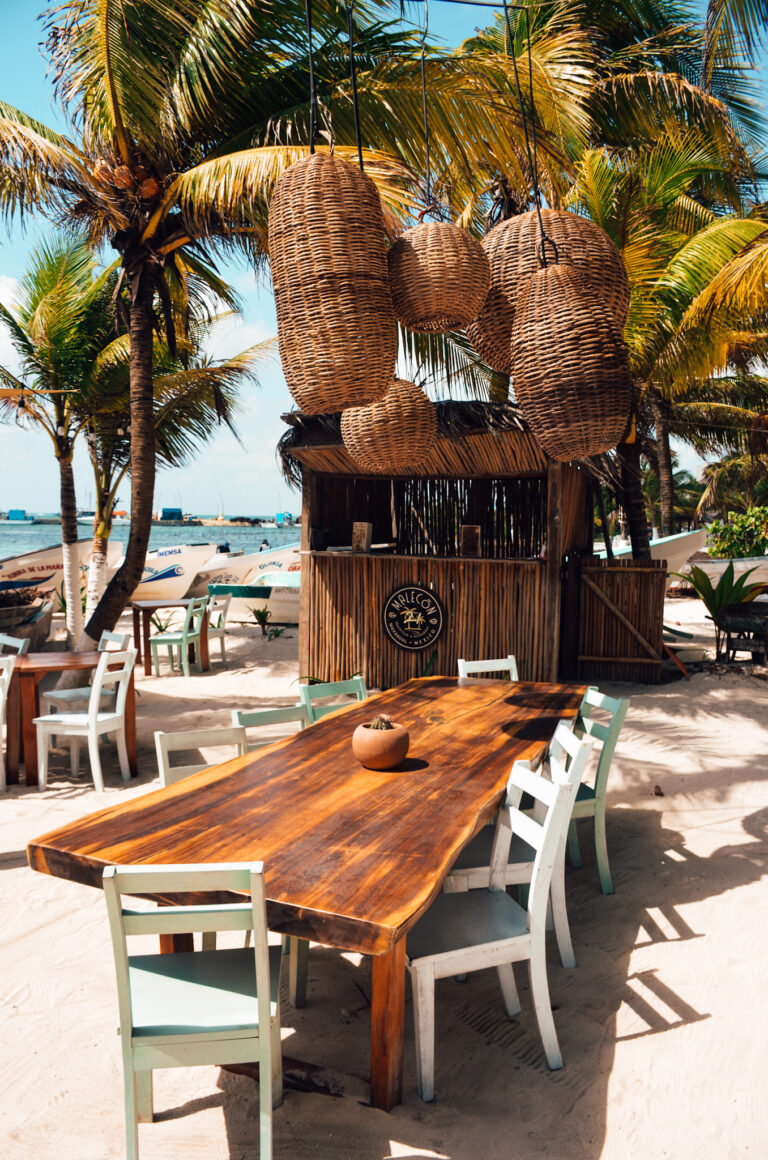 Best hotels in Mahahual Mexico
During my trip to Mahahual, I stayed at Hotel Noah, and loved it! This property sits along Malecon and offers amazing views of the Caribbean and has super friendly staff. There's also a restaurant on the first floor that offers delicious food and drinks, so you don't have to go too far to get food.
Other good hotels in Mahahual are Casa Las Palmas Mahahual (a more budget-friendly option) and Aqua Star Hotel and Apartments.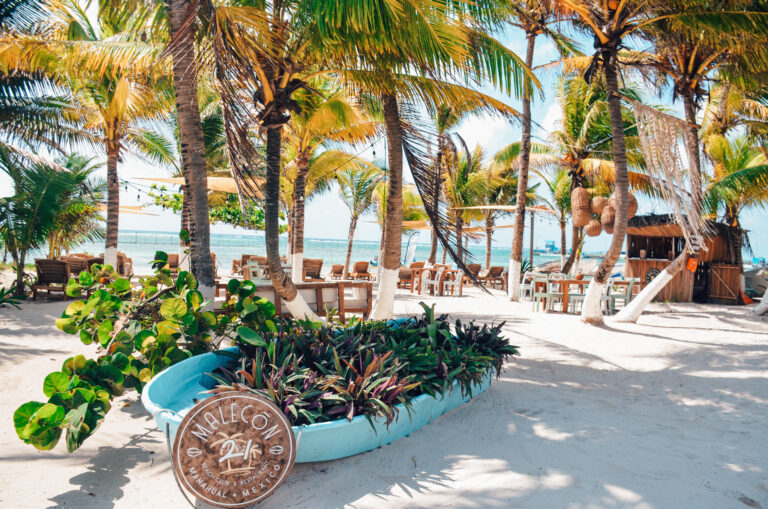 Best restaurants in Mahahual
As a vegan, I found some really good options in Mahahual, but there are plenty of good places to check out if you are not a plant-based eater. For example, Malecon 21, a restaurant and one of the most popular Mahahual beach clubs on the first floor of Hotel Noah has delicious food.
Other restaurants in Mahahual that I enjoyed was Yaya Beach, they have delicious salads and entrees.
And if you like ice cream, stop at La Dolce Vita, a small ice cream shop next to Yaya Beach that has many flavors of regular ice cream as well as several flavors of vegan sorbet.
Where is Mahahual Mexico located?
Located in Mexico's Costa Maya, Mahahual is a small beach town not far from Belize. Mahahual is part of Quintana Roo State and is within driving distance from major destinations like Cancun, Playa Del Carmen and Tulum.
Where do you fly into for Mahahual?
The closest airport to Mahahual is Chetumal International Airport (CTM) that's located in Chetumal, Mexico. It has daily flights from Mexico City, Guadalajara, Cancun and also has flights from Miami.
Some hotels in Mahahual offer private transportation to the airport for a surcharge, but to make things to easier, you can book a private transportation from Chetumal Airport to Mahahual.
Driving distances to Mahahual Mexico
Cancun to Mahahual – 355.7 km (220 miles) – 4 hr 32 min
Playa Del Carmen to Mahahual – 289.7 km (180 miles) – 3 hr 34 min
Tulum to Mahahual – 225.5 km (140 miles) – 2 hr 35 min
Bacalar to Mahahual – 103.7 km (64 miles) – 1 hr 14 min
How do I get to Mahahual Mexico?
You can get to Mahahual by bus, car rental and plane, depending on where you are traveling from. Most travelers arrive to Mahahual from Tulum, Playa Del Carmen or Bacalar.
Here's a quick overview of the options:
Renting a car to get to Mahahual
I rented a car in Cancun before traveling to Mahahual and had a great time on my road trip. The roads are well maintained, but you need to watch out for speed bumps (or topes) that are common along small villages and bus stops all over the Yucatan Peninsula.
PRO TIP: To stay safe and avoid common tourist mistakes during your trip to Mahahual, check my tips for traveling to Mexico.
👉 Rent a car for your trip to Mahahual to skip the hassle by clicking here
To rent a car for your trip to Mahahual check DiscoverCars, my favorite platform for renting cars in Mexico and beyond. They offer flexible rates, good selection of vehicles, and no hidden fees, unlike other car rental companies.
PRO TIP: If you want to rent a car in Mexico, but don't know where to begin, check my article to get helpful tips and avoid mistakes.
Taking a private transportation to get to Mahahual
If you want to head to Mahahual from Cancun hire a private transportation because there are NO direct buses between Cancun and Mahahual.
🚗 Book a private shuttle from Cancun to Mahahual by clicking here
eTransfers is a great local company that provides private transportation to many parts of Yucatan Peninsula, and can get you to your hotel in Mahahual from Cancun after they pick you up at the airport.
How to get from Tulum to Mahahual?
If you are traveling from Tulum to Mahahual, book a private transportation, instead of relying on public transportation or taxis. The driver will pick you up at your hotel and drive you straight to Mahahual. You will save a ton of time and hassle. Win-win!
Taking a bus to Mahahual
If you are traveling from Cancun, you should know that there's no direct bus from Cancun to Mahahual.
To get to Mahahual from Cancun, you will have to spend a lot of time time on the road, as you will need to take a bus from Cancun to Playa Del Carmen and from Playa Del Carmen to Mahahual. And, you will also need to catch a bus toward your hotel. It's a lot easier to rent a car.
Sounds like a super long day on the road, right?
That's why I recommend renting a car for your trip to Mahahual or taking a private transportation. You will save a ton of time that could be better spent exploring some of the best things to do in Mahahual Mexico!
Joining a guided tour of Mahahual
You can also take a guided tour that will include a day trip to Mahahual and stops at the nearby Mayan Ruins. It's a perfect option if you want to save the hassle of organizing transportation, hotels and other things for your trip to Mahahual.
Mahahual Mexico weather
Similar to the rest of the rest of the region, Mahahual has a humid tropical climate with an average weather being in mid-80's degree Fahrenheit, or about 30 degrees Celcius.
Mahahual Mexico FAQ's
How do you pronounce Mahahual?
The name of the town is pronounced "Ma-ha-wal."
Is Costa Maya worth visiting?
Costa Maya is a southern part of Mexico Quintana Roo State that's known for its gorgeous beaches, archaeological sites and stunning lagoons. While it's a popular destination for cruise ships, it's also a great stop for anybody who wants to get off the beaten track and explore a real hidden gem.
What to bring on your trip to Mahahual Mexico?
Mahahual is a dreamy destination in Mexico's Costa Maya, but there are a couple of things you should know that will help you to have a better experience. First, the sun can be strong here, so you will need good sunscreen. Because of the proximity to the reef, you need to make sure that your sunscreen is reef safe, so it doesn't end up hurting marine animals and bleach corals.
Second, there are some mosquitos and bugs, so don't forget about a bug spray. This is something that you should keep in mind, especially if you plan a trip to the Mayan ruins in the middle of the jungle.
Finally, if you are planning on diving, don't forget to bring a GoPro to capture amazing sea turtles, manta rays, and tropical fish. Put everything in a waterproof bag, and you are ready to go!
Is Mahahual worth visiting?
Yes, Mahahual is absolutely worth a visit! This small pueblo remains a hidden gem in the touristy region of Mexico free from overdevelopment. It's a perfect place to relax and enjoy a slow pace of life. If places like Cancun, Playa Del Carmen or even Tulum are too crowded to your taste, you will love Mahahual!
There's a good chance you will see more tourists from other parts of Mexico than from overseas when you come Mahahual, so hurry up and check out this destination before everyone else decides to go there!
Is Mahahual safe for tourists?
Yes, Mahahual is safe to visit overall. The crime rate is low in Mahahual and you can walk around at any time of the day and relax on Mahahual beach. Still, remember to watch your surroundings and keep an eye on your belongings.
How many days do I need to spend in Mahahual?
Mahahual is a small pueblo which is perfect for a quick getaway. While most people spend between 2-3 days here, you can spend more time in Mahahual, if you want to visit some of the nearby Mayan ruins, take a trip to Bacalar or do several diving trips in the area.
What is the best time to visit Mahahual?
Similar to other destinations in Mexico's Costa Maya Mahahual has a hot tropical climate. December through April is the dry season with little to no rain and plenty of sun and is the busiest time of the year in the region. Prices on hotels in Mahahual as well as tours tend to be more expensive than during this time.
When is the low season in Mahahual?
The low season in Mahahual is from June through October when the area receives the most precipitation and the rainstorms are not uncommon. However, if you plan your trip carefully, you can still enjoy Mahahual as rain tends to fall in the afternoon and lasts only a few hours.
Is Mahahual worth visiting?
Mahahual is worth a visit because it's one of the best hidden gems in Yucatan. It boasts clear turquoise waters, amazing white sand beaches and relaxed atmosphere. It offers a low-key getaway where you don't need to spend a ton of money to have a good time.
Mahahual Mexico: Final word
Mahahual is my favorite destination in Mexico Caribbean and the best place to visit in Mexico's Costa Maya.
While some people dismiss it as a cruise ship destination with tacky beach bars and tourist shops, I completely disagree with it! Most of the cruise ship activity is on the northern end of Mahahual, while the southern end of town has a quiet, rustic vibe to it.
In my opinion, Mahahual is worth a stop, as it offers a more laid-back and authentic getaway compared to other touristy places in Quintana Roo. I hope you choose Mahahual for your next adventure and enjoy this beautiful beach town.
More resources for planning your trip to Costa Maya Mexico