Disclaimer: This post contains affiliate links. At no cost to you, I might earn a small commission if you make a purchase through the links in this article
Tulum is one of my favorite beach towns. It has sunlit beaches, crystalline cenotes, and great vegan food, and is perfect for working remotely. I've lived in Tulum, and it will always have a special place in my heart. When I get asked about whether Tulum is worth visiting, I always say "yes," but I also acknowledge that Tulum has changed a lot.
Every time I talk to fellow travelers about Tulum, they tend to have a pretty strong opinion about, with very few people in the middle.
With the New Mayan Train and Tulum Airport opening soon, this quiet beach town is not what it used to be anymore, and while I still think you should visit it, there are some things that you should be aware of, and I will talk about them in this article.
So, if you are wondering if you should visit Tulum, here are my 25 reasons:
1. Mayan ruins along the Caribbean
Tulum is home to the most beautiful Mayan ruins in Mexico.
Perched along the Caribbean Coast, Tulum ruins date back to the Postclassic period of Mesoamerican history, around the 13th to 15th centuries.
This archaeological area is one of the highlights of the Tulum trip for many travelers, thanks to its location and fascinating history: the architecture here is relatively well-preserved, and the site features several structures, including a large castle, the Temple of the Frescoes, and various smaller buildings.
Since this place can be crowded, you should visit by the time it opens to avoid the crowds and the hot sun. The site has very little shade, so visiting past mid-day is not the best idea.
2. Tulum has amazing restaurants
Tulum restaurant scene is nothing short of amazing: Here you will find many options, from typical Mexican food to Italian, Asian, and American specialties.
As a vegan, I think that Tulum has a great variety of places to eat with many restaurants specializing in plant-based food and others having at least a few vegan choices.
While it's true that Tulum restaurants along the beach like Mina, La Zebra, and Raw Love tend to be more expensive, you can find tons of budget options in downtown Tulum.
Antijitos La Chiapaneca offers traditional food from the neighboring state Chiapas, La Succulenta Tamaleria that has delicious Mexican staples made vegan, and Don Cafe, which offers inexpensive breakfast.
No matter what your taste and budget are, Tulum has something for everyone.
3. Plenty of healthy food options
Tulum is known for its extensive health-conscious options, and you can easily follow a healthy diet if you are spending your vacation here.
Many restaurants in Tulum have lean options on their menu, so eating healthy in Tulum doesn't mean being boring.
It's quite the opposite: Most places in Tulum are focused on providing healthy AND delicious options.
I recommend stopping by Raw Love Tulum, my favorite vegan restaurant that has locations in Tulum Hotel Zone and downtown Tulum, Vivo Tulum, a new popular place in downtown Tulum, and Alfonsina, one of the most photogenic breakfast spots in Tulum.
If you are looking for a more upscale place to celebrate a special event or treat yourself to a fancy dinner, head to Gitano or Rosa Negra in Tulum Hotel Zone.
4. Wonderful street food
Trying street food in Mexico is a must for any traveler, no matter what part of the country you are visiting. You can easily find street food in downtown Tulum, where street vendors sell classic Mexican food and delicious snacks and sweets.
Since it can be pretty hot in Tulum during the day, most street vendors in Tulum are out at night.
You can easily find them in downtown Tulum around the main park, just don't forget to bring cash because they don't accept credit cards.
5. Tulum is well connected
Tulum is located in the heart of Mexico's Riviera Maya, with several major airports nearby.
At the time of writing this article, the main airport that serves Tulum is Cancun International Airport (CUN), which is about 2,5 hours away, but Tulum Airport (TQO) is slated to open in December 2023 with connections to many cities in the United States like Los Angeles, Chicago, Houston, and Newark.
If you are flying to Cancun and need to get to Tulum, you can take an ADO bus, rent a car, or book a shuttle to Tulum ahead of your trip.
Additionally, there are several other airports within driving distance from Tulum like Chetumal, Merida, and Cozumel.
6. It's easy to get around Tulum
While Tulum has been growing a lot in the last couple of years, it's still a compact town, and you can get around relatively easy.
The most popular type of transportation in Tulum is a scooter, which can be rented in many shops in Tulum. Many travelers also choose bikes, as they are cheaper than scooters and don't require insurance.
I rented a bicycle in La Veleta for as little as 100 Pesos per day in November, which was an awesome deal, considering that a bike rental in Tulum is about 150-170 Pesos on average.
Scooters in Tulum can be a bit pricey, especially during the high season, which is from December through April.
Many scooter shops in Tulum raise their prices during this time, but you can get a better deal if you are renting a scooter for longer time.
Scooters are ideal if you want to get from downtown Tulum to the beach and visit cenotes and Tulum ruins, without having to pay for expensive taxis.
If you are feeling more adventurous, consider renting an ATV in Tulum, which will help you get off the beaten track and navigate roads where you can't take a scooter or bike. ATV's are usually more expensive than scooters, so be prepared to pay extra.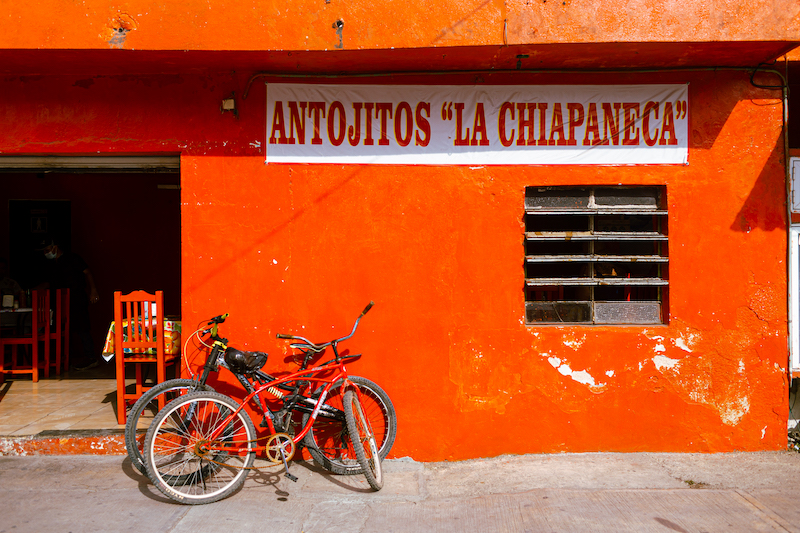 7. Tulum is pretty walkable
Downtown Tulum (aka Tulum Centro) is very walkable, so if you need to get around and visit stores and restaurants, you should be fine.
Things get a bit more tricky if you want to visit the beach or check out cenotes and other points of interest like Mayan ruins are further away.
While you can walk around the central part of Tulum, consider renting a bicycle or scooter to get between different parts of Tulum.
8. Gorgeous photo spots
Tulum has long been called one of the most Instagrammable destinations in Mexico, and when you visit it, you will understand why.
Located in the lush Mayan jungle, Tulum is incredibly photogenic.
From crystalline cenotes to white-sand beaches, Mayan ruins, and rustic hotels surrounded by nature, Tulum has no lack of photo-worthy spots.
Additionally, many restaurants in Tulum, like Matcha Mama, Raw Love, and Gitano, provide amazing backdrops for your photos.
Be aware that some popular cenotes like Cenote Calavera or Gran Cenote started charging visitors for taking camera photos, but the good news is that there are still plenty of places around Tulum where you can take your photos free of charge.
Many less-known cenotes like Cenote Cristal, Cenote Car Wash, and Cenote Escondido allow visitors to take photos for free.
9. Some of the best beaches in Mexico
Tulum boasts some of the best beaches in Mexico that are characterized by soft, powdery, white sand and clear turquoise waters of the Caribbean Sea.
Having traveled to 15 states in Mexico, I can say that there's no place in the country like Tulum!
While other beaches in Mexico like those in Oaxaca, Baja California, and Nayarit offer mountains and craggy coasts with waves perfect for surfing, Tulum beaches are perfect for relaxing and reconnecting with nature. You won't find strong currents here, and the sand is amazing for walking around.
Be aware that as of December 2023, you need to pay a fee of 58 Pesos per person, if you are traveling by bicycle if you want to visit the public beach in Tulum.
I don't recommend visiting a public beach in Tulum by car, as there's now a long line, because every car that enters the area needs to pay a fee, and there's limited parking.
10. Natural Beauty and Scenery
Tulum is situated along the Riviera Maya on the Caribbean coast, offering breathtaking views of the Caribbean Sea. The natural beauty of the area, including lush vegetation and coastal landscapes, adds to the charm of the beaches.
While Tulum is quickly getting gentrified with many hotels and apartments popping up around town all the time, you can still find plenty of places to relax and disconnect, if you are coming here for a relaxed vacation.
11. Amazing cenotes
A cenote (pronounced seh-no-te) is a sinkhole filled with fresh groundwater that is formed when the bedrock collapses exposing the groundwater underneath.
There are over 6,000 cenotes in Mexico's Yucatan peninsula – the majority are either too hard or impossible to access. But there are many cenotes where you can swim, snorkel, and even dive. There are many cenotes near Tulum that can be accessed by bicycle or a quick car drive. 
My favorite cenotes near Tulum are Cenote Cristal, Cenote Escondido, and Cenote Yax Chen, a hidden gem in Tulum Hotel Zone.
There are several types of cenotes near Tulum: open, semi-open, and underground. Open cenotes look more like big lakes filled with fresh underground water and are perfect if you prefer to have some dun, while closed cenotes are completely underground and have no natural light.
These cenotes are darker and colder than open cenotes because they get no sunshine.
Semi-open cenotes are underground but have an opening where you can see the light. These cenotes are particularly popular for photography because the light creates a gorgeous sight by illuminating the clear blue water in these cenotes during certain hours of the day.
Some of the most popular semi-open cenotes are Dos Ojos and Ik Kil.
12. Proximity to Chichen Itzá
The distance between Tulum and Chichen Itza is approximately 130 kilometers (about 81 miles) northwest of Tulum. The most common way to travel between the two locations is by road. The journey typically takes around 2 to 2.5 hours by car, depending on traffic and road conditions.
If you're considering visiting both Tulum and Chichen Itza, you might want to plan your itinerary accordingly.
Some tourists opt to stay in Tulum and take a day trip to Chichen Itza, exploring the archaeological site and then returning to Tulum in the evening. Alternatively, you can find accommodations near Chichen Itza if you prefer to explore the area more thoroughly.
13. Incredible colonial cities within a quick drive
Tulum is located on the eastern coast of Mexico's Yucatan Peninsula, and while it might be tempting to spend your vacation on the beach, I suggest visiting colonial cities in Yucatan like Merida, Valladolid, and Izamal, the yellow city.
These places are perfect for learning the colonial history of Mexico and getting a different taste of the country. While Quintana Roo where Tulum is located is all about beach and partying, Yucatan is more about culture.
When I took my first trip to Merida, the capital of Yucatan State, I loved it! If you like culture and history, you will have a great time in Merida.
The city has amazing museums that showcase the history of the region, plenty of landmarks, and top-notch restaurants.
A closer option is Valladolid, which is just a few hours from Tulum. Here you can enjoy cenotes, walk the quiet streets, and take a trip to the pink lake Los Coloradas.
14. Some of the most beautiful hotels in Mexico
Many hotels in Tulum are situated along the stunning Caribbean coastline, offering breathtaking views of the turquoise waters and white sandy beaches. The beachfront locations create a picturesque and tranquil atmosphere that many visitors find appealing.
Tulum is known for its bohemian and eco-friendly atmosphere.
The hotels in the area often incorporate sustainable and natural elements into their design, using materials like wood and thatch to create a blend with the surrounding environment.
15. Quick access to popular places in Riviera Maya
Tulum's location in the central part of the Riviera Maya makes it a convenient base for exploring other popular destinations in the region.
Travelers can easily access attractions such as Playa del Carmen, Akumal, Coba ruins, and the world-famous Chichen Itza, a UNESCO World Heritage Site, that's one of the most popular day trips from Tulum.
To hop around the area quickly, I recommend renting a car in Tulum.
You can rent a car in Tulum through DiscoverCars, an online platform that offers budget-friendly rates on many car rentals.
16. Plenty of great nightlife
Tulum boasts many great bars and restaurants where you can enjoy a fun night out with friends. Some of the most popular bars and nightclubs in Tulum are in downtown Tulum and Tulum Hotel Zone.
I've heard good things about Gitano and Batey Mojito and Guarapo Bar from my friends although I've never been there.
Papaya Playa Project in Tulum is known for its fun full moon parties.
La Aguarida is one of my favorite places to grab a drink and enjoy the lively atmosphere in downtown Tulum during the late hours. Keep in mind that most bars and nightclubs in Tulum operate on cash, while some might accept credit cards.
If you feel like the service was good, always leave a tip. It's customary to tip between 10-15 percent of your bill in Mexico, and more if the service is exceptional.
17. Tons of yoga studios and fitness centers
Tulum has plenty of yoga studios and yoga retreats. Some of the best yoga studios in Tulum are Zama Yoga Tulum and Jungle Yoga Tulum, while many beachfront resorts in Tulum also offer yoga classes to their guests and visitors.
You can check out yoga classes at Nomade, Ahau, Amansala, and Zenses.
18. Good Internet connection
If you work remotely, you will love Tulum. The town has great connectivity, and you can work remotely from your hotel, Airbnb, or many cafes and restaurants in Tulum.
One of my favorite places for working remotely in Tulum is Alfonsina. This cafe has a gorgeous patio surrounded by greenery and some of the best brunch options in Tulum.
I've always worked remotely when I lived in Tulum and never had issues connecting to the internet.
19. Sian Kaan Biosphere Reverse
Located just outside of Tulum, Sian Kaan Biosphere Reserve is a protected area that's one of the most beautiful places in Mexico's Riviera Maya.
A designated UNESCO World Heritage Site, Sian Kaan is known for its stunning landscapes, including pristine beaches, lush tropical forests, and diverse ecosystems. The reserve encompasses a variety of habitats, such as wetlands, mangroves, coral reefs, and tropical rainforests, making it a haven for nature lovers.
The biosphere is home to more than 300 species of birds, 400 types of fish, 100 mammals, and 40 amphibians. When you visit Sian Ka'an on a tour, you will likely see some animals in the wild.
Because of its protected status, Sian Ka'an is a prime destination for wildlife watching. There is a limited number of Sian Ka'an tours daily, so it's better to book your Sian Kaan tour ahead of your visit or get a tour of a Sian Kaan tour on the spot in Punta Allen.
20. Tulum is relatively safe
Tulum is relatively safe for an average traveler, but there's no denying that crime here has increased over the last several years. Most crime in Tulum is tied to drug trafficking, as cartels who operate here battle for the lucrative territory with Tulum rapidly expanding.
As long as you stay away from drugs and don't get involved with sketchy people, you should be fine during your stay in Tulum. Always be aware of who's around you and exercise increased caution in popular restaurants, nightclubs, and bars, where petty theft is more likely to occur.
If you rent a bike, always lock it, and don't leave your ATV or scooter without attention for an extended period. Bike theft is a big issue in Tulum, and you should never leave your bicycle unlocked, no matter where you go.
21. It's a perfect place to spot some wildlife
Although Sian Kaan is one of the best places to see wild animals like dolphins, manatees colorful tropical fish, and birds. I've seen plenty of wildlife around Tulum like iguanas, and coatis, and even saw a monkey once on the beach near near Azulik Hotel.
It was pretty cool, as I didn't think there would be monkeys in Tulu, so spotting one was pretty incredible.
22. There's something for every budget
Although Tulum is known as one of the most expensive destinations in Mexico, you can still visit it on a budget. There are tons of great hostels in downtown Tulum like Mayan Monkey and La Botanica, where you can stay inexpensively and meet travelers from all over the world.
Downtown Tulum has many inexpensive restaurants and street food where you can save money and try classic Mexican dishes.
23. It has an international community
Since Tulum has grown in the last couple of years, it attracted many international visitors who made it their permanent home. If you want to live in Tulum, you will never feel lonely, as there are many other travelers here.
There are many events where you can meet other digital nomads in Tulum and places like yoga studios and fitness centers are always people from the international community.
24. You will easily make friends
Making friends is easy in Tulum. Whether it's locals or other travelers, you will never be lonely here.
25. There's always something to do in Tulum
As someone who has lived in Tulum, I can promise you that you will not get bored here. Whether it's adventureous activities, cenote hopping or exploring the Yucatan Peninsula, there's always plenty of things to do here.
FAQ's
What is so special about Tulum?
Tulum is one of the most spectacular destinations in Mexico's Caribbean famous for its Mayan ruins overlooking the coast, gorgeous cenotes, and some of the most beautiful beaches in Mexico. Tulum boasts a great variety of restaurants and street food.
Is Tulum nicer than Cancun?
Tulum is nicer in Cancun, as it offers a more authentic and relaxing experience with plenty of places to recharge away from tourist crowds.
Is Tulum good for tourists?
Tulum is an excellent place for tourists. It boasts opportunities for adventure, culture, and relaxation, and is located in the heart of Riviera Maya, which is convenient if you want to explore the region.
What is Tulum known for?
Tulum is known for its incredible beaches, Mayan jungle, diverse wildlife, and some of the most beautiful hotels in Mexico, where you can enjoy cultural experiences, do yoga, and enjoy delicious food.