Disclaimer: This post contains affiliate links. At no cost to you, I might earn a small commission if you make a purchase through the links in this article.
Placencia is a small village at the tip of the 16-mile Placencia Peninsula, that's known for its beautiful beaches, snorkeling, and scuba diving, Placencia is also a gateway to some of the most beautiful islands in Belize like Moho Caye and Laughing Bird Caye.
Is Placencia safe?
Placencia has a relatively low crime rate and is considered one of the safest destnations in Belize. The most common type of crime in Placencia that affects tourists is petty crime and robberies. Tourist scams are also not uncommon.
The town attracts plenty of tourists and expats, and many of its accommodations, restaurants, and tour agencies cater to visitors.
Is it safe to walk around Placencia?
Walking around Placencia is generally safe, but you should always be aware of your surroundings and stay away from remote and poorly lit areas of town. Don't be wandering around the beach at night unless it's part of a resort area that's well protected.
✅ Check my Belize travel trips to avoid mistakes
How to stay safe in Placencia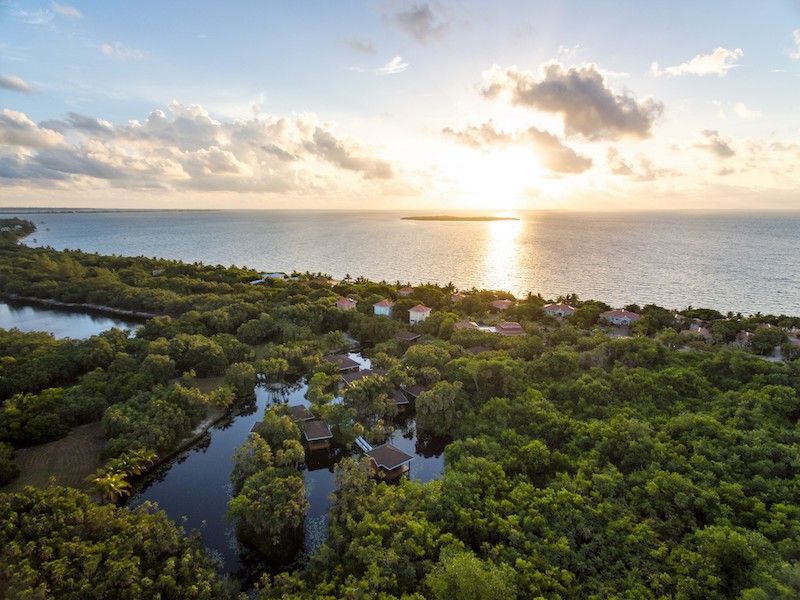 ✔️ Don't carry your valuables around
Put them in a safe or any secure space in your hotel. If you lose your bag or wallet, you still won't lose everything.
✅ GET THIS BACKPACK FOR CARRYING YOUR BASICS
✔️ Don't flash your wealth
Avoid public displays of money. Leave your expensive jewelry and gadgets at home and dress in simple clothes that will help you stay under the radar.
✅ GET THIS ANTI-THEFT BAG TO KEEP YOUR BELONGINGS SAFE
✔️ Be careful using public Wi-Fi
Be careful when using public Wi-Fi. This rule applies not only to Placencia but to many popular destinations, where your digital data could be at risk of theft. I recommend using VPN, for your trip to Belize.
✔️ Use big repellent
If you are going hiking to the Mayan Ruins near Placencia or visiting Cockscomb Basin, where you can spot some incredible wildlife, you should use bug repellent to avoid bad bites.
These anti-mosquito bracelets work really well!
✔️ Respect the environment
Be mindful of the coral reefs and marine wildlife while snorkeling and diving. Do not touch or damage the corals, and keep the distance from any marine creatures you encounter. Most injuries occur when people get too close to wild animals that might have unpredictable reactions when they feel scared or threatened.
✔️ Use sunscreen
Make sure to use reef-friendly fun block to avoid sunburns. Reef-friendly sunscreen will protect you and also keep marine animals safe, as it doesn't have any harmful chemicals compared to regular sunscreens that can damage coral reefs.
✔️ Book tours only with reputable tour operators
If you want to go beach hopping, snorkeling, hiking or enjoy any popular activities in Placencia, you should carefully vet tour operators. Ask questions, read online reviews, and compare packages to find the best deal and a good guide that can offer a fun and safe trip.
✔️ Don't drink tap water
Water in Placencia is not safe to drink just like in the rest of Belize. Buy bottled water in stores, and bring your reusable bottle, because some hotels in Placencia, and especially resorts, offer free water.
➡️ GET A STAINLESS STEEL BOTTLE TO CARRY YOUR WATER
✔️ Don't carry large amounts of money
Although you should always have some cash on you while staying in a popular destination like Placencia, you should avoid carrying large bills.
Not only they aren't likely to be accepted because most stores and restaurants probably won't be able to give you change, but you could also lose a lot of money if you get robbed.
Crime in Belize
Although tourism is a major driver of Belize economy, the country is not 100 percent safe for visitors. In 2022, it had 22 homicides per 100,000 residents with the majority of crime occurring in Belize City. The south side of town has a lot of gang activity, and violent crimes like homicides and assaults are common.
However, Placencia, like many other popular destinations in Belize has seen an increase in crime in recent years.
In August 2023, a business owner in Placencia was robbed of over $48,000 in a robbery that occurred during the day, and in March 2023, there was a reported robbery in Placencia resort.
What does the US State Department say about safety in Belize?
The U.S. State Department currently has a level 2 travel advisory for Belize and a level 2 travel advisory for Belize City, the largest city in Belize that has the highest crime rate in the country.
According to the agency, violent crimes such as sexual assault, home invasions, armed robberies, and murder – are common even during day and in tourist areas of Belize. While the U.S. State Department doesn't single out Placencia specifically, you should always exercise increased caution.
Travelers are advised to exercise caution while traveling to the south side of Belize City because of high crime.
Is Placencia safe for solo female travelers?
Placencia is generally safe for solo female travelers, but like in many popular beach towns in Belize, you might experience some form of street harassment or catcalls.
If you get any unwanted attention while walking around, just ignore it. Most of the unwanted advances will end pretty quickly if you don't acknowldge them.
How to stay safe in Placencia as a solo female traveler?
To minimize your chances of getting bothered, dress modestly, and if someone starts to make comments to you, just ignore them. Wrap up your activities by the time it gets dark, and if you happen to be out late, avoid walking by yourself and stay away from dark areas.
Also, never leave your food and drinks unattended. If you need to take a break while in a restaurant, finish your meal first.
If you are taking a solo trip to Placencia, it's a good idea to limit your alcohol consumption.
As a solo female traveler, you could join guided tours to places like Laughing Bird Caye, or hiking tours to the jungle near Placencia to meet other travelers.
Is Placencia Belize safe at night?
Placencia is safe at night, as long as you stay around Main Street, where many restaurants, bars and shops are located. Be aware of your surroundings and avoid dark areas, especially if you are by yourself.
Tourst scams in Placencia
Most tourist scams in Placencia have to do with charging tourists high prices. Always be cautious when someone is trying to sell you expensive tours or is not being transparent about prices. Scams could happen at local shops, tour agencies, restaurants, or any other places that are frequented by tourists.
Unfortunately, the gap between the rich and the poor is very big in Belize, and some locals resort to cheating visitors to make money while they can.
How to avoid scams in Placencia:
➡️ Check prices carefully
Although Belize has its currency, the Belize dollar, many stores and restaurants in the country also accept US dollars. $1 US dollar equals 2 Belize dollars, which makes the conversion rate pretty easy.
➡️ Always count your change
Depending on what currency you use, you might get a change in US dollars and Belize dollars, so always check if you got the right amount to avoid getting cheated.
➡️ Remember – if it sounds too good to be true, it probably is
If someone is promising you an incredible deal or making exaggerated statements, always be cautious.
Where to stay in Placencia?
Placencia is known for its gorgeous beach resorts where travelers come to splurge and have a great time. While resorts usually provide the most comfort and security, you don't need to stay in a 5-star resort to enjoy a safe and fun trip.
Outside of big resorts, Placencia has plenty of accommodations. Your key is to book reputable hotels with good reviews and adequate security measures in place. Check online reviews and reach out to your hotel via WhatsApp before making a reservation.
✅ Read: Best resorts in Placencia
The biggest plus of big resorts is that they tend to be in beachfront areas away from the main thoroughfares and traffic, but smaller stays might be just as good.
The hotels listed below boast wonderful reviews from travelers:
📍Best Budget Spot: Belizean Nirvana – one of the best budget hotels in Placencia, Belizean Nirvana boasts a private beach, a central location, and friendly staff.
📍Best Mid-Range Spot: Miramar Suites – this apartment-style accommodation in the heart of Placencia is a perfect mid-budget stay near the beach and some of the best Placencia restaurants
📍Best Luxury Spot: Naïa Resort and Spa – One of the most popular hotels in Placencia, Naia features beachfront cabins, hammocks, and use of bicycles, paddle boards, and kayaks.
Getting insurance for your trip to Placencia
Consider World Nomads insurance that will protect you in case of lost or stolen luggage, accidents, hospital visits, and many other unforeseen events. Safety Wing is another option, which is perfect for long-term travelers who plan to stay in the country for a couple of weeks.
Things to do in Placencia
1. Enjoying Placencia beaches
Placencia is famous for its long, sandy beaches. Spend your days lounging on the beach, swimming, riding a bike or taking long walks along the shore.
2. Snorkeling and Diving
The Belize Barrier Reef is just offshore, making Placencia a fantastic destination for snorkeling and diving. Popular spots include Laughing Bird Caye and Silk Caye. You can also explore the Great Blue Hole, a world-famous diving site.
2. Visiting Ranguana Caye
A visit to this small island is one of the most fun things to do in Placencia. This spectacular spot is a perfect place for diving, snorkeling, and observing the incredible marine wildlife and corals.
Kayaking and Paddleboarding
3. Explore the beautiful lagoons, mangroves, and waterways by kayak or paddleboard. You may even spot manatees and other wildlife in these areas. Many resorts in Placencia offer complimentary kayaks and paddleboards.
➡️ GET A WATERPROOF BAG TO KEEP YOUR STUFF SAFE
4. Monkey River Tour
Take a boat tour up the Monkey River to observe howler monkeys, exotic birds, and crocodiles in their natural habitat.
➡️ BOOK YOUR TOUR OF THE MONKEY RIVER
5. Cockscomb Basin Wildlife Sanctuary
A short trip from Placencia, this sanctuary is home to jaguars, howler monkeys, and a variety of other wildlife. It's also the only jaguar refuge in the world! While your chances of spotting these gorgeous cats are somewhat slim, since they are nocturnal, it's still worth a try.
6. Maya Ruins
Visit ancient Maya ruins like Nim Li Punit and Lubaantun to learn about the region's rich history and archaeology.
7. Placencia Village
Explore the charming village of Placencia, with its colorful buildings, shops, restaurants, and local culture. Don't forget to try some local Belizean cuisine and explore the Garifuna culture in Placencia, Dangriga, and Hopkins.
➡️ This eco-frienldy bug spary will help you avoid mosquito bites while walking around Placencia.
8. Boat Tours
Join boat tours to explore the nearby islands, cayes, and atolls. You can visit islands like Ranguana Caye and Laughing Bird Caye.
9. Day Trips
Placencia is a great base for day trips to other destinations in Belize, such as Belize City, San Ignacio, or the Blue Hole.
Check out best Placencia tours
How to get around Placencia
Placencia is a small town and you can get around on foot. You can rent a bicycle from one of the shops in town or a golf cart from places like Captain Jak's.
Here are more options for getting around Placencia:
✅ Taxis
While Placencia is a small village, you can find taxis available for short trips or transportation to destinations outside the village. Taxis are typically more expensive than other options, so be sure to confirm the fare with the driver before starting your journey.
✅ Water taxis
Placencia is situated on a narrow peninsula, and water taxis are often used for transportation to nearby islands, cayes, and other coastal destinations. These water taxis are a great way to explore the beautiful Belizean coastline.
✅ Renting a car
If you plan to explore areas beyond Placencia Village, you can rent a car in Belize City. Having your own car is great if you want to visit national parks, nature reserves, or other parts of Belize.
✅ Public transportation
Placencia is not well-connected by public buses, but some local minibus services run between Placencia and other towns in Belize. Check with local transport providers for schedules and routes.
✅ Guided tours
Many tour operators in Placencia offer guided tours and excursions to various attractions, including snorkeling, diving, wildlife reserves, and Mayan ruins.
How to get to Placencia?
To get to Placencia, you can catch a bus, rent a car or book a private shuttle. Many tourists book private shuttles from Belize City to Placencia, which provide a convenient and quick transportation.
Read: How to get from Belize City to Placencia
Is Placecnia safe: FAQ's
What crimes are against tourists in Belize?
The most common crimes against tourists in Belize are petty theft and property theft. Tourist scams can also happen. Violent crimes against tourists in Belize are rare, but you might get caught up in a bad situation if you happen to be in the wrong place. Avoid dangerous parts of Belize City and research a destination before planning a trip.
Is it safe to travel to Placencia Belize?
Traveling to Placencia is fairly safe, however, you should always exercise caution, keep a low-key profile, and be wary of tourist scams when buying tours or paying for things around town.
What is the safest part of Belize?
The safest areas of Belize are San Ignacio, Placencia, and Caye Caulker. Although you are safe statistically, crime can still occur, so it's important to exercise caution during your during your visit.
What crimes are against tourists in Belize?
Some of the most common types of crime against tourists in Belize are petty theft, scams, and robberies. Always be aware of your surroundings, leave your valuables at your hotel, and keep a close eye on your belongings.
Is Placencia Belize a good place to live?
Placencia is a good place to live if you are looking for a classic beach town with relaxed vibes and access to water activities like diving, snorkeling, and paddle boarding. Placencia has a sizable expat community, so you will not feel lonely.
Safety in Placencia: final word
Placencia is a very safe place overall, but that doesn't mean that crime doesn't occur there. As a tourist, you should always be cautious even when visiting landmarks and places frequented by other visitors. Be aware of your surroundings, don't share your travel plans with strangers, and remember that if something sounds too good to be true, it most likely is.