Disclaimer: This post contains affiliate links. At no cost to you, I might earn a small commission if you make a purchase through the links in this article.
Fort Lauderdale is a smaller neightbor of Miami to the north that's known for its chill vibes, incredible beaches and water sports. While this city is not as glamrous as Miami, there are still plenty of things to do in Fort Lauderdale.  
The city has a long list of fun experiences to offer on its own accord, with a wonderful mix of water activities, city life, attractions, art, and precious cultural gems!
There is a visible Latin influence in Fort Lauderdale similar to Miami, as it has the same stunning beachline along the shore, great dining, and nightlife – just not as expensive as Miami.
One unique aspect of Fort Lauderdale that sets it apart from other destinations is its intricate waterways!
Also, lately, Fort Lauderdale has developed into something of a cultural capital of Florida. No wonder more and more people want to travel to Fort Lauderdale to enjoy the white sands, fun activities, and cultural scenes of the city.
What is Fort Lauderdale known for?
Fort Lauderdale is becoming more and more renowned for its cultural scene, and fun events, and not just for the crisp infinite beaches and fancy hotels along the shoreline or the labyrinthine waterways that traverse parts of the city.
The city calls itself "The Venice Of America," and true enough, you can head out on gondola trips on the many charming waterways traversing parts of the city and explore the historic riverfront and sands pretending you have eloped to Italy if you want.
Fort Lauderdale is also known for unique shopping along Las Olas Boulevard, surrounded by charming places where you can give your credit card a break, like the historic districts or one of the restaurants where you can chill for lunch.
Last but not least, Fort Lauderdale has a perfect climate for an urban beach getaway, with an average temperature of around 75 degrees Fahrenheit!
Let's get into all the fun things to do in Fort Lauderdale!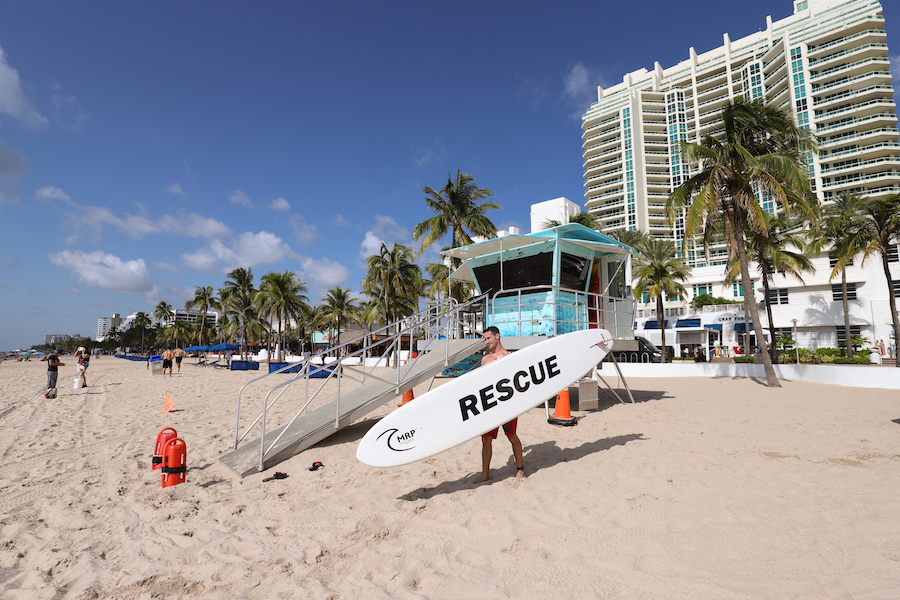 BEST THINGS TO DO IN FORT LAUDERDALE
Despite being a small city, this seaside city is the home of around 180,000 people across 36 square miles (Miami has more than double the population); and there is a long list of fun things to do in Fort Lauderdale!
Whether you prefer water activities, outdoor or indoor activities, art gazing, or nightly culture events, with a bit of research, you will find exactly what suits you here for your Florida holiday.
1. Take a water taxi
Within Fort Lauderdale, there are around 300 miles of intricate waterways within the city.
So why not do something unique to Fort Lauderdale: take a waterway taxi from A to B when you are out exploring the Venice of America (aka Fort Lauderdale).
The waterway taxis are more than just taxis, you can opt for a tour called the Hollywood Express, which takes you along the scenic route for unsurpassed views of the Hollywood Boardwalk.
✅ GET A DAY PASS FOR WATER TAXI IN FORT LAUDERDALE
You can "hail" a taxi for your evening out, too. Arrive in style for an amazing seaside dinner at the top-rated restaurant 15th Street Fisheries in the Fort Lauderdale Marina, which is equipped to welcome guests from the water.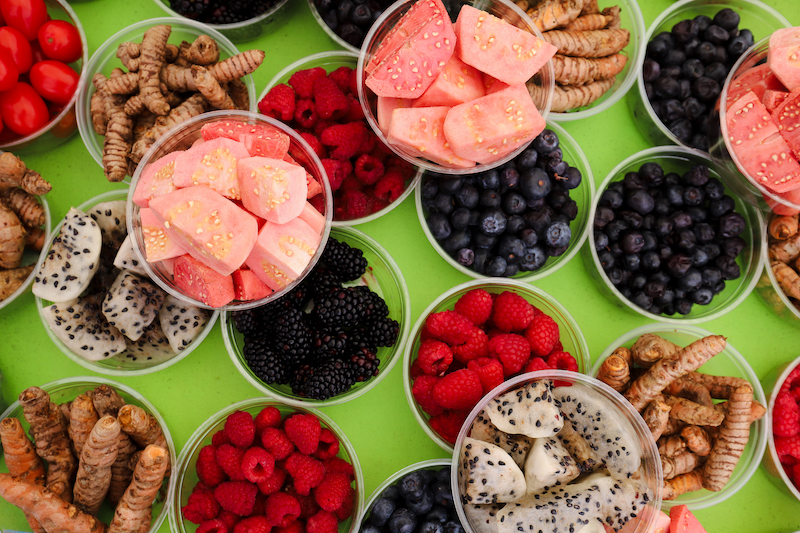 2. Visit Saturday Market
The Las Olas Oceanside Park Farmers, Antiques and Artisan Market takes place every Saturday from 9 a.m. till 4 p.m. and features local artisans who sell jewelry, clothing, fresh produce, sweets, and more.
If you happen to be in Fort Lauderdale on a weekend, make sure to stop by!
3. Explore the Museum of Discovery and Science in Fort Lauderdale
A destination for curious minds of all ages, the Museum of Discovery and Science in Fort Lauderdale provides you with an interesting interactive experience.
Everything from prehistoric creatures to modern-day gators will "personally" greet you here, and you can go digitally airborne or take a simulated Everglades tour all within the walls of this fun museum!
Open Monday through Saturday, admission for entry is $17.
4. Marvel at the coastline from a helicopter
Taking a helicopter tour is the best way to enjoy Fort Lauderdale and see the amazing skyline, the waterways, the paradisiacal beaches, and the shadows of the marine life in the sea outside of the city is from above in a helicopter!
You can take a private helicopter tour from Fort Lauderdale Airport for a unique perspective of this mini-metropolis.
Go by yourself in a tiny "two-seater" if you are a solo traveler with just you and the pilot, or bring your significant other for a beautiful sunset flight that you will never forget.
✅ BOOK YOUR HELICOPTER TOUR OF FORT LAUDERDALE
5. Check out Bonnet House Museum and Gardens
At the Bonnet House Museum and Gardens, you can step back in time and enjoy the fun ambiance of Florida in the period just after the change of the last century!
This house is listed on the National Register of Historic Places and has original furnishings from the early 20th Century nestled within the charming architecture,
Do self-guided audio tours around the property to tell you all about its history if you want to explore on your own. Or you can opt for a guided tour to make sure you don't miss anything.
You find segments of all five Florida ecosystems in the property gardens, where you can visit areas like the Desert Garden, the hibiscus garden, or the main courtyard with incredible green tropical vegetation!
General admission is $25.
6. Learn local history at Stranahan House Museum
The Historic Stranahan House was built by the founding father of Fort Lauderdale, Frank Stranahan, in 1901, and it is the oldest structure in Broward County still standing!
Frank's wife, Ivy, was the first schoolteacher in the area, and the house has served as a post office, trading post, community gathering place, and the family home of the Stranahans.
At the Stranahan House Museum today, entry is for guided tours only, which ensures you will learn all about how this iconic structure played a significant role in the economic and social development of Fort Lauderdale.
Admission: Adults $12, seniors $11, and students $7.
7. Book a show at the Broward Center for Performing Arts
For anyone appreciating an evening of entertainment, dining, and strong performances, the Broward Center for Performing Arts will provide all that in one package!
Visit their home page to check out their calendar of events, which includes a wide range of shows.
Have dinner at Marti's New River Bistro for a pre-show three-course dinner in elegant surroundings, or relax in the Intermezzo Lounge for hors d'oeuvres and a drink.
8. Step into the Flamingo Gardens
The Flamingo Gardens in Fort Lauderdale is a beautiful sanctuary for the famous pink flamingoes, but it's also home to many other colorful and interesting species in need of a safe refuge.
You will be able to meet otters, panthers, peacocks, and even a bear named Josh will greet you and teach you all about their habitat.
Want more flexibility to explore the area?
➡️ Check car rentals at DiscoverCars, my go-to platform for renting cars.
DiscoverCars allows you to choose from dozens of cars at affordable rates. They have no hidden fees or surcharges and you can also buy your insurance at the same time when you book your car online.
Every one of the five particular ecosystems found in Florida is present here, providing a natural refuge for the plants and animals that need every one of them.
Online booking entry admission is $21.95.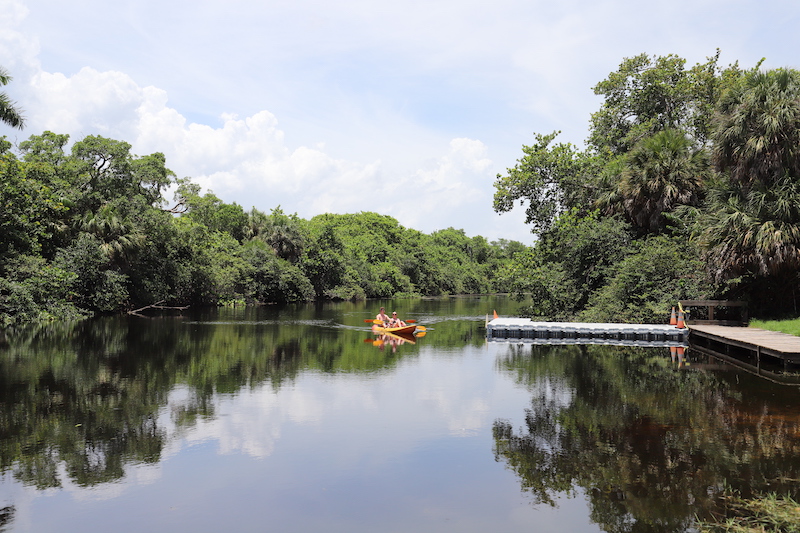 9. Check out Hugh Taylor Birch State Park
The Hugh Taylor Birch State Park is a little bit of the Florida wilderness in the middle of the city of Fort Lauderdale, an area to enjoy for both locals and visitors who want more than city streets!
You can go for stunning walks along the trails by the ocean, either by yourself or guided by a ranger. For active visitors, you can rent kayaks and canoes, jet ski, and SUP's along the waterways (maybe you will spot a manatee!), or just a beach chair if you feel loungy.
Park & Ocean is an on-site restaurant that's open daily with a wide selection on the menu in between activities, and the whole park is a vibrant green lung in Fort Lauderdale, which also has beach access!
Entry admission with a vehicle is $6, and with a bike or on foot is $2.
10. Stroll The Riverwalk in Downtown Fort Lauderdale
The Riverwalk in Downtown Fort Lauderdale is a charming and vibrant area with a mix of a marine and an urban ambiance.
Here you can go sailboat or yacht spotting, take in the chill city life, stop at a cafe or restaurant, get ice cream if it gets too hot for you, or chill in one of the parks with an iced coffee while people watching.
Try to get here for the Sunday music festivals and test the different food vendors, browse the art stores, and stroll the walking paths in a friendly and laidback atmosphere!
11. Take a boat tour in Fort Lauderdale
If you want to venture off the beach, you can choose between a variety of boat tours, from the tranquil, serene experiences to the fast and the furious.
Test a mini power boat rental, kayaking, snorkeling, diving, surfing, paddle boarding, or an airy parasailing adventure hovering about the boat!
12. Visit Fort Lauderdale during the International Boat Show
With 50,000 registered yachts, Fort Lauderdale is frequently called the yacht capital of the world.
It's probably why the city hosts the Fort Lauderdale International Boat Show at the end of every October, so if you like big shiny boats, you should visit in October.
Attending the show, you will also experience lots of culinary delights and seminars, and you can visit the Super Yacht Village and the Aqua Zone with lots of fun demos!
13. Embark on a scuba diving adventure
In the greater Fort Lauderdale, 15-minute drive to the north, there is also a small town called Lauderdale-by-the-Sea, often referred to as South Florida's Beach Diving Capital. 
The nearest reef here is just 100 yards outside the beach, which makes it a perfect destination for scuba divers.
You can go for a tranquil, colorful reef dive straight off the beach, wreck diving, technical diving, or drift dives where you can go hunting for lobster!
✅ BOOK YOUR SNORKELING TOUR IN FORT LAUDERDALE
14. Hop around Fort Lauderdale beaches
The beaches of Fort Lauderdale deserve as much appreciation as Miami Beach, maybe even more, and the downtown Fort Lauderdale beach gives you just the right vibe, only a stone's throw from the city!
Enjoying one of the soft white sandy beaches is one of the can't-miss things to do in Fort Lauderdale; the city has no less than 27 miles of sand to brag about, so you should be able to find a perfect spot for your beach day!
✅ How to visit Pompano Beach Pier – one of the best free piers in South Florida!
A staggering six of the beaches in the city are so-called Blue Wave Certified, meaning they meet certain standards for sustainability and cleanliness.
On this list, you find Deerfield Beach, Dania Beach, Fort Lauderdale Beach, Lauderdale by the Sea, Hollywood Beach Boardwalk, a bit to the south, and finally, Pompano Beach, a stretch to the north just after Lauderdale-by-the-sea.
15. Go paragliding
Paragliding in Fort Lauderdale is one of the most fun activities and a perfect way to enjoy the spectacular view of the beach that most travelers don't get to experience. You can book your paragliding tour online ahead of your visit.
16. Have fun in the sun at Fort Lauderdale Beach Park
Towards the south of the Fort Lauderdale beaches, you can go for a city break or fun with family or friends at Fort Lauderdale Beach Park.
The area is perfect for an active and social time, and from 5 p.m. until midnight, you can enjoy the following outdoor amenities in this park:
17. Everglades National Park
Everglades National Park is complex wetland ecosystem, which includes sawgrass prairies, mangrove forests, cypress swamps, and a network of slow-moving rivers and waterways. It is often referred to as the "River of Grass" due to the wide expanse of sawgrass that dominates its landscape.
You will have a chance to see alligators, snakes, turtles, peacocks, eagles, and even turkeys while exploring the park that lives in the protected Everglades National Park.
18. Rent a bicycle to explore
Renting a bike to explore on your own on two wheels is one of the charming Fort Lauderdale things to do where you can organize your perfect itinerary for yourself and travel at your own pace.
You can rent a bike at several spots around Fort Lauderdale promenade.
One of the most popular spots is Broward B Cycle in the south parking lot. Another bicycle station is located on Bayshore Drive near W Hotel Fort Lauderdale.
You can bike around almost anywhere, but great areas for two-wheelers in Fort Lauderdale are the following:
Long Key Natural Area Trail
New River Greenway
Beach Boardwalk Promenade
Hugh Taylor Birch Rail Trail
Holiday Park Loop
You can also check out Broward County's bike-sharing program Broward B-Cycle, which has stations in many spots along Fort Lauderdale Boulevard.
19. Jungle Queen River Boat tour
The longest-running thing to do on the river in Fort Lauderdale is a tourist attraction with two (and a half) decks! The Jungle Queen River Boat is an adventure unique to Fort Lauderdale, taking you up and down the New River in a leisurely tempo.
This boat tour has been running since 1935, and the Jungle Queen is a beautiful boat with excellent navigation skills to traverse the sometimes narrow riverways.
➡️ BOOK JUNGLE QUEEN RIVERBOAT TOUR
With a rare elegant ambiance, it will take you past the landmarks along the riverways and the impressive row of stunning mansions that is the Millionaire Row of Fort Lauderdale while you relax with a cocktail from the onboard bar.
20. Take a dinner cruise
If you travel with your better half (or even on your own or with friends), a dinner cruise along the Fort Lauderdale Riverways is a romantic and scenic experience.
Many tour companies in the area offer fun dining tours on the water, with delicious meals accompanied by an around sunset.
Choose a spectacular yacht dinner for a special occasion or a more laid-back riverfront cruise with or without champagne.
➡️ BOOK YOUR CRUISE IN FORT LAUDERDALE
21. Visit Fort Lauderdale breweries
There are an impressive number of breweries in Fort Lauderdale, and many of them have developed their unique flavors while offering the perfect pub foods to go with the brew!
The number of breweries has almost exploded during the last decade, and today you find any flavor for any palate spread across the city from downtown to the riverfront.
Choose your favorite kind among industrial microbreweries, nano breweries, beer gardens, and so-called brewpubs; the options are almost limitless. If you are a brew lover, you can download the Ale Trail, so you don't miss out!
22. Have a fun Spring Break in Fort Lauderdale
The biggest party event of the year is also thoroughly celebrated in Fort Lauderdale, and every year toward the end of March since 1938, the city attracts many students who come here to enjoy a break.
If you want to enjoy the Spring Break atmosphere, travel to Fort Lauderdale in the last few weeks of March and join the happy crazy!
23. Check out Fort Lauderdale restaurants
Fort Lauderdale restaurants serve a great variety of food from casual American fares to Latin American dishes and everything in between.
For the best seafood, try out Tommy Bahama Marlin Bar & Store, which gets five stars across the board, and It Italy if you are looking for exquisite Italian food.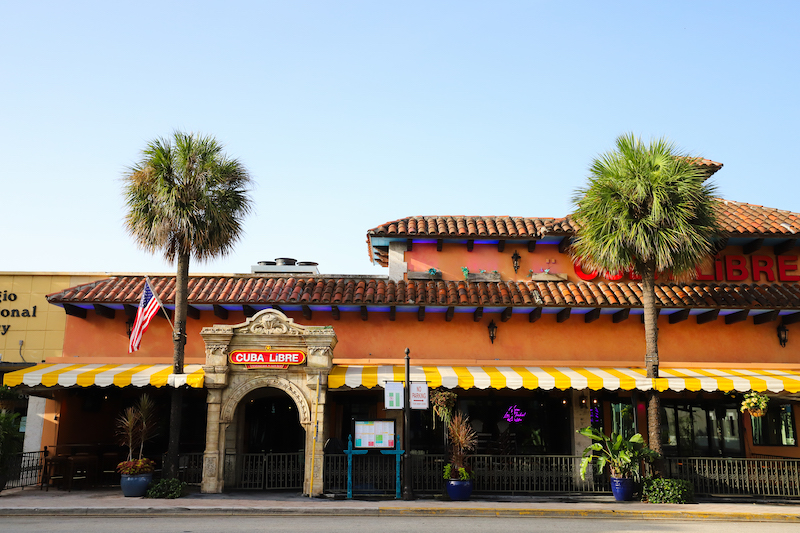 The best pizza is at Dolce Salato Pizza and Gelato, and for delicious Mexican food, check out Rocco's Tacos in Las Olas!
In the South Florida heat, you will want an ice cream to cool down, and for the best ones, you want to go to the Puro Ice Cream Factory or Razzleberry's Ice Cream and FLL Marshmallow Co.
24. Enjoy Fort Lauderdale nightlife
For travelers who come to life at night when the neon lights are on, you are also at the right place in Fort Lauderdale.
You can start your evening off with a sunset champagne cruise to savor the last rays of golden light before the city night comes to life.
Later, there are lots of places to keep up the energy until the small hours, and you can find places for dancing, gaming, or live music.
Try places like Rhythm and Vine, Off The Hookah, Blue Martini Lounge, or The Elbo Room!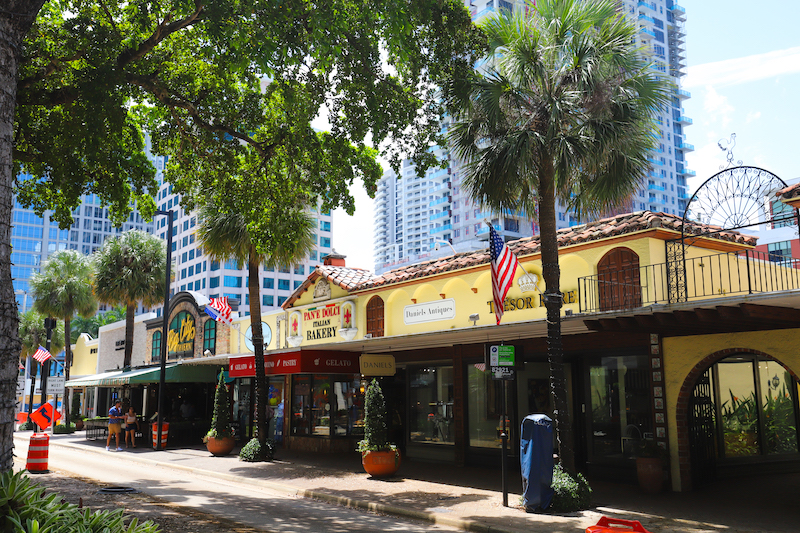 25. Go for a dinner on Las Olas Boulevard
The heart and soul of and main street in Fort Lauderdale is Las Olas Boulevard. Along the boulevard, you find jewelry stores, unique small boutiques, over 120 specialty retail shops, and several renowned art galleries where you can experience performance art displays.
Las Olas Boulevard ends right on the sands of Downtown Miami Beach, so when you are exhausted from your shopping spree, just head for the surf of the Atlantic Ocean!
✅ Read: Fort Lauderdale in January
26. Enjoy shopping at Sawgrass Mills Mall
Outside the city center, you also have the Sawgrass Mills Mall, one of the biggest retail spaces in the US. With over 350 shops, you can spend the whole day here without getting bored or visiting the same place twice!
27. Daybreak at a day-spa
There are lots of beauty salons along Las Olas Boulevard if you need a pick-me-up during the day (or your girlfriend does), or if you want to be a little extra fresh and newly made up after a long day and before your night.
An invigorating facial, a heavenly massage after exploring the city on foot, or just a flashy new set of nails to make you feel like a million dollars!
Best Fort Lauderdale Hotels:
If you want to stay in a unique place, you can step into the guitar in Fort Lauderdale that is visible in all cardinal directions for miles! It is impressive from the outside and surprising on the inside, with shops, nightclubs, concert halls, restaurants, and a casino!
The way this hotel is built, it is like a whole community to itself inside a giant green guitar, as well as providing outdoor spaces to enjoy.
✅ BOOK SEMINOLE HARD ROCK HOTEL
On the high-end side, a top-rated hotel option sitting right on the beach is the Lago Mar Beach Resort and Club, only steps from the sands, with a vast range of amenities situated about two miles from Las Olas Boulevard.
✅ BOOK LAGO MAR BEACH RESORT AND CLUB
If you are traveling in a group or the whole family, why not rent a villa all to yourself?
This five-star Waterfront Villa is right in the middle of the Fort Lauderdale waterways, a few minutes from Las Olas Boulevard, and has everything and anything your heart can desire, including a swimming pool, terrace, a dock to the waters, and a lot more.
✅ BOOK WATERFRONT VILLA IN FORT LAUDERDALE
A high-rated budget hotel option close to the city center is the Hotel Maren Fort Lauderdale Beach.
With incredible views, beach access, an outdoor swimming pool, delicate rooms, and common areas, this is a good, option not very far from Las Olas Boulevard and the Fort Lauderdale waterways.
✅ CHECK PRICES AND AVAILABILITY AT HOTEL MAREN
Best Things To Do In Fort Lauderdale: FAQ's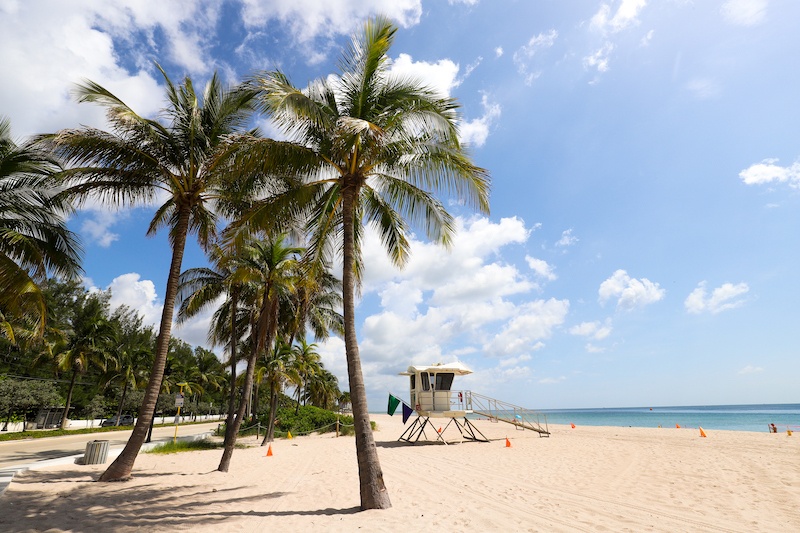 Is Fort Lauderdale Miami?
No, Fort Lauderdale is not the same as Miami. They are different cities, each with their suburbs and metropolitan areas, almost 30 miles apart.
How far is Fort Lauderdale from West Palm Beach?
Fort Lauderdale is around 45 miles, or 1 hour and 15 minutes, south of West Palm Beach.
Is Fort Lauderdale a party town?
Fort Lauderdale might not be a "party town" per se; there are a lot of other great attractions and things to do here. But there are plenty of places to go out for drinks, live music, and clubs in Fort Lauderdale, so night animals will not be disappointed.
What is Fort Lauderdale also known as?
Fort Lauderdale is also known as the "Venice of America" because of the 300-mile-long intracostal waterway crisscrossing the city.
Things to do in Fort Lauderdale: final thoughts
Situated along the exquisite shoreline padded with soft white sand between Hollywood and Pompano Beach, Fort Lauderdale, Florida, is a popular destination for travelers.
With its growing cultural scene, unique waterways, beaches, parks, shopping, culinary diversity, and history, there is an unlimited variety of things to do when visiting Fort Lauderdale city, indoors and outdoors, day and night, on and under the water.
So Miami needs to watch out, as the urban throne of Florida might be challenged as Fort Lauderdale is becoming an urban queen in its own right!