Disclaimer: This post contains affiliate links. At no cost to you, I might earn a small commission if you make a purchase through the links in this article.
Fort Lauderdale is known for its Latin-American influence, and nowhere it's more evident than in the number of Fort Lauderdale Mexican Restaurants where you can treat your taste buds to incredible flavors from different regions of the neighboring country.
From unpretentious family-run establishments to upscale establishments in Las Olas, there are many Mexican restaurants in the area where you can enjoy flavorful tacos and quesadillas while sipping on a mouth-watering Margherita.
Keep on reading to find out about the best places to enjoy Mexican cuisine in Fort Lauderdale.
Travel resources for your trip to Florida
FORT LAUDERDALE MEXICAN RESTAURANTS: AN OVERVIEW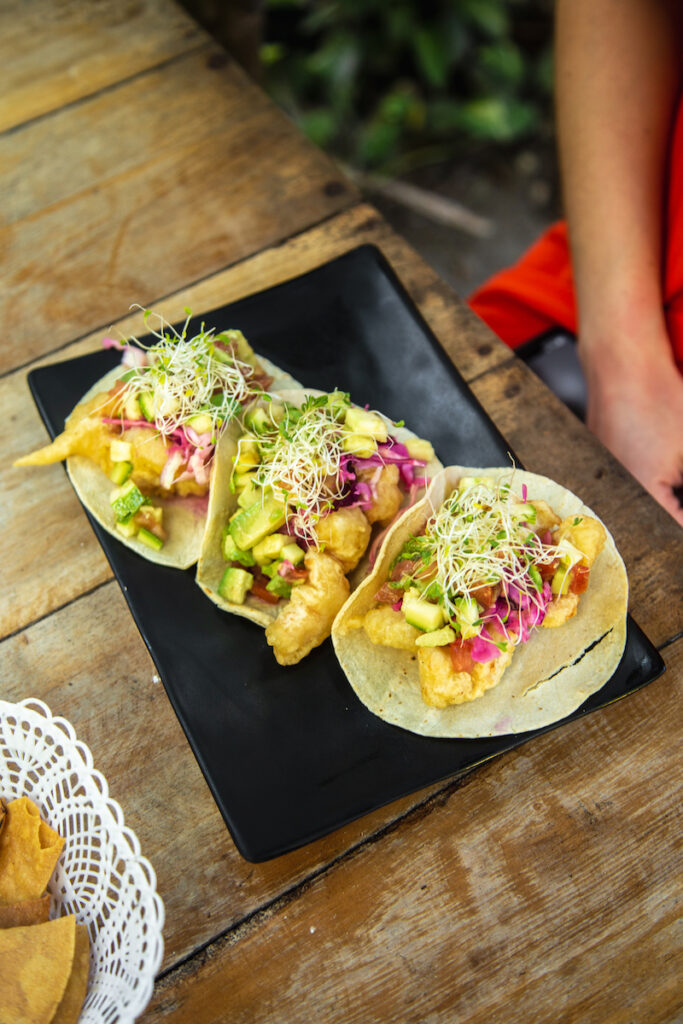 1. Taco Craft
Taco Craft is a trendy Mexican eatery where you can enjoy many classic options like tacos, quesadillas, nachos, and tequila in a colorful setting with spacious outdoor seating.
The food at Taco Craft comes in a great presentation, and chefs pay close attention to details. It's one of the most popular restaurants in Lauderdale by the Sea, just north of downtown Fort Lauderdale.
Perfect ambiance with live music and a spacious outdoor seating area.
Address: 510 N Federal Hwy, Fort Lauderdale, FL 33308, United States
2. El Taquito Fort Lauderdale Beach
El Taquito is one of the most popular Fort Lauderdale Mexican restaurants with superb views of Fort Lauderdale coastline and an on-site bar.
Unlike some eateries along the beach, El Taquito always has generous portions and fair prices, so you will leave this place with a full stomach without paying a fortune.
➡️ Check: The best cheap hotels in Fort Lauderdale
Their Taco Tuesday offers fun deals!
Start with one of appetizers, like a typical Mexican elote, corn on the cob that comes with cheese and sour cream, or avocados, and order a plate of fajitas or one of their signature burritos and enjoy a margarita or delicious Pina colada. 
✅ Read: Fort Lauderdale in March
And don't forget about their guac – it's phenomenal!
Address: 917 N Fort Lauderdale Beach Blvd, Fort Lauderdale, FL 33304
3. La Costa Mexican Restaurant
La Costa is a hidden gem of the area, tucked in a quiet corner, that has amazing reviews. If you are looking for a break from busy Mexican restaurants in Fort Lauderdale, you need to check it out.
La Costa's menu features dishes from Mexico, Honduras, Colombia, and different regions of Central America, making this place a one-stop shop of multicultural authentic dishes.
➡️ Read: the best restaurants in Delray Beach – a hidden gem of South Florida
From the towering artisan bean dip and chips to the coconut rice and beans side dish hidden under a halved coconut shell, this place knows how to do food presentation.
What makes La Costa special is its personable service and a variety of food options. The restaurant has colorful decorations and you get to listen to Mexican music while enjoying your food.
The restaurant is just a few blocks away from Fort Lauderdale beach in a small plaza. Nanou Bakery and Argentinian Empanadas store are right next to the restaurant.
The restaurants in conveniently located across from Las Olas parking garage.
Address: 2915 E Las Olas Blvd, Fort Lauderdale, FL 33316
4. El Vez Fort Lauderdale Beach
El Vez is an upscale Mexican restaurant inside W Fort Lauderdale that boasts an outdoor patio and a spacious indoor area.
As a vegan, I suggest trying their flavorful Kale Caesar Salad and yummy tostadas, but there are plenty of regular options on the menu like make your own tacos, half nacho mama, flautas and ceviche.
✅ Read: Best breakfast in Fort Lauderdale
If you want to celebrate a special occassion or treat yourself to a fancy dinner, this is one of the best spots.
Guests praise restaurant's superb food, friendly service and great oceanfront view.
Address: 401 N Fort Lauderdale Beach Blvd, Fort Lauderdale, FL 33304
5. The Drunken Taco
A lively spot in the heart of Fort Lauderdale beach, Drunken Taco is always busy.
This casual restaurant is just a few steps from Elbo Room, a famous Fort Lauderdale beach bar. The Drunken Taco boasts outdoor seating, and an extensive menu with tacos, sandwiches, and a separate tequila menu.
The restaurant is open and is perfect for enjoying the light breeze from the Ocean while savoring a delicious Margarita, flavorful tacos, a signature burrito, or sizzling fajitas.
For healthier options, try their Southwest Salad with Baja Sauce.
✅ Read: Fort Lauderdale in February
The Drunken Taco also has upbeat music, fast service, and friendly waiters and waitresses.
Address: 201 S Fort Lauderdale Beach Blvd, Fort Lauderdale, FL 33316
6. Zona Fresca
Zona Fresca is a chain of popular Fort Lauderdale Mexican restaurants that has locations across South Florida.
This restaurant is always busy, and here's why:
This restaurant has the cute design of a typical Mexican cantina and boasts excellent friendly service with a smile, freshly made food, and a lively atmosphere.
Besides their generous portions, Zona Fresca also offers massive (and FREE) tortillas and salsa for starters, and their menu boasts plenty of typical Mexican fares like burritos, quesadillas, tacos, enchiladas, and salads.
Zona Fresca offers unbeatable street food prices, and portions are huge, which is perfect if you want to enjoy authentic Mexican food without breaking your budget.
Address: 1635 N Federal Hwy, Fort Lauderdale, FL 33305
7. Lona Cocina
A classic Mexican restaurant next to Westin Hotel, Lona Cocina is one of the most popular Fort Lauderdale beach establishments with generous brunch options, as well as an extnesive dinner menu
Here's a little secret: In the morning, Lona Cocina doubles as a breakfast spot, and it's called Tinta, and you will see both names when you arrive at the restaurant. This place is said to have the best breakfast in Fort Lauderdale!
✅ Read my guide to Dania Beach, one of the best spots to swim and snorkel in Fort Lauderdale.
Try their white chocolate blueberry pancakes, Yucatan pancakes, crispy tostadas, or eggs Benedict – you will not be disappointed! The spectacular views of Fort Lauderdale Beach from the restaurant are a cherry on the cake.
✅ Learn about the best restaurants in Deerfield Beach
They also have a small coffee menu that explains the difference between a latte, cappuccino, and macchiato which is helpful if you want to learn about the differences between available coffee types.
If you are visiting this place by car, you can use valet parking at Westin.
Address: 321 N Fort Lauderdale Beach Blvd, Fort Lauderdale, FL 33304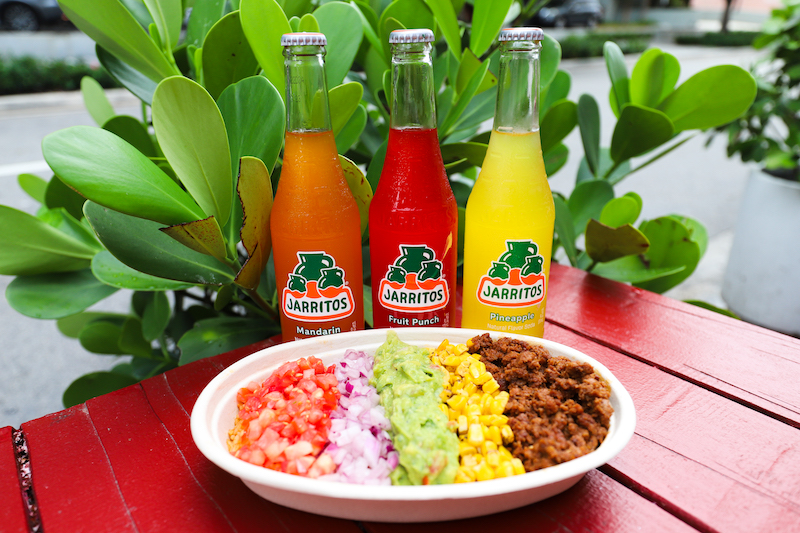 8. Bodega Taqueria y Tequila
Bodega is one of my favorite Mexican restaurants in Fort Lauderdale! Located in Las Olas, this spot is a perfect alternative to fancy restaurants along Las Olas Boulevard which are more expensive and sometimes even have dress codes.
The menu at La Bodega has tacos, burrito bowls, and quesadillas, and you can customize your fillings and toppings however you like.
Bodega has an outdoor seating area as well as a nice bar inside where you can enjoy a drink. They also have a good range of Mexican beer and sweet drinks like classic Mexican soda Jarritos, which come in fun flavors like pineapple, mandarin, and fruit punch.
Address: 21 W Las Olas Blvd, Fort Lauderdale, FL 33301, United States
9. The Whole Enchilada
The Whole Enchilada is a Florida chain of Mexican restaurants that has locations in Fort Lauderdale and Pompano Beach.
Located away from the beach, this is a popular casual restaurant that has typical Mexican staples but also features marked vegan options on the menu.
Address: 745 N Federal Hwy, Fort Lauderdale, FL 33304
10. La Bamba
La Bamba is a casual Mexican restaurant in the shopping plaza in Fort Lauderdale that offers delicious homemade-like food including staples like nachos, quesadillas, and a variety of tacos.
They also have a vegetarian combination, enchilada and taco combo, and delicious fajitas that come in many flavors.
Also on the menu are various sales and soups. I highly recommend their black bean soup that's made of black negros, onions and parsley.
Another part of the menu features traditional Spanish dishes and a variety of drinks and appetizers.
La Bamba has 6 locations in the South Florida area including Plantation, Delray Beach, North Palm Beach, and Margate.
Taco Joint is a chain of casual Mexican restaurants with locations in Pompano Beach and Hollywood Beach that offers generous options for tacos with many flavors and sauces.
Address: 1901 Cordova Rd, Fort Lauderdale, FL 33316
11. Jalisco Restaurant Fort Lauderdale
Tucked away on US-1 next to Holiday Park in Fort Lauderdale, Jalisco is a great spot for your typical Mexican food that boasts top-notch service with friendly staff and the complimentary chips and salsa served before the main course,
Some of the best items on the menu are Juan El Burro and the Flautas Rancheras. The menu offers combinations with many classic options like delicious enchiladas, savory chimichangas, sizzling fajitas, and desserts like Tres Leches cake.
Their prices are very reasonable compared to many other popular Mexican restaurants in Fort Lauderdale.
Food at the restaurant comes with free chips and dip when dining in. Don't forget to try their homemade pasta.
Address: 700 N Federal Hwy, Fort Lauderdale, FL 33304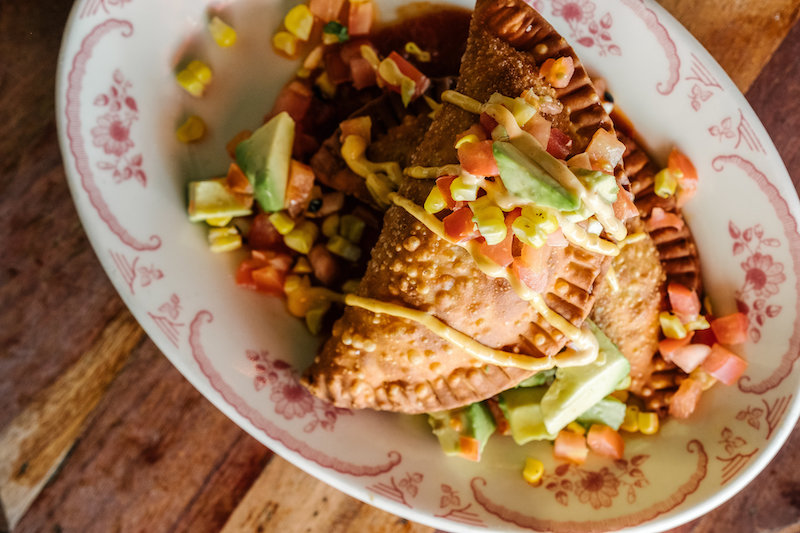 12. Rocco's Tacos and Tequila
Located along Las Olas Boulevard, Rocco's Tacos is one of the busiest Fort Lauderdale Mexican restaurants where it's not uncommon to wait in line for a table, especially on weekends.
From their authentic decorations to friendly servers and incredible food, it's not hard to see why so many visitors choose this place over other restaurants:
Rocco's Tacos has it all!
The restaurant offers classic Mexican flares like tacos, burritos, queso fundido, enchiladas, molcajete, and over 400 varieties of tequila. And they also mix guacamole right at your table.
Start with salsa verde and continue and continue with nachos and signature tacos. Their margaritas ar really good too.
They also have separate menus for their happy hour and brunch as well as desserts like tres leches cake, churros, and Mexican chocolate brownie sundae.
You will also love Rocco's Taco's reasonable prices – which means you can enjoy some of the best Mexican food in Fort Lauderdale without breaking the bank.
Address: 1313 E Las Olas Blvd, Fort Lauderdale, FL 33301
13. Bandoleros Taqueria
Bandoleros Taqueria is a contemporary Mexican eatery in the Historic District in Downtown Fort Lauderdale that offers a modern twist on classic Mexican fares like burritos, tacos, and quesadillas that come in large portions.
Decorated as a contemporary Mexican cantina, it's a perfect place to celebrate a special occasion or just have a casual dinner thanks to its outstanding service and special ambiance with cute decorations and music.
Pair any of the food items with tequila or mezcal or one of their signature cocktails.
I recommend their vegan portobello tacos a vegetarian tacos for a healthy meal, as well as their vegan quesadilla, which is delectable, even if you are not a plant-based eater. The menu also has plenty of non-vegan options, as well as burritos and healthy rice bowls.
If you have a sweet tooth, try their churros, or Nutella tacos.
Address: 208 SW 2nd St, Fort Lauderdale, FL 33301
14. Quvo Tacos and Craft Beer
Quvo Tacos is a family-owned restaurant that makes a fantastic choice if you want to enjoy good food in a cozy setting. This is a small hole-in-the-wall restaurant with a quiet atmosphere and a personable approach, where owners know their regular customers' favorite meals.
Their craft beer is on point and options like fresh guacamole and savory tacos will satisfy your hunger, so make sure to come with an empty stomach.
Address: 4354 N Federal Hwy, Fort Lauderdale, FL 33308
CHECK OTHER FORT LAUDERDALE ARTICLES: