Disclaimer: This post contains affiliate links. At no cost to you, I might earn a small commission if you make a purchase through the links in this article.
February in Fort Lauderdale is when things slowly start to wind down from the busy winter season. Although demand is still high, February is not as hectic compared to December or January, which means you can score better deals on tours and hotels. If you want to visit Fort Lauderdale in late winter, this guide is for you.
Weather in Fort Lauderdale in February
Fort Lauderdale typically experiences pleasant and mild winter weather in February, while the rest of the United States still has winter. Average high temperatures in Fort Lauderdale during this month range from around 75 to 78°F, while average low temperatures range from the high 50s to low 60s during the night.
February is the best time to visit this South Florida city to enjoy water activities and explore the beaches without the crowds. The weather is usually pleasant and comfortable, but it's always a good idea to check the forecast closer to your travel date for more accurate information.
Water temperature in Fort Lauderdale in February
The water temperature in Fort Lauderdale typically ranges from the mid-60s to low 70s Fahrenheit (around 18-22 degrees Celsius) throughout February. Be prepared for cooler water temperatures if you plan to swim or do water sports during your visit.
Events in Fort Lauderdale in February 2024
Fort Lauderdale hosts several events in February. In 2024, the city will host a fun event that will offer guests a chance to try more than 30 types of wines, and craft beers against the backdrop of the Atlantic Ocean.
Another fun event that will take place in February 2024 in Fort Lauderdale is the Florida Renaissance Festival which will begin February 24 and end March 3. 
✅ Read: Fort Lauderdale in March
What to do in Fort Lauderdale in February
February is a great time to enjoy popular outdoor activities without too much heat and humidity. From sailing to paragliding and taking boat rides, there are tons of cool activities.
Spend time on Fort Lauderdale beaches
Did you know that besides the famous Fort Lauderdale Beach, the area is also home to many other beaches where you can sunbathe, snorkel, scuba dive, or paddleboard? Some of the best beaches in Fort Lauderdale are Dania Beach, Hollywood Beach, Lauderdale by the Sea, and Pompano Beach.
Take a day trip to Delray Beach
One of my favorite beaches in Fort Lauderdale, Delray Beach is a pure gem. You can access it from Atlantic Avenue, the main thoroughfare in downtown Delray Beach that's home to many stores, restaurants, and cafes. You can get to Delray Beach by renting a car in Fort Lauderdale or catching a train.
✅ Check: best hotels in Delray Beach
Take a water taxi tour
Did you know that Fort Lauderdale is called "the Venice of America" because of its extensive system of canals and waterways? The best way to explore them is by taking a water taxi tour which can be booked online.
✅ GET A DAY PASS FOR WATER TAXI IN FORT LAUDERDALE
Join Everglades Airboat Tour
The Everglades is one of the most popular national parks in the United States renowned for its wildlife, which is just a short drive from Fort Lauderdale. February is a great time to take an airboat tour of the Everglades, as the weather is not too hot, and you have a good chance to spot wildlife like alligators and exotic birds as they are not hiding from the heat.
✅ BOOK THIS POPULAR VIP TOUR OF EVERGLADES
Visit Fort Lauderdale museums and galleries
After enjoying outdoor opportunities in Fort Lauderdale, take time to enjoy the culture. Fort Lauderdale has several museums and art galleries, such as the NSU Art Museum Fort Lauderdale and the Museum of Discovery and Science.
These indoor attractions can be a great option on a rainy day.
Explore Riverwalk Arts & Entertainment District
One of the best free things to do in Fort Lauderdale is taking a stroll in Las Olas along the Riverwalk. Here you can find plenty of some of the best dining and nightlife in Fort Lauderdale. You can also visit the Broward Center for the Performing Arts for live shows and performances.
Check out Bonnet House Museum & Gardens
No trip to Fort Lauderdale is complete without visiting Bonnet House, a historic estate from the 1920's that features gardens, and art, and offers a tour of local history.
Go Snorkeling or Diving
Fort Lauderdale is home to some of the best snorkeling and diving in South Florida. You can explore underwater wrecks and coral reefs, and many local dive shops that offer excursions. Lauderdale by the Sea is known as one of the best places for diving and snorkeling in Fort Lauderdale thanks to its crystal clear waters and a variety of wildlife.
➡️ BOOK YOUR SNORKELING TOUR IN FORT LAUDERDALE
Go for a picnic at Hugh Taylor Birch State Park
One of my favorite spots in Fort Lauderdale, The Hugh Taylor Birch State Park, is a top place in the area for kayaking, wildlife watching, and spending time in nature. If the beach area feels busy to you and you want to enjoy a more quiet space, this small state park is a good option.
The entrance price is $10 per vehicle.
Tips for visiting Fort Lauderdale
When visiting Fort Lauderdale in winter, plan ahead to make the most of your trip during this popular time of year.
Book accommodations early
February is still part of the high season for tourism in Fort Lauderdale, so accommodations can fill up quickly. Book your lodging well in advance to secure the best options and prices.
Check prices on Booking ahead of your visit.
Pack for variable weather
While February in Fort Lauderdale is generally mild and pleasant, you should pack layers and include both warm-weather and lighter clothing, and some cooler-weather options for evenings when temperatures can drop.
Plan outdoor activities
Take advantage of the beautiful weather and plan outdoor activities like beach outings, water sports, and exploring nearby natural areas like the Everglades. Consider renting bikes or kayaks to explore the scenic surroundings.
Check Viator, my favorite platform for booking guided tours online.
Try waterfront dining
Fort Lauderdale has many waterfront restaurants and bars. Dining with a view of the Intracoastal Waterway or the Atlantic Ocean can be a memorable experience. Make reservations at popular establishments like Ocean 2000, one of the best brunch places in Fort Lauderdale, as they usually have a wait.
Respect beach rules
When visiting popular Fort Lauderdale beaches, always follow local beach rules and regulations, including any restrictions on alcohol, bonfires, and beach cleanliness.
Stay hydrated
Fort Lauderdale's climate can be sunny and warm in February. Stay hydrated by drinking plenty of water, especially if you're spending time outdoors.
Be prepared for traffic
It's not uncommon for Fort Lauderdale to experience increased traffic during the busy season, particularly around the beach and downtown. Be ready for congestion on roads, especially on weekends and holidays.
Follow beach rules
If you plan to swim in the ocean, pay attention to beach flags and lifeguard instructions. Rip currents can be present along the South Florida coastline, so you should always check if there are any warnings before getting into the water.
Best places to stay in Fort Lauderdale:
Ritz Carlton
Ritz Carlton is a popular oceanfront hotel that has a spa, a restaurant, and an elevated 29,000-square-foot tropical sundeck with an infinity pool and private cabanas.
All rooms come with a flat-screen cable TV, marble bathroom, and floor-to-ceiling windows are featured in all rooms. Breakfast is available daily.
✅ CHECK PRICES AND AVAILABILITY AT RITZ CARLTON
Elita Hotel
Elita is a cute boutique hotel that boasts cool minimalistic decor and a nice swimming pool. Located across from W Resort, this small stay boasts a home-like atmosphere which is perfect if you are looking to relax and save some money.
✅ CLICK HERE TO CHECK RATES AND AVAILABILITY
Hotel Soleado
Tucked in behind big resorts in Fort Lauderdale, Hotel Soleado is a hidden gem of the area. The hotel is just a few blocks from the beach and within walking distance of stores, restaurants, and shops.
The property offers chairs and umbrellas for the beach. This small hotel offers amazing value for your money, especially during the high season when prices on accommodations in Fort Lauderdale tend to be high.
✅ CLICK HERE TO CHECK RATES AND AVAILABILITY
Best restaurants in Fort Lauderdale: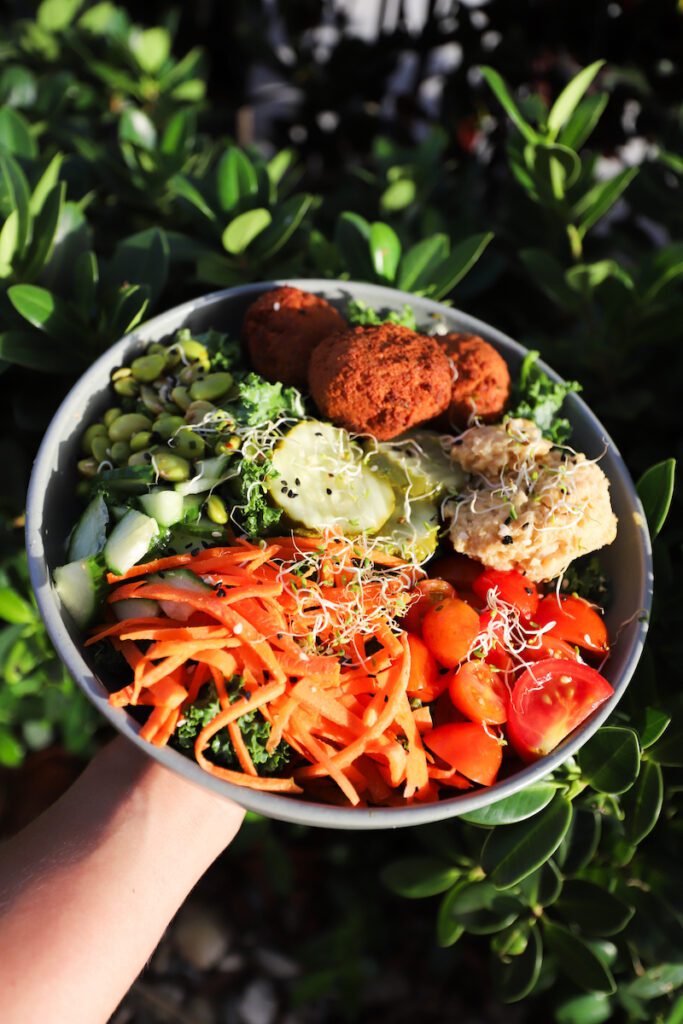 SoBe Vegan
SoBe is one of the most popular vegan restaurants in Fort Lauderdale where you can enjoy delicious comfort food like burgers, wraps, and chickpea tuna. They also have fresh tropical smoothies and mouthwatering deserts that make a perfect refresher on a hot summer day.
The restaurant is located around the corner from Fort Lauderdale Beach, which makes it a great spot to grab a bite after swimming.
Kousine Fort Lauderdale
Located next to McSorley's Kousine is a hidden gem where you can try a fusion of Peruvian and Asian cuisines.
Their menu includes many classics from Peruvian cuisine like ceviche, and an assortment of fish and meat dishes like lomo saltado and Pisco, a traditional Peruvian drink.
Foxy Brown
Foxy Brown is one of the most popular restaurants in Fort Lauderdale in Las Olas known for its delicious brunch, and it's common to have to wait in line here, so make sure to make a reservation, especially if you are visiting during the high season in Fort Lauderdale.
The most popular menu options include waffle sliders, patty melt sandwiches, and doughnut holes.
FAQ's
Why visit Fort Lauderdale in February?
The pleasant weather in February makes it an ideal time for outdoor activities, such as hiking, biking, kayaking, and exploring natural parks and the nearby Everglades. While February is a busy month, it's not as crowded as December or January. It's also a perfect time to spot wildlife in places like Everglades as many animals tend to be out thanks to milder temperatures.
Is February a good month to visit Fort Lauderdale?
February is a popular time for visitors from colder regions who are looking to escape winter's chill. Fort Lauderdale's warm and sunny weather provides a welcome break from the cold. However, since February falls within the high season in South Florida, prices for accommodations and activities are higher compared to other times of the year.
Is Fort Lauderdale warm in February?
Yes, Fort Lauderdale is generally warm in February, when an average high temperature ranges from the mid-70s to low 80s Fahrenheit. The city sees plenty of sunshine in February, with mostly clear skies and minimal rainfall.
Is it worth going to Florida in February?
Most parts of Florida have mild to warm weather in February. It's a good time for outdoor activities, including beachgoing, and exploring natural parks. While the air temperatures are pleasant, the ocean water can be cool in February, which may affect your enjoyment of swimming and water sports.
What is the weather like in Fort Lauderdale in late Feb?
Late February sees pleasant sunny weather with minimal rainfall and a comfortable level of humidity making it easy to spend time outside and enjoy various outdoor activities.
Can you swim in Fort Lauderdale in February?
You can swim in February, but it may not be as warm as some prefer. The ocean water temperature in in February typically ranges from the mid-60s to low 70s Fahrenheit (18-22 degrees Celsius).
Final word
Fort Lauderdale is one of the most popular destinations to visit in Florida in winter. While February is a bit less expensive than two previous months, it's still pretty busy, and you can expect to pay higher-than-average prices during this time. A good way to avoid this is by planning your trip ahead of time, planning your activities for weekdays rather than weekends, and exploring hidden gems in Fort Lauderdale.